Abstract
The aim of this study was to investigate the functional anatomy of decision-making during the Iowa Gambling Task in patients with Parkinson's disease. We used event-related functional magnetic resonance imaging (fMRI) during a computerized version of IGT to compare 18 PD patients on dopaminergic medication in the ON state and 18 healthy control subjects. Our analyses focused on outcome evaluation following card selection, because we expected this aspect of decision-making to be impaired in PD patients. The PD patients exhibited lower activation of the left putamen than the control group as a reaction to penalty. Using psychophysiological interaction analysis, we identified decreased functional connectivity between the right globus pallidus internus and the left anterior cingulate gyrus in the PD group. In contrast, increased connectivity between these structures was observed after penalty in the control group. Our results suggest altered functioning of the basal ganglia and their connections with the cortical structures involved in the limbic loop (e.g., the limbic fronto-striatal circuit of the basal ganglia) during decision-making in PD patients. Differences in the response to loss could be associated with insufficient negative reinforcement after a loss in PD patients in the ON state in comparison to a healthy population.
Access options
Buy single article
Instant access to the full article PDF.
USD 39.95
Price excludes VAT (USA)
Tax calculation will be finalised during checkout.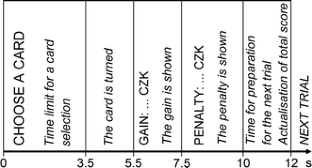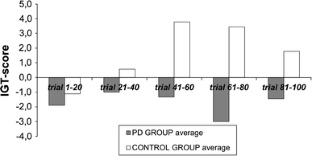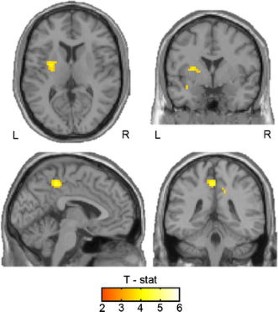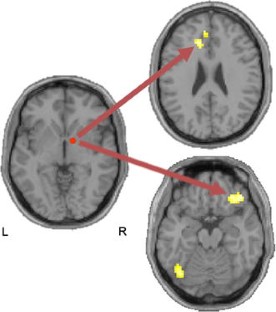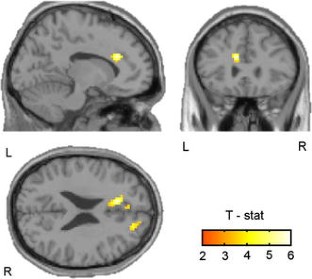 References
Dunn BD, Dalgleish T, Lawrence AD (2006) The somatic marker hypothesis: a critical evaluation. Neurosci Biobehav Rev 30:239–271

Pessiglione M, Seymour B, Flandin G et al (2006) Dopamine-dependent prediction errors underpin reward-seeking behaviour in humans. Nature 442(7106):1042–1045

Poletti M, Cavedini P, Bonuccelli U (2011) Iowa Gambling Task in Parkinson's disease. J Clin Exp Neuropsychol 33(4):395–409

Poletti M, Frosini D, Lucetti C et al (2010) Decision making in de novo Parkinson's disease. Mov Disord 25(10):1432–1436

Pagonabarraga J, García-Sánchez C, Llebaria G et al (2007) Controlled study of decision-making and cognitive impairment in Parkinson's disease. Mov Disord 22(10):1430–1435

Kobayakawa M, Koyama S, Mimura M, Kawamura M (2008) Decision making in Parkinson's disease: analysis of behavioral and psychological patterns in the Iowa gambling task. Mov Disord 23(4):547–552

Mimura M, Oeda R, Kawamura M (2006) Impaired decision-making in Parkinson's disease. Parkinsonism Relat Disord 12:169–175

Czernecki V, Pillon B, Houeto JL et al (2002) Motivation, reward and Parkinson's disease: influence of dopatherapy. Neuropsychologia 40(13):2257–2267

Delazer M, Sinz H, Zamarian L et al (2009) Decision making under risk and under ambiguity in Parkinson's disease. Neuropsychologia 47(8–9):1901–1908

Ibarretxe-Bilbao N, Junque C, Tolosa E et al (2009) Neuroanatomical correlates of impaired decision making and facial emotion recognition in early Parkinson's disease. Eur J Neurosci 30(6):1162–1171

Peretta JG, Pari G, Beninger RJ (2005) Effects of Parkinson's disease on two putative nondeclarative learning tasks: probabilistic classification and gambling. Cogn Behav Neurol 18(4):185–192

Euteneuer F, Schaefer F, Stuermer R et al (2009) Dissociation of decision-making under ambiguity and decision-making under risk in patients with Parkinson's disease: a neuropsychological and psychophysiological study. Neuropsychologia 47(13):2882–2890

Rossi M, Gerschcovich ER, de Achaval D et al (2010) Decision-making in Parkinson's disease patients with and without pathological gambling. Eur J Neurol 17(1):97–102

Poletti M, Bonucelli U (2012) Impulse control disorders in Parkinson's disease: the role of personality and cognitive status. J Neurol 259(11):2269–2277

Thiel A, Hilker R, Kessler J et al (2003) Activation of basal ganglia loops in idiopathic Parkinson's disease: a PET study. J Neural Transm 110:1289–1301

Gescheidt T, Czekóová K, Urbánek T et al (2012) Iowa Gambling Task in patients with early-onset Parkinson's disease: strategy analysis. Neurol Sci 33(6):1329–1335

Bechara A, Damasio AR, Damasio H, Anderson SW (1994) Insensitivity to future consequences following damage to human prefrontal cortex. Cognition 50(1–3):7–15

Ernst M, Paulus MP (2005) Neurobiology of decision making: a selective review from a neurocognitive and clinical perspective. Biol Psychiatry 58(8):597–604

Li X, Lu ZL, D'Argembau A et al (2010) The Iowa Gambling Task in fMRI images. Hum Brain Mapp 31(3):410–423

Bechara A (2004) Disturbances of emotion regulation after focal brain lesions. Int Rev Neurobiol 62:159–193

Eldridge LL, Knowlton BJ, Furmanski CS et al (2000) Remembering episodes: a selective role for the hippocampus during retrieval. Nat Neurosci 3(11):1149–1152

Gleichgerrcht E, Ibáñez A, Roca M et al (2010) Decision-making congnition in neurodegenerative diseases. Nat Rev Neurol 6(11):611–623

Toplak ME, Sorge GB, Benoit A et al (2010) A review of associations between Iowa Gambling Task performance, executive functions and intelligence. Clin Psychol Rev 30:562–581

Ernst M, Bolla K, Mouratidis M, Contoreggi C et al (2002) Decision-making in a risk-taking task: a PET study. Neuropysychopharmacology 26:682–691

Clark L, Manes F, Antoun N et al (2003) The contribution of lesion laterality and lesion volume to decision-making impairment following frontal lobe damage. Neuropsychologia 41(11):1474–1483

Ward CD, Gibb WR (1990) Research diagnostic criteria for Parkinson's disease. Adv Neurol 53:245–249

Fahn S, Elton RL, and members of the UPDRS Development Committee (1987) Unified Parkinson's disease rating scale. In: Fahn S, Marsden CD, Calne DB, Goldstein M (eds) Recent developments in Parkinson's disease. Macmillan Healthcare Information, Florham Park, NJ pp 153–163

Hoehn M, Yahr M (1967) Parkinsonism: onset, progression and mortality. Neurology 17:427–442

Tomlinson CL, Stowe R, Patel S et al (2010) Systematic review of levodopa dose Equivalency reporting in Parkinson's disease. Mov Disord 25(15):2649–2653

Montgomery SA, Asberg M (1979) A new depression scale designed to be sensitive to change. Br J Psychiatry 134(4):382–389

Lesieur HR, Blume SB (1987) The South Oaks Gambling Screen (SOGS): a new instrument for the identification of pathologic gamblers. Am J Psychiatry 144(9):1184–1188

Christenson GA, Faber RJ, de Zwaan M et al (1994) Compulsive buying: descriptive characteristics and psychiatric comorbidity. J Clin Psychiatry 55:5–11

Fukui H, Murai T, Fukuyama H et al (2005) Functional activity related to risk anticipation during performance of the Iowa gambling task. Neuroimage 24(1):253–259

Buelow MT, Suhr JA (2009) Construct validity of the Iowa Gambling Task. Neuropsychol Rev 19(1):102–114

Hayasaka S, Nichols TE (2003) Validating cluster size inference: random field and permutation methods. Neuroimage 20(4):2343–2356

Hayasaka S, Phan KL, Liberzon I et al (2004) Nonstationary cluster-size inference with random field and permutation methods. Neuroimage 22(2):676–687

Friston KJ, Buechel C, Fink GR et al (1997) Psychophysiological and modulatory interactions in neuroimaging. Neuroimage 6(3):218–229

Christakau A, Brammer M, Giampietro V et al (2009) Right ventromedial and dorsolateral prefrontal cortices mediate adaptive decisions under ambiguity by integrating choice utility and outcome evaluation. J Neurosci 29(35):11020–11028
Acknowledgments
This work was supported by the project "CEITEC Central European Institute of Technology" (CZ.1.05/1.1.00/02.0068) from the European Regional Development Fund. The participation of T.U. was supported by a research project of the Czech Science Foundation, no. P407/12/2432. The participation of J.V. was supported by the European Regional Development Fund Project FNUSA-ICRC (No.CZ.1.05/1.1.00/02.0123).
Ethical standards
The study has been approved by appropriate ethics committee and has therefore been performed in accordance with ethical standards laid down in the 1964 declaration of Helsinki.
Electronic supplementary material
Below is the link to the electronic supplementary material.
About this article
Cite this article
Gescheidt, T., Mareček, R., Mikl, M. et al. Functional anatomy of outcome evaluation during Iowa Gambling Task performance in patients with Parkinson's disease: an fMRI study. Neurol Sci 34, 2159–2166 (2013). https://doi.org/10.1007/s10072-013-1439-0
Received:

Accepted:

Published:

Issue Date:

DOI: https://doi.org/10.1007/s10072-013-1439-0
Keywords
Parkinson's disease

Iowa Gambling Task

Decision-making

Dopamine

fMRI

Psychophysiological interactions