Abstract
In the current study the modulatory role of mobile phone radio-frequency electromagnetic radiation (RF-EMR) on emotionality and locomotion was evaluated in adolescent rats. Male albino Wistar rats (6–8 weeks old) were randomly assigned into the following groups having 12 animals in each group. Group I (Control): they remained in the home cage throughout the experimental period. Group II (Sham exposed): they were exposed to mobile phone in switch-off mode for 28 days, and Group III (RF-EMR exposed): they were exposed to RF-EMR (900 MHz) from an active GSM (Global system for mobile communications) mobile phone with a peak power density of 146.60 μW/cm2 for 28 days. On 29th day, the animals were tested for emotionality and locomotion. Elevated plus maze (EPM) test revealed that, percentage of entries into the open arm, percentage of time spent on the open arm and distance travelled on the open arm were significantly reduced in the RF-EMR exposed rats. Rearing frequency and grooming frequency were also decreased in the RF-EMR exposed rats. Defecation boli count during the EPM test was more with the RF-EMR group. No statistically significant difference was found in total distance travelled, total arm entries, percentage of closed arm entries and parallelism index in the RF-EMR exposed rats compared to controls. Results indicate that mobile phone radiation could affect the emotionality of rats without affecting the general locomotion.
Access options
Buy single article
Instant access to the full article PDF.
US$ 39.95
Tax calculation will be finalised during checkout.
Subscribe to journal
Immediate online access to all issues from 2019. Subscription will auto renew annually.
US$ 79
Tax calculation will be finalised during checkout.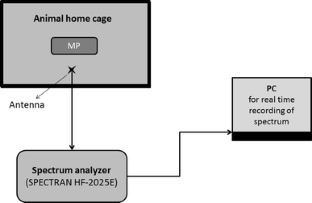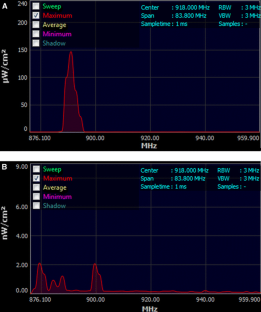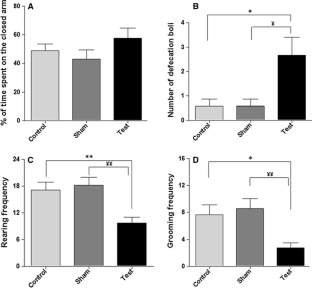 References
1.

Hyland GJ (2000) Physics and biology of mobile telephony. Lancet 356:1833–1836

2.

Leszczynski D (2001) Mobile phones, precautionary principle, and future research. Lancet 358:1733

3.

Kwon MS, Hämäläinen H (2011) Effects of mobile phone electromagnetic fields: critical evaluation of behavioral and neurophysiological studies. Bioelectromagnetics 32(4):253–272

4.

Valentini E, Ferrara M, Presaghi F, De Gennaro L, Curcio G (2010) Systematic review and meta-analysis of psychomotor effects of mobile phone electromagnetic fields. Occup Environ Med 67(10):708–716

5.

Valentini E, Curcio G, Moroni F, Ferrara M, De Gennaro L, Bertini M (2007) Neurophysiological effects of mobile phone electromagnetic fields on humans: a comprehensive review. Bioelectromagnetics 28(6):415–432

6.

Arendash GW, Sanchez-Ramos J, Mori T, Mamcarz M, Lin X, Runfeldt M, Wang L, Zhang G, Sava V, Tan J, Cao C (2010) Electromagnetic field treatment protects against and reverses cognitive impairment in Alzheimer's disease mice. J Alzheimers Dis 19(1):191–210

7.

Daniels WM, Pitout IL, Afullo TJ, Mabandla MV (2009) The effect of electromagnetic radiation in the mobile phone range on the behaviour of the rat. Metab Brain Dis 24(4):629–641

8.

Narayanan SN, Kumar RS, Potu BK, Nayak S, Mailankot M (2009) Spatial memory performance of Wistar rats exposed to mobile phone. Clinics (Sao Paulo) 64(3):231–234

9.

Ntzouni MP, Stamatakis A, Stylianopoulou F, Margaritis LH (2011) Short-term memory in mice is affected by mobile phone radiation. Pathophysiology 18(3):193–199

10.

Bas O, Odaci E, Kaplan S, Acer N, Ucok K, Colakoglu S (2009) 900 MHz electromagnetic field exposure affects qualitative and quantitative features of hippocampal pyramidal cells in the adult female rat. Brain Res 1265:178–185

11.

Narayanan SN, Kumar RS, Potu BK, Nayak S, Bhat PG, Mailankot M (2010) Effect of radio-frequency electromagnetic radiations (RF-EMR) on passive avoidance behaviour and hippocampal morphology in Wistar rats. Ups J Med Sci 115(2):91–96

12.

Thomas S, Benke G, Dimitriadis C, Inyang I, Sim MR, Wolfe R, Croft RJ, Abramson MJ (2010) Use of mobile phones and changes in cognitive function in adolescents. Occup Environ Med 67(12):861–866

13.

Rodgers RJ, Dalvi A (1997) Anxiety, defence and the elevated plus-maze. Neurosci Biobehav Rev 21(6):801–810

14.

Elliott BM, Faraday MM, Phillips JM, Grunberg NE (2004) Effects of nicotine on elevated plus maze and locomotor activity in male and female adolescent and adult rats. Pharmacol Biochem Behav 77(1):21–28

15.

Espejo EF (1997) Effects of weekly or daily exposure to the elevated plus-maze in male mice. Behav Brain Res 87(2):233–238

16.

Crawley JN (1981) Neuropharmacologic specificity of a simple animal model for the behavioral actions of benzodiazepines. Pharmacol Biochem Behav 15:695–699

17.

Bindra D, Thompson WR (1953) An evaluation of defecation and urination as measures of fearfulness. J Comp Physiol Psychol 46:43–45

18.

Cunha JM, Masur J (1978) Evaluation of psychotropic drugs with a modified open field test. Pharmacology 16(5):259–267

19.

Serafim AP, Felício LF (2001) Dopaminergic modulation of grooming behavior in virgin and pregnant rats. Braz J Med Biol Res 34:1465–1470

20.

Canteras NS, Resstel LB, Bertoglio LJ, Carobrez Ade P, Guimarães FS (2010) Neuroanatomy of anxiety. Curr Top Behav Neurosci 2:77–96

21.

Durant C, Christmas D, Nutt D (2010) The pharmacology of anxiety. Curr Top Behav Neurosci 2:303–330

22.

Davis M, Rainnie D, Cassell M (1994) Neurotransmission in the rat amygdala related to fear and anxiety. Trends Neurosci 17:208–214

23.

Sullivan RM (2004) Hemispheric asymmetry in stress processing in rat prefrontal cortex and the role of mesocortical dopamine. Stress 7(2):131–143

24.

Groenewegen HJ, Uylings HBM (2000) The prefrontal cortex and the integration of sensory, limbic and autonomic information. Prog Brain Res 126:3–28

25.

Noor NA, Mohammed HS, Ahmed NA, Radwan NM (2011) Variations in amino acid neurotransmitters in some brain areas of adult and young male albino rats due to exposure to mobile phone radiation. Eur Rev Med Pharmacol Sci 15(7):729–742

26.

Ferreri F, Curcio G, Pasqualetti P, De Gennaro L, Fini R, Rossini PM (2006) Mobile phone emissions and human brain excitability. Ann Neurol 60(2):188–196

27.

Tahvanainen K, Niño J, Halonen P, Kuusela T, Alanko T, Laitinen T, Länsimies E, Hietanen M, Lindholm H (2007) Effects of cellular phone use on ear canal temperature measured by NTC thermistors. Clin Physiol Funct Imaging 27(3):162–172

28.

Dutta SK, Ghosh B, Blackman CF (1989) Radiofrequency radiation-induced calcium ion efflux enhancement from human and other neuroblastoma cells in culture. Bioelectromagnetics 10(2):197–202

29.

Meral I, Mert H, Mert N, Deger Y, Yoruk I, Yetkin A, Keskin S (2007) Effects of 900-MHz electromagnetic field emitted from cellular phone on brain oxidative stress and some vitamin levels of guinea pigs. Brain Res 1169:120–124

30.

Lai H, Singh NP (1995) Acute low-intensity microwave exposure increases DNA single-strand breaks in rat brain cells. Bioelectromagnetics 16(3):207–210

31.

Augner C, Hacker GW (2011) Associations between problematic mobile phone use and psychological parameters in young adults. Int J Public Health 57(2):437–441
Acknowledgments
The authors would like to thank the Indian Council of Medical Research (ICMR) for financially supporting this research project.
About this article
Cite this article
Narayanan, S.N., Kumar, R.S., Paval, J. et al. Analysis of emotionality and locomotion in radio-frequency electromagnetic radiation exposed rats. Neurol Sci 34, 1117–1124 (2013). https://doi.org/10.1007/s10072-012-1189-4
Received:

Accepted:

Published:

Issue Date:
Keywords
Mobile phone

Brain

Emotionality

Locomotion