Abstract
Vertical supranuclear gaze palsy (VSGP) is a key clinical feature in patients with Niemann-Pick type C disease (NP-C), a rare, autosomal recessive, neuro-visceral disorder caused by mutations in either the NPC1 or NPC2 gene. VSGP is present in approximately 65 % of the cases and is, with gelastic cataplexy, an important risk indicator for NP-C. VSGP in NP-C is characterized by a paralysis of vertical saccades, especially downward, with the slow vertical eye movement systems (smooth pursuit and the vestibulo-ocular reflex) spared in the early phase of the disease. This dissociation is caused by a selective vulnerability of the neurons in the rostral interstitial nuclei of the medial longitudinal fasciculus (riMLF) in NP-C. Here we discuss VSGP in NP-C and how clinicians can best elicit this sign.
This is a preview of subscription content, log in to check access.
Access options
Buy single article
Instant access to the full article PDF.
US$ 39.95
Price includes VAT for USA
Subscribe to journal
Immediate online access to all issues from 2019. Subscription will auto renew annually.
US$ 99
This is the net price. Taxes to be calculated in checkout.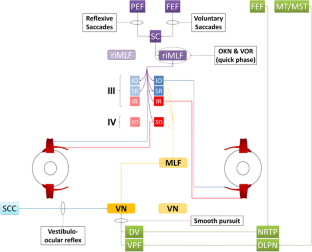 Abbreviations
III:

Third cranial nerve

IV:

Fourth cranial nerve (trochlear nerve)

FEF:

Frontal eye fields

MLF:

Medial longitudinal fascicle

DLPN:

Dorsolateral pontine nucleus

DV:

Dorsal vermis

IO:

Inferior oblique

IR:

Inferior rectus

MT:

Middle temporal area

MST:

Medial superior temporal area

NP-C:

Niemann-Pick type C

NRTP:

Nucleus reticularis tegmenti pontis

OKN:

Optokinetic nystagmus

PEF:

Parietal eye fields

PPRF:

Paramedian pontine reticular formation

riMLF:

Rostral interstitial nuclei of the medial longitudinal fasciculus

SC:

Superior colliculi

SCC:

Semicircular canals

SO:

Superior oblique

SPEM:

Smooth pursuit eye movements

SR:

Superior rectus

VN:

Vestibular nuclei

VOR:

Vestibulo-ocular reflex

VPF:

Ventral paraflocculus

VSGP:

Vertical supranuclear gaze palsy
References
1.

Pacheco CD, Lieberman AP (2008) The pathogenesis of Niemann-Pick type C disease: a role for autophagy? Expert Rev Mol Med 10:e26

2.

Sévin M, Lesca G, Baumann N, Millat G, Lyon-Caen O, Vanier MT, Sedel F (2007) The adult form of Niemann-Pick disease type C. Brain 130:120–133

3.

Grau AJ, Weisbrod M, Hund E, Harzer K (2003) Morbus Niemann-Pick Typ C—Eine neurometabolische Erkrankung durch Störung des intrazellulären Lipidtransports. Nervenarzt 74:900–905

4.

Vanier MT (2010) Niemann-Pick disease type C. Orphanet J Rare Dis 5:16

5.

Cogan DG, Chu FC, Reingold D, Barranger J (1981) Ocular motor signs in some metabolic diseases. Arch Ophthalmol 99:1802–1808

6.

Rottach KG, von Maydell RD, Das VE, Zivotofsky AZ, Discenna AO, Gordon JL, Landis DM, Leigh RJ (1997) Evidence for independent feedback control of horizontal and vertical saccades from Niemann-Pick type C disease. Vision Res 37:3627–3638

7.

Chen AL, Riley DE, King SA, Joshi AC, Serra A, Liao K, Cohen ML, Otero-Millan J, Martinez-Conde S, Strupp M, Leigh RJ (2010) The disturbance of gaze in progressive supranuclear palsy: implications for pathogenesis. Front Neurol 1:147

8.

Wijburg FA, Sedel F, Pineda M, Hendriksz CJ, Fahey M, Walterfang M, Patterson MC, Wraith JE, Kolb SA (2012) Development of a suspicion index to aid diagnosis of Niemann-Pick disease type C. Neurology 78:1560–1567

9.

NP-C Guidelines Working Group, Wraith JE, Baumgartner MR, Bembi B, Covanis A, Levade T, Mengel E, Pineda M, Sedel F, Topçu M, Vanier MT, Widner H, Wijburg FA, Patterson MC (2009) Recommendations on the diagnosis and management of Niemann-Pick disease type C. Mol Genet Metab 98:152–165

10.

Peake KB, Vance JE (2012) Normalization of cholesterol homeostasis by 2-hydroxypropyl-beta-cyclodextrin in neurons and glia from Niemann-Pick C1-deficient mice. J Biol Chem. doi:10.1074/jbc.M111.326405

11.

Pipalia NH, Cosner CC, Huang A, Chatterjee A, Bourbon P, Farley N, Helquist P, Wiest O, Maxfield FR (2011) Histone deacetylase inhibitor treatment dramatically reduces cholesterol accumulation in Niemann-Pick type C1 mutant human fibroblasts. Proc Natl Acad Sci USA 108:5620–5625

12.

Pryse-Phillips William (2003) Companion to clinical neurology. Oxford University Press, USA

13.

Orban de Xivry JJ, Lefèvre P (2007) Saccades and pursuit: two outcomes of a single sensorimotor process. J Physiol 584:11–23

14.

Karatas M (2009) Internuclear and supranuclear disorders of eye movements: clinical features and causes. Eur J Neurol 16:1265–1277

15.

Sharpe JA, Johnston JL (1989) Ocular motor paresis versus apraxia. Ann Neurol 25:209–210

16.

Solomon D, Winkelman AC, Zee DS, Gray L, Büttner-Ennever J (2005) Niemann-Pick type C disease in two affected sisters: ocular motor recordings and brain-stem neuropathology. Ann N Y Acad Sci 1039:436–445

17.

Seemungal BM, Faldon M, Revesz T, Lees AJ, Zee DS, Bronstein AM (2003) Influence of target size on vertical gaze palsy in a pathologically proven case of progressive supranuclear palsy. Mov Disord 18:818–822

18.

Bhidayasiri R, Plant GT, Leigh RJ (2000) A hypothetical scheme for the brainstem control of vertical gaze. Neurology 54:1985–1993

19.

Pierrot-Deseilligny C, Tilikete C (2008) New insights into the upward vestibulo-oculomotor pathways in the human brainstem. Prog Brain Res 171:509–518

20.

Kheradmand A, Zee DS (2011) Cerebellum and ocular motor control. Front Neurol 2:53

21.

Ahmed Z, Josephs KA, Gonzalez J, DelleDonne A, Dickson DW (2008) Clinical and neuropathologic features of progressive supranuclear palsy with severe pallido-nigro-luysial degeneration and axonal dystrophy. Brain 131:460–472

22.

Josephs KA, Ishizawa T, Tsuboi Y, Cookson N, Dickson DW (2002) A clinicopathological study of vascular progressive supranuclear palsy: a multi-infarct disorder presenting as progressive supranuclear palsy. Arch Neurol 59:1597–1601

23.

Murphy MA, Friedman JH, Tetrud JW, Factor SA (2005) Neurodegenerative disorders mimicking progressive supranuclear palsy: a report of three cases. J Clin Neurosci 12:941–945

24.

Jankovic J, Rajput AH, Golbe LI, Goodman JC (1993) What is it? Case 1, 1993: parkinsonism, dysautonomia, and ophthalmoparesis. Mov Disord 8:525–532

25.

Anderson T, Luxon L, Quinn N, Daniel S, Marsden CD, Bronstein A (2008) Oculomotor function in multiple system atrophy: clinical and laboratory features in 30 patients. Mov Disord 23:977–984

26.

Shiozawa M, Fukutani Y, Sasaki K, Isaki K, Hamano T, Hirayama M, Imamura K, Mukai M, Arai N, Cairns NJ (2000) Corticobasal degeneration: an autopsy case clinically diagnosed as progressive supranuclear palsy. Clin Neuropathol 19:192–199

27.

Nakashima H, Terada S, Ishizu H, Tanabe Y, Yokota O, Ishihara T, Takata H, Ihara Y, Hayabara T, Kuroda S (2003) An autopsied case of dementia with Lewy bodies with supranuclear gaze palsy. Neurol Res 25:533–537

28.

Morris HR, Osaki Y, Holton J, Lees AJ, Wood NW, Revesz T, Quinn N (2003) Tau exon 10 +16 mutation FTDP-17 presenting clinically as sporadic young onset PSP. Neurology 61:102–104

29.

Moon SY, Lee BH, Seo SW, Kang SJ, Na DL (2008) Slow vertical saccades in the frontotemporal dementia with motor neuron disease. J Neurol 255:1337–1343

30.

Slowinski J, Dominik J, Uitti RJ, Ahmed Z, Dickson DD, Wszolek ZK (2007) Frontotemporal dementia and Parkinsonism linked to chromosome 17 with the N279 K tau mutation. Neuropathology 27:73–80

31.

Foster NL, Gilman S, Berent S, Sima AA, D'Amato C, Koeppe RA, Hicks SP (1992) Progressive subcortical gliosis and progressive supranuclear palsy can have similar clinical and PET abnormalities. J Neurol Neurosurg Psychiatry 55:707–713

32.

Prasad S, Ko MW, Lee EB, Gonatas NK, Stern MB, Galetta S (2007) Supranuclear vertical gaze abnormalities in sporadic Creutzfeldt–Jakob disease. J Neurol Sci 253:69–72

33.

Steele JC (2005) Parkinsonism-dementia complex of Guam. Mov Disord 20(Suppl 12):S99–S107

34.

Averbuch-Heller L, Helmchen C, Horn AK, Leigh RJ, Büttner-Ennerver JA (1998) Slow vertical saccades in motor neuron disease: correlation of structure and function. Ann Neurol 44:641–648

35.

Caparros-Lefebvre D, Sergeant N, Lees A, Camuzat A, Daniel S, Lannuzel A, Brice A, Tolosa E, Delacourte A, Duyckaerts C (2002) Guadeloupean parkinsonism: a cluster of progressive supranuclear palsy-like tauopathy. Brain 125:801–811

36.

Williams DR, Hadeed A, al-Din AS, Wreikat AL, Lees AJ (2005) Kufor Rakeb disease: autosomal recessive, levodopa-responsive parkinsonism with pyramidal degeneration, supranuclear gaze palsy, and dementia. Mov Disord 20:1264–1271

37.

Newsway V, Fish M, Rohrer JD, Majounie E, Williams N, Hack M, Warren JD, Morris HR (2010) Perry syndrome due to the DCTN1 G71R mutation: a distinctive levodopa responsive disorder with behavioral syndrome, vertical gaze palsy, and respiratory failure. Mov Disord 25:767–770

38.

Spanaki C, Latsoudis H, Plaitakis A (2006) LRRK2 mutations on Crete: R1441H associated with PD evolving to PSP. Neurology 67:1518–1519

39.

Saver JL, Liu GT, Charness ME (1994) Idiopathic striopallidodentate calcification with prominent supranuclear abnormality of eye movement. J Neuroophthalmol 14:29–33

40.

Gordon PH, Fahn S, Chin S, Golbe LI, Lynch T, Eidelberg D (2004) Woman with a 26-year history of parkinsonism, supranuclear ophthalmoplegia, and loss of postural reflexes. Mov Disord 19:950–961

41.

Egan RA, Weleber RG, Hogarth P, Gregory A, Coryell J, Westaway SK, Gitschier J, Das S, Hayflick SJ (2005) Neuro-ophthalmologic and electroretinographic findings in pantothenate kinase-associated neurodegeneration (formerly Hallervorden-Spatz syndrome). Am J Ophthalmol 140:267–274

42.

Paisan-Ruiz C, Bhatia KP, Li A, Hernandez D, Davis M, Wood NW, Hardy J, Houlden H, Singleton A, Schneider SA (2009) Characterization of PLA2G6 as a locus for dystonia-parkinsonism. Ann Neurol 65:19–23

43.

Lasker AG, Zee DS (1997) Ocular motor abnormalities in Huntington's disease. Vision Res 37:3639–3645

44.

Gradstein L, Danek A, Grafman J, Fitzgibbon EJ (2005) Eye movements in chorea-acanthocytosis. Invest Ophthalmol Vis Sci 46:1979–1987

45.

Bürk K, Abele M, Fetter M, Dichgans J, Skalej M, Laccone F, Didierjean O, Brice A, Klockgether T (1996) Autosomal dominant cerebellar ataxia type I clinical features and MRI in families with SCA1, SCA2 and SCA3. Brain 119:1497–1505

46.

Klostermann W, Zühlke C, Heide W, Kömpf D, Wessel K (1997) Slow saccades and other eye movement disorders in spinocerebellar atrophy type 1. J Neurol 244:105–111

47.

Furtado S, Payami H, Lockhart PJ, Hanson M, Nutt JG, Singleton AA, Singleton A, Bower J, Utti RJ, Bird TD, de la Fuente-Fernandez R, Tsuboi Y, Klimek ML, Suchowersky O, Hardy J, Calne DB, Wszolek ZK, Farrer M, Gwinn-Hardy K, Stoessl AJ (2004) Profile of families with parkinsonism-predominant spinocerebellar ataxia type 2 (SCA2). Mov Disord 19:622–629

48.

Sinke RJ, Ippel EF, Diepstraten CM, Beemer FA, Wokke JH, van Hilten BJ, Knoers NV, van Amstel HK, Kremer HP (2001) Clinical and molecular correlations in spinocerebellar ataxia type 6: a study of 24 Dutch families. Arch Neurol 58:1839–1844

49.

Oh AK, Jacobson KM, Jen JC, Baloh RW (2001) Slowing of voluntary and involuntary saccades: an early sign in spinocerebellar ataxia type 7. Ann Neurol 49:801–804

50.

Klebe S, Durr A, Rentschler A, Hahn-Barma V, Abele M, Bouslam N, Schöls L, Jedynak P, Forlani S, Denis E, Dussert C, Agid Y, Bauer P, Globas C, Wüllner U, Brice A, Riess O, Stevanin G (2005) New mutations in protein kinase Cgamma associated with spinocerebellar ataxia type 14. Ann Neurol 58:720–729

51.

Lin IS, Wu RM, Lee-Chen GJ, Shan DE, Gwinn-Hardy K (2007) The SCA17 phenotype can include features of MSA-C, PSP and cognitive impairment. Parkinsonism Relat Disord 13:246–249

52.

Mariotti C, Alpini D, Fancellu R, Soliveri P, Grisoli M, Ravaglia S, Lovati C, Fetoni V, Giaccone G, Castucci A, Taroni F, Gellera C, Di Donato S (2007) Spinocerebellar ataxia type 17 (SCA17): oculomotor phenotype and clinical characterization of 15 Italian patients. J Neurol 254:1538–1546

53.

Warner TT, Williams LD, Walker RW, Flinter F, Robb SA, Bundey SE, Honavar M, Harding AE (1995) A clinical and molecular genetic study of dentatorubropallidoluysian atrophy in four European families. Ann Neurol 37:452–459

54.

Straussberg R, Basel-Vanagaite L, Kivity S, Dabby R, Cirak S, Nurnberg P, Voit T, Mahajnah M, Inbar D, Saifi GM, Lupski JR, Delague V, Megarbane A, Richter A, Leshinsky E, Berkovic SF (2005) An autosomal recessive cerebellar ataxia syndrome with upward gaze palsy, neuropathy, and seizures. Neurology 64:142–144

55.

Warnecke T, Duning T, Schwan A, Lohmann H, Epplen JT, Young P (2007) A novel form of autosomal recessive hereditary spastic paraplegia caused by a new SPG7 mutation. Neurology 69:368–375

56.

Steinlin M, Schmid M, Landau K, Boltshauser E (1997) Follow-up in children with Joubert syndrome. Neuropediatrics 28:204–211

57.

Scolding NJ, Kellar-Wood HF, Shaw C, Shneerson JM, Antoun N (1996) Wolfram syndrome: hereditary diabetes mellitus with brainstem and optic atrophy. Ann Neurol 39:352–360

58.

Baloh RW, Yee RD, Boder E (1978) Eye movements in ataxia-telangiectasia. Neurology 28:1099–1104

59.

Harding AE, Young EP, Schon F (1987) Adult onset supranuclear ophthalmoplegia, cerebellar ataxia, and neurogenic proximal muscle weakness in a brother and sister: another hexosaminidase A deficiency syndrome. J Neurol Neurosurg Psychiatry 50:687–690

60.

Kirkham TH, Kamin DF (1974) Slow saccadic eye movements in Wilson's disease. J Neurol Neurosurg Psychiatry 37:191–194

61.

Steiner RD, Sweetser DA, Rohrbaugh JR, Dowton SB, Toone JR, Applegarth DA (1996) Nonketotic hyperglycinemia: atypical clinical and biochemical manifestations. J Pediatr 128:243–246

62.

Funalot B, Reynier P, Vighetto A, Ranoux D, Bonnefont JP, Godinot C, Malthièry Y, Mas JL (2002) Leigh-like encephalopathy complicating Leber's hereditary optic neuropathy. Ann Neurol 52:374–377

63.

Sundal C, Lash J, Aasly J, Øygarden S, Roeber S, Kretzschman H, Garbern JY, Tselis A, Rademakers R, Dickson DW, Broderick D, Wszolek ZK (2012) Hereditary diffuse leukoencephalopathy with axonal spheroids (HDLS): a misdiagnosed disease entity. J Neurol Sci 314:130–137

64.

Keane JR (1990) The pretectal syndrome: 206 patients. Neurology 40:684–690

65.

Magherini A, Pentore R, Grandi M, Leone ME, Nichelli PF (2007) Progressive supranuclear gaze palsy without parkinsonism: a case of neuro-Whipple. Parkinsonism Relat Disord 13:449–452

66.

Adams C, McKeon A, Silber MH, Kumar R (2011) Narcolepsy, REM sleep behavior disorder, and supranuclear gaze palsy associated with Ma1 and Ma2 antibodies and tonsillar carcinoma. Arch Neurol 68:521–524

67.

Oskarsson B, Pelak V, Quan D, Hall D, Foster C, Galetta S (2008) Stiff eyes in stiff-person syndrome. Neurology 71:378–380

68.

Solomon D, Ramat S, Tomsak RL, Reich SG, Shin RK, Zee DS, Leigh RJ (2008) Saccadic palsy after cardiac surgery: characteristics and pathogenesis. Ann Neurol 63:355–365

69.

Ackermans L, Temel Y, Bauer NJ, Visser-Vandewalle V, Dutch-Flemish Tourette Surgery Study Group (2007) Vertical gaze palsy after thalamic stimulation for Tourette syndrome: case report. Neurosurgery 61:E1100

70.

Hoyt CS, Billson FA, Alpins N (1978) The supranuclear disturbances of gaze in kernicterus. Ann Ophthalmol 10:1487–1492

71.

Nagatomo S, Umehara F, Hanada K, Nobuhara Y, Takenaga S, Arimura K, Osame M (1999) Manganese intoxication during total parenteral nutrition: report of two cases and review of the literature. J Neurol Sci 162:102–105

72.

Sandyk R (1984) Paralysis of upward gaze as a presenting symptom of vitamin B12 deficiency. Eur Neurol 23:198–200

73.

Bürk K, Bösch S, Müller CA, Melms A, Zühlke C, Stern M, Besenthal I, Skalej M, Ruck P, Ferber S, Klockgether T, Dichgans J (2001) Sporadic cerebellar ataxia associated with gluten sensitivity. Brain 124:1013–1019

74.

Fedi M, Cantello R, Shuey NH, Mitchell LA, Comi C, Monaco F, Versino M (2008) Spontaneous intracranial hypotension presenting as a reversible dorsal midbrain syndrome. J Neuroophthalmol 28:289–292

75.

Keane JR, Finstead BA (1982) Upward gaze paralysis as the initial sign of Fisher's syndrome. Arch Neurol 39:781–782

76.

Yuki N (1996) Acute paresis of extraocular muscles associated with IgG anti-GQ1b antibody. Ann Neurol 39:668–672

77.

Buracchio T, Rucker JC (2007) Pearls and oy-sters of localization in ophthalmoparesis. Neurology 69:E35–E40

78.

Huaman AG, Sharpe JA (1993) Vertical saccades in senescence. Invest Ophthalmol Vis Sci 34:2588–2595
Conflict of interest
E. Salsano has been invited in meetings organized and sponsored by Actelion Pharmaceuticals Ltd; David S. Zee teaches in courses sponsored by Sun Pharma and Abbott Pharmaceuticals.
About this article
Cite this article
Salsano, E., Umeh, C., Rufa, A. et al. Vertical supranuclear gaze palsy in Niemann-Pick type C disease. Neurol Sci 33, 1225–1232 (2012). https://doi.org/10.1007/s10072-012-1155-1
Received:

Accepted:

Published:

Issue Date:
Keywords
Niemann-Pick type C disease

Vertical eye movements

Vertical ocular motor apraxia

Vertical supranuclear gaze palsy