Abstract
Late-onset Krabbe disease may have variable misleading clinical manifestations and be a puzzling problem for physicians. We report clinical and peripheral nerve studies of three patients with adult-onset Krabbe disease. Two cases had a predominantly spastic paraparesis; in one case, the symptoms mimicked a cerebrovascular disorder. Predominantly, demyelinating neuropathy was observed in one case and axonal neuropathy in two cases. In all cases, no typical intracytoplasmic inclusions were found. These observations suggest that peripheral neuropathy in adult-onset Krabbe disease has variable clinical and pathological characteristics, different from those described in the classic form.
Access options
Buy single article
Instant access to the full article PDF.
USD 39.95
Price includes VAT (USA)
Tax calculation will be finalised during checkout.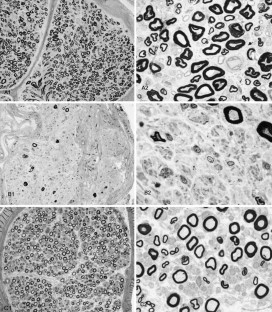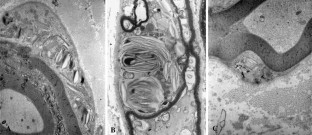 References
1.

Sakai N, Fukushima H, Inui K, Fu L, Nishigaki T, Yanagihara I, Tatsumi N, Ozono K, Okada S (1998) Human galactocerebrosidase gene: promoter analysis of the 5′-flanking region and structural organization. Biochim Biophys Acta 1395(1):62–67

2.

Wenger DA, Rafi MA, Luzi P (1997) Molecular genetics of Krabbe disease (globoid cell leukodystrophy): diagnostic and clinical implications. Hum Mutat 10(4):268–279

3.

De Gasperi R, Gama Sosa MA, Sartorato E, Battistini S, Raghavan S, Kolodny EH (1999) Molecular basis of late-life globoid cell leukodystrophy. Hum Mutat 14(3):256–262

4.

Thomas PK, Goebel HH (2005) Inborn errors of metabolism with peripheral nerve involvement. In: Dick PJ, Thomas PK (eds) Peripheral neuropathy. Elsevier Saunders, Philadelphia, pp 1845–1882

5.

Rafi MA, Luzi P, Chen YQ, Wenger DA (1995) A large deletion together with a point mutation in the GALC gene is a common mutant allele in patients with infantile Krabbe disease. Hum Mol Genet 4(8):1285–1289

6.

Luzi P, Rafi MA, Wenger DA (1996) Multiple mutations in the GALC gene in a patient with adult-onset Krabbe disease. Ann Neurol 40(1):116–119

7.

Bajaj NPS, Waldman A, Orrell R, Wood NW, Bhatia KP (2002) Familial adult onset of Krabbe's disease resembling hereditary spastic paraplegia with normal neuroimaging. J Neurol Neurosurg Psychiatry 72:635–638

8.

Sabatelli M, Quaranta L, Madia F et al (2002) Peripheral neuropathy with hypomyelinating features in adult-onset Krabbe's disease. J Neurol Sci 12:386–391

9.

Marks HG, Scavina MT, Kolodny EH, Palmieri M, Childs J (1997) Krabbe's disease presenting as a peripheral neuropathy. Muscle Nerve 20:1024–1028

10.

Satoh JI, Tokumoto H, Kurohara K et al (1997) Adult-onset Krabbe disease with homozygous T1853C mutation in the galactocerebrosidase gene. Neurology 49:1392–1399

11.

Matsumoto R, Oka N, Nagahama V, Akiguchi I, Kimura J (1996) Peripheral neuropathy in late-onset Krabbe's disease: histochemical and ultrastructural findings. Acta Neuropathol 92:635–639

12.

Lyon G, Hagberg B, Evrard P, Allaire C, Pavone L, Vanier M (1991) Symptomatology of late onset Krabbe's leukodystrophy: the European experience. Dev Neurosci 13:240–244

13.

Phelps M, Aicardi J, Vanier MT (1991) Late onset Krabbe's leukodystrophy: a report of four cases. J Neurol Neurosurg Psychiatry 54:293–296
About this article
Cite this article
Malandrini, A., D'Eramo, C., Palmeri, S. et al. Peripheral neuropathy in late-onset Krabbe disease: report of three cases. Neurol Sci 34, 79–83 (2013). https://doi.org/10.1007/s10072-012-0956-6
Received:

Accepted:

Published:

Issue Date:
Keywords
Krabbe's disease

Nerve biopsy

Intracytoplasmic inclusions

GALC gene