Abstract
We report a case of lateral medullary syndrome (LMS) with extradural origin of the posterior inferior cerebellar artery (PICA). A 45-year-old construction worker presented with acute signs and symptoms of typical LMS. Prolonged work-related neck extension was reported just prior to the onset of symptoms. Cerebral angiography revealed a patent vertebrobasilar tree with an extradural origin of an otherwise normal appearing PICA ipsilaterally. Workup did not show evidence for cardioembolic or atheroembolic source. The presence of an extradural origin of PICA may be considered a predisposing factor for non-traumatic LMS associated with head and neck movement.
Access options
Buy single article
Instant access to the full article PDF.
US$ 39.95
Tax calculation will be finalised during checkout.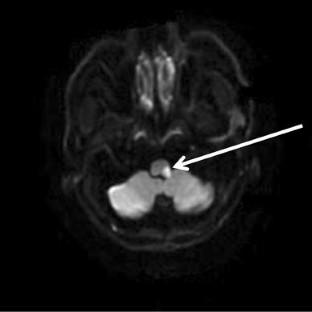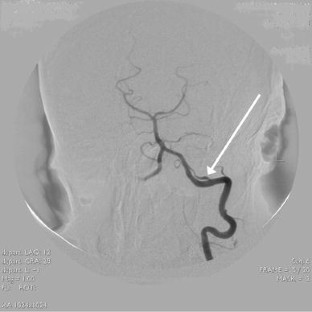 Abbreviations
LMS:

Lateral medullary syndrome

PICA:

Posterior inferior cerebellar artery

VA:

Vertebral artery

TEE:

Transesohageal echocardiogram

NIHSS:

National Institute of Health Stroke Scale
References
1.

Ropper AH, Brown RH (2005) Adams and Victor's principles of neurology, 8th edn. McGraw-Hill Professional, USA, pp 678–88

2.

Kim JS (2003) Pure lateral medullary infarction: clinical-radiological correlation of 130 acute, consecutive patients. Brain 126(8):1864–1872

3.

Frisoni G, Anzola G (1991) Vertebrobasilar ischemia after neck motion. Stroke 22(11):1452–1460

4.

Sherman D, Hart R, Easton J (1981) Abrupt change in head position and cerebral infarction. Stroke 12(1):2–6

5.

Weintraub MI, Khoury A (1995) Critical neck position as an independent risk factor for posterior circulation stroke. A magnetic resonance angiographic analysis. J Neuroimaging 5(1):16–22

6.

Okawara S, Nibbelink D (1974) Vertebral artery occlusion following hyperextension and rotation of the head. Stroke 5(5):640–642

7.

Sédat J, Dib M, Mahagne MH, Lonjon M, Paquis P (2002) Stroke after chiropractic manipulation as a result of extracranial postero-inferior cerebellar artery dissection. J Manip Physiol Ther 25(9):588–590

8.

Fine AD, Cardoso A, Rhoton AL (1999) Microsurgical anatomy of the extracranial–extradural origin of the posterior inferior cerebellar artery. J Neurosurg 91(4):645–652

9.

Kim JS, Lee JH, Choi CG (1998) Patterns of lateral medullary infarction: vascular lesion-magnetic resonance imaging correlation of 34 cases. Stroke 29(3):645–652
Conflict of interest
The author(s) declare that they have no competing interests.
About this article
Cite this article
Razak, A., Clark, D., Farooq, M.U. et al. Wallenberg's syndrome with extradural–extracranial origin of the posterior inferior cerebellar artery. Neurol Sci 32, 711–713 (2011). https://doi.org/10.1007/s10072-011-0609-1
Received:

Accepted:

Published:

Issue Date:
Keywords
Lateral medullary syndrome

Lateral medullary infarct

Wallenberg's syndrome

Extradural–extracranial posterior inferior cerebellar artery