Abstract
The endocannabinoid system (ECS) is involved in the pathophysiology of multiple sclerosis (MS), and relief from pain and spasticity has been reported in MS patients self-medicating with marijuana. A cannabis-based medication containing Δ9-tetrahydrocannabinol and cannabidiol (Sativex®) has been approved in some countries for the treatment of MS-associated pain. The effects of this pharmaceutical preparation on other clinically relevant aspects of MS pathophysiology, however, are still unclear. In 20 MS patients, we measured the effects of Sativex® on clinically measured spasticity and on neurophysiological and laboratory parameters that correlate with spasticity severity or with the modulation of the ECS. Sativex® failed to affect spasticity and stretch reflex excitability. This compound also failed to affect the synthesis and the degradation of the endocannabinoid anandamide, as well as the expression of both CB1 and CB2 cannabinoid receptors in various subpopulations of peripheral lymphocytes.
Access options
Buy single article
Instant access to the full article PDF.
USD 39.95
Price excludes VAT (USA)
Tax calculation will be finalised during checkout.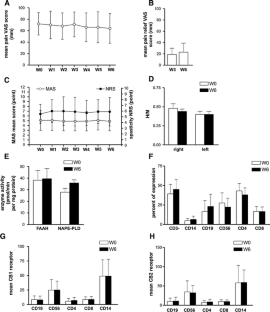 References
Baker D, Pryce G, Giovannoni G, Thompson AJ (2003) The therapeutic potential of cannabis. Lancet Neurol 2:291–298

Centonze D, Bari M, Rossi S, Prosperetti C, Furlan R, Fezza F, De Chiara V, Battistini L, Bernardi G, Bernardini S, Martino G, Maccarrone M (2007) The endocannabinoid system is dysregulated in multiple sclerosis and in experimental autoimmune encephalomyelitis. Brain 130:2543–2553

Collin C, Davies P, Mutiboko IK, Ratcliffe S (2007) Sativex spasticity in MS Study Group. Randomized controlled trial of cannabis-based medicine in spasticity caused by multiple sclerosis. Eur J Neurol 14:290–296

Centonze D, Koch G, Versace V, Mori F, Rossi S, Brusa L, Grossi K, Torelli F, Prosperetti C, Cervellino A, Marfia GA, Stanzione P, Marciani MG, Boffa L, Bernardi G (2007) Repetitive transcranial magnetic stimulation of the motor cortex ameliorates spasticity in multiple sclerosis. Neurology 68:1045–1050

Rog DJ, Nurmikko TJ, Friede T, Young CA (2005) Randomized, controlled trial of cannabis-based medicine in central pain in multiple sclerosis. Neurology 65:812–819

Conte A, Bettolo CM, Onesti E, Frasca V, Iacovelli E, Gilio F, Giacomelli E, Gabriele M, Aragona M, Tomassini V, Pantano P, Pozzilli C, Inghilleri M (2008) Cannabinoid-induced effects on the nociceptive system: a neurophysiological study in patients with secondary progressive multiple sclerosis. Eur J Pain [Epub ahead of print]

International Association for Cannabis as Medicine (IACM) bulletin of 13 April 2008

Baker D, Pryce G, Croxford JL, Brown P, Pertwee RG, Huffman JW, Layward L (2000) Cannabinoids control spasticity and tremor in a multiple sclerosis model. Nature 404:84–87
Acknowledgments
This study was supported by grants from the Fondazione Italiana Sclerosi Multipla (FISM) to DC and LB; from the Italian National Ministero della Salute to DC and LB; from the Italian National Ministero dell'Università e Ricerca to DC; and from the Fondazione Tercas to MM.
Conflict of interest statement
The authors have no financial considerations to disclose or competing interests to this article.
Additional information
L. Battistini and M. Maccarrone have equally contributed to the present work.
About this article
Cite this article
Centonze, D., Mori, F., Koch, G. et al. Lack of effect of cannabis-based treatment on clinical and laboratory measures in multiple sclerosis. Neurol Sci 30, 531–534 (2009). https://doi.org/10.1007/s10072-009-0136-5
Received:

Accepted:

Published:

Issue Date:

DOI: https://doi.org/10.1007/s10072-009-0136-5
Keywords
Endocannabinoid system

H-reflex

Inflammation

Pain

Sativex®

Spasticity