Abstract
A 69-year-old male was presented with a 2-month history of cognitive decline. The most profound deficit was observed in short-term verbal and visual memory and recognition. He was otherwise healthy, apart from atrial fibrillation diagnosed 5 months before. Brain MRI revealed T2 hyperintensities in the left thalamus, right pulvinar thalami, both putamina and right head of caudate nucleus without diffusion restriction on DWI sequences. CSF examination revealed elevated proteins. He was HIV negative. The course of the disease was complicated with gram negative sepsis and the patient died 14 days later. Autopsy revealed the brain lesions to have been caused by toxoplasmic encephalitis. Toxoplasmic encephalitis is an extremely rare cause of rapidly progressive dementia in immunocompetent patients. In patients with multiple lesions, hyperintense on T2 and hypointense on T1 weighted sequences, without diffusion restriction and some expansive effect, infectious causes should be considered, even in the absence of classical signs of infectious diseases and CSF pleocythosis.
Access options
Buy single article
Instant access to the full article PDF.
US$ 39.95
Tax calculation will be finalised during checkout.
Subscribe to journal
Immediate online access to all issues from 2019. Subscription will auto renew annually.
US$ 79
Tax calculation will be finalised during checkout.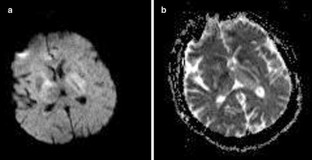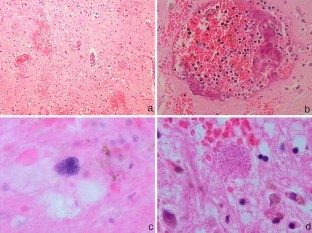 References
1.

Habek M, Brinar VV, Mubrin Z, Barun B, Zarkovic K (2007) Bilateral thalamic astrocytoma. J Neurooncol 84:175–177

2.

Hochberg FH, Baehring JM, Hochberg EP (2007) Primary CNS lymphoma. Nat Clin Pract Neurol 3:24–35

3.

Colosimo C, di Lella GM, Tartaglione T, Riccardi R (2002) Neuroimaging of thalamic tumors in children. Childs Nerv Syst 18:426–439

4.

Almeida OP, Lautenschlager NT (2005) Dementia associated with infectious diseases. Int Psychogeriatr 17(Suppl 1):S65–S77

5.

World Health Organization (2004) The revision of the surveillance case definition for variant Creutzfeldt–Jakob Disease: report of a WHO Consultation, Edinburgh. World Health Organ Tech Rep Ser 2004; (vCJD)

6.

Zeidler M, Sellar RJ, Collie DA et al (2000) The pulvinar sign on magnetic resonance imaging in variant Creutzfeldt–Jakob disease. Lancet 355:1412–1418

7.

Shiga Y, Miyazawa K, Sato S et al (2004) Diffusion-weighted MRI abnormalities as an early diagnostic marker for Creutzfeldt–Jakob disease. Neurology 63:443–449

8.

Macfarlane RG, Wroe SJ, Collinge J, Yousry TA, Jäger HR (2007) Neuroimaging findings in human prion disease. J Neurol Neurosurg Psychiatry 78:664–670

9.

Montoya JG, Liesenfeld O (2004) Toxoplasmosis. Lancet 363:1965–1976

10.

Chong-Han CH, Cortez SC, Tung GA (2003) Diffusion-weighted MRI of cerebral toxoplasma abscess. AJR Am J Roentgenol 181:1711–1714

11.

Mueller-Mang C, Mang TG, Kalhs P, Thurnher MM (2006) Imaging characteristics of toxoplasmosis encephalitis after bone marrow transplantation: report of two cases and review of the literature. Neuroradiology 48:84–89

12.

Vastava PB, Pradhan S, Jha S, Prasad KN, Kumar S, Gupta RK (2002) MRI features of toxoplasma encephalitis in the immunocompetent host: a report of two cases. Neuroradiology 44:834–838

13.

Camacho DL, Smith JK, Castillo M (2003) Differentiation of toxoplasmosis and lymphoma in AIDS patients by using apparent diffusion coefficients. AJNR Am J Neuroradiol 24:633–637

14.

Couvreur J, Thulliez P (1996) Acquired toxoplasmosis of ocular or neurologic site: 49 cases. Presse Med 25:438–442

15.

Grant SC, Klein C (1987) Toxoplasma gondii encephalitis in an immunocompetent adult. A case report. S Afr Med J 71:585–587

16.

Lescop J, Brinquin L, Schill H, Soulie D, Sarrazin JL, Cordoliani YS (1995) Diffuse toxoplasmic encephalitis in a non-immunosuppressed patient. J Radiol 76:21–24

17.

Doffoel M, Coumaros D, Levy P, Jacques C, Saada K, Laidoudi A, Bockel R, Himy-Dahan R, Kien T (1980) Neurotoxoplasmosis. Description of a case of an acquired meningoencephalitis. Sem Hop 56:788–790

18.

Kaushik RM, Mahajan SK, Sharma A, Kaushik R, Kukreti R (2005) Toxoplasmic meningoencephalitis in an immunocompetent host. Trans R Soc Trop Med Hyg 99:874–878

19.

Silva LA, Vieira RS, Serafini LN, Carlotti CG Jr, Figueiredo JF (2001) Toxoplasmosis of the central nervous system in a patient without immunosuppression: case report. Rev Soc Bras Med Trop 34:487–490

20.

Bach MC, Armstrong RM (1983) Acute toxoplasmic encephalitis in a normal adult. Arch Neurol 40:596–597
About this article
Cite this article
Habek, M., Ozretić, D., Žarković, K. et al. Unusual cause of dementia in an immunocompetent host: toxoplasmic encephalitis. Neurol Sci 30, 45–49 (2009). https://doi.org/10.1007/s10072-008-0007-5
Received:

Accepted:

Published:

Issue Date:
Keywords
Toxoplasmic encephalitis

Dementia

Immunocompetent