Abstract
Communication between parents and dependent offspring is critical not only during provisioning, but also in antipredator contexts. In altricial birds, a top cause of reproductive failure is nest predation, and alarm calls both by parents and chicks can serve to alert others and increase the likelihood of offspring escaping predation. Understanding the factors that determine the strength of parental antipredator responses to different nestling alarm calls can provide insight into parent–offspring recognition. The prothonotary warbler (Protonotaria citrea), a host of the obligate brood parasite, the brown-headed cowbird (Molothrus ater), never rejects cowbird young and raises the parasite together with its own offspring. To determine whether warbler parents learn cowbird nestling alarm calls, we presented experimentally parasitized or non-parasitized parents with playbacks of conspecific warbler, parasitic cowbird, and a harmless heterospecific control, eastern bluebird (Sialis sialis), nestling alarm calls. We recorded the latency to respond and the number of chips given by members of the resident warbler pair. We found that parents were most likely to respond to warbler nestling alarm calls, least likely to respond to bluebird calls, with a statistically intermediate likelihood of responding to cowbird calls. Critically, current and past parasitism status did not affect the likelihood of response to any playback or the number of chips given, however, currently parasitized parents had greater response latencies to playbacks than non-parasitized parents. These results suggest that warbler parents do not learn cowbird alarm calls from breeding experiences and, in turn, that cowbirds may employ a generalized, bet-hedging alarm call.
Access options
Buy single article
Instant access to the full article PDF.
USD 39.95
Price excludes VAT (USA)
Tax calculation will be finalised during checkout.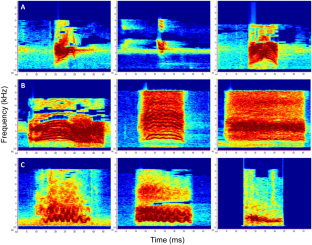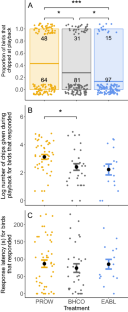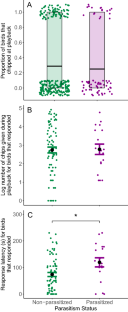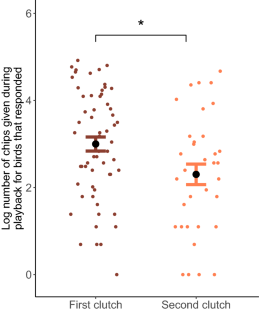 References
Ahlmann-Eltze C, Patil I (2021) ggsignif: R package for displaying significance brackets for "ggplot2." PsyArxiv. https://doi.org/10.31234/osf.io/7awm6

Antonson ND, Hauber ME, Mommer BC, Hoover JP, Schelsky WM (2020) Physiological responses of host parents to rearing an avian brood parasite: an experimental study. Horm Behav 125:104812. https://doi.org/10.1016/j.yhbeh.2020.104812

Bates D, Mächler M, Bolker B, Walker S (2015) Fitting linear mixed-effects models using lme4. J Stat Softw 67:1–48

Benedict L (2007) Offspring discrimination without recognition: California towhee responses to chick distress calls. Condor 109:79–87. https://doi.org/10.1093/condor/109.1.79

Chaiken M (1992) Individual recognition of nestling distress screams by European starlings (Sturnus vulgaris). Behaviour 120:139–150. https://doi.org/10.1163/156853992X00255

Chiavacci SJ, Ward MP, Benson TJ (2015) Why fledge early in the day? Examining the role of predation risk in explaining fledging behavior. Behav Ecol 26:593–600. https://doi.org/10.1093/beheco/aru236

Cocroft R (1999) Offspring-parent communication in a subsocial treehopper (Hemiptera: membracidae: Umbonia crassicornis). Behaviour 136(1):1–21. https://doi.org/10.1163/156853999500640

Dearborn DC (1999) Brown-headed cowbird nestling vocalizations and risk of nest predation. Auk 116:448–457. https://doi.org/10.2307/4089378

Evans RM (1994) Cold-induced calling and shivering in young American white pelicans: honest signalling of offspring need for warmth in a functionally integrated thermoregulatory system. Behaviour 129:13–34. https://doi.org/10.1163/156853994X00334

Fallow PM, Pitcher BJ, Magrath RD (2013) Alarming features: birds use specific acoustic properties to identify heterospecific alarm calls. Proc R Soc B 280:20122539. https://doi.org/10.1098/rspb.2012.2539

Gabriel JA, Kilner RM (2017) Begging call mimicry by brood parasite nestlings: adaptation, manipulation and development. Avian Brood Parasitism. Springer Nature, New York, pp 517–538

Grodzinski U, Lotem A (2007) The adaptive value of parental responsiveness to nestling begging. Proc R Soc B 274:2449–2456. https://doi.org/10.1098/rspb.2007.0658

Halupka K, Halupka L (1997) The influence of reproductive season stage on nest defence by meadow pipits (Anthus pratensis). Ethol Ecol Evol 9:89–98. https://doi.org/10.1080/08927014.1997.9522905

Hannon SJ, Wilson S, McCallum CA (2009) Does cowbird parasitism increase predation risk to American redstart nests? Oikos 118:1035–1043. https://doi.org/10.1111/j.1600-0706.2008.17383.x

Hatch MI (1997) Variation in song sparrow nest defense: individual consistency and relationship to nest success. Condor 99:282–289. https://doi.org/10.2307/1369934

Hauber ME (2000) Nest predation and cowbird parasitism in song sparrows. J Field Ornithol 71:389–398

Hauber ME (2003) Hatching asynchrony, nestling competition, and the cost of interspecific brood parasitism. Behav Ecol 14:227–235. https://doi.org/10.1093/beheco/14.2.227

Hoover JP (2003) Multiple effects of brood parasitism reduce the reproductive success of prothonotary warblers, Protonotaria citrea. Anim Behav 65:923–934. https://doi.org/10.1006/anbe.2003.2155

Hoover JP, Reetz MJ (2006) Brood parasitism increases provisioning rate, and reduces offspring recruitment and adult return rates, in a cowbird host. Oecologia 149:165–173. https://doi.org/10.1007/s00442-006-0424-1

Hoover JP, Schelsky WM (2020) Warmer April temperatures on breeding grounds promote earlier nesting in a long-distance migratory bird, the prothonotary warbler. Front Ecol Evol 8:427. https://doi.org/10.3389/fevo.2020.580725

Hoover JP, Yasukawa K, Hauber ME (2006) Spatially and temporally structured avian brood parasitism affects the fitness benefits of hosts' rejection strategies. Anim Behav 72:881–890. https://doi.org/10.1016/j.anbehav.2006.02.011

Kilner RM, Madden JR, Hauber ME (2004) Brood parasitic cowbird nestlings use host young to procure resources. Science 305:877–879. https://doi.org/10.1126/science.1098487

Langmore NE, Maurer G, Adcock GJ, Kilner RM (2008) Socially acquired host-specific mimicry and the evolution of host races in Horsfield's bronze-cuckoo Chalcites basalis. Evolution 62:1689–1699. https://doi.org/10.1111/j.1558-5646.2008.00405.x

Lawson SL, Enos JK, Mendes NC et al (2020) Heterospecific eavesdropping on an anti-parasitic referential alarm call. Commun Biol 3:1–8. https://doi.org/10.1038/s42003-020-0875-7

Leavesley AJ, Magrath RD (2005) Communicating about danger: urgency alarm calling in a bird. Anim Behav 70:365–373. https://doi.org/10.1016/j.anbehav.2004.10.017

Lenth R (2021) emmeans: estimated marginal means, aka least-squares means. Version R package version 1.6.2–1URL https://CRAN.R-project.org/package=emmeans

Lichtenstein G, Sealy SG (1998) Nestling competition, rather than supernormal stimulus, explains the success of parasitic brown-headed cowbird chicks in yellow warbler nests. Proc R Soc B. https://doi.org/10.1098/rspb.1998.0289

Magrath RD, Haff TM, Horn AG, Leonard ML (2010) Chapter 6—calling in the face of danger: predation risk and acoustic communication by parent birds and their offspring. In: Brockmann HJ, Roper TJ, Naguib M et al (eds) Advances in the study of behavior. Academic Press, pp 187–253

Martin TE (1995) Avian life history evolution in relation to nest sites, nest predation, and food. Ecol Mongr 65:101–127. https://doi.org/10.2307/2937160

McKim-Louder MI, Hoover JP, Benson TJ, Schelsky WM (2013) Juvenile survival in a neotropical migratory songbird is lower than expected. PLoS ONE 8:e56059. https://doi.org/10.1371/journal.pone.0056059

Montgomerie RD, Weatherhead PJ (1988) Risks and rewards of nest defence by parent birds. Q Rev Biol 63:167–187

Mutzel A, Blom MPK, Spagopoulou F, Wright J, Dingemanse NJ, Kempenaers B (2013) Temporal trade-offs between nestling provisioning and defence against nest predators in blue tits. Anim Behav 85:1459–1469. https://doi.org/10.1016/j.anbehav.2013.03.043

Pavel V, Bureš S (2008) Nest defence in the meadow pipit Anthus pratensis: the influence of renesting potential. J Ethol 26:367–373. https://doi.org/10.1007/s10164-007-0075-7

Payne RB, Payne LL (1998) Brood parasitism by cowbirds: risks and effects on reproductive success and survival in indigo buntings. Behav Ecol 9:64–73. https://doi.org/10.1093/beheco/9.1.64

Petit LJ (1999) Prothonotary Warbler (Protonotaria citrea). Birds N Am. https://doi.org/10.2173/bna.408

Pinheiro J, Bates D, DebRoy S, Sarkar D, R Core Team (2021) nlme: Linear and nonlinear mixed effects models. R package version 3, pp 1–152

R Core Team (2017) R: A language and environment for statistical computing. R Foundation for Statistical Computing, Vienna, Austria

Rainey HJ, Zuberbühler K, Slater PJB (2004) Hornbills can distinguish between primate alarm calls. Proc R Soc B 271:755–759. https://doi.org/10.1098/rspb.2003.2619

Redondo T, Carranza J (1989) Offspring reproductive value and nest defense in the magpie (Pica pica). Behav Ecol Sociobiol 25:369–378. https://doi.org/10.1007/BF00302995

Rivers JW (2007) Nest mate size, but not short-term need, influences begging behavior of a generalist brood parasite. Behav Ecol 18:222–230. https://doi.org/10.1093/beheco/arl068

Roulin A (2001) Screaming as a strategy to reduce the predation risk incurred by begging? Behaviour 138(5):615–627. http://www.jstor.org/stable/4535843

Scharf HM, Abolins-Abols M, Stenstrom KH, Tolman DT, Schelsky WM, Hauber ME (2021a) Exposure to a mimetic or non-mimetic model avian brood parasite egg does not produce differential glucocorticoid responses in an egg-accepter host species. Gen Comp Endocrinol 304:113723. https://doi.org/10.1016/j.ygcen.2021.113723

Scharf HM, Hauber ME, Mommer BC, Hoover JP, Schelsky WM (2021b) The effect of avian brood parasitism on physiological responses of host nestlings. Oecologia 195:861–872. https://doi.org/10.1007/s00442-021-04888-w

Soler M (ed) (2017) Avian brood parasitism: behaviour, ecology, evolution and coevolution. Springer International Publishing, New York

Stanback MT, Dervan AA (2001) Within-season nest-site fidelity in eastern bluebirds: disentangling effects of nest success and parasite avoidance. Auk 118:743–745. https://doi.org/10.1093/auk/118.3.743

Stumpf KJ, Theimer TC, Mcleod MA, Koronkiewicz TJ (2012) Distance from riparian edge reduces brood parasitism of southwestern willow flycatchers, whereas parasitism increases nest predation risk. J Wildlife Manage 76:269–277. https://doi.org/10.1002/jwmg.246

Suzuki TN (2014) Communication about predator type by a bird using discrete, graded and combinatorial variation in alarm calls. Anim Behav 87:59–65. https://doi.org/10.1016/j.anbehav.2013.10.009

Templeton CN, Greene E (2007) Nuthatches eavesdrop on variations in heterospecific chickadee mobbing alarm calls. PNAS 104:5479–5482. https://doi.org/10.1073/pnas.0605183104

Thornhill R (1989) Nest defense by red jungle fowl (Gallus gallus spadiceus) hens: the roles of renesting potential, parental experience and brood reproductive value. Ethology 83:31–42. https://doi.org/10.1111/j.1439-0310.1989.tb00517.x

Tryjanowski P, Goławski A (2004) Sex differences in nest defence by the red-backed shrike Lanius collurio: effects of offspring age, brood size, and stage of breeding season. J Ethol 22:13–16. https://doi.org/10.1007/s10164-003-0096-9

Vergne AL, Aubin T, Taylor P, Mathevon N (2011) Acoustic signals of baby black caimans. Zoology 114:313–320. https://doi.org/10.1016/j.zool.2011.07.003

Wickham H (2009) ggplot2: Elegant graphics for data analysis. Springer-Verlag, New York

Wiklund CG (1990) Offspring protection by merlin Falco columbarius females; the importance of brood size and expected offspring survival for defense of young. Behav Ecol Sociobiol 26:217–223. https://doi.org/10.1007/BF00172089
Acknowledgements
We thank Mark Stanback for providing the eastern bluebird nestlings' alarm calls, Nick Antonson for providing some of the prothonotary warbler and brown-headed cowbird nestling alarm calls, Lauryn Benedict for discussions, and Shelby Lawson for assistance in generating playback audio files. Funding for this project was provided by the University of Illinois at Urbana-Champaign School of Integrative Biology Isabel Norton Award and Odum-Kendeigh Summer Research Award. This work was also supported in part by an Illinois Distinguished Fellowship (to HMS), the Harley Jones Van Cleave Professorship and the Center for Advanced Study at the University of Illinois (to MEH), and the Wissenschaftskolleg zu Berlin (to MEH).
Ethics declarations
Conflict of interest
We do not declare any conflicts of interest.
Additional information
Publisher's Note
Springer Nature remains neutral with regard to jurisdictional claims in published maps and institutional affiliations.
About this article
Cite this article
Scharf, H.M., Schelsky, W.M., Chamberlain, M.L. et al. Host parent responses to heterospecific parasite nestling alarm calls are independent of past and current experience with experimental brood parasitism. Anim Cogn 25, 1289–1298 (2022). https://doi.org/10.1007/s10071-022-01612-w
Received:

Revised:

Accepted:

Published:

Issue Date:

DOI: https://doi.org/10.1007/s10071-022-01612-w
Keywords
Recognition

Communication

Distress call

Predation

Brood parasitism