Abstract
Recovery-from-extinction effects in which a conditioned response returns after extinction have been shown in mammals, birds and fish. Thus, these effects appear to be conserved among vertebrates; however, they have yet to be investigated in amphibians. Using prey catching conditioning in the fire-bellied toad (Bombina orientalis), we tested if renewal and reinstatement occurred after extinction when subjects were respectively re-exposed to the context or reinforcer used during conditioning. For renewal, a different context was used during extinction and thus renewal tests assessed if external contextual cues associated during conditioning stimulated prey catching performance. For reinstatement, the reinforcer withheld during extinction was simply delivered again prior to a test assessing if internal cues associated with recent prey consumption stimulated prey catching performance. Conditioning followed a fixed ratio 5 schedule of reinforcement, where five attempts to capture a cricket stimulus displayed on a computer screen were reinforced by delivery of a single live cricket. Performance was measured as the time to reach five prey catching attempts. A significant improvement in prey catching performance during conditioning followed by deterioration with extinction was seen in the experiments. Upon return to the context used for conditioning after extinction, toads showed a renewal effect whereby they displayed faster performance during testing compared to the end of extinction. Conversely, toads showed no reinstatement effect because pre-feeding of a cricket did not influence performance during the test that followed extinction. Reinstatement could have been lost in amphibian phylogeny due to secondary simplification of the nervous system.
Access options
Buy single article
Instant access to the full article PDF.
US$ 39.95
Tax calculation will be finalised during checkout.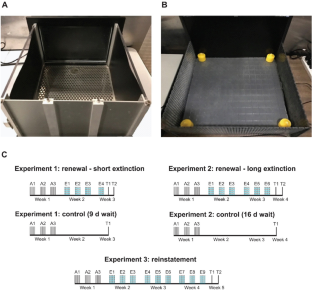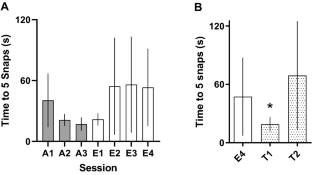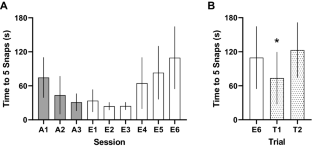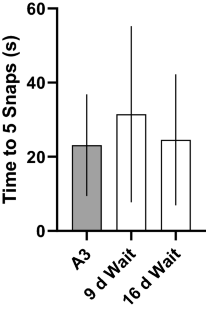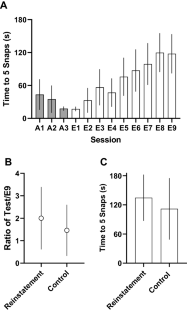 References
Alvarez B, Morís J, Luque D, Loy I (2014) Extinction, spontaneous recovery and reinstatement in the garden snail, Helix aspersa. Anim Behav 92:75–83

Bernal-Gamboa R, Nieto J, Uengoer M (2017) Effects of extinction in multiple contexts on renewal of instrumental responses. Behav Process 142:64–69

Bouton ME (2002) Context, ambiguity, and unlearning: sources of relapse after behavioral extinction. Biol Psychiatry 52:976–986

Bouton ME, Bolles RC (1979) Contextual control of the extinction of conditioned fear. Learn Motiv 10:445–466

Bouton ME, Todd TP, Vurbic D, Winterbauer NE (2011) Renewal after the extinction of free operant behavior. Learn Behav 39:57–67

Brembs B, Wiener J (2006) Context and occasion setting in Drosophila visual learning. Learn Mem 13:618–628

Claassen J, Mazilescu L, Thieme A, Bracha V, Timmann D (2016) Lack of renewal effect in extinction of naturally acquired conditioned eyeblink responses, but possible dependency on physical context. Exp Brain Res 234:151–159

Colwill RM, Absher RA, Roberts ML (1988a) Conditional discrimination learning in Aplysia californica. J Neurosci 8:4434–4439

Colwill RM, Absher RA, Roberts ML (1988b) Context-US learning in Aplysia californica. J Neurosci 8:4440–4444

Delamater AR (1997) Selective reinstatement of stimulus-outcome associations. Anim Learn Behav 25:400–412

Delamater AR (2004) Experimental extinction in Pavlovian conditioning: behavioural and neuroscience perspectives. Q J Exp Psychol B 57:97–132

Gale GD, Anagnostaras SG, Godsil BP, Mitchell S, Nozawa T, Sage JR, Wiltgen B, Fanselow MS (2004) Role of the basolateral amygdala in the storage of fear memories across the adult lifetime of rats. J Neurosci 24:3810–3815

Gewirtz JC, Falls WA, Davis M (1997) Normal conditioned inhibition and extinction of freezing and fear-potentiated startle following electrolytic lesions of medical prefrontal cortex in rats. Behav Neurosci 111:712–726

Ghitza UE, Gray SM, Epstein DH, Rice KC, Shaham Y (2006) The anxiogenic drug yohimbine reinstates palatable food seeking in a rat relapse model: a role of CRF1 receptors. Neuropsychopharmacology 31:2188–2196

Haaker J, Golkar A, Hermans D, Lonsdorf TB (2014) A review on human reinstatement studies: an overview and methodological challenges. Learn Mem 21:424–440

Harris JA, Westbrook RF (1998) Evidence that GABA transmission mediates context-specific extinction of learned fear. Psychopharmacology 140:105–115

Havermans RC, Keuker J, Lataster T, Jansen A (2005) Contextual control of extinguished conditioned performance in humans. Learn Motiv 36:1–19

Hobin JA, Goosens KA, Maren S (2003) Context-dependent neuronal activity in the lateral amygdala represents fear memories after extinction. J Neurosci 23:8410–8416

Kenney JW, Scott IC, Josselyn SA, Frankland PW (2017) Contextual fear conditioning in zebrafish. Learn Mem 24:516–523

Kim JH, Richardson R (2008) The effect of temporary amygdala inactivation on extinction and reextinction of fear in the developing rat: unlearning as a potential mechanism for extinction early in development. J Neurosci 28:1282–1290

Kuroda T, Mizutani Y, Cançado CRX, Podlesnik CA (2017) Operant models of relapse in zebrafish (Danio Rerio): resurgence, renewal, and reinstatement. Behav Brain Res 335:215–222

Lin C-H, Lee C-C, Gean P-W (2003) Involvement of a calcineurin cascade in amygdala depotentiation and quenching of fear memory. Mol Pharmacol 63:44–52

Lingawi NW, Holmes NM, Westbrook RF, Laurent V (2018) The infralimbic cortex encodes inhibition irrespective of motivational significance. Neurobiol Learn Mem 150:64–74

Matsumoto Y, Mizunami M (2004) Context-dependent olfactory learning in an insect. Learn Mem 11:288–293

McConnell BL, Miller RR (2014) Associative accounts of recovery-from-extinction effects. Learn Motiv 46:1–15

Miranda-Dukoski L, Bensemann J, Podlesnik CA (2016) Training reinforcement rates, resistance to extinction, and the role of context in reinstatement. Learn Behav 44:29–48

Muzio RN, Segura ET, Papini MR (1993) Effects of lesions in the medial pallium on instrumental learning in the toad (Bufo arenarum). Physiol Behav 54:185–188

Muzio RN, Ruetti E, Papini MR (2006) Determinants of instrumental extinction in terrestrial toads (Bufo arenarum). Learn Motiv 37:346–356

Myers KM, Ressler KJ, Davis M (2006) Different mechanisms of fear extinction dependent on length of time since fear acquisition. Learn Mem 13:216–223

Nair SG, Adams-Deutsch T, Epstein DH, Shaham Y (2009) The neuropharmacology of relapse to food seeking: methodology, main findings, and comparison with relapse to drug seeking. Prog Neurobiol 89:18–45

Nathaniel TI, Panksepp J, Huber R (2009) Drug-seeking behavior in an invertebrate system: evidence of morphine-induced reward, extinction and reinstatement in crayfish. Behav Brain Res 197:331–338

Northcutt RG (2012) Evolution of centralized nervous systems: two schools of evolutionary thought. Proc Natl Acad Sci USA 109(suppl. 1):10626–10633

Pavlov IP (1927) Conditioned reflexes: an investigation of the physiological activity of the cerebral cortex. Oxford University Press, Oxford

Plath JA, Felsenberg J, Eisenhardt D (2012) Reinstatement in honeybees is context-dependent. Learn Mem 19:543–549

Podlesnik CA, Shahan TA (2009) Behavioral momentum and relapse of extinguished operant responding. Learn Behav 37:357–364

Puddington MM, Papini MR, Muzio RN (2013) Vulnerability of long-term memory to temporal delays in amphibians. Behav Processes 99:7–11

Ramsay ZJ, Ikura J, Laberge F (2013) Modification of a prey catching response and the development of behavioral persistence in the fire-bellied toad (Bombina orientalis). J Comput Psychol 127:399–411

Rescorla RA (1993) Inhibitory associations between S and R in extinction. Anim Learn Behav 21:327–336

Roster NO, Clark DL, Gillingham JC (1995) Prey catching behavior in frogs and toads using video-simulated prey. Copeia 1995:496–498

Roth G, Walkowiak W (2015) The influence of genome and cell size on brain morphology in amphibians. Cold Spring Harb Perspect Biol 7:a019075

Sandoz JC, Pham-Delegue MH (2004) Spontaneous recovery after extinction of the conditioned proboscis extension response in the honeybee. Learn Mem 11:586–597

Siegel S (1956) Nonparametric statistics for the behavioral sciences. McGraw-Hill, New York

Starosta S, Uengoer M, Bartetzko I, Lucke S, Güntürkün O, Stüttgen MC (2016) Context specificity of both acquisition and extinction of a Pavlovian conditioned response. Learn Mem 23:639–643

Steins-Loeber S, Madjarova R, Lörsch F, Herpertz SC, Flor H, Duka T (2019) An experimental study on spontaneous recovery of conditioned reward expectancies and instrumental responding in humans. Behav Res Ther 118:54–64

Striedter GF, Northcutt RG (2020) Brains through time: a natural history of vertebrates. Oxford University Press, New York

Thanellou A, Green JT (2011) Spontaneous recovery but not reinstatement of the extinguished conditioned eyeblink response in the rat. Behav Neurosci 125:613–625

Trask S, Thrailkill EA, Bouton ME (2017) Occasion setting, inhibition, and the contextual control of extinction in Pavlovian and instrumental (operant) learning. Behav Processes 137:64–72

Urcelay GP, Wheeler DS, Miller RR (2009) Spacing extinction trials alleviates renewal and spontaneous recovery. Learn Behav 37:60–73

Waddell J, Dunnett C, Falls WA (2004) C57BL/6J and DBA/2J mice differ in extinction and renewal of extinguished conditioned fear. Behav Brain Res 154:567–576

Wells KD (2007) The ecology and behavior of amphibians. University of Chicago Press, Chicago, pp 220–227
Acknowledgements
This work was supported by a Discovery Grant of the Natural Sciences and Engineering Research Council of Canada to F. Laberge. Vern Lewis trained JM, ML and AR on the prey catching conditioning procedure.
Funding
This work was supported by a Discovery Grant of the Natural Sciences and Engineering Research Council of Canada to F. Laberge.
Ethics declarations
Conflict of interest
We declare no conflict or competing interests.
Ethical approval
All procedures were approved by the University of Guelph animal care committee (AUP #3590) under the guidelines of the Canadian Council on Animal Care.
Data availability
Data are available as supplementary material with the article.
Code availability
Not applicable.
Additional information
Publisher's Note
Springer Nature remains neutral with regard to jurisdictional claims in published maps and institutional affiliations.
Supplementary Information
Below is the link to the electronic supplementary material.
About this article
Cite this article
Mesich, J., Reynolds, A., Liu, M. et al. Recovery-from-extinction effects in an anuran amphibian: renewal effect, but no reinstatement. Anim Cogn (2021). https://doi.org/10.1007/s10071-021-01558-5
Received:

Revised:

Accepted:

Published:
Keywords
Amphibians

Prey catching conditioning

Recovery from extinction effects

Renewal

Reinstatement