Abstract
Behavioral variation in animals is often influenced by experience. Previous studies have found that daily threatening experiences can enhance fear- and anxiety-like behaviors in some vertebrates. However, it is unclear whether the change in fear/anxiety behavior occurs in invertebrates. The present study investigated whether fear/anxiety behavior could be affected by a net-chasing treatment in two shrimp species (Neocaridina denticulata ssp. and Palaemon pacificus). The net-chasing treatment was repeated for 8 days to simulate daily predator experiences, and behavioral tests (open-field, shelter-seeking, and escape-response tests) were conducted on the day following the last day of treatment. Net-chased N. denticulata ssp. displayed a tendency to remain near a wall compared with the control in the open-field test, whereas net-chased P. pacificus shrimps demonstrated greater escape behavior compared with the control in the escape-response test. These results suggest that fear/anxiety behavior for both shrimp species can be affected by the net-chasing treatment, although the pattern of behavioral change differed between the two species. The findings suggest that daily threatening experiences change the behavior of shrimp and cause them to select a regular avoidance strategy when they encounter risks and unknown situations.
Access options
Buy single article
Instant access to the full article PDF.
US$ 39.95
Tax calculation will be finalised during checkout.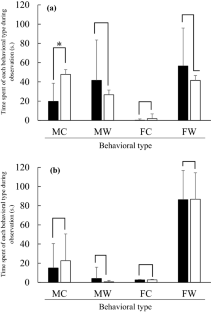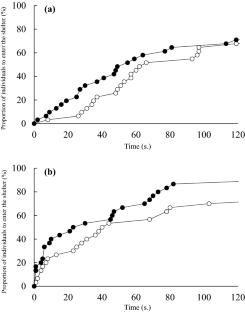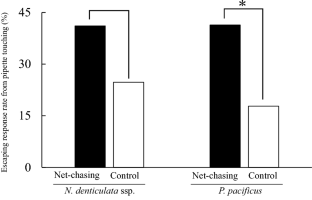 Data availability
The data of each individual are uploaded in Supplemental file.
References
Aparicio-Simón B, Piñón M, Racotta R, Racotta IS (2010) Neuroendocrine and metabolic responses of Pacific whiteleg shrimp Litopenaeus vannamei exposed to acute handling stress. Aquaculture 298:308–314

Aspaas S, Grefsrud ES, Fernö A, Jensen KH, Trengereid H, Agnalt A (2016) An enriched environment promotes shelter-seeking behaviour and survival of hatchery-produced juvenile European lobster (Homarus gammarus). PLoS ONE 11:e0159807

Biro PA, Stamps JA (2008) Are animal personality traits linked to life-history productivity? Tre Ecol Evol 23:361–368

Bool JD, Witcomb K, Kydd E, Brown C (2011) Learned recognition and avoidance of invasive mosquitofish by the shrimp, Paratya australiensis. Mar Fresh Res 62:1230–1236

Briffa M, Jones N, Macneil C (2016) Responses to threat in a freshwater invader: longitudinal data reveal personality, habituation, and robustness to changing water temperatures in the "killer shrimp" Dikerogammarus villosus (Crustacea: Amphipoda). Curr Zool 62:45–51

Brown GE, Ferrari MCO, Elvidge CK, Ramnarine I, Chivers DP (2013) Phenotypically plastic neophobia: a response to variable predation risk. Proc Roy Soc B 280:20122712

Chivers DP, Mitchell MD, Lucon-Xiccato T, Brown GE, Ferrari MCO (2016) Background risk influences learning but not generalization of predators. Anim Behav 121:185–189

Chu KH, Lau PY (1994) Effects of diazinon, malathion, and paraquat on the behavioral response of the shrimp Metapenaeus ensis to chemoattractants. Bull Env Contam Toxicol 53:127–133

Dingemanse NJ, Kazem AJ, Réale D, Wright J (2010) Behavioural reaction norms: animal personality meets individual plasticity. Trend Ecol Evol 25:81–89

Douglas B, Martin M, Ben B, Steve W (2015) Fitting linear mixed-effects models using lme4. J Stat Soft 67:1–48

Elwood RW, Barr S, Patterson L (2009) Pain and stress in crustaceans? Appl Animl Behav Sci 118:128–136

Filiciotto F, Vazzana M, Celi M, Maccarrone V, Ceraulo M, Buffa G, Arizza V, de Vincenzi G, Grammauta R, Mazzola S, Buscaino G (2016) Underwater noise from boats: Measurement of its influence on the behaviour and biochemistry of the common prawn (Palaemon serratus, Pennant 1777). J Exp Mar Biol Ecol 478:24–33

Fossat P, Bacqué-Cazenave J, De Deurwaerdère P, Delbecque JP, Cattaert D (2014) Anxiety-like behavior in crayfish is controlled by serotonin. Science 344:1293–1297

Frost AJ, Winrow-Giffen A, Ashley PJ, Sneddon LU (2007) Plasticity in animal personality traits: does prior experience alter the degree of boldness? Proc Roy Soc B 274:333–339

Hamasaki K, Kitada S (2008) Potential of stock enhancement for decapod crustaceans. Rev Fish Sci 16:164–174

Hurst JL, West RS (2010) Taming anxiety in laboratory mice. Nat Meth 7:825–826

Kohler SA, Parker MO, Ford AT (2018) Species-specific behaviours in amphipods highlight the need for understanding baseline behaviours in ecotoxicology. Aquat Toxicol 202:173–180

Liedtke J, Redekop D, Schneider JM, Schuett W (2015) Early environmental conditions shape personality types in a jumping spider. Front Ecol Evol 3:1–14

López P, Hawlena D, Polo V, Amo L, Martín J (2005) Sources of individual shyebold variations in antipredador behaviour of male Iberian rock lizards. Anim Behav 69:1–9

MacKay JR, Haskell MJ (2015) Consistent individual behavioral variation: the difference between temperament, personality and behavioral syndromes. Animals 8:455–478

Mackintosh NJ (1983) General principles of learning. In: Halliday TR, Slater PJB (eds) Animal behaviour. Blackwell Scientific Publications, London

Maldonado H, Romano A, Lozada M (1989) Opiate action on response level to danger stimulus in the crab Chasmagnathus granulatus. Behav Neurosci 103:1139–1143

Marsden G, Richardson N, Mather P, Knibb W (2013) Reproductive behavioural differences between wild-caught and pond-reared Penaeus monodon prawn broodstock. Aquaculture 402:141–145

Masuda R, Tsukamoto K (1998) Stock enhancement in Japan: review and perspective. Bull Mar Sci 62:337–358

Mesquita FO, Young RJ (2007) The behavioural responses of Nile tilapia (Oreochromis niloticus) to anti-predator training. Appl Anim Behav Sci 106:144–154

Mizue K, Iwamoto Y (1961) On the development and growth of Neocaridina denticulata de Haan. Bull Fac Sci Fish Nagasaki Univ 10:15–24

Moscicki MK, Hurd PK (2015) Sex, boldness and stress experience affect convict cichlid, Amatitlania nigrofasciata, open field behaviour. Anim Behav 107:105–114

Nguyên VX (1992) Review of Palaemoninae (Crustacea: Decapoda: Caridea) from Viet-nam, Macrobrachium excepted. Zoolo Medede 66:19–47

Oliver MD, Macdiarmid AB, Stewart RA, Gardner C (2008) Anti-predator behaviour of captive-reared and wild juvenile spiny lobster (Jasus edwardsii). Rev Fish Sci 16:186–194

Perrot-Minnot MJ, Banchetry L, Cézilly F (2017) Anxiety-like behaviour increases safety from fish predation in an amphipod crustacea. Roy Soc Open Sci 4:171558

Poon CS, Schmid S (2012) Nonassociative learning. In: Seel NM (ed) Encyclopedia of the sciences of learning. Springer

R Core Team (2017) R: A language and environment for statistical computing. R Foundation for Statistical Computing, Vienna, Austria. https://www.R-project.org/

Réale D, Reader S, Sol D, McDougall PT, Dingemanse N (2007) Integrating animal temperament within ecology and evolution. Biol Rev 82:291–318

Robertson MD, Hernandez MF, Midway SR, Hasler CT, Suski CD (2018) Shelter-seeking behavior of crayfish, Procambarus clarkii, in elevated carbon dioxide. Aquat Ecol 52:225–233

Seel NM (2012) Transfer of learning. In: Seel NM (ed) Encyclopedia of the sciences of learning. Springer

Seibenhener ML, Wooten MC (2015) Use of the open field maze to measure locomotor and anxiety-like behavior in mice. J vis Exp 95:52434

Sih A, Bell AM, Johnson JC (2004a) Behavioral syndromes: an ecological and evolutionary overview. Trend Ecol Evol 19:372–378

Sih A, Bell AM, Johnson JC, Ziemba RE (2004b) Behavioral syndromes: an integrative overview. Quart Rev Biol 79:241–277

Sih A, Mathot KJ, Moirón M, Montiglio PO, Wolf M, Dingemanse NJ (2015) Animal personality and state–behaviour feedbacks: a review and guide for empiricists. Tren Ecol Evol 30:50–60

Smith BR, Blumstein DT (2012) Structural consistency of behavioural syndromes: does predator training lead to multi-contextual behavioural change? Behav 149:187–213

Stamps JA (2007) Growth-mortality tradeoffs and 'personality traits' in animals. Ecol Let 10:355–363

Stamps J, Groothuis TGG (2010) The development of animal personality: relevance, concepts and perspectives. Biol Rev 85:301–325

Steimer T (2002) The biology of fear- and anxiety-related behaviors. Dialogues Clin Neurosci 4:231–249

Svåsand T, Skilbrei OT, van Der Meeren GI, Holm M (1998) Review of morphological and behavioural differences between reared and wild individuals: implications for sea-ranching of Atlantic salmon, Salmo salar L., Atlantic cod, Gadus morhua L., and European lobster Homarus Gammarus l. Fish Manag Ecol 5:473–490

Takahashi K, Masuda R (2018) Net-chasing training improves the behavioral characteristics of hatchery-reared red sea bream (Pagrus major) juveniles. Can J Fish Aqua Sci 75:861–867

Takahashi K, Masuda R, Yamashita Y (2013) Bottom feeding and net chasing improve foraging behavior in hatchery-reared Japanese flounder Paralichthys olivaceus juveniles for stocking. Fish Sci 79:55–60

Talkovsky AM, Norton PJ (2020) Anxiety. In: Zeigler-Hill V, Shackelford TK (eds) Encyclopedia of personality and individual differences. Springer

Therneau T (2018) Package 'coxme'. mixed effects cox models. R Package Version 2:2–10

Thigpen N, Keil A (2020) Fear. In: Zeigler-Hill V, Shackelford TK (eds) Encyclopedia of personality and individual differences. Springer

Tierney AJ, Hanzlik KN, Hathaway RM, Powers C, Roy M (2016) Effects of fluoxetine on growth and behavior in the crayfish Orconectes rusticus. Mar Fresh Behav Physiol 49:133–145

Urszán TJ, Garamszegi LZ, Nagy G, Hettyey A, Török J, Herczeg G (2015) No personality without experience? A test on Rana dal- matina tadpoles. Ecol Evol 5:5847–5856
Acknowledgements
The present study was funded by the Grant-in-Aid for JSPS Fellows (JSPS KAKENHI Grant I thank Dr. Takeshi Takegaki and the students of the Evolutionary and Behavioral Ecology Laboratory, Nagasaki University for providing support to conduct this experiment.
Funding
The present study was funded by the Grant-in-Aid for JSPS Fellows (JSPS KAKENHI Grant Numbers 15J06124 and 18K14512).
Ethics declarations
Conflict of interest
Not applicable.
Ethics approval
This study was approved by the Animal Care and Use Committee of the Faculty of Fisheries, Nagasaki University (permission no. NF-0005), in accordance with the Guidelines for Animal Experimentation of the Faculty of Fisheries (fish, amphibians and invertebrates).
Consent to participate
Not applicable.
Consent for publication
Not applicable.
Code availability
Not applicable.
Additional information
Publisher's Note
Springer Nature remains neutral with regard to jurisdictional claims in published maps and institutional affiliations.
Supplementary Information
Below is the link to the electronic supplementary material.
About this article
Cite this article
Takahashi, K. Changes in the anxiety-like and fearful behavior of shrimp following daily threatening experiences. Anim Cogn (2021). https://doi.org/10.1007/s10071-021-01555-8
Received:

Revised:

Accepted:

Published:
Keywords
Avoidance

Decapod

Neocaridina denticulate

Non-associative learning

Palaemon pacificus

Training