Abstract
The detection and use of emitters' signals by unintended receivers, i.e., eavesdropping, represents an important and often low-cost way for animals to gather information from their environment. Acoustic eavesdropping can be a key driver in mediating intra- and interspecific interactions (e.g., cooperation, predator–prey systems), specifically in species such as cetaceans that use sound as a primary sensory modality. While most cetacean species produce context-specific sounds, little is known about the use of those sounds by potential conspecific eavesdroppers. We experimentally tested the hypothesis that a social cetacean, Risso's dolphin (Grampus griseus), is able to gather biologically relevant information by eavesdropping on conspecific sounds. We conducted playback experiments on free-ranging dolphins using three context-specific sounds stimuli and monitored their horizontal movement using visual or airborne focal follow observations. We broadcasted natural sequences of conspecific foraging sounds potentially providing an attractive dinner bell signal (n = 7), male social sounds simulating a risk of forthcoming agonistic interaction (n = 7) and female-calf social sounds representing no particularly threatening context (n = 7). We developed a quantitative movement response score and tested whether animals changed their direction of horizontal movement towards or away from the playback source. Dolphins approached the foraging and the social female-calf sounds whereas they avoided the social male sounds. Hence, by acoustically eavesdropping on conspecifics, dolphins can discriminate between social and behavioural contexts and anticipate potential threatening or beneficial situations. Eavesdropping and the ensuing classification of 'friend or foe' can thus shape intra-specific social interactions in cetaceans.
Access options
Buy single article
Instant access to the full article PDF.
USD 39.95
Price includes VAT (USA)
Tax calculation will be finalised during checkout.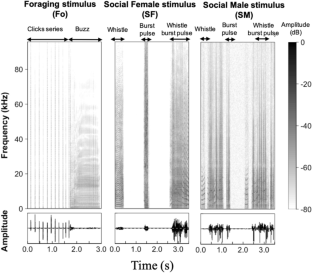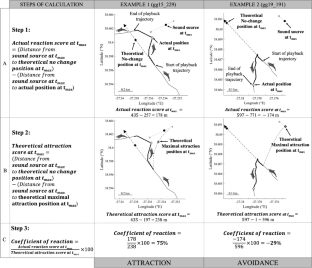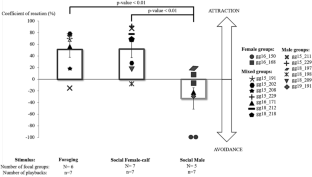 Availability of data and materials
Available on request from the corresponding author.
References
Arranz P, DeRuiter SL, Stimpert AK et al (2016) Discrimination of fast click-series produced by tagged Risso's dolphins (Grampus griseus) for echolocation or communication. J Exp Biol 219:2898–2907. https://doi.org/10.1242/jeb.144295

Benti B, Miller PJO, Biuw M, Curé C (2021) Indication that the behavioural responses of humpback whales to killer whale sounds are influenced by trophic relationships. Mar Ecol Prog Ser 660:217–232. https://doi.org/10.3354/meps13592

Blanchet S, Clobert J, Danchin E (2010) The role of public information in ecology and conservation: an emphasis on inadvertent social information. Ann N Y Acad Sci 1195:149–168. https://doi.org/10.1111/j.1749-6632.2010.05477.x

Bowers MT, Friedlaender AS, Janik VM et al (2018) Selective reactions to different killer whale call categories in two delphinid species. J Exp Biol 221:jeb162479. https://doi.org/10.1242/jeb.162479

Bradbury JW, Vehrencamp SL (1998) Principles of animal communication. Sinauer Associates, Sunderland

Carey VJ, Lumley T, Ripley B (2012) Gee: generalized estimation equation solver. https://cran.r-project.org/package=gee. Accessed 6 Dec 2020

Christiansen F, Rojano-Doñate L, Madsen PT, Bejder L (2016) Noise levels of multi-rotor unmanned aerial vehicles with implications for potential underwater impacts on marine mammals. Front Mar Sci 3:277. https://doi.org/10.3389/fmars.2016.00277

Clark RW (2004) Timber rattlesnakes (Crotalus horridus) use chemical cues to select ambush sites. J Chem Ecol 30:607–617. https://doi.org/10.1023/B:JOEC.0000018632.27010.1e

Clark CW, Clark JM (1980) Sound playback experiments with southern right whales (Eubalaena australis). Science 207:663–665. https://doi.org/10.1126/science.207.4431.663

Connor RC, Krützen M (2015) Male dolphin alliances in Shark Bay: changing perspectives in a 30-year study. Anim Behav 103:223–235. https://doi.org/10.1016/j.anbehav.2015.02.019

Corkeron PJ, Van Parijs SM (2001) Vocalizations of eastern Australian Risso's dolphins, Grampus griseus. Can J Zool 79:160–164. https://doi.org/10.1139/z00-180

Cummings WC, Thompson PO (1971) Gray whales, Eschrichtius robustus, avoid the underwater sounds of killer whales, Orcinus orca. Fish Bull 69:525–530

Curé C, Antunes R, Samarra F et al (2012) Pilot whales attracted to killer whale sounds: acoustically-mediated interspecific interactions in cetaceans. PLoS ONE 7:e52201. https://doi.org/10.1371/journal.pone.0052201

Curé C, Antunes R, Alves AC et al (2013) Responses of male sperm whales (Physeter macrocephalus) to killer whale sounds: implications for anti-predator strategies. Sci Rep 3:1–7. https://doi.org/10.1038/srep01579

Curé C, Sivle LD, Visser F et al (2015) Predator sound playbacks reveal strong avoidance responses in a fight strategist baleen whale. Mar Ecol Prog Ser 526:267–282. https://doi.org/10.3354/meps11231

Curé C, Isojunno S, Vester H et al (2019) Evidence for discrimination between feeding sounds of familiar fish and unfamiliar mammal-eating killer whale ecotypes by long-finned pilot whales. Anim Cogn 22:863–882. https://doi.org/10.1007/s10071-019-01282-1

Dall SRX (2005) Defining the concept of public information. Science 308:353–356. https://doi.org/10.1126/science.308.5720.353c

Dall SRX, Giraldeau L-A, Olsson O et al (2005) Information and its use by animals in evolutionary ecology. Trends Ecol Evol 20:187–193. https://doi.org/10.1016/j.tree.2005.01.010

Deecke VB (2006) Studying marine mammal cognition in the wild: a review of four decades of playback experiments. Aquat Mamm 32:461–482. https://doi.org/10.1578/AM.32.4.2006.461

Deecke VB, Slater PJB, Ford JKB (2002) Selective habituation shapes acoustic predator recognition in harbour seals. Nature 420:171–173. https://doi.org/10.1038/nature01030

Filatova OA, Fedutin ID, Burdin AM, Hoyt E (2011) Responses of Kamchatkan fish-eating killer whales to playbacks of conspecific calls. Mar Mammal Sci 27:E26–E42. https://doi.org/10.1111/j.1748-7692.2010.00433.x

Fish JF, Vania JS (1971) Killer whale, Oricinus orca, sounds repel white whales, Delphinapterus leucas. Fish Bull 69:531–535

Hartman KL (2018) Risso's dolphin: Grampus griseus. In: Würsig B, Thewissen JGM, Kovacs KM (eds) Encyclopedia of marine mammals, 3rd edn. Academic Press, Cambridge, pp 824–827

Hartman KL, Visser F, Hendriks AJE (2008) Social structure of Risso's dolphins (Grampus griseus) at the Azores: a stratified community based on highly associated social units. Can J Zool 86:294–306. https://doi.org/10.1139/Z07-138

Hartman KL, Fernandez M, Wittich A, Azevedo JMN (2015) Sex differences in residency patterns of Risso's dolphins ( Grampus griseus ) in the Azores: causes and management implications. Mar Mammal Sci 31:1153–1167. https://doi.org/10.1111/mms.12209

Hartman KL, van der Harst P, Vilela R (2020) Continuous focal group follows operated by a drone enable analysis of the relation between sociality and position in a group of male Risso's dolphins (Grampus griseus). Front Mar Sci. https://doi.org/10.3389/fmars.2020.00283

Hoelzel AR (ed) (2009) Marine mammal biology: an evolutionary approach. Wiley, Blackwell

Jensen FH, Keller OA, Tyack PL, Visser F (2020) Dynamic biosonar adjustment strategies in deep-diving Risso's dolphins driven partly by prey evasion. J Exp Biol. https://doi.org/10.1242/jeb.216283

Johnson MP, Tyack PL (2003) A digital acoustic recording tag for measuring the response of wild marine mammals to sound. IEEE J Ocean Eng 28:3–12. https://doi.org/10.1109/JOE.2002.808212

King SL, Janik VM (2013) Bottlenose dolphins can use learned vocal labels to address each other. Proc Natl Acad Sci 110:13216–13221. https://doi.org/10.1073/pnas.1304459110

King SL, McGregor PK (2016) Vocal matching: the what, the why and the how. Biol Lett 12:20160666. https://doi.org/10.1098/rsbl.2016.0666

Lee PC (1987) Allomothering among African elephants. Anim Behav 35:278–291. https://doi.org/10.1016/S0003-3472(87)80234-8

Liang K-Y, Zeger SL (1986) Longitudinal data analysis using generalized linear models. Biometrika 73:13–22. https://doi.org/10.1093/biomet/73.1.13

Lingle S, Riede T (2014) Deer mothers are sensitive to infant distress vocalizations of diverse mammalian species. Am Nat 184:510–522. https://doi.org/10.1086/677677

Madsen P, Kerr I, Payne R (2004) Echolocation clicks of two free-ranging, oceanic delphinids with different food preferences: false killer whales Pseudorca crassidens and Risso's dolphins Grampus griseus. J Exp Biol 207:1811–1823. https://doi.org/10.1242/jeb.00966

Magrath RD, Haff TM, Fallow PM, Radford AN (2015) Eavesdropping on heterospecific alarm calls: from mechanisms to consequences: interspecific eavesdropping. Biol Rev 90:560–586. https://doi.org/10.1111/brv.12122

McGregor PK (ed) (1992) Playback and studies of animal communication. Plenum Press, New York

Mobley JR, Herman LM, Frankel AS (1988) Responses of wintering humpback whales (Megaptera novaeangliae) to playback of recordings of winter and summer vocalizations and of synthetic sound. Behav Ecol Sociobiol 23:211–223. https://doi.org/10.1007/BF00302944

Mooney TA, Yamato M, Branstetter BK (2012) Hearing in cetaceans: from natural history to experimental biology. In: Michael L (ed) Advances in marine biology. Academic Press, Cambridge, pp 197–246

Mountjoy DJ, Lemon RE (1991) Song as an attractant for male and female European starlings, and the influence of song complexity on their response. Behav Ecol Sociobiol 28:97–100. https://doi.org/10.1007/BF00180986

Nachtigall PE (2005) Hearing measurements from a stranded infant Risso's dolphin, Grampus griseus. J Exp Biol 208:4181–4188. https://doi.org/10.1242/jeb.01876

Neves S (2013) Acoustic Behaviour of Risso's dolphins, Grampus griseus, in the Canary Islands, Spain. Ph.D. University of St Andrews

Paik MC (1988) Repeated measurement analysis for nonnormal data in small samples. Commun Stat 17:1155–1171. https://doi.org/10.1080/03610918808812718

Parks SE (2003) Response of north Atlantic right whales (Eubalaena glacialis) to playback of calls recorded from surface active groups in both the north and south Atlantic. Mar Mammal Sci 19:563–580. https://doi.org/10.1111/j.1748-7692.2003.tb01321.x

Smith JM, Harper D (2003) Animal signals. Oxford University Press, Oxford

Sueur J, Aubin T, Simonis C (2008) Sound analysis and synthesis with the package Seewave. Bioacoustics 18(2):213–226

Sündermann D, Scheumann M, Zimmermann E (2008) Olfactory predator recognition in predator-naïve gray mouse lemurs (Microcebus murinus). J Comp Psychol 122:146–155. https://doi.org/10.1037/0735-7036.122.2.146

Torres LG, Nieukirk SL, Lemos L, Chandler TE (2018) Drone up! Quantifying whale behavior from a new perspective improves observational capacity. Front Mar Sci 5:319. https://doi.org/10.3389/fmars.2018.00319

Tyack P (1981) Interactions between singing Hawaiian humpback whales and conspecifics nearby. Behav Ecol Sociobiol 8:105–116. https://doi.org/10.1007/BF00300822

Tyack P (1983) Differential response of humpback whales, Megaptera novaeangliae, to playback of song or social sounds. Behav Ecol Sociobiol 13:49–55. https://doi.org/10.1007/BF00295075

Tyack PL (1998) Acoustic communication under the sea. In: Hopp SL, Owren MJ, Evans CS (eds) Animal acoustic communication: sound analysis and research methods. Springer, Berlin, pp 163–220

Tyack PL, Clark CW (2000) Communication and acoustic behavior of dolphins and whales. In: Au WWL, Fay RR, Popper AN (eds) Hearing by whales and dolphins. Springer, New York, pp 156–224

Tyack PL, Zimmer WMX, Moretti D et al (2011) Beaked whales respond to simulated and actual navy sonar. PLoS ONE 6:e17009. https://doi.org/10.1371/journal.pone.0017009

Urick RJ (1983) Principles of underwater sound. McGraw-Hill, New York

Valone TJ (2007) From eavesdropping on performance to copying the behavior of others: a review of public information use. Behav Ecol Sociobiol 62:1–14. https://doi.org/10.1007/s00265-007-0439-6

Visser F (2014) Ceteacean social behavioral response to sonar. Kelp Marine Research Hoorn, Netherlands

Voigt-Heucke SL, Zimmer S, Kipper S (2016) Does interspecific eavesdropping promote aerial aggregations in european pipistrelle bats during autumn? Ethology 122:745–757. https://doi.org/10.1111/eth.12519

Visser F, Merten VJ, Bayer T et al (2021) Deep-sea predator niche segregation revealed by combined cetacean biologging and eDNA analysis of cephalopod prey. Science Advances, 7(14): eabf5908. https://doi.org/10.1126/sciadv.abf5908
Acknowledgements
We thankfully acknowledge the support of all members of the KMR fieldwork teams that have participated in this study, specifically Luis Barcelos, Onno Keller and the OceanEmotion team. We thank Brandon Southall (SEA) for the use of Dtag recordings from the SOCAL-BRS project and Ricardo Antunes for the use of playback equipment. We thank Prof. Eduardo Brito de Azevedo and Francisco Reis, of ITTAA, University of the Azores for their collaboration and use of the research vessel Atlantida, and Professor Rosalina MA Gabriel, Professor Paolo Borges and Professor Joao Pedro Barreiros of GBA (CE3C), University of the Azores for their support in personnel and collaboration.
Funding
FV was funded by the Dutch Research Council (NWO; Award Number 016.Veni.181.086).
Ethics declarations
Conflict of interest
The authors declare no conflicts of interest.
Ethical approval
This study was conducted under permits issued by the Regional Directorate of Sea Affairs (Secretaria Regional do Mar, Ciência e Technologia, Direção Regional dos Assuntos do Mar; Permit Numbers: (10/2015/DRA; 8/2016/DRA; LMAS-DRAM/2018/01 and LMAS-DRAM/2019/01).
Consent to participate
Not applicable.
Consent for publication
Not applicable.
Additional information
Publisher's Note
Springer Nature remains neutral with regard to jurisdictional claims in published maps and institutional affiliations.
Supplementary Information
Below is the link to the electronic supplementary material.
Supplementary file2 (MP4 102152 KB)
About this article
Cite this article
Barluet de Beauchesne, L., Massenet, M., Oudejans, M.G. et al. Friend or foe: Risso's dolphins eavesdrop on conspecific sounds to induce or avoid intra-specific interaction. Anim Cogn (2021). https://doi.org/10.1007/s10071-021-01535-y
Received:

Revised:

Accepted:

Published:
Keywords
Cetacean

Eavesdropping

Conspecific sounds

Playback experiments

Horizontal movement response

Communication