Abstract
Research on dog social cognition has received widespread attention. However, the vast majority of this research has focused on dogs' relationships and responsiveness towards adult humans. While little research has considered dog–child interactions from a cognitive perspective, how dogs perceive and socially engage with children is critical to fully understand their interspecific social cognition. In several recent studies, dogs have been shown to exhibit behavioral synchrony, often associated with increased affiliation and social responsiveness, with their adult owners. In the current study, we asked if family dogs would also exhibit behavioral synchrony with child family members. Our findings demonstrated that dogs engaged in all three measured components of behavioral synchrony with their child partner—activity synchrony (p < 0.0001), proximity (p < 0.0001), and orientation (p = 0.0026)—at levels greater than would be expected by chance. The finding that family dogs synchronize their behavior with that of child family members may shed light on how dogs perceive familiar children. Aspects of pet dog responsiveness to human actions previously reported in studies with adult humans appear to generalize to cohabitant children in at least some cases. However, some differences between our study outcomes and those reported in the dog–adult human literature were also observed. Given the prevalence of families with both children and dogs, and the growing popularity of child-focused animal-assisted interventions, knowledge about how dogs respond to the behavior of human children may also help inform and improve safe and successful dog–child interactions.
Access options
Buy single article
Instant access to the full article PDF.
USD 39.95
Price includes VAT (USA)
Tax calculation will be finalised during checkout.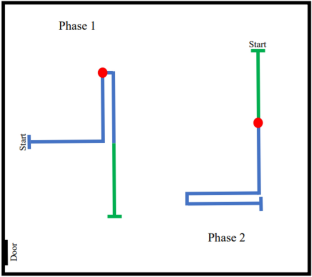 References
Baimel A, Severson RL, Baron AS, Birch SAJ (2015) Enhancing "theory of mind" through behavioral synchrony. Frontiers in Psychology 6:870

Burrows KE, Adams CL, Millman ST (2008) Factors affecting behavior and welfare of service dogs for children with autism spectrum disorder. J Appl Anim Welfare Sci 11:42–62

Davis JH (1987) Pet care during preadolescence: Developmental considerations. Child: Care, Health, and Development 13(4): 269–276.

Duranton C, Bedossa T, Gaunet F (2017) Interspecific behavioural synchronization: Dogs exhibit locomotor synchrony with humans. Scientific Reports 7(12384):1–9

Duranton C, Bedossa T, Gaunet F (2018) Pet dogs synchronize their walking pace with that of their owners in open outdoor areas. Anim Cogn 21:219–226

Duranton C, Bedossa T, Gaunet F (2019) When walking in an outside area, shelter dogs (Canis familiaris) synchronize activity with their caregivers but do not remain as close to them as do pet dogs. J Comp Psychol 133(3):397–405

Duranton C, Gaunet F (2016) Behavioural synchronization from an ethological perspective: Overview of its adaptive value. Adaptive Behavior 24(3):181–191

Duranton C, Gaunet F (2018) Behavioral synchronization and affiliation: Dogs exhibit human-like skills. Learning and Behavior 46:364–373

Hall NJ, Liu J, Kertes DA, Wynne CDL (2016) Behavioral and self-report measures influencing children's reported attachment to their dog. Anthrozoös 29(1):137–150

Ingersoll B, Lalonde K (2010) The impact of object and gesture imitation training on language use in children with autism. Journal of Speech, Language, and Hearing Research 53(4):1040–1051

Jalongo MR (2015) An attachment perspective on the child-dog bond: Interdisciplinary and international research findings. Early Childhood Educ J 43:395–405

Koehne S, Behrends A, Fairhurst MT, Dziobek I (2016) Fostering social cognition through an imitation- and synchronization-based dance/movement intervention in adults with autism spectrum disorder: A controlled proof-of-concept study. Psychother Psychosom 85(1):27–35

Koudenburg N, Postmes T, Gordijn EH, van Mourik BA (2015) Uniform and complementary social interaction: Distinct pathways to solidarity. PLoS ONE 10(6):e0129061

Mariette MM, Griffith SC (2012) Nest visit synchrony is high and correlates with reproductive success in the wild zebra finch Taeniopygia guttata. J Avian Biol 43:131–140

Meints K, Brelsford V, De Keuster T (2018) Teaching children and parents to understand dog signaling. Frontiers in Veterinary Science 5:257

Overall KL, Love M (2001) Dog bites to humans: Demography, epidemiology, injury, and risk. J Am Vet Med Assoc 218(12):1923–1934

Parish-Plass N (2008) Animal-assisted therapy with children suffering from insecure attachment due to abuse and neglect: A method to lower the risk of intergenerational transmission of abuse? Clinical Child Psychology and Psychiatry 13(1):7–30

Paukner A, Anderson JR, Borelli E, Visalberghi E, Ferrari PF (2005) Macaques (Macaca nemestrina) recognize when they are being imitated. Biol Let 1:219–222

Purewal R, Christley R, Kordas K, Joinson C, Meints K, Gee N, Westgarth C (2017) Companion animals and child/adolescent development: A systematic review of the evidence. International Journal of Environmental Research and Public Health 14(234):1–25

Tarr B, Launay J, Cohen E, Dunbar R (2015) Synchrony and exertion during dance independently raise pain threshold and encourage social bonding. Biol Let 11(10):20150767

Tepfer A, Ross S, MacDonald M, Udell MAR, Ruaux C, Baltzer W (2017) Family dog-assisted adapted physical activity: A case study. Animals (Basel) 7(5).

Thielke LE, Udell MAR (2020) Characterizing human–dog attachment relationships in foster and shelter environments as a potential mechanism for achieving mutual wellbeing and success. Animals 10(1):67

Wanser SH, Simpson AC, MacDonald M, Udell MAR (2020) Considering family dog attachment bonds: Do dog-parent attachments predict dog-child attachment outcomes in animal-assisted interventions? Frontiers in Psychology 11:566910

Wanser SH, Vitale KR, Thielke LE, Brubaker L (2019) Udell MAR (2019) Spotlight on the psychological basis of childhood pet attachment and its implications. Psychology Research and Behavior Management 12:469–479

Wiltermuth SS, Heath C (2009) Synchrony and cooperation. Psychol Sci 20(1):1–5
Acknowledgements
We are grateful to all of the families who volunteered to participate in this research. We also want to thank Holly Duvall, Darren Sung, Chloe Simpson, and Emmy Chien for their assistance with data collection and video coding. Thank you also to Dr. Charlotte Duranton for discussions and guidance on data analysis.
Funding
Funding for this research came from the Eunice Kennedy Shriver National Institute of Child Health and Human Development of the National Institutes of Health under Award Number R21HD091895, the Samaritan Foundation John C. Erkkila, M.D. Endowment for Health and Human Performance, and the Human Animal Bond Research Institute HAB18-027.
Ethics declarations
Conflict of interest
The authors declare that they have no conflict of interest.
Ethics approval
The Institutional Review Board (IRB) and Institutional Animal Care and Use Committee (IACUC) of Oregon State University approved all methods and procedures for this study (IRB #7848; ACUP #4898). The procedures used in this study adhere to the tenets of the Declaration of Helsinki.
Consent to participate
All child–dog dyads participated on a voluntary basis. Written informed consent was obtained from the parents/guardians of all child participants and owners of all dogs, and assent was obtained from all of the children explicitly indicating their understanding and desire to participate in the research.
Consent for publication
All authors consented to the publication of this work.
Availability of data and material
The datasets generated during the current study are available from the corresponding author on reasonable request.
Additional information
Publisher's Note
Springer Nature remains neutral with regard to jurisdictional claims in published maps and institutional affiliations.
About this article
Cite this article
Wanser, S.H., MacDonald, M. & Udell, M.A.R. Dog–human behavioral synchronization: family dogs synchronize their behavior with child family members. Anim Cogn 24, 747–752 (2021). https://doi.org/10.1007/s10071-020-01454-4
Received:

Revised:

Accepted:

Published:

Issue Date:
Keywords
Human

Animal interaction

Behavioral synchronization

Synchrony

Dog

Family

Children