Abstract
We suggest that socio-spatial behavior, which is an interaction between social and spatial cognition, can be viewed as a set of excursions that originate and end in close proximity to another individual(s). We present an extension of earlier studies that perceived spatial behavior in individual animals as a series of excursions originating from a particular location. We measured here the momentary distance between two individuals (social distance) to differentiate among eight possible types of social excursion originating in a state of proximity between excursion-participants. The defined excursion types are based on whether or not the excursion initiator also concludes the excursion, whether or not the excursion starts and ends at the same location, and the dynamics of the distance between excursion participants. We validated this approach to socio-spatial behavior as a set of excursions using it to analyze the behavior of the two sexes in rodents, of normal vs. stereotyped rats, as well as of different rodent species. Each of these groups displays a prevalent excursion type that reflects a distinct social dynamics. Our approach offers a useful and comprehensive tool for studying socio-spatial cognition, and can also be applied to distinguish among different social situations in rodents and other animals.
Access options
Buy single article
Instant access to the full article PDF.
USD 39.95
Price excludes VAT (USA)
Tax calculation will be finalised during checkout.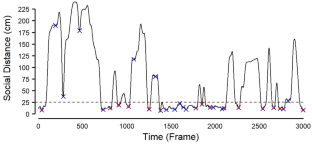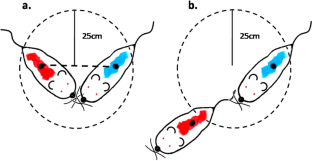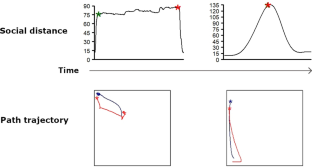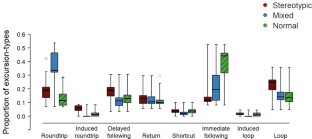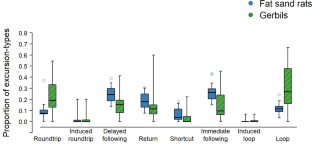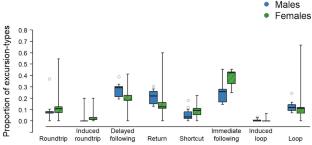 Data availability
All data and associated protocols are promptly available to readers without undue qualifications in material transfer agreements.
References
Benjamini Y, Drai D, Elmer G et al (2001) Controlling the false discovery rate in behavior genetics research. Behav Brain Res 125:279–284

Ben-Pazi A, Szechtman H, Eilam D (2001) The mophogenesis of motor rituals in rats treated chronically with the dopamine agonist quinpirole. Behav Neurosci 115:1301–1317

Blumenfeld-Lieberthal E, Eilam D (2016) Physical, behavioral and spatiotemporal perspectives of home in humans and other animals. Complexity, cognition, urban planning and design. Springer, Cham, pp 127–149

Broekhuis F, Madsen EK, Keiwua K, Macdonald DW (2019) Using GPS collars to investigate the frequency and behavioural outcomes of intraspecific interactions among carnivores: a case study of male cheetahs in the Maasai Mara. Kenya. PLoS ONE 14:e0213910

Brun VH, Otnæss MK, Molden S et al (2002) Place cells and place recognition maintained by direct entorhinal-hippocampal circuitry. Science 296:2243–2246

Clark BJ, Hamilton DA, Whishaw IQ (2006) Motor activity (exploration) and formation of home bases in mice (C57BL/6) influenced by visual and tactile cues: modification of movement distribution, distance, location, and speed. Physiol Behav 87:805–816

Cleveland WS (1979) Robust locally weighted regression and smoothing scatterplots. J Am Stat Assoc 74:829–836

Crofoot MC (2013) The cost of defeat: Capuchin groups travel further, faster and later after losing conflicts with neighbors. Am J Phys Anthropol 152:79–85

Danjo T, Toyoizumi T, Fujisawa S (2018) Spatial representations of self and other in the hippocampus. Science 359:213–218

de Chaumont F, Ey E, Torquet N et al (2019) Real-time analysis of the behaviour of groups of mice via a depth-sensing camera and machine learning. Nat Biomed Eng 3:930–942

Dorfman A, Nielbo KL, Eilam D (2016) Traveling companions add complexity and hinder performance in the spatial behavior of rats. PLoS ONE 11:e0146137

Dorfman A, Szechtman H, Eilam D (2019) Social interaction modulates the intensity of compulsive checking in a rat model of obsessive-compulsive disorder (OCD). Behav Brain Res 359:156–164

Eichenbaum H (2015) The hippocampus as a cognitive map … of social space. Neuron 87:9–11

Eilam D (2014) Of mice and men: building blocks in cognitive mapping. Neurosci Biobehav Rev 47:393–409

Eilam D, Blumenfeld-Liebertahal E (2015) Physical, behavioral, and spatiotemporal perspectives of home in humans and other animals. In: Portugali J, Egbert S (eds) Complexity, cognition urban planning and design: proceedings in complexity. Springer, Berlin

Eilam D, Golani I (1989) Home base behavior of rats (Rattus norvegicus) exploring a novel environment. Behav Brain Res 34:199–211

Eilam D, Golani I, Szechtman H (1989) D2 agonist quinpirole induces preservation of routes and hyperactivity but no preservation of movements. Brain Res 490:255–267

Eilam D, Zadicario P, Genossar T, Mort J (2012) The anxious vole: the impact of group and gender on collective behavior under life-threat. Behav Ecol Sociobiol 66:959–968

Eileen AL, Shannon LO, Raúl S, Luis AE (2019) Spatial relationships among free-living cururos (Spalacopus cyanus) demonstrate burrow sharing and communal nesting. J Mammal 100:1918–1927

File SE, Hyde JRG (1978) Can social interaction be used to measure anxiety? Br J Pharmacol 62:19–24

Gallistel CR (1989) Animal cognition: the representation of space, time and number. Annu Rev Psychol 40:155–189

Golani I, Benjamini Y, Eilam D (1993) Stopping behavior: constrains on exploration in rats (Rattus norvegicus). Behav Brain Res 53:21–33

Golledge RG (1999) Wayfinding behavior: cognitive mapping and other spatial processes. Johns Hopkins University Press, Baltimore

Hagbi Z (2018) Spatial behavior in social and solitary rodent species, in Zoology. M.Sc. Thesis, Tel-Aviv University, Tel-Aviv, Israel

Hamilton WD (1971) Geometry for the selfish herd. J Theor Biol 31:295–311. https://doi.org/10.1016/0022-5193(71)90189-5

Jordan NR, Buse C, Wilson AM et al (2017) Dynamics of direct inter-pack encounters in endangered African wild dogs. Behav Ecol Sociobiol 71:115

Kappeler PM (2019) A framework for studying social complexity. Behav Ecol Sociobiol 73:13

Kogan JH, Frankland PW, Silva AJ (2000) Long-term memory underlying hippocampus-dependent social recognition in mice. Hippocampus 10:47–56

Lima SL (1990) The influence of models on the interpretation of vigilance. Interpretation and explanation in the study of animal behaviour. Explanation, evolution and adaptation, 2nd edn. Westview Press, Boulder, pp 246–267

Loewen I, Wallace DG, Whishaw IQ (2005) The development of spatial capacity in piloting and dead reckoning by infant rats: use of the huddle as a home base for spatial navigation. Dev Psychobiol 46:350–361

Maaswinkel H, Whishaw IQ (1999) Homing with locale, taxon, and dead reckoning strategies by foraging rats: sensory hierarchy in spatial navigation. Behav Brain Res 99:143–152

Macdonald DW, Ball FG, Hough NG (1980) The evaluation of home range size and configuration using radio tracking data. In: Amlaner JC, MacDonald DW (eds) A handbook on biotelemetry and radio tracking: proceedings of an international conference on telemetry and radio tracking in biology and medicine. Oxford University Press, Oxford, pp 405–424

Menzel EW (1978) Cognitive mapping in chimpanzees. In: Hulse SH, Fowler H, Honig WK (eds) Cognitive processes in animal behavior. Lawrence Erlbaum Associates, Mahwah, pp 375–422

Miller N, Gerlai R (2011) Redefining membership in animal groups. Behav Res Methods 43:964–970

Millspaugh JJ, Gitzen RA, Kernohan BJ et al (2004) Comparability of three analytical techniques to assess joint space use. Wildl Soc Bull 32:148–157

Montagrin A, Saiote C, Schiller D (2018) The social hippocampus. Hippocampus 28:672–679

Moser EI, Kropff E, Moser M-B (2008) Place cells, grid cells, and the brain's spatial representation system. Annu Rev Neurosci 31:69–89

Nemati F, Whishaw IQ (2007) The point of entry contributes to the organization of exploratory behavior of rats on an open field: an example of spontaneous episodic memory. Behav Brain Res 182:119–128

Noldus L, Spink A, Ruud T (2001) EthoVision: a versatile video tracking system for automation of behavioral experiments. Behav Res Methods Instrum Comput 33:398–414

Omer DB, Maimon SR, Las L, Ulanovsky N (2018) Social place-cells in the bat hippocampus. Science 6372:218–224

Orsini CA, Willis ML, Gilbert RJ et al (2016) Sex differences in a rat model of risky decision making. Behav Neurosci 130:50–61

Rabi C, Zadicario P, Mazon Y et al (2017) The response of social and non-social rodents to owl attack. Behav Ecol Sociobiol 71:131

Sarmento P, Carrapato C, Eira C, Silva JP (2019) Spatial organization and social relations in a reintroduced population of Endangered Iberian lynx Lynx pardinus. Oryx 53:344–355

Sliwa J, Planté A, Duhamel JR, Wirth S (2016) Independent neuronal representation of facial and vocal identity in the monkey hippocampus and inferotemporal cortex. Cereb Cortex 26:950–966

Strandburg-Peshkin A, Farine DR, Couzin ID, Crofoot MC (2015) Shared decision-making drives collective movement in wild baboons. Science 348:1358–1361

Szechtman H, Talangbayan H, Canaran G et al (1994) Dynamics of behavioral sensitization induced by the dopamine agonist quinpirole and a proposed central energy control mechanism. Psychopharmacology 115:95–104

Szechtman H, Sulis W, Eilam D (1998) Quinpirole induces compulsive checking behavior in rats: a potential animal model of obsessive-compulsive disorder (OCD). Behav Neurosci 112:1475–1485

Tavares RM, Mendelsohn A, Grossman Y et al (2015) A map for social navigation in the human brain. Neuron 87:231–243. https://doi.org/10.1016/j.neuron.2015.06.011

Tchernichovski O, Golani I (1995) A phase plane representation of rat exploratory behavior. J Neurosci Methods 62:21–27. https://doi.org/10.1016/0165-0270(95)00050-X

Tchernichovski O, Benjamini Y, Golani I (1998) The dynamics of long-term exploration in the rat. Part 1. A phase-plane analysis of the relationship between location and velocity. Biol Cybern 78:423–432

Trinkler I, King JA, Doeller CF, Rugg MD, Burgess N (2009) Neural bases of autobiographical support for episodic recollection of faces. Hippocampus 19:718–730

Uekita T, Okanoya K (2011) Hippocampus lesions induced deficits in social and spatial recognition in Octodon degus. Behav Brain Res 219:302–309

Viskontas IV, Quiroga RQ, Fried I (2009) Human medial temporal lobe neurons respond preferentially to personally relevant images. Proc Natl Acad Sci U S A 106:21329–21334

Weiss O, Segev E, Eilam D (2015) "Shall two walk together except they be agreed?" Spatial behavior in rat dyads. Anim Cogn 18:39–51

Weiss O, Dorfman A, Ram T et al (2017) Rats do not eat alone in public: food-deprived rats socialize rather than competing for baits. PLoS ONE 12:e0173302

Weiss O, Levi A, Ie S et al (2018) Spatio-temporal organization during group formation in rats. Anim Cogn 21:513–529

Yaski O, Eilam D (2008) How do global and local geometries shape exploratory behavior in rats? Behav Brain Res 187:334–342

Zynyuk L, Huxter J, Muller RU, Fox SE (2012) The presence of a second rat has only subtle effects on the location-specific firing of hippocampal place cells. Hippocampus 6:1405–1416
Acknowledgements
We are grateful to Pazit Zadicario and Zohar Hagbi for data acquisition and consultation, to Yair Wexler for statistical advisory, to Drs. Inon Scharf, Sergio Pellis, and Henry Szechtman for comments, and to Naomi Paz for language editing. Special thanks to the Betzet who did not contribute much to this study.
Funding
This study did not receive any external funding.
Ethics declarations
Conflict of interests
Both authors declare no conflict of interests.
Ethical approval
The present study is based on the data from two studies that were carried out in accordance with the relevant guidelines and regulations of the Institutional Animal Care and Use Committee (IACUC) of Tel-Aviv University, Permit Numbers 04-17-040 (Dorfman et al. 2019) and 04-18-003 (Hagbi 2018). No animal was sacrificed for the purpose of this study.
Consent to participate/publication
N/A.
Additional information
Publisher's Note
Springer Nature remains neutral with regard to jurisdictional claims in published maps and institutional affiliations.
Electronic supplementary material
Below is the link to the electronic supplementary material.
Supplementary file1 The clip describes two excursions, the first without mid-section and the second with mid-section (see also Figure 3). In both clips, the left inset describes the dynamics of the social distance function during the excursion. The abscissa is the time (note the clock at the top) and the ordinate is the distance (in cm.). The green asterisk (*) indicates the end of the outbound section and the beginning of the mid-section, and the red asterisk (*) indicates the end of the mid-section and the beginning of the inbound section. The right inset describes the actual trajectory, synchronized with the social distance function. (AVI 27151 kb)
About this article
Cite this article
Dorfman, A., Eilam, D. Social spatial cognition: social distance dynamics as an identifier of social interactions. Anim Cogn 24, 407–418 (2021). https://doi.org/10.1007/s10071-020-01441-9
Received:

Revised:

Accepted:

Published:

Issue Date:

DOI: https://doi.org/10.1007/s10071-020-01441-9
Keywords
Spatial cognition

Social cognition

Social distance

Proximity

Social interactions

Excursions