Abstract
Dogs are an ideal species to investigate phylogenetic and ontogenetic factors contributing to face recognition. Previous research has found that dogs can recognise their owner using visual information about the person's face, presented live. However, a thorough investigation of face processing mechanisms requires the use of graphical representations and it currently remains unclear whether dogs are able to spontaneously recognise human faces in photographs. To test this, pet dogs (N = 60) were briefly separated from their owners and, to achieve reunion, they needed to select the location indicated by a photograph of their owner's face, rather than that of an unfamiliar person concurrently presented. Photographs were taken under optimal and suboptimal (non-frontally oriented and unevenly illuminated faces) conditions. Results revealed that dogs approached their owner significantly above chance level when presented with photos taken under optimal conditions. Further analysis revealed no difference in the probability of choosing the owner between the optimal and suboptimal conditions. Dogs were more likely to choose the owner if they directed a higher percentage of looking time towards the owner's photograph compared to the stranger's one. In addition, the longer the total viewing time of both photos, the higher the probability that dogs chose the stranger. A main effect of dogs' sex was also obtained, with a higher probability of male dogs choosing the owner's photograph. This study provides direct evidence that dogs are able to recognise their owner's face from photographs. The results imply that motion and three-dimensional information is not necessary for recognition. The findings also support the ecological valence of such stimuli and increase the validity of previous investigations into dog cognition that used two-dimensional representations of faces. The effects of attention may reflect differences at the individual level in attraction towards novel faces or in the recruitment of different face processing mechanisms.
Access options
Buy single article
Instant access to the full article PDF.
US$ 39.95
Tax calculation will be finalised during checkout.
Subscribe to journal
Immediate online access to all issues from 2019. Subscription will auto renew annually.
US$ 79
Tax calculation will be finalised during checkout.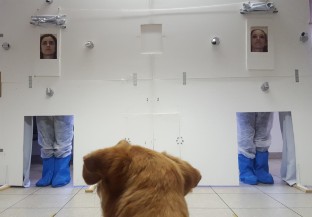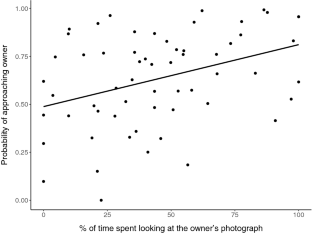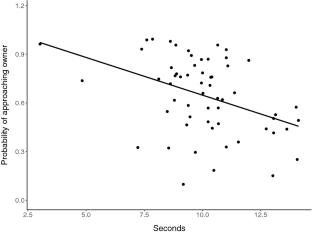 References
Adachi I, Kuwahata H, Fujita K (2007) Dogs recall their owner's face upon hearing the owner's voice. Anim Cogn 10:17–21. https://doi.org/10.1007/s10071-006-0025-8

Albuquerque N, Guo K, Wilkinson A, Savalli C, Otta E, Mills D (2016) Dogs recognize dog and human emotions. Biol letters 12:20150883. https://doi.org/10.1098/rsbl.2015.0883

Aust U, Huber L (2006) Picture-object recognition in pigeons: evidence of representational insight in a visual categorization task using a complementary information procedure. J Exp Psychol Anim B 32:190. https://doi.org/10.1037/0097-7403.32.2.190

Barber AL, Randi D, Müller CA, Huber L (2016) The processing of human emotional faces by pet and lab dogs: evidence for lateralization and experience effects. PLoS ONE 11:e0152393. https://doi.org/10.1371/journal.pone.0152393

Barton JJS, Corrow SL (2016) Recognizing and identifying people: a neuropsychological review. Cortex 75:132–150. https://doi.org/10.1016/j.cortex.2015.11.023

Bovet D, Vauclair J (2000) Picture recognition in animals and humans. Behav Brain Res 109:143–165. https://doi.org/10.1016/S0166-4328(00)00146-7

Buiatti M, Di Giorgio E, Piazza M, Polloni C, Menna G, Taddei F, Baldo E, Vallortigara G (2019) Cortical route for facelike pattern processing in human newborns. Proc Natl Acad Sci USA 116:4625–4630. https://doi.org/10.1073/pnas.1812419116

Cabe PA (1976) Transfer of discrimination from solid objects to pictures by pigeons: a test of theoretical models of pictorial perception. Percept Psychophys 19:545–550. https://doi.org/10.3758/BF03211224

Cuaya LV, Hernández-Pérez R, Concha L (2016) Our faces in the dog's brain: functional imaging reveals temporal cortex activation during perception of human faces. PLoS ONE 11:e0149431. https://doi.org/10.1371/journal.pone.0149431

Dasser V (1987) Slides of group members as representations of the real animals (Macaca fascicularis). Ethology 76:65–73. https://doi.org/10.1111/j.1439-0310.1987.tb00672.x

Dittrich L, Adam R, Ünver E, Güntürkün O (2010) Pigeons identify individual humans but show no sign of recognizing them in photographs. Behav Process 83:82–89. https://doi.org/10.1016/j.beproc.2009.10.006

Dufour V, Pascalis O, Petit O (2006) Face processing limitation to own species in primates: a comparative study in brown capuchins, Tonkean macaques and humans. Behav Process 73:107–113. https://doi.org/10.1016/j.beproc.2006.04.006

Fagot J, Martin-Malivel J, Dépy D (2000) What is the evidence for an equivalence between objects and pictures in birds and nonhuman primates? In: Fagot J (ed) Picture perception in animals. Psychology Press, New York, pp 295–320

Fox MW (1971) Integrative development of brain and behavior in the dog. University of Chicago Press, Chicago

Guo K, Meints K, Hall C, Hall S, Mills D (2009) Left gaze bias in humans, rhesus monkeys and domestic dogs. Anim Cogn 12:409–418. https://doi.org/10.1007/s10071-008-0199-3

Herlitz A, Lovèn L (2012) Sex differences and the own-gender bias in face recognition: a meta-analytic review. Vis Cogn 21:1306–1336

Huber L, Racca A, Scaf B, Virányi Z, Range F (2013) Discrimination of familiar human faces in dogs (Canis familiaris). Learn Motiv 44:258–269. https://doi.org/10.1016/j.lmot.2013.04.005

Kaminski J, Nitzschner M (2013) Do dogs get the point? A review of dog–human communication ability. Learn Motiv 44:294–302. https://doi.org/10.1016/j.lmot.2013.05.001

Kaulfuß P, Mills DS (2008) Neophilia in domestic dogs (Canis familiaris) and its implication for studies of dog cognition. Anim Cogn 11:553–556. https://doi.org/10.1007/s10071-007-0128-x

Kendrick KM, Atkins K, Hinton MR, Heavens P, Keverne B (1996) Are faces special for sheep? Evidence from facial and object discrimination learning tests showing effects of inversion and social familiarity. Behav Process 38:19–35. https://doi.org/10.1016/0376-6357(96)00006-X

Knight B, Johnston A (1997) The role of movement in face recognition. Vis Cogn 4:265–273. https://doi.org/10.1080/713756764

Knolle F, Goncalves RP, Morton AJ (2017) Sheep recognize familiar and unfamiliar human faces from 2D images. R Soc Open Sci 4:171228. https://doi.org/10.1098/rsos.171228

Martin-Malivel J, Okada K (2007) Human and chimpanzee face recognition in chimpanzees (Pan troglodytes): role of exposure and impact on categorical perception. Behav Neurosci 121:1145. https://doi.org/10.1037/0735-7044.121.6.1145

Mateo JM (2004) Recognition systems and biological organization: the perception component of social recognition. Ann Zool Fenn 41:729–745. https://doi.org/10.2307/23736140

Miller PE, Murphy CJ (1995) Vision in dogs. J Am Vet Med Assoc 207:1623–1634

Mongillo P, Scandurra A, Kramer RS, Marinelli L (2017) Recognition of human faces by dogs (Canis familiaris) requires visibility of head contour. Anim Cogn 20:881–890. https://doi.org/10.1007/s10071-017-1108-4

Müller CA, Schmitt K, Barber AL, Huber L (2015) Dogs can discriminate emotional expressions of human faces. Curr Biol 25:601–605. https://doi.org/10.1016/j.cub.2014.12.055

Nagasawa M, Murai K, Mogi K, Kikusui T (2011) Dogs can discriminate human smiling faces from blank expressions. Anim Cogn 14:525–533. https://doi.org/10.1007/s10071-011-0386-5

Ovodov ND, Crockford SJ, Kuzmin YV, Higham TF, Hodgins GW, van der Plicht J (2011) A 33,000-year-old incipient dog from the Altai Mountains of Siberia: evidence of the earliest domestication disrupted by the Last Glacial Maximum. PLoS ONE 6:e22821. https://doi.org/10.1371/journal.pone.0022821

Parron C, Call J, Fagot J (2008) Behavioural responses to photographs by pictorially naive baboons (Papio anubis), gorillas (Gorilla gorilla) and chimpanzees (Pan troglodytes). Behav Process 78:351–357. https://doi.org/10.1016/j.beproc.2008.01.019

Payne E, Bennett PC, McGreevy PD (2015) Current perspectives on attachment and bonding in the dog–human dyad. Psychol Res Behav Manag 8:71. https://doi.org/10.2147/PRBM.S74972

Pitteri E, Mongillo P, Carnier P, Marinelli L, Huber L (2014) Part-based and configural processing of owner's face in dogs. PLoS ONE 9:e108176. https://doi.org/10.1371/journal.pone.0108176

Proops L, Grounds K, Smith AV, McComb K (2018) Animals remember previous facial expressions that specific humans have exhibited. Curr Biol 28:1428–1432. https://doi.org/10.1016/j.cub.2018.03.035

Racca A, Amadei E, Ligout S, Guo K, Meints K, Mills D (2010) Discrimination of human and dog faces and inversion responses in domestic dogs (Canis familiaris). Anim Cogn 13:525–533. https://doi.org/10.1007/s10071-009-0303-3

Rennels JL, Cummings AJ (2013) Sex differences in facial scanning: similarities and dissimilarities between infants and adults. Int J Behav Dev 37:111–117. https://doi.org/10.1177/0165025412472411

Richler JJ, Gauthier I (2014) A meta-analysis and review of holistic face processing. Psychol Bull 40:1281. https://doi.org/10.1037/a0037004

Rosa-Salva O, Regolin L, Vallortigara G (2010) Faces are special for newly hatched chicks: evidence for inborn domain-specific mechanisms underlying spontaneous preferences for face-like stimuli. Dev Sci 13:565–577. https://doi.org/10.1111/j.1467-7687.2009.00914.x

Somppi S, Törnqvist H, Hänninen L, Krause C, Vainio O (2012) Dogs do look at images: eye tracking in canine cognition research. Anim cogn 15:163–174. https://doi.org/10.1007/s10071-011-0442-1

Somppi S, Törnqvist H, Hänninen L, Krause CM, Vainio O (2014) How dogs scan familiar and inverted faces: an eye movement study. Anim cogn 17:793–803. https://doi.org/10.1007/s10071-013-0713-0

Staples LG, Hunt GE, van Nieuwenhuijzen PS, McGregor IS (2008) Rats discriminate individual cats by their odor: possible involvement of the accessory olfactory system. Neurosci Biobehav Rev 32:1209–1217. https://doi.org/10.1016/j.neubiorev.2008.05.011

Sugita Y (2008) Face perception in monkeys reared with no exposure to faces. Proc Natl Acad Sci USA 105:394–398. https://doi.org/10.1073/pnas.0706079105

Taubert J, Apthorp D, Aagten-Murphy D, Alais D (2011) The role of holistic processing in face perception: evidence from the face inversion effect. Vision Res 51:1273–1278. https://doi.org/10.1016/j.visres.2011.04.002

Wang R, Li J, Fang H, Tian M, Liu J (2012) Individual differences in holistic processing predict face recognition ability. Psychol Sci 231:69–177. https://doi.org/10.1177/0956797611420575

Wilkinson A, Specht HL, Huber L (2010) Pigeons can discriminate group mates from strangers using the concept of familiarity. Anim Behav 80:109–115. https://doi.org/10.1016/j.anbehav.2010.04.006

Wilkinson A, Mueller-Paul J, Huber L (2013) Picture-object recognition in the tortoise Chelonoidis carbonaria. Anim cogn 16:99–107. https://doi.org/10.1007/s10071-012-0555-1

Yong MH, Ruffman T (2015) Domestic dogs match human male voices to faces, but not for females. Behaviour 152:1585–1600. https://doi.org/10.1163/1568539X-00003294

Yorzinski JL (2017) The cognitive basis of individual recognition. Curr Opin Behav Sci 16:53–57. https://doi.org/10.1016/j.cobeha.2017.03.009
Ackowledgements
We are very grateful to Carlo Poltronieri and Sabina Callegari for their technical assistance, and to all the dogs' owners for volunteering their time. CJE is supported by a post-doc grant from the University of Padua (Grant Nr. BIRD178748/17) and ML is supported by a PhD grant from Fondazione Cariparo. This study was funded by the University of Padua (Grant Nr. DOR1927411/19, granted to PM).
Ethics declarations
Conflict of interest
The authors declare that they have no conflict of interest.
Additional information
Publisher's Note
Springer Nature remains neutral with regard to jurisdictional claims in published maps and institutional affiliations.
Electronic supplementary material
Below is the link to the electronic supplementary material.
About this article
Cite this article
Eatherington, C.J., Mongillo, P., Lõoke, M. et al. Dogs (Canis familiaris) recognise our faces in photographs: implications for existing and future research. Anim Cogn 23, 711–719 (2020). https://doi.org/10.1007/s10071-020-01382-3
Received:

Revised:

Accepted:

Published:

Issue Date:
Keywords
Dogs

Human face recognition

Owner

Photographs

Viewing conditions