Abstract
Chickadees produce a multi-note chick-a-dee call in multiple socially relevant contexts. One component of this call is the D note, which is a low-frequency and acoustically complex note with a harmonic-like structure. In the current study, we tested black-capped chickadees on a between-category operant discrimination task using vocalizations with acoustic structures similar to black-capped chickadee D notes, but produced by various songbird species, in order to examine the role that phylogenetic distance plays in acoustic perception of vocal signals. We assessed the extent to which discrimination performance was influenced by the phylogenetic relatedness among the species producing the vocalizations and by the phylogenetic relatedness between the subjects' species (black-capped chickadees) and the vocalizers' species. We also conducted a bioacoustic analysis and discriminant function analysis in order to examine the acoustic similarities among the discrimination stimuli. A previous study has shown that neural activation in black-capped chickadee auditory and perceptual brain regions is similar following the presentation of these vocalization categories. However, we found that chickadees had difficulty discriminating between forward and reversed black-capped chickadee D notes, a result that directly corresponded to the bioacoustic analysis indicating that these stimulus categories were acoustically similar. In addition, our results suggest that the discrimination between vocalizations produced by two parid species (chestnut-backed chickadees and tufted titmice) is perceptually difficult for black-capped chickadees, a finding that is likely in part because these vocalizations contain acoustic similarities. Overall, our results provide evidence that black-capped chickadees' perceptual abilities are influenced by both phylogenetic relatedness and acoustic structure.
Access options
Buy single article
Instant access to the full article PDF.
USD 39.95
Price includes VAT (USA)
Tax calculation will be finalised during checkout.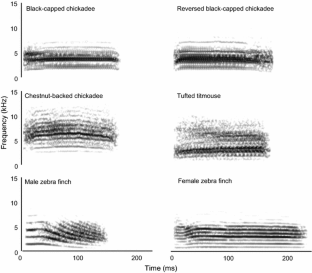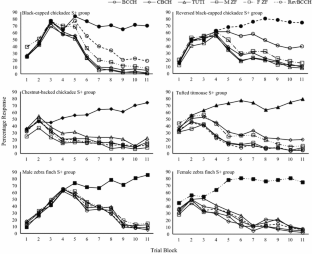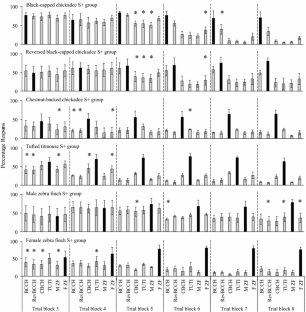 References
Avey MT, Hoeschele M, Moscicki MK, Bloomfield LL, Sturdy CB (2011) Neural correlates of threat perception: neural equivalence of conspecific and heterospecific mobbing calls is learned. PLoS ONE 6:e23844. doi:10.1371/journal.pone.0023844

Avey MT, Bloomfield LL, Elie JE, Freeberg TM, Guillette LM, Hoeschele M, Lee H, Moscicki MK, Owens JL, Sturdy CB (2014) ZENK activation in the nidopallium of black-capped chickadees in response to both conspecific and heterospecific calls. PLoS ONE 9:e100927. doi:10.1371/journal.pone.0100927

Betz NE (1987) Use of discriminant analysis in counseling psychology research. J Couns Psychol 34:393–403. doi:10.1037/0022-0167.34.4.393

Bloomfield LL, Sturdy CB (2008) All "chick-a-dee" calls are not created equally. Part I. Open-ended categorization of chick-a-dee calls by sympatric and allopatric chickadees. Behav Process 77:73–86. doi:10.1016/j.beproc.2007.06.011

Bloomfield LL, Charrier I, Sturdy CB (2004) Note types and coding in parid vocalizations. II: the chick-a-dee call of the mountain chickadee (Poecile gambeli). Can J Zool 82:780–793. doi:10.1139/Z04-046

Bloomfield LL, Farrell TM, Sturdy CB (2008) All "chick-a-dee" calls are not created equally. Part II. Mechanisms for discrimination by sympatric and allopatric chickadees. Behav Process 77:97–99. doi:10.1016/j.beproc.2007.06.008

Charrier I, Sturdy CB (2005) Call-based species recognition in black-capped chickadees. Behav Process 70:271–281. doi:10.1016/j.beproc.2005.07.007

Charrier I, Bloomfield LL, Sturdy CB (2004) Note types and coding in parid vocalizations. I: the chick-a-dee call of the black-capped chickadee (Poecile atricapillus). Can J Zoolog 82:769–779. doi:10.1139/Z04-045

Courter JR, Ritchison G (2010) Alarm calls of tufted titmouse convey information about predator size and threat. Behav Ecol 21:936–942. doi:10.1093/beheco/arq086

Dooling RJ, Brown SD, Klump GM, Okanoya K (1992) Auditory perception of conspecific and heterospecific vocalizations in birds: evidence for special processes. J Comp Psychol 106:20–28. doi:10.1037/0735-7036.106.1.20

Freeberg TM, Lucas JR (2002) Receivers respond differently to chick-a-dee calls varying in note composition in Carolina chickadees, Poecile carolinensis. Anim Behav 63:837–845. doi:10.1006/anbe.2001.1981

Gill FB, Slikas B, Sheldon FH (2005) Phylogeny of titmice (Paridae): II. Species relationships based on sequences of the mitochondrial cytochrome-B gene. Auk 122:121–134. doi:10.1642/0004-8038(2005)122[0121:POTPIS]2.0.CO;2

Gladdis PK (1985) Structure and variability in the vocal repertoire of the mountain chickadee. Wilson Bull 97:30–46

Griffiths R, Double MC, Orr K, Dawson RJG (1998) A DNA test to sex most birds. Mol Ecol 7:1071–1075. doi:10.1046/j.1365-294x.1998.00389.x

Guillette LM, Farrell TM, Hoeschele M, Sturdy CB (2010) Acoustic mechanisms of a species-based discrimination of chick-a-dee call in sympatric black-capped (Poecile atricapillus) and mountain chickadees (P. gambeli). Front Psychol 1:229. doi:10.3389/fpsyg.2010.00229-&gt

Guillette LM, Hoeschele M, Hahn AH, Sturdy CB (2013) Heterospecific discrimination of Poecile vocalizations by zebra finches (Taeniopygia guttata). J Comp Psychol 127:227–236. doi:10.1037/a0029992

Hahn AH, Guillette LM, Lee D, McMillan N, Hoang J, Sturdy CB (2015) Experience affects immediate early gene expression in response to conspecific call notes in black-capped chickadees (Poecile atricapillus). Behav Brain Res 287:49–58. doi:10.1016/j.bbr.2015.03.021

Hailman JP, Ficken MS, Ficken RW (1985) The 'chick-a-dee' calls of Parus atricapillus: a recombinant system of animal communication compared with written English. Semiotica 56:191–224

Hoeschele M, Gammon DE, Moscicki MK, Sturdy CB (2009) Note types and coding in parid vocalizations: the chick-a-dee call of the chestnut-backed chickadee (Poecile rufuscens). J Acoust Soc Am 126:2088–2099. doi:10.1121/1.3203736

Hurd CR (1996) Interspecific attraction to the mobbing calls of black-capped chickadees (Parus atricapillus). Behav Ecol Sociobiol 38:287–292. doi:10.1007/s/002650050244

Johnson FR, McNaughton EJ, Shelley CD, Blumstein DT (2004) Mechanisms of heterospecific recognition in avian mobbing calls. Aust J Zool 51:577–585. doi:10.1071/ZO03031

Jønsson KA, Fjeldså J (2006) A phylogenetic supertree of oscine passerine birds (Aves: Passeri). Zool Scr 35:149–186. doi:10.1111/j.1463-6409.2006.00221.x

Klecka WR (1980) Discriminant analysis. SAGE Publications, Newburg

Lohr B, Dooling RJ, Bartone S (2006) The discrimination of temporal fine structure in call-like harmonic sounds by birds. J Comp Psychol 120:239–251. doi:10.1037/0735-7036.1203.239

Mammen DL, Nowicki S (1981) Individual differences and within-flock convergence in chickadee calls. Behav Ecol Sociobiol 9:179–186. doi:10.1007/BF00302935

Nelson DA (1989) Song frequency as a cue for recognition of species and individuals in the field sparrow (Spizella pusilla). J Comp Psychol 103(2):171–176. doi:10.1037/0735-7036.103.2.171

Njegovan M, Hilhorst B, Ferguson S, Weisman R (1994) A motor-driven feeder for operant training in song birds. Behav Res Meth Ins C 26:26–27. doi:10.3758/BF03204558

Okanoya K, Dooling RJ (1991) Perception of distance calls by budgerigars (Melopsittacus undulatus) and zebra finches (Poephila guttata) assessing species-specific advantages. J Comp Psychol 105:60–72

Palya WL, Walter DE (2001) Document set for the high-performance experiment controller. Retrieved October 25, 2014 from http://www.jsu.edu/depart/psychology/sebac/Exp-Ctl.html

Park TJ, Dooling RJ (1985) Perception of species-specific contact calls by budgerigars (Melopsittacus undulatus). J Comp Psychol 99:391–402

Phillmore LS, Sturdy CB, Turyk MR, Weisman RG (2002) Discrimination of individual vocalizations by black-capped chickadees (Poecile atricapilla). Anim Learn Behav 30:43–52. doi:10.3758/BF03192908

Pyle P (1997) Identification guide to North American birds. Slate Creek Press, Bolinas

Smith SM (1991) The black-capped chickadee: behavioral ecology and natural history. Cornell University Press, Ithaca

Soard CM, Ritchison G (2009) 'Chick-a-dee' calls of Carolina chickadees convey information about degree of threat posed by avian predators. Anim Behav 78:1447–1453. doi:10.1016/j.anbehav.2009.09.026

Sturdy CB, Weisman RG (2006) Rationale and methodology for testing auditory cognition in songbirds. Behav Process 72:265–272. doi:10.1016/j.beproc.2006.03.007

Templeton CN, Greene E (2007) Nuthatches eavesdrop on variations in heterospecific chickadee mobbing alarm calls. Proc Natl Acad Sci 104:5479–5482. doi:10.1073/pnas.0605183104

Templeton CN, Greene E, Davis K (2005) Allometry of alarm calls: black-capped chickadees encode information about predator size. Science 308:1934–1937. doi:10.1126/science.1108841

Zar JH (1999) Biostatistical analysis, 4th edn. Prentice-Hall Inc, Upper Saddle River
Acknowledgements
This research was supported by a Natural Sciences and Engineering Research Council of Canada (NSERC) Discovery Grant and Discovery Accelerator Supplement, an Alberta Ingenuity Fund (AIF) New Faculty Grant, a Canada Foundation for Innovation (CFI) New Opportunities Fund (NOF) and Infrastructure Operating Fund (IOF) grants along with start-up funding and CFI partner funding from the University of Alberta (UofA) to CBS. All animal studies were conducted in accordance with the Canadian Council on Animal Care Guidelines and Policies. All procedures performed involving animals were conducted with approval from the Animal Care and Use Committee for Biosciences for the University of Alberta, and the University of Calgary Life and Environmental Sciences Animal Care Committee. Chickadees were captured and research was carried out under an Environment Canada Canadian Wildlife Service Scientific permit, Alberta Fish and Wildlife Capture and Research permits, and City of Edmonton Parks permit. We thank the Borror Laboratory of Bioacoustics (The Ohio State University, Columbus, OH) and the Macaulay Library of Natural Sounds at the Cornell Laboratory of Ornithology (Ithaca, NY) for recordings used as acoustic stimuli. We also thank our research assistant Shawna Dawson for her contribution to stimulus preparation and Al Denington, Isaac Lank and Lou Omerzu for their technical assistance.
About this article
Cite this article
Hahn, A.H., Campbell, K.A., Congdon, J.V. et al. Discrimination of acoustically similar conspecific and heterospecific vocalizations by black-capped chickadees (Poecile atricapillus). Anim Cogn 20, 639–654 (2017). https://doi.org/10.1007/s10071-017-1087-5
Received:

Revised:

Accepted:

Published:

Issue Date:
Keywords
Acoustic discrimination

Bioacoustic analysis

Black-capped chickadee

Categorization

Operant conditioning

Songbird