Abstract
Optimal performance in temporal decisions requires the integration of timing uncertainty with environmental statistics such as probability or cost functions. Reward maximization under response deadlines constitutes one of the most stringent examples of these problems. The current study investigated whether and how mice can optimize their timing behavior in a complex experimental setting under a response deadline in which reward maximization required the integration of timing uncertainty with a geometrically increasing probability/decreasing cost function. Mice optimized their performance under seconds-long response deadlines when the underlying function was reward probability but approached this level of performance when the underlying function was reward cost, only under the assumption of logarithmically scaled subjective costs. The same subjects were then tested in a timed response inhibition task characterized by response rules that conflicted with the initial task, not responding earlier than a schedule as opposed to not missing the deadline. Irrespective of original test groups, mice optimized the timing of their inhibitory control in the second experiment. These results provide strong support for the ubiquity of optimal temporal risk assessment in mice.
Access options
Buy single article
Instant access to the full article PDF.
USD 39.95
Price excludes VAT (USA)
Tax calculation will be finalised during checkout.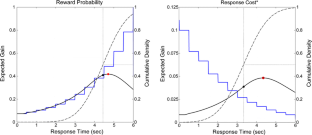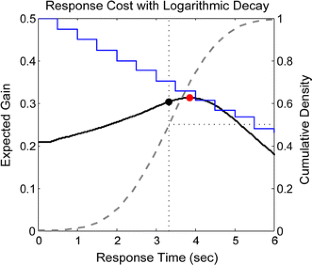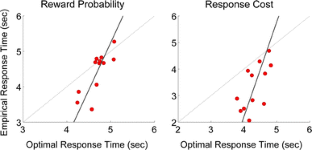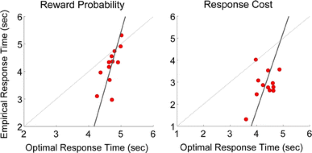 Notes
This data point was the only extreme value (more than 3 standard deviations below the mean) among the parameters calculated from the data gathered from this phase. Normality test results also showed that the proportional gain data were not distributed normally when this data point was included (S–W(12) = 0.65, p < .0001, skewness = −2.5).
References
Akdoğan B, Balcı F (2015) Stimulus probability effects on temporal bisection performance of mice (Mus musculus). Anim Cogn 19(1):15–30. doi:10.1007/s10071-015-0909-6

Balcı F (2014) Interval timing, dopamine, and motivation. Timing Time Percept 2(3):379–410. doi:10.1163/22134468-00002035

Balcı F, Simen P (2016) A decision model of timing. Curr Opin Behav Sci 8:94–101. doi:10.1016/j.cobeha.2016.02.002

Balcı F, Freestone D, Gallistel CR (2009) Risk assessment in man and mouse. Proc Natl Acad Sci USA 106(7):2459–2463. doi:10.1073/pnas.0812709106

Balcı F, Ludvig E, Brunner D (2010) Within-session modulation of timed anticipatory responding: when to start responding. Behav Process 85(2):204–206. doi:10.1016/j.beproc.2010.06.012

Balcı F, Freestone D, Simen P, deSouza L, Cohen J, Holmes P (2011a) Optimal temporal risk assessment. Front Integr Neurosci. doi:10.3389/fnint.2011.00056

Balcı F, Simen P, Niyogi R, Saxe A, Hughes JA, Holmes P, Cohen JD (2011b) Acquisition of decision making criteria: reward rate ultimately beats accuracy. Atten Percept Psychophys 73:640–657. doi:10.3758/s13414-010-0049-7

Berkay D, Çavdaroğlu B, Balcı F (2016) Probabilistic numerical discrimination in mice. Anim Cogn 19(2):351–365. doi:10.1007/s10071-015-0938-1

Bohil C, Maddox W (2001) Category discriminability, base-rate, and payoff effects in perceptual categorization. Percept Psychophys 63(2):361–376. doi:10.3758/BF03194476

Brunner D, Kacelnik A, Gibbon J (1992) Optimal foraging and timing processes in the starling, Sturnus vulgaris: effect of inter-capture interval. Anim Behav 44(4):597–613. doi:10.1016/S0003-3472(05)80289-1

Buhusi C, Meck W (2005) What makes us tick? Functional and neural mechanisms of interval timing. Nat Rev Neurosci 6(10):755–765. doi:10.1038/nrn1764

Çavdaroglu B, Zeki M, Balcı F (2014) Time-based reward maximization. Philos Trans R Soc B Biol Sci 369(1637):20120461. doi:10.1098/rstb.2012.0461

Church R (1984) Properties of the internal clock. Ann N Y Acad Sci 423:566–582. doi:10.1111/j.1749-6632.1984.tb23459.x

Çoşkun F, Sayalı Z, Gürbüz E, Balcı F (2015) Optimal time discrimination. Q J Exp Psychol 68(2):381–401. doi:10.1080/17470218.2014.944921

Failing M, Theeuwes J (2016) Reward alters the perception of time. Cognition 148:19–26. doi:10.1167/15.12.449

Frazier PI, Yu AJ (2007) Sequential hypothesis testing under stochastic deadlines. Adv Neural Inf Process Syst 20:465–472

Freestone D, Church R (2016) Optimal timing. Curr Opin Behav Sci 8:276–281. doi:10.1016/j.cobeha.2016.02.031

Freestone D, Balcı F, Simen P, Church R (2015) Optimal response rates in humans and rats. J Exp Psychol Anim Learn Cogn 41(1):39–51. doi:10.1037/xan0000049

Gallistel C (1990) The organization of learning. MIT Press, Cambridge

Galtress T, Kirkpatrick K (2010) Reward magnitude effects on temporal discrimination. Learn Motiv 41(2):108–124. doi:10.1016/j.lmot.2010.01.002

Gibbon J (1977) Scalar expectancy theory and Weber's law in animal timing. Psychol Rev 84(3):279–325. doi:10.1037/0033-295X.84.3.279

Hudson T, Maloney L, Landy M (2008) Optimal compensation for temporal uncertainty in movement planning. PLoS Comput Biol 4(7):e1000130. doi:10.1371/journal.pcbi.1000130

Jazayeri M, Shadlen M (2010) Temporal context calibrates interval timing. Nat Neurosci 13(8):1020–1026. doi:10.1038/nn.2590

Jozefowiez J, Polack CW, Machado A, Miller RR (2014) Trial frequency effects in human temporal bisection: implications for theories of timing. Behav Process 101:81–88. doi:10.1016/j.beproc.2013.07.023

Karşılar H, Simen P, Papadakis P, Balcı F (2014) Speed–accuracy trade-off under response deadlines. Front Neurosci 8:00248. doi:10.3389/fnins.2014.00248

Kennerley SW, Dahmubed AF, Lara AH, Wallis JD (2009) Neurons in the frontal lobe encode the value of multiple decision variables. J Cogn Neurosci 21(6):1162–1178. doi:10.1162/jocn.2009.21100

Kheifets A, Gallistel C (2012) Mice take calculated risks. Proc Natl Acad Sci USA 109(22):8776–8779. doi:10.1073/pnas.1205131109

Ludvig E, Balcı F, Spetch M (2011) Reward magnitude and timing in pigeons. Behav Process 86(3):359–363. doi:10.1016/j.beproc.2011.01.003

Lynn S, Barrett L (2014) "Utilizing" signal detection theory. Psychol Sci 25(9):1663–1673. doi:10.1177/0956797614541991

Maddox W, Bohil C (1998) Base-rate and payoff effects in multidimensional perceptual categorization. J Exp Psychol Learn Mem Cogn 24(6):1459–1482. doi:10.1037/0278-7393.24.6.1459

Malapani C, Fairhurst S (2002) Scalar timing in animals and humans. Learn Motiv 33(1):156–176. doi:10.1006/lmot.2001.1105

Meck W (1996) Neuropharmacology of timing and time perception. Cogn Brain Res 3(3–4):227–242. doi:10.1016/0926-6410(96)00009-2

Murphy PR, Boonstra E, Nieuwenhuis S (2016) Global gain modulation generates time-dependent urgency during perceptual choice in humans. Nat Commun 7:13526. doi:10.1038/ncomms13526

Noorbaloochi S, Sharon D, McClelland JL (2015) Payoff information biases a fast guess process in perceptual decision making under deadline pressure: evidence from behavior, evoked potentials, and quantitative model comparison. J Neurosci 35(31):10989–11011. doi:10.1523/JNEUROSCI.0017-15.2015

Rouder J, Speckman P, Sun D, Morey R, Iverson G (2009) Bayesian t tests for accepting and rejecting the null hypothesis. Psychon Bull Rev 16(2):225–237. doi:10.3758/PBR.16.2.225

Simen P, Balcı F, deSouza L, Cohen J, Holmes P (2011) A model of interval timing by neural integration. J Neurosci 31(25):9238–9253. doi:10.1523/JNEUROSCI.3121-10.2011

Staddon JER, Cerutti DT (2003) Operant conditioning. Annu Rev Psychol 54:115–144. doi:10.1146/annurev.psych.54.101601.145124

Swanton DM, Gooch CM, Matell MS (2009) Averaging of temporal memories by rats. J Exp Psychol Anim Behav Process 35(3):434–439. doi:10.1037/a0014021

Tosun T, Gür E, Balcı F (2016) Mice plan decision strategies based on previously learned time intervals, locations, and probabilities. Proc Natl Acad Sci USA 113(3):787–792. doi:10.1073/pnas.1518316113

Wearden J (1990) Maximizing reinforcement rate on spaced-responding schedules under conditions of temporal uncertainty. Behav Process 22(1–2):47–59. doi:10.1016/0376-6357(90)90007-3

Wetzels R, Matzke D, Lee MD, Rouder JN, Iverson GJ, Wagenmakers EJ (2011) Statistical evidence in experimental psychology: an empirical comparison using 855 t tests. Perspect Psychol Sci 6(3):291–298. doi:10.1177/1745691611406923
Funding
This work was supported by Scientific and Technological Research Council of Turkey to F.B. (TÜBİTAK 111K402). The Scientific and Technological Research Council of Turkey supports E.G. by National Scholarship Programme for Ph.D. students (BİDEB 2211E).
Ethics declarations
Conflict of interest
The authors declare that they have no conflict of interest.
Ethical approval
All applicable international, national and institutional guidelines for the care and use of animals were followed.
Electronic supplementary material
Below is the link to the electronic supplementary material.
About this article
Cite this article
Gür, E., Balcı, F. Mice optimize timed decisions about probabilistic outcomes under deadlines. Anim Cogn 20, 473–484 (2017). https://doi.org/10.1007/s10071-017-1073-y
Received:

Revised:

Accepted:

Published:

Issue Date:

DOI: https://doi.org/10.1007/s10071-017-1073-y
Keywords