Abstract
Early developmental environment can have profound effects on individual physiology, behaviour, and learning. In birds and mammals, social isolation during development is known to negatively affect learning ability; yet in other taxa, like reptiles, the effect of social isolation during development on learning ability is unknown. We investigated how social environment affects learning ability in the family-living tree skink (Egernia striolata). We hypothesized that early social environment shapes cognitive development in skinks and predicted that skinks raised in social isolation would have reduced learning ability compared to skinks raised socially. Offspring were separated at birth into two rearing treatments: (1) raised alone or (2) in a pair. After 1 year, we quantified spatial learning ability of skinks in these rearing treatments (N = 14 solitary, 14 social). We found no effect of rearing treatment on learning ability. The number of skinks to successfully learn the task, the number of trials taken to learn the task, the latency to perform the task, and the number of errors in each trial did not differ between isolated and socially reared skinks. Our results were unexpected, yet the facultative nature of this species' social system may result in a reduced effect of social isolation on behaviour when compared to species with obligate sociality. Overall, our findings do not provide evidence that social environment affects development of spatial learning ability in this family-living lizard.
Access options
Buy single article
Instant access to the full article PDF.
USD 39.95
Price excludes VAT (USA)
Tax calculation will be finalised during checkout.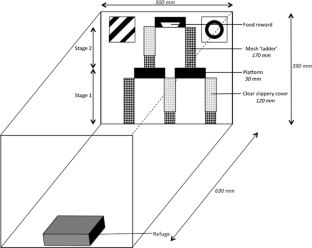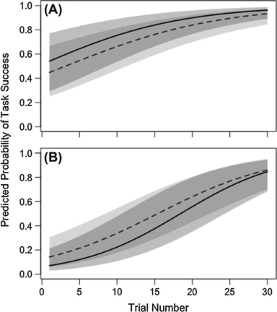 References
Ballen C, Shine R, Olsson M (2014) Effects of early social isolation on the behaviour and performance of juvenile lizards, Chamaeleo calyptratus. Anim Behav 88:1–6. doi:10.1016/j.anbehav.2013.11.010

Bonnett MP (1999) The ecology, behaviour and genetic relationships of a population of Egernia striolata. Unpublished Honours thesis, Flinders University of South Australia, Adelaide, Australia

Buchanan KL, Grindstaff JL, Pravosudov VV (2013) Condition dependence, developmental plasticity, and cognition: implications for ecology and evolution. Trends Ecol Evol 28:290–296. doi:10.1016/j.tree.2013.02.004

Burkart JM, van Schaik CP (2009) Cognitive consequences of cooperative breeding in primates? Anim Cogn 13:1–19. doi:10.1007/s10071-009-0263-7

Bustard HR (1970) A population study of the scincid lizard Egernia striolata in northern New South Wales. Proc K Ned Akad Wet C 73:202

Cacioppo JT, Hawkley LC (2009) Perceived social isolation and cognition. Trends Cogn Sci 13:447–454. doi:10.1016/j.tics.2009.06.005

Carazo P, Noble DWA, Chandrasoma D, Whiting MJ (2014) Sex and boldness explain individual differences in spatial learning in a lizard. Proc Biol Sci 281:20133275. doi:10.1098/rspb.2013.3275

Cauchard L, Boogert NJ, Lefebvre L, Dubois F, Doligez B (2013) Problem-solving performance is correlated with reproductive success in a wild bird population. Anim Behav 85:19–26. doi:10.1016/j.anbehav.2012.10.005

Chapple DG (2003) Ecology, life-history, and behavior in the Australian scincid genus Egernia, with comments on the evolution of complex sociality in lizards. Herpetol Monogr 17:145–180. doi:10.1655/0733-1347(2003)017[0145:elabit]2.0.co;2

Clark BF, Amiel JJ, Shine R, Noble DWA, Whiting MJ (2013) Colour discrimination and associative learning in hatchling lizards incubated at 'hot' and 'cold' temperatures. Behav Ecol Sociobiol 68:239–247. doi:10.1007/s00265-013-1639-x

Cogger HG (2014) Reptiles and amphibians of Australia, 7th edn. CSIRO Publishing, Clayton

Cunningham RB, Lindenmayer DB, Crane M, Michael D, MacGregor C (2007) Reptile and arboreal marsupial response to replanted vegetation in agricultural landscapes. Ecol Appl 17:609–619. doi:10.1890/05-1892

De Vosjoli P, Ferguson G (1995) Care and breeding of Panther, Jackson's, Veiled, and Parson's chameleons. i5 Publishing, Los Angeles

Dobson AJ, Barnett A (2008) An introduction to generalized linear models. CRC Press, Boca Raton, pp 45–66, 229–256

Doody JS, Burghardt GM, Dinets V (2012) Breaking the social-non-social dichotomy: a role for reptiles in vertebrate social behavior research? Ethology 119:95–103. doi:10.1111/eth.12047

Duckett PE, Morgan MH, Stow AJ (2012) Tree-dwelling populations of the skink Egernia striolata aggregate in groups of close kin. Copeia 2012:130–134. doi:10.1643/ce-10-183

Dukas R (2009) Learning: mechanisms, ecology and evolution. In: Dukas R, Ratcliffe JM (eds) Cognitive ecology II. The University of Chicago Press, Chicago, pp 7–26

Dukas R, Bernays EA (2000) Learning improves growth rate in grasshoppers. Proc Natl Acad Sci USA 97:2637–2640. doi:10.1073/pnas.050461497

Ehmann H (1992) Encyclopedia of Australian animals: reptiles. Angus and Robertson, Sydney

Einon D (1980) Spatial memory and response strategies in rats: age, sex and rearing differences in performance. Q J Exp Psychol 32:473–489. doi:10.1080/14640748008401840

Fooden J (2000) Systematic review of the rhesus macaque, Macaca mulatta (Zimmermann, 1780). Field Zool 96:1–180. doi:10.5962/bhl.title.7192

Frisone DF, Frye CA, Zimmerberg B (2002) Social isolation stress during the third week of life has age-dependent effects on spatial learning in rats. Behav Brain Res 128:153–160. doi:10.1016/S0166-4328(01)00315-1

Gardner MG, Pearson SK, Johnston GR, Schwarz MP (2015) Group living in squamate reptiles: a review of evidence for stable aggregations. Biol Rev Camb Philos Soc. doi:10.1111/brv.12201

Gelman A, Carlin JB, Stern HS, Rubin DB (2014) Bayesian data analysis, vol 3. Chapman and Hall/CRC Press, Boca Raton

Goerlich VC, Nätt D, Elfwing M, Macdonald B, Jensen P (2012) Transgenerational effects of early experience on behavioral, hormonal and gene expression responses to acute stress in the precocial chicken. Horm Behav 61:711–718. doi:10.1016/j.yhbeh.2012.03.006

Greenough WT, Madden TC, Fleischmann TB (1972) Effects of isolation, daily handling, and enriched rearing on maze learning. Psychon Sci 27:279–280. doi:10.3758/bf03328961

Hadfield JD (2010) MCMC methods for multi-response generalized linear mixed models: the MCMCglmm R package. J Stat Softw 33:1–22. doi:10.18637/jss.v033.i02

Harlow HF, Dodsworth RO, Harlow MK (1965) Total social isolation in monkeys. Proc Natl Acad Sci USA 54:90–97. doi:10.1073/pnas.54.1.90

Holson RR (1986) Feeding neophobia: a possible explanation for the differential maze performance of rats reared in enriched or isolated environments. Physiol Behav 38:191–201. doi:10.1016/0031-9384(86)90154-X

Isden J, Panavi C, Dingle C, Madden J (2013) Performance in cognitive and problem-solving tasks in male spotted bowerbirds does not correlate with mating success. Anim Behav 86:829–838. doi:10.1016/j.anbehav.2013.07.024

Juraska JM, Henderson C, Müller J (1984) Differential rearing experience, gender, and radial maze performance. Dev Psychobiol 17:209–215. doi:10.1002/dev.420170302

Keagy J, Savard JF, Borgia G (2009) Male satin bowerbird problem-solving ability predicts mating success. Anim Behav 78:809–817. doi:10.1016/j.anbehav.2009.07.011

Kruschke J (2014) Doing Bayesian data analysis: a tutorial with R, JAGS and Stan. Academic Press, Cambridge

Langkilde T, O'Connor D, Shine R (2007) Benefits of parental care: do juvenile lizards obtain better-quality habitat by remaining with their parents? Austral Ecol 32:950–954. doi:10.1111/j.1442-9993.2007.01783.x

Lanham EJ, Bull CM (2000) Maternal care and infanticide in the Australian skink, Egernia stokesii. Herpetol Rev 31:151–152. doi:10.1016/j.anbehav.2004.02.014

Masson ME (2011) A tutorial on a practical Bayesian alternative to null-hypothesis significance testing. Behav Res Methods 43:679–690. doi:10.3758/s13428-010-0049-5

Melnick DJ, Pearl MC, Richard AF (1984) Male migration and inbreeding avoidance in wild rhesus monkeys. Am J Primatol 7:229–243. doi:10.1002/ajp.1350070303

Michael DR, Cunningham RB (2010) The social elite: habitat heterogeneity, complexity and quality in granite inselbergs influence patterns of aggregation in Egernia striolata (Lygosominae: Scincidae). Austral Ecol 35:862–870. doi:10.1111/j.1442-9993.2009.02092.x

Morgan MJ, Einon DF, Nicholas D (1975) The effects of isolation rearing on behavioural inhibition in the rat. Q J Exp Psychol 27:615–634. doi:10.1080/14640747508400524

Naguib M, Flörcke C, van Oers K (2011) Effects of social conditions during early development on stress response and personality traits in great tits (Parus major). Dev Psychobiol 53:592–600. doi:10.1002/dev.20533

Noble DWA, Carazo P, Whiting MJ (2012) Learning outdoors: male lizards show flexible spatial learning under semi-natural conditions. Biol Lett 8:946–948. doi:10.1098/rsbl.2012.0813

Noble DWA, Byrne RW, Whiting MJ (2014) Age-dependent social learning in a lizard. Biol Lett 10:20140430. doi:10.1098/rsbl.2014.0430

O'Connor DE, Shine R (2004) Parental care protects against infanticide in the lizard Egernia saxatilis (Scincidae). Anim Behav 68:1361–1369. doi:10.1016/j.anbehav.2004.02.014

Plummer M, Best N, Cowles K, Vines K (2015) Coda: output analysis and diagnostics for MCMC. R package version 0.13-3. http://CRAN.R-project.org/package=coda

Post MJ (2000) The captive husbandry and reproduction of the Hosmer's Skink Egernia hosmeri. Herpetofauna 30:2–6

Roth TC, LaDage LD, Pravosudov VV (2010) Learning capabilities enhanced in harsh environments: a common garden approach. Proc R Soc B Biol 277:3187–3193. doi:10.1098/rspb.2010.0630

R Core Team (2016) A language and environment for statistical computing. R Foundation for Statistical Computing, Vienna. https://www.R-project.org/

Shettleworth SJ (2010) Cognition, evolution, and behavior, 2nd edn. Oxford University Press, New York

Sih A, Del Giudice M (2012) Linking behavioural syndromes and cognition: a behavioural ecology perspective. Philos Trans R Soc Lond B 367:2762–2772. doi:10.1098/rstb.2012.0216

Sih A, Ferrari MCO, Harris DJ (2011) Evolution and behavioural responses to human-induced rapid environmental change. Evol Appl 4:367–387. doi:10.1111/j.1752-4571.2010.00166.x

Sinn DL, While GM, Wapstra E (2008) Maternal care in a social lizard: links between female aggression and offspring fitness. Anim Behav 76:1249–1257. doi:10.1016/j.anbehav.2008.06.009

Sol D, Lapiedra O, González-Lagos C (2013) Behavioural adjustments for a life in the city. Anim Behav 85:1101–1112. doi:10.1016/j.anbehav.2013.01.023

Stamps JA, Groothuis TGG (2010) Developmental perspectives on personality: implications for ecological and evolutionary studies of individual differences. Philos Trans R Soc Lond B 365:4029–4041. doi:10.1098/rstb.2010.0218

Swanson S (1976) Lizards of Australia. Angus and Robertson, Sydney, p 43

Thorton A, Isden J, Madden JR (2014) Toward wild psychometrics: linking individual cognitive differences to fitness. Behav Ecol 25:1299–1301. doi:10.1093/beheco/aru095

While GM, Chapple DG, Gardner MG et al (2015) Egernia lizards. Curr Biol 25:R593–R595. doi:10.1016/j.cub.2015.02.070

Wongwitdecha N, Marsden CA (1996) Effects of social isolation rearing on learning in the Morris water maze. Brain Res 715:119–124. doi:10.1016/0006-8993(95)01578-7

Zuberbühler K, Byrne RW (2006) Social cognition. Curr Biol 16:R786–R790. doi:10.1016/j.cub.2006.08.046

Zurr AF, Hilbe JM, Ieno EN (2013) A beginner's guide to GLM and GLMM with R: a frequentist and Bayesian perspective for ecologists. Highland Statistics Ltd, Newburgh
Acknowledgements
We thank G. While and M. Favre for their assistance in the field and laboratory, as well as J. Baxter-Gilbert and F. Kar for their artistic and statistical advice.
Funding
Financial support for this research was provided by the Australian Research Council (DP130102998, awarded to MJW and RWB), Natural Sciences and Engineering Research Council of Canada (scholarship to JLR), the Australasian Society for the Study of Animal Behaviour, the Australian Museum, and Macquarie University. DWAN was supported by an ARC Discovery Early Career Research Award (DE150101774) and UNSW Vice Chancellors Fellowship.
Ethics declarations
Conflict of interest
All the authors declare they have no conflict of interest.
Ethical approval
We followed guidelines for the care and use of animals as laid out by the Association for the Study of Animal Behaviour. Experimental protocols were approved by the Macquarie University Animal Ethics Committee (ARA # 2013/039). Collection of skinks was approved by the New South Wales National Parks and Wildlife Service, Office of Environment and Heritage (License # SL101264). Female skinks were captured either by hand, noosing or Eliot trap and were placed in cloth bags until they could be transported by vehicle to Macquarie University from Albury, New South Wales, in an insulated box. We observed no injuries resulting from our cognition experiment.
Electronic supplementary material
Below is the link to the electronic supplementary material.
Supplementary material 2 (MOV 73617 kb)
About this article
Cite this article
Riley, J.L., Noble, D.W.A., Byrne, R.W. et al. Does social environment influence learning ability in a family-living lizard?. Anim Cogn 20, 449–458 (2017). https://doi.org/10.1007/s10071-016-1068-0
Received:

Revised:

Accepted:

Published:

Issue Date:

DOI: https://doi.org/10.1007/s10071-016-1068-0
Keywords