Abstract
Susceptibility to geometrical visual illusions has been tested in a number of non-human animal species, providing important information about how these species perceive their environment. Considering their active role in human lives, visual illusion susceptibility was tested in domestic dogs (Canis familiaris). Using a two-choice simultaneous discrimination paradigm, eight dogs were trained to indicate which of two presented circles appeared largest. These circles were then embedded in three different illusory displays; a classical display of the Ebbinghaus–Titchener illusion; an illusory contour version of the Ebbinghaus–Titchener illusion; and the classical display of the Delboeuf illusion. Significant results were observed in both the classical and illusory contour versions of the Ebbinghaus–Titchener illusion, but not the Delboeuf illusion. However, this susceptibility was reversed from what is typically seen in humans and most mammals. Dogs consistently indicated that the target circle typically appearing larger in humans appeared smaller to them, and that the target circle typically appearing smaller in humans, appeared larger to them. We speculate that these results are best explained by assimilation theory rather than other visual cognitive theories explaining susceptibility to this illusion in humans. In this context, we argue that our findings appear to reflect higher-order conceptual processing in dogs that cannot be explained by accounts restricted to low-level mechanisms of early visual processing.
Access options
Buy single article
Instant access to the full article PDF.
USD 39.95
Price includes VAT (USA)
Tax calculation will be finalised during checkout.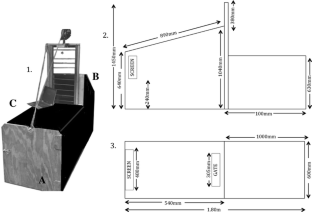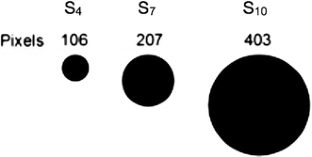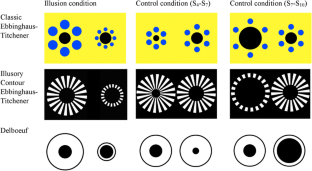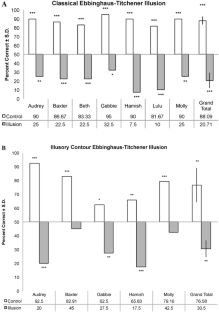 References
Aglioti S, DeSouza JF, Goodale MA (1995) Size-contrast illusions deceive the eye but not the hand. Curr Biol 5:679–685

Bensky MK, Gosling SD, Sinn DL (2013) The world from a dog's point of view: a review and synthesis of dog cognition research. Adv Study Anim Behav 45:209–406

Caramazza A, Mahon BZ (2006) The organisation of conceptual knowledge in the brain: the future's past and some future directions. Cogn Neuropsy 23:13–38

Choplin JM, Medin DL (1999) Similarity of the perimeters in the Ebbinghaus illusion. Percept Psychophys 61:3–12

Chouinard PA, Noulty WA, Sperandio I, Landry O (2013) Global processing during the Müller-Lyer illusion is distinctively affected by the degree of autistic traits in the typical population. Exp Brain Res 230:219–231

Chouinard PA, Unwin KL, Landry O, Sperandio I (2016) Susceptibility to optical illusions varies as a function of the autism-spectrum quotient but not in ways predicted by local–global biases. J Autism Dev Disord 46:2224–2239

Cobb M, Branson N, McGreevy P, Lill A, Bennett P (2015) The advent of canine performance science: offering a sustainable future for working dogs. Behav Process 110:96–104. doi:10.1016/j.beproc.2014.10.012

Coren S, Enns JT (1993) Size contrast as a function of conceptual similarity between test and inducers. Percept Psychophys 54:579–588

Coren S, Miller J (1974) Size contrast as a function of figural similarity. Percept Psychophys 16:355–357

de Fockert J, Davidoff J, Fagot J, Parron C, Goldstein J (2007) More accurate size contrast judgments in the Ebbinghaus Illusion by a remote culture. J Exp Psychol Hum Percept Perform 33:738

de Grave DD, Biegstraaten M, Smeets JB, Brenner E (2005) Effects of the Ebbinghaus figure on grasping are not only due to misjudged size. Exp Brain Res 163:58–64

Duke-Elder S (1958) System of ophthalmology vol. 1. The eye in evolution. Henry Kimpton, London

Eagleman DM (2001) Visual illusions and neurobiology. Nat Rev Neurosci 2:920–926

Feng LC, Chouinard PA, Howell TJ, Bennett PC (2016) Why do animals differ in their susceptibility to geometrical illusions? Psychon Bull Rev. doi:10.3758/s13423-016-1133-3

Gellermann LW (1933) Chance orders of alternating stimuli in visual discrimination experiments. Pedagog Semin J Genet Psychol 42(1):206–208

Girgus JS, Coren S, Agdern M (1972) The interrelationship between the Ebbinghaus and Delboeuf illusions. J Exp Psychol 95:453

Gold JM (2014) Information processing correlates of a size-contrast illusion. Front Psychol 5:142

Gregory RL (1980) Perceptions as hypotheses. Philos Trans R Soc B 290:181–197

Gregory RL (2015) Eye and brain: the psychology of seeing. Princeton University Press, Princeton NJ

Haber RN, Hershenson M (1973) The psychology of visual perception. Holt, Rinehart & Winston, New York

Hare B, Tomasello M (1999) Domestic dogs (Canis familiaris) use human and conspecific social cues to locate hidden food. J Comp Psychol 113:173

Hubel DH, Wiesel TN (1962) Receptive fields, binocular interaction and functional architecture in the cat's visual cortex. J Physiol 160:106

Huber L, Racca A, Scaf B, Virányi Z, Range F (2013) Discrimination of familiar human faces in dogs (Canis familiaris). Learn Motiv 44:258–269

Jacobs GH (1983) Colour vision in animals. Endeavour 7:137–140

Kanizsa G, Renzi P, Conte S, Compostela C, Guerani L (1993) Amodal completion in mouse vision. Perception 22:713–721

Kelley LA, Kelley JL (2014) Animal visual illusion and confusion: the importance of a perceptual perspective. Behav Ecol 25:450–463

Kemp C, Jacobson S (1992) Rhodopsin levels in the central retinas of normal miniature poodles and those with progressive rod-cone degeneration. Exp Eye Res 54:947–956

King DL (1988) Assimilation is due to one perceived whole and contrast is due to two perceived wholes. New Ideas Psychol 6:277–288. doi:10.1016/0732-118X(88)90039-6

Koffka K (1935) Principles of Gestalt psychology. Harcourt Brace, New York

Lazareva OF, Wasserman EA, Young ME (2005) Transposition in pigeons: reassessing spence (1937) with multiple discrimination training. Anim Learn Behav 33:22–46

Lazareva OF, Miner M, Wasserman EA, Young ME (2008) Multiple-pair training enhances transposition in pigeons. Learn Behav 36:174–187

Lazareva OF, Young ME, Wasserman EA (2014) A three-component model of relational responding in the transposition paradigm. J Exp Psych Anim Learn Cognit 40:63

Livingstone M, Hubel D (1988) Segregation of form, color, movement, and depth: anatomy, physiology, and perception. Science 240:740–749

Massaro DW, Anderson NH (1971) Judgmental model of the Ebbinghaus illusion. J Exp Psychol 89:147

McGreevy P, Grassi TD, Harman AM (2003) A strong correlation exists between the distribution of retinal ganglion cells and nose length in the dog. Brain Behav Evol 63:13–22

Miletto Petrazzini ME, Bisazza A, Agrillo C (2016) Do domestic dogs (Canis lupus familiaris) perceive the Delboeuf illusion? Anim Cogn. doi:10.1007/s10071-016-1066-2

Miller PE, Murphy CJ (1995) Vision in dogs. J Am Vet Med Assoc 207:1623–1634

Mongillo P, Pitteri E, Sambugaro P, Carnier P, Marinelli L (2016) Global bias reliability in dogs (Canis familiaris). Anim Cognit. doi:10.1007/s10071-016-1044-8

Murayama T, Usui A, Takeda E, Kato K, Maejima K (2012) Relative size discrimination and perception of the Ebbinghaus illusion in a bottlenose dolphin (Tursiops truncatus). Aquat Mamm 38:333

Nagasawa M, Murai K, Mogi K, Kikusui T (2011) Dogs can discriminate human smiling faces from blank expressions. Anim Cognit 14:525–533

Nakamura N, Watanabe S, Fujita K (2008) Pigeons perceive the Ebbinghaus–Titchener circles as an assimilation illusion. J Exp Psychol Anim Behav Proc 34:375

Nakamura N, Watanabe S, Fujita K (2014) A reversed Ebbinghaus–Titchener illusion in bantams (Gallus gallus domesticus). Anim Cognit 17:471–481

Navon D (1977) Forest before trees: the precedence of global features in visual perception. Cognit Psychol 9:353–383

Neitz J, Geist T, Jacobs GH (1989) Color vision in the dog. Vis Neurosci 3:119–125

Ninio J (1998) La science des illusions. Odile Jacob, Paris

Parrish AE, Beran MJ (2014) When less is more: like humans, chimpanzees (Pan troglodytes) misperceive food amounts based on plate size. Anim Cognit 17:427–434

Parrish AE, Brosnan SF, Beran MJ (2015) Do you see what I see? A comparative investigation of the Delboeuf illusion in humans (Homo sapiens), rhesus monkeys (Macaca mulatta), and capuchin monkeys (Cebus apella). J Exp Psychol Anim Learn Cognit 41:395

Parron C, Fagot J (2007) Comparison of grouping abilities in humans (Homo sapiens) and baboons (Papio papio) with the Ebbinghaus illusion. J Comp Psychol 121:405

Peichlcu L (1992) Topography of ganglion cells in the dog and wolf retina. J Comp Neurol 324:603–620

Pitteri E, Mongillo P, Carnier P, Marinelli L (2014) Hierarchical stimulus processing by dogs (Canis familiaris). Anim Cognit 17:869–877

Pressey AW, Di Lollo V, Tait RW (1977) Effects of gap size between shaft and fins and of angle of fins on the Müller–Lyer illusion. Perception 6:435–439

Pylyshyn Z (1999) Is vision continuous with cognition?: the case for cognitive impenetrability of visual perception. Behav Brain Sci 22:341–365

Racca A, Amadei E, Ligout S, Guo K, Meints K, Mills D (2010) Discrimination of human and dog faces and inversion responses in domestic dogs (Canis familiaris). Anim Cognit 13:525–533

Range F, Aust U, Steurer M, Huber L (2008) Visual categorization of natural stimuli by domestic dogs. Anim Cognit 11:339–347

Roberts T, McGreevy P, Valenzuela M (2010) Human induced rotation and reorganization of the brain of domestic dogs. PLoS ONE 5:e11946

Rosengren A (1969) Experiments in colour discrimination in dogs. Acta Zool Fenn 121:3–19

Salva OR, Rugani R, Cavazzana A, Regolin L, Vallortigara G (2013) Perception of the Ebbinghaus illusion in four-day-old domestic chicks (Gallus gallus). Anim Cognit 16:895–906

Sherman JA, Chouinard PA (2016) Attractive contours of the Ebbinghaus illusion. Percept Mot Skills 122:88–95

Sherman SM, Wilson JR (1975) Behavioral and morphological evidence for binocular competition in the postnatal development of the dog's visual system. J Comp Neurol 161:183–195

Soproni K, Miklósi Á, Topál J, Csányi V (2001) Comprehension of human communicative signs in pet dogs (Canis familiaris). J Comp Psychol 115:122

Soproni K, Miklósi A, Topál J, Csányi V (2002) Dogs'(Canis familaris) responsiveness to human pointing gestures. J Comp Psychol 116:27

Sovrano VA, Albertazzi L, Salva OR (2014) The Ebbinghaus illusion in a fish (Xenotoca eiseni). Anim Cognit 18:533–542

Tanaka T, Watanabe T, Eguchi Y, Yoshimoto T (2000) Color discrimination in dogs. Nihon Chik Gakk 71:300–304. doi:10.2508/chikusan.71.300

Tapp PD et al (2004) Concept abstraction in the aging dog: development of a protocol using successive discrimination and size concept tasks. Behav Brain Res 153:199–210. doi:10.1016/j.bbr.2003.12.003

Udell MA, Wynne CD (2008) A review of domestic dogs' (canis familiaris) human-like behavior: or why behavior analysts should stop worrying and love their dogs. J Exp Anal Behav 89:247–261

Udell MA, Dorey NR, Wynne CD (2008) Wolves outperform dogs in following human social cues. Anim Behav 76:1767–1773

Von Helmholtz H (1867) Handbuch der physiologischen Optik, vol 9. Voss, Leipzig

Walls GL (1942) The vertebrate eye and its adaptive radiation. Cranbrook Institute of Science, Bloomfield MI

Weintraub DJ (1979) Ebbinghaus illusion: context, contour, and age influence the judged size of a circle amidst circles. J Exp Psychol Hum Percept Perform 5:353

Zigler E (1960) Size estimates of circles as a function of size of adjacent circles. Percept Mot Skills 11:47–53

Zigler E, Phillips L (1960) Social effectiveness and symptomatic behaviors. J Abnorm Soc Psychol 61:231
Acknowledgements
We are grateful to Joyce Wuister and Diana Rayment for their help during the data collection process and Eva Worden for her help during the training process. We also thank two anonymous reviewers for their comprehensive and insightful reviews, as well as Maria Elena Miletto Petrazzini, Angelo Bisazza, and Christian Agrillo, for sharing the results of Miletto Petrazzini et al. (2016) prior to publication.
Funding
This research was carried out with the support of La Trobe University Postgraduate Research Scholarships and La Trobe University Full Fee Research Scholarships.
Ethics declarations
Conflict of interest
The authors declare that they have no conflict of interest.
Ethical approval
All applicable international, national, and/or institutional guidelines for the care and use of animals were followed. All procedures performed in the following experiments were in accordance with the ethical standards of La Trobe University Animal Ethics Committee (Approval Number: AEC15-18).
Electronic supplementary material
Below is the link to the electronic supplementary material.
Supplementary material 1 (MP4 112796 kb)
About this article
Cite this article
Byosiere, SE., Feng, L.C., Woodhead, J.K. et al. Visual perception in domestic dogs: susceptibility to the Ebbinghaus–Titchener and Delboeuf illusions. Anim Cogn 20, 435–448 (2017). https://doi.org/10.1007/s10071-016-1067-1
Received:

Revised:

Accepted:

Published:

Issue Date:
Keywords
Ebbinghaus–Titchener

Delboeuf

Domestic dog

Geometrical illusion

Perception

Illusory contours