Abstract
Dogs enrolled in a previous study were assessed two years later for reliability of their local/global preference in a discrimination test with the same hierarchical stimuli used in the previous study (Experiment 1) and with a novel stimulus (Experiment 2). In Experiment 1, dogs easily re-learned to discriminate the positive stimulus; their individual global/local choices were stable compared to the previous study; and an overall clear global bias was found. In Experiment 2, dogs were slower in acquiring the initial discrimination task; the overall global bias disappeared; and, individually, dogs tended to make inverse choices compared to the original study. Spontaneous attention toward the test stimulus resembling the global features of the probe stimulus was the main factor affecting the likeliness of a global choice of our dogs, regardless of the type of experiment. However, attention to task-irrelevant elements increased at the expense of attention to the stimuli in the test phase of Experiment 2. Overall, the results suggest that the stability of global bias in dogs depends on the characteristics of the assessment contingencies, likely including the learning requirements of the tasks. Our results also clearly indicate that attention processes have a prominent role on dogs' global bias, in agreement with previous findings in humans and other species.
Access options
Buy single article
Instant access to the full article PDF.
USD 39.95
Price excludes VAT (USA)
Tax calculation will be finalised during checkout.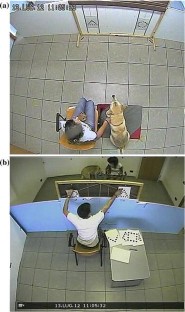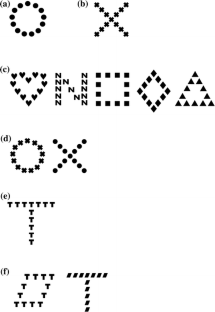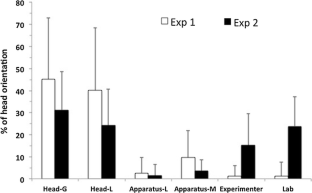 References
Adams B, Chan A, Callahan H, Milgram NW (2000) The canine as a model of human cognitive ageing: recent developments. Prog Neuro-Psychopharmacol Biol Psychiatry 24:675–692. doi:10.1016/S0278-5846(00)00101-9

Allison PD (2001) Logistic regression using SAS system: theory and application. Wiley-SAS, Cary

Ashton RL, De Lillo C (2011) Association, inhibition, and object permanence in dogs' (Canis familiaris) spatial search. J Comp Psychol 125:194–206. doi:10.1037/a0022584

Dale G, Arnell KM (2010) Individual differences in dispositional focus of attention predict attentional blink magnitude. Atten Percept Psychophys 72:602–606. doi:10.3758/APP.72.3.602

Dale G, Arnell KM (2013) Investigating the stability of and relationships among global/local processing measures. Atten Percept Psychophys 75:394–406. doi:10.3758/s13414-012-0416-7

Dale G, Arnell KM (2014) Lost in the forest, stuck in the trees: dispositional global/local bias is resistant to exposure to high and low spatial frequencies. PLoS One 9(7):e98625. doi:10.1371/journal.pone.0098625

Dale G, Arnell KM (2015) Multiple measures of dispositional global/local bias predict attentional blink magnitude. Psychol Res 79:534547. doi:10.1007/s00426-014-0591-3

De Lillo C, Spinozzi G, Palumbo M, Giustino G (2011) Attention allocation modulates the processing of hierarchical visual patterns: a comparative analysis of capuchin monkeys (Cebus apella) and humans. J Exp Psychol Anim Behav Process 37:341–352. doi:10.1037/a0022989

Deruelle C, Fagot J (1998) Visual search for global/local stimulus features in humans and baboons. Psychon Bull Rev 5:476–481

Fagot J, Tomonaga M (1999) Global and local processing in humans (Homo sapiens) and chimpanzees (Pan troglocytes): use of a visual search task with compound stimuli. J Comp Psychol 113:3–12

Fremouw T, Herbranson WT, Shimp CP (1998) Priming of attention to local or global levels of visual analysis. J Exp Psychol Anim Behav Process 24:278–290

Fremouw T, Herbranson WT, Shimp CP (2002) Dynamic shift of pigeon local/global attention. Anim Cogn 5:233–243

Goto K, Wills AJ, Lea SEG (2004) Global-feature classification can be acquired more rapidly than local-feature classification in both humans and pigeons. Anim Cogn 7:109–113. doi:10.1007/s10071-003-0193-8

Gottlieb J, Hayhoe M, Hikosaka O, Rangel A (2014) Attention, reward, and information seeking. J Neurosci 34:15497–15504. doi:10.1523/JNEUROSCI.3270-14.2014

Guo K, Meints K, Hall C, Hall S, Mills D (2009) Left gaze bias in humans, rhesus monkeys and domestic dogs. Anim Cogn 12:409–418. doi:10.1007/s10071-008-0199-3

Hejjas K, Vas J, Kubinyi E, Sasvari-Szekely M, Miklósi Á, Ronai Z (2007) Novel repeat polymorphisms of the dopaminergic neurotransmitter genes among dogs and wolves. Mamm Genome 18:871–879. doi:10.1007/s00335-007-9070-0

Helton WS, Hayrynen L, Schaeffer D (2009) Sustained attention to local and global target features is different: performance and tympanic membrane temperature. Brain Cogn 71:9–13

Hoar S, Linnell KJ (2013) Cognitive load eliminates the global perceptual bias for unlimited exposure durations. Atten Percept Psychophys 75:210–215. doi:10.3758/s13414-012-0421-x

Huber L, Racca A, Scaf B, Virányi Z, Range F (2013) Discrimination of familiar human faces in dogs (Canis familiaris). Learn Motiv 44:258–269. doi:10.1016/j.lmot.2013.04.005

Kimchi R (1992) Primacy of wholistic processing and global/local paradigm: a critical review. Psychol Bull 112:24–38

Kimchi R (1998) Uniform connectedness and grouping in the perceptual organization of hierarchical patterns. J Exp Psychol Hum Percept Perform 24:1105–1118

Kinchla RA, Wolfe JM (1979) The order of visual processing: "Top-down", "bottom-up", or "middle-out". Percept Psychophys 25:225–231

Kinchla RA, Solis-Macias V, Hoffman J (1983) Attending to different levels of structure in a visual image. Percept Psychophys 33:1–10

Lamb MR, Robertson LC (1987) The effects of acute alcohol on attention and the processing of hierarchical patterns. Alcohol Clin Exp Res 11:243–248

Lamb MR, Robertson LC (1988) The processing of hierarchical stimuli: effects of retinal locus, locational uncertainty, and stimulus identity. Percept Psychophys 44:172–181

Laude JR, Pattison KF, Rayburn-Reeves RM, Michler DM, Zentall TR (2016) Who are the real bird brains? Qualitative differences in behavioral flexibility between dogs (Canis familiaris) and pigeons (Columba livia). Anim Cogn 19:163–169. doi:10.1007/s10071-015-0923-8

Lim J, Wu W, Wang J, Detre JA, Dinges DF, Rao H (2010) Imaging brain fatigue from sustained mental workload: an ASL perfusion study of the time-on-task effect. Neuroimage 49:3426–3435. doi:10.1016/j.neuroimage.2009.11.020

Lux S, Marshall JC, Thimm M, Fink GR (2008) Differential processing of hierarchical visual stimuli in young and older healthy adults: implications for pathology. Cortex 44:21–28. doi:10.1016/j.cortex.2005.08.001

Macaluso E, Doricchi F (2013) Attention and predictions: control of spatial attention beyond the endogenous-exogenous dichotomy. Front Hum Neurosci 7:685. doi:10.3389/fnhum.2013.00685

Miller J (1981) Global precedence in attention and decision. J Exp Psychol Hum Percept Perform 7:1161–1174

Mills M, Dodd MD (2015) Moving thoughts make for moving targets: capturing time-sensitive effects in global/local processing. Vis Cogn 23:829–832. doi:10.1080/13506285.2015.1093238

Mongillo P, Bono G, Regolin L, Marinelli L (2010) Selective attention to humans in companion dogs, Canis familiaris. Anim Behav 80:1057–1063. doi:10.1016/j.anbehav.2010.09.014

Moritz S, Wendt M (2006) Processing of local and global visual features in obsessive-compulsive disorder. J Int Neuropsych Soc 12:566–569. doi:10.1017/S1355617706060577

Müller CA, Riemer S, Range F, Huber L (2014) The use of a displacement device negatively affects the performance of dogs (Canis familiaris) in visible object displacement tasks. J Comp Psychol 128:240–250. doi:10.1037/a0036032

Pitteri E, Mongillo P, Carnier P, Marinelli L (2014a) Hierarchical stimulus processing by dogs (Canis familiaris). Anim Cogn 17:869–877. doi:10.1007/s10071-013-0720-1

Pitteri E, Mongillo P, Carnier P, Marinelli L, Huber L (2014b) Part-based and configural processing of owner's face in dogs. PLoS One 9(9):e108176. doi:10.1371/journal.pone.0108176

Qadri MAJ, Cook RG (2015) Experimental divergences in the visual cognition of birds and mammals. Comp Cogn Behav Rev 10:73–105. doi:10.3819/ccbr.2015.100004

Racca A, Amadei E, Ligout S, Guo K, Meints K, Mills D (2010) Discrimination of human and dog faces and inversion responses in domestic dogs (Canis familiaris). Anim Cogn 13:525–533. doi:10.1007/s10071-009-0303-3

Racca A, Guo K, Meints K, Mills DS (2012) Reading faces: differential lateral gaze bias in processing canine and human facial expressions in dogs and 4-year-old children. Pub Libr Sci One 7:e36076. doi:10.1371/journal.pone.0036076

Roalf D, Lowery N, Turetsky BI (2006) Behavioral and physiological findings of gender differences in global-local visual processing. Brain Cogn 60:32–42. doi:10.1016/j.bandc.2005.09.008

Robertson LC, Egly R, Lamb MR, Kerth L (1993) Spatial attention and cuing to global and local levels of hierarchical structure. J Exp Psychol Hum Percept Perform 19:471–487

Scherf KS, Luna B, Kimchi R, Minshew N, Behrmann M (2008) Missing the big picture: impaired development of global shape processing in autism. Autism 1:114–129

Scherf KS, Behrmann M, Kimchi R, Luna B (2009) Emergence of global shape processing continues through adolescence. Child Dev 80:162–177. doi:10.1111/j.1467-8624.2008.01252.x

Slavin MJ, Mattingley JB, Bradshaw JL, Storey E (2002) Local-global processing in Alzheimer's disease: an examination of interference, inhibition and priming. Neuropsychologia 40:1173–1186. doi:10.1016/S0028-3932(01)00225-1

Somppi S, Törnqvist H, Hänninen H, Krause C, Vainio O (2012) Dogs do look at images: eye tracking in canine cognition research. Anim Cogn 15:163–174. doi:10.1007/s10071-011-0442-1

Song Y, Hakoda Y (2015) Lack of global precedence and global-to-local interference without local processing deficit: a robust finding in children with attention-deficit/hyperactivity disorder under different visual angles of the Navon task. Neuropsychology 29:888–894. doi:10.1037/neu0000213

Spinozzi G, De Lillo C, Salvi V (2006) Local advantage in the visual processing of hierarchical stimuli following manipulations of stimulus size and element numerosity in monkeys (Cebus apella). Behav Brain Res 166:45–54. doi:10.1016/j.bbr.2005.06.043

Steiger H (1980) Test for comparing elements of a correlation matrix. Psychol Bull 87:245–251

Törnqvist H, Kujala MV, Somppi S, Hänninen L, Pastell M, Krause CM, Kujala J, Vainio O (2013) Visual event-related potentials of dogs: a non-invasive electroencephalography study. Anim Cogn 6:973–982. doi:10.1007/s10071-013-0630-2

Wallis LJ, Range F, Mueller CA, Serisier S, Huber L, Virányi Z (2014) Lifespan development of attentiveness in domestic dogs: drawing parallels with humans. Front Psychol 5:1–13. doi:10.3389/fpsyg.2014.00071

Ward ML (1982) Determinants of attention to local and global features of visual forms. J Exp Psychol Hum Percept Perform 8:562–581
Acknowledgments
We are very grateful to Kim Fontana for assistance with the experiments and all the dog owners volunteering in this study. Dr. Elisa Pitteri received a PhD grant from the University of Padua, Italy.
Ethics declarations
Ethical standards
All procedures performed in the present study were in accordance with the ethical standards of the University of Padua and Italian law.
About this article
Cite this article
Mongillo, P., Pitteri, E., Sambugaro, P. et al. Global bias reliability in dogs (Canis familiaris). Anim Cogn 20, 257–265 (2017). https://doi.org/10.1007/s10071-016-1044-8
Received:

Revised:

Accepted:

Published:

Issue Date:

DOI: https://doi.org/10.1007/s10071-016-1044-8
Keywords
Attention

Dog

Hierarchical stimulus

Learning

Reliability

Visual cognition