Abstract
Despite the growing interest in research on the interaction between humans and dogs, only a very few research projects focus on the routines between dogs and their owners. In this study, we investigated one such routine: dog–human play. Dyadic interspecific play is known to be a common interaction between owner and charge, but the details of what counts as play have not been thoroughly researched. Similarly, though people represent that "play" is pleasurable, no study has yet undertaken to determine whether different forms of play are associated with different affective states. Thus, we aimed to generate an inventory of the forms of dyadic play, the vocalizations within play, and to investigate the relationship of affect to elements of play. Via a global citizen science project, we solicited videotapes of dog–human play sessions from dog owners. We coded 187 play bouts via frame-by-frame video playback. We then assessed the relationship between various intra-bout variables and owner affect (positive or neutral) during play (dog affect was overwhelmingly positive). Amount of physical contact ("touch"), level of activity of owner ("movement"), and physical closeness of dog–owner dyad ("proximity") were highly correlated with positive affect. Owner vocalizations were found to contain different elements in positive- and neutral-affect play. One novel category of play, "tease", was found. We conclude that not all play is created equal: the experience of play to the owner participant is strongly related to a few identifiable characteristics of the interaction.
Access options
Buy single article
Instant access to the full article PDF.
US$ 39.95
Tax calculation will be finalised during checkout.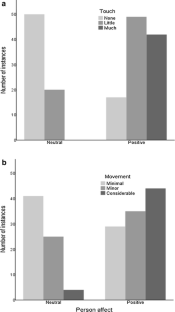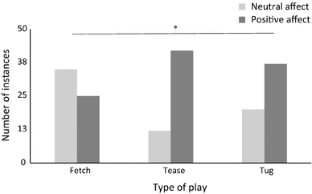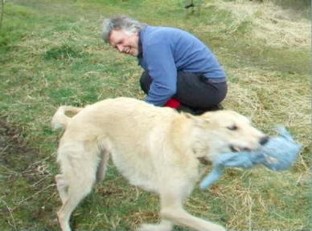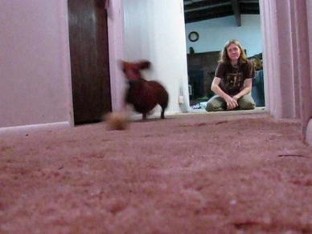 References
Bekoff M (1974) Social play in coyotes, wolves, and dogs. Bioscience 24:225–230

Bekoff M (1995) Play signals as punctuation: the structure of social play in canids. Behaviour 132:419–429

Bekoff M, Byers J (1998) Animal play: Evolutionary, comparative, and ecological perspectives. Cambridge University Press, Cambridge

Bergen D (2002) The role of pretend play in children's cognitive development. Early Child Res Pract 4:1–13

Bonney R, Shirk JL, Phillips TB, Wiggins A, Ballard HL, Miller-Rushing AJ, Parrish JK (2014) Next steps for citizen science. Science 343:1436–1437

Bradshaw JWS, Pullen AJ, Rooney NJ (2015) Why do adult dogs 'play'? Behav Process 110:82–87

Burghardt GM (2010) Play. In: Breed MD, Moore J (eds) Encyclopedia of animal behaviour, vol 2. Academic Press, Oxford, pp 740–744

Call J, Bräuer J, Kaminski J, Tomasello M (2003) Domestic dogs (Canis familiaris) are sensitive to the attentional state of humans. J Comp Psychol 117:257–263

Cook A, Arter J, Jacobs LF (2014) My owner, right or wrong: the effect of familiarity on the domestic dog's behaviour in a food-choice task. Anim Cogn 17:461–470

Fagen R (1981) Animal play behaviour. Oxford University Press, Oxford

Gadbois S, Reeve C (2014) Canine olfaction: scent, sign, and situation. In: Horowitz A (ed) Domestic dog behaviour and cognition: the scientific study of Canis familiaris. Springer, Heidelberg, pp 3–29

Hecht J, Horowitz A (2015) Introduction to dog behaviour. In: Weiss E, Mohan-Gibbons H, Zawitowski S (eds) Animal behaviour for shelter veterinarians and staff. Wiley-Blackwell, London, pp 5–30

Hecht J, Spicer Rice E (2015) Citizen science: a new direction in canine behaviour research. Behav Process 110:125–132

Held SDE, Spinka M (2011) Animal play and animal welfare. Anim Behav 81:891–899

Horowitz AC (2009) Attention to attention in domestic dog (Canis familiaris) dyadic play. Anim Cogn 12:107–118

Horowitz A (ed) (2014) Domestic dog behaviour and cognition: the scientific study of Canis familiaris. Springer, Heidelberg

Horowitz AC, Bekoff M (2007) Naturalizing anthropomorphism: behavioural prompts to our humanizing of animals. Anthrozoös 20:23–35

Horváth Z, Dóka A, Miklósi Á (2008) Affective and disciplinary behaviour of human handlers during play with their dog affects cortisol concentrations in opposite directions. Horm Behav 54:107–114

Lillard AS, Lerner MD, Hopkins EJ, Dore RA, Smith ED, Palmquist CM (2012) The impact of pretend play on children's development: a review of the evidence. Psychol Bull 39:1–34

Lit L, Schweitzer JB, Oberbauer AM (2010) Characterization of human–dog social interaction using owner report. Behav Process 84:721–725

Mehrkam LR, Wynne CDL (2014) Behavioural differences among breeds of domestic dogs (Canis lupus familiaris): current status of the science. Appl Anim Behav Sci 155:12–27

Mitchell RW (2004) Controlling the dog, pretending to have a conversation, or just being friendly? Influences of sex and familiarity on Americans' talk to dogs during play. Interact Stud 5:99–129

Mitchell RW, Edmonson E (1999) Functions of repetitive talk to dogs during play: control, conversation or planning? Soc Anim 7:55–81

Mitchell RW, Thompson NS (1991) The effects of familiarity on dog–human play. Anthrozoös 4:24–43

Müller CA, Schmitt K, Barber ALA, Huber L (2015) Dogs can discriminate emotional expressions of human faces. Curr Biol 25:601–605

Nagasawa M, Mitsui S, En S, Ohtani N, Ohta M, Sakuma Y, Onaka T, Mogi K, Kikusui T (2015) Oxytocin-gaze positive loop and the coevolution of human–dog bonds. Science 348:333–336

Nishida T, Kano T, Goodall J, McGrew WC, Nakamura M (1999) Ethogram and ethnography of Mahale chimpanzees. Anthropol Sci 107:141–188

Odendaal JSJ, Meintjes RA (2003) Neurophysiological correlates of affiliative behaviour between humans and dogs. Vet J 165:296–301

Petrů M, Špinka M, Charvátová V, Lhota S (2009) Revisiting play elements and self-handicapping in play: a comparative ethogram of five old world monkey species. J Comp Psychol 123:250–263

Piaget J (1962) Play, dreams, and imitation in childhood. Norton, New York

Prato-Previde E, Marshall-Pescini S (2014) Social looking in the domestic dog. In: Horowitz A (ed) Domestic dog behaviour and cognition: the scientific study of Canis familiaris. Springer, Heidelberg, pp 101–131

Rooney NJ (1999) Play behaviour of the domestic dog Canis familiaris, and its effects upon the dog–human relationship. Ph.D. thesis, University of Southampton, UK

Rooney NJ, Bradshaw JWS (2002) An experimental study of the effects of play upon the dog–human relationship. Appl Anim Behav Sci 75:161–176

Rooney N, Bradshaw J (2014) Canine welfare science: an antidote to sentiment and myth. In: Horowitz A (ed) Domestic dog behaviour and cognition: the scientific study of Canis familiaris. Springer, Heidelberg, pp 241–274

Rooney NJ, Cowan S (2011) Training methods and owner–dog interactions: links with dog behaviour and learning ability. Appl Anim Behav Sci 132:169–177

Rooney NJ, Bradshaw JWS, Robinson IH (2000) A comparison of dog–dog and dog–human play behaviour. Appl Anim Behav Sci 66:235–248

Rooney NJ, Bradshaw JWS, Robinson IH (2001) Do dogs respond to play signals given by humans? Anim Behav 61:715–722

Schwab C, Huber L (2006) Obey or not obey? Dogs (Canis familiaris) behave differently in response to attentional states of their owners. J Comp Psychol 120:169–175

Smith PK, Pellegrini A (2008) Learning through play. In: Tremblay RE, Barr RG, Peters RDeV, Boivin M (eds) Encyclopedia on early childhood development. Centre of Excellence for Early Childhood Development, Montreal, pp 1–6

Turcsán B, Kubinyi E, Miklósi Á (2011) Trainability and boldness traits differ between dog breed clusters based on conventional breed categories and genetic relatedness. Appl Anim Behav Sci 132:61–70

Uvnäs-Moberg K (1989) The gastrointestinal tract in growth and reproduction. Sci Am 261:78–83

Vygotsky LS (1976) Play and its role in the mental development of the child. In: Bruner J, Jolly A, Sylva K (eds) Play–its role in development and evolution. Basic Books, New York, pp 537–554 (Original work published 1933)
Acknowledgments
We are indebted to the owners who contributed videos to this study; thank you. Thanks to members of the Dog Cognition Lab (Hannah Carter, Adam Croom, Eleonora d'Amore, Rebecca Johnson, Sharisse Kanet, Gillian Lawrence, Rebecca LoSchiavo, and Merav Stein) and especially Nora Inman for sequential coding work. Thanks to Martin Chodorow for statistical guidance. We acknowledge and appreciate Scientific American and SciStarter for publicising our call for submissions, and Nestlé Purina PetCare Company for providing research monies to support the project. Thank you to two anonymous reviewers and to the Editor for their useful suggestions.
Electronic supplementary material
Below is the link to the electronic supplementary material.
About this article
Cite this article
Horowitz, A., Hecht, J. Examining dog–human play: the characteristics, affect, and vocalizations of a unique interspecific interaction. Anim Cogn 19, 779–788 (2016). https://doi.org/10.1007/s10071-016-0976-3
Received:

Revised:

Accepted:

Published:

Issue Date:
Keywords
Dog–human play

Categories of play

Citizen science

Affect

Vocalizations