Abstract
Dogs have become the focus of cognitive studies looking at both their physical and social problem-solving abilities (Bensky et al. in Adv Stud Behav, 45:209–387, 2013), but very little is known about the environmental and inherited factors that may affect these abilities. In the current study, we presented a manipulation task (a puzzle box) and a spatial task (the detour) to 128 dogs belonging to four different breed groups: Herding, Mastiff-like, Working and Retrievers (von Holdt et al. in Nature 464:898–902, 2010). Within each group, we tested highly trained and non-trained dogs. Results showed that trained dogs were faster at obtaining the reward in the detour task. In the manipulation task, trained dogs approached the apparatus sooner in the first familiarization trial, but no effect of breed emerged on this variable. Furthermore, regardless of breed, dogs in the trained group spent proportionally more time interacting with the apparatus and were more likely to succeed in the test trial than dogs in the non-trained group, whereas regardless of training, dogs in the working breed group were more likely to succeed than dogs in the retriever and herding breed groups (but not the mastiff-like group). Finally, trained dogs were less likely to look at a person than non-trained dogs during testing, but dogs in the herding group more likely to do so than dogs in the retriever and working but not the mastiff-like breed groups. Overall, results reveal a strong influence of training experience but less consistent differences between breed groups on different components thought to affect problem solving.
Access options
Buy single article
Instant access to the full article PDF.
USD 39.95
Price excludes VAT (USA)
Tax calculation will be finalised during checkout.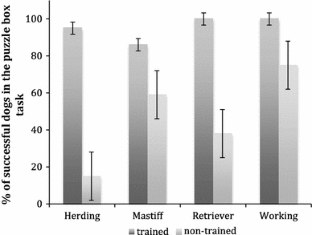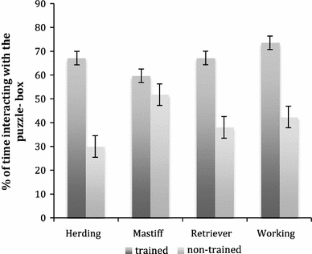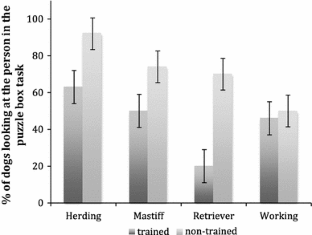 References
Bensky MK, Gosling SD, Sinn DL (2013) The world from a dog's point of view: a review and synthesis of dog cognition research. Adv Stud Behav 45:209–387

Duffy DL, Hsu Y, Serpell JA (2008) Breed differences in canine aggression. Appl Anim Behav Sci 114:441–460

Frank H, Frank MG (1987) The University of Michigan Canine information processing project (1979–1981). In: Frank H (ed) Man and wolf. Dordrecht, W. J. Publishers, pp 275–292

Gácsi M, McGreevy P, Kara E, Miklósi Á (2009) Effects of selection for cooperation and attention in dogs. Behav Brain Funct 5:31

Gaunet F (2008) How do guide dogs of blind owners and pet dogs of sighted owners (Canis familiaris) ask their owners for food? Anim Cogn 11:475–483

Gaunet F (2009) How do guide dogs and pet dogs (Canis familiaris) ask their owners for their toy and for playing? Anim Cogn 13:311–323

Hall N, Glenn K, Smith D, Wynne C (2015) Performance of Pugs, German Shepherds, and Greyhounds (Canis lupus familiaris) on an Odor-Discrimination Task. J Comp Psychol 129(3):237–246

Hare B, Rosati A, Kaminski J, Brauer J, Call J, Tomasello M (2009) The domestication hypothesis for dogs' skills with human communication: a response to Udell et al. (2008) and Wynne et al. (2008). Anim Behav 79(2):1–6

Horn L, Huber L, Range F (2013) The importance of the secure base effect for domestic dogs–evidence from a manipulative problem-solving task. PLoS ONE 8(5):e65296

Hory Y, Kishi H, Murayama MI, Inoue M, Fujita K (2013) Dopamine receptor D4 gene (DRD4) is associated with gazing toward humans in domestic dogs (Canis familiaris). Open J Anim Sci 3:54–58

Jakovcevic A, Elgier AM, Mustaca AE, Bentosela M (2010) Breed differences in dogs' (Canis familiaris) gaze to the human face. Behav Process 84:602–607

Kaulfuß P, Mills DS (2008) Neophilia in domestic dogs (Canis familiaris) and its implication for studies of dog cognition. Anim Cogn 11:553–556

Ley JM, Bennett PC, Coleman GJ (2009) A refinement and validation of the Monash Canine Personality Questionnaire (MCPQ). Appl Anim Behav Sci 116:220–227

Lit L, Schweitzer JB, Oberbauer AM (2010) Characterization of human–dog social interaction using owner report. Behav Process 84:721–725

Marshall-Pescini S, Valsecchi P, Petak I, Accorsi PA, Prato-Previde E (2008) Does training make you smarter? The effects of training on dogs' performance in a problem solving task. Behav Process 78:449–454

Marshall-Pescini S, Passalacqua C, Barnard S, Valsecchi P, Prato-Previde E (2009) Agility and search and rescue training differently affects pet dogs' behaviour in socio-cognitive tasks. Behav Process 81:416–422

Marshall-Pescini S, Virányi Z, Range F (2015) The effect of domestication on inhibitory control: wolves and dogs compared. PLoS ONE 10(2):e0118469

Merola I, Prato-Previde E, Marshall-Pescini S (2012) Social referencing in dog-owner dyads? Anim Cogn 15:175–185

Miklósi Á, Polgardi R, Topál J, Csányi V (2000) Intentional behaviour in dog–human communication: an experimental analysis of ''showing'' behaviour in the dog. Anim Cogn 3:159–166

Miklósi Á, Kubinyi E, Topál J, Gácsi M, Viraányi Z, Csányi V (2003) A simple reason for a big difference: wolves do not look back athumans, but dogs do. Curr Biol 13:763–766

Osthaus B, Lea SEG, Slater AM (2003) Training influences problem-solving abilities in dogs (Canis lupus familiaris). In: Proceedings of annual meeting of BSAS conference, vol 103

Parker HG, Kim LV, Sutter NB, Carlson S, Lorentzen TD, Malek TB, Johnson GS, DeFrance HB, Ostrander EA, Kruglyak L (2004) Genetic structure of the purebred domestic dog. Science 304:1160–1164

Passalacqua C, Marshall-Pescini S, Barnard S, Valsecchi P, Prato-Previde E (2011) Breed and age group differences in human-directed gazing behaviour. Anim Behav 82:1043–1050

Pongrácz P, Miklósi Á, Kubinyi E, Gurobi K, Topál J, Csányi V (2001) Social learning in dogs: the effect of a human demonstrator on the performance of dogs in a detour task. Anim Behav 62:1109–1117

Pongrácz P, Miklósi Á, Vida V, Csányi V (2005) The pet dogs ability for learning from a human demonstrator in a detour task is independent from the breed and age. Appl Anim Behav Sci 90:309–323

Range F, Heucke SL, Gruber C, Konz A, Huber L, Virányi Z (2009) The effect of ostensive cues on dogs' performance in a manipulative social learning task. Appl Anim Behav Sci 120:170–178

Scott JP, Fuller JL (1965) Genetics and social behavior of the dog. University of Chicago Press, Chicago

Seksel K, Mazurski EJ, Taylor A (1999) Puppy socialisation programs: short and long term behavioural effects. Appl Anim Behav Sci 62:335–349

Serpell JA, Hsu Y (2005) Effects of breed, sex, and neuter status on trainability in dogs. Anthrozoös 18:196–207

Smith BP, Litchfield CA (2010) How well do dingoes, Canis dingo, perform on the detour task? Anim Behav 80:155–162

Starling MJ, Branson N, Thomson PC, McGreevy PD (2013) "Boldness" in the domestic dog differs among breeds and breed groups. Behav Process 97:53–62

Svartberg K (2006) Breed-typical behaviour in dogs—historical remnants or recent constructs? Appl Anim Behav Sci 96:293–313

Svartberg K, Forkman B (2002) Personality traits in the domestic dog (Canis familiaris). Appl Anim Behav Sci 79:133–155

Turcsán B, Kubinyi E, Miklósi Á (2011) Trainability and boldness traits differ between dog breed clusters based on conventional breed categories and genetic relatedness. Appl Anim Behav Sci 132:61–70

Udell MAR, Dorey NR, Wynne CDL (2008) Wolves outperform dogs in following human social cues. Anim Behav 76:1767–1773

Udell MAR, Ewald M, Dorey NR, Wynne CDL (2014) Exploring breed differences in dogs (Canis familiaris): does exaggeration or inhibition of predatory response predict performance on human-guided tasks? Anim Behav 89:99–105

van den Berg SM, Heuven HCM, Van den Berg L, Duffy DL, Serpell JA (2010) Evaluation of the C-BARQ as a measure of stranger-directed aggression in three common dog breeds. Appl Anim Behav Sci 124:136–141

von Holdt BM, Pollinger JP, Lohmueller KE, Han E, Parker HG, Quignon P, Degenhardt JD, Boyko AR, Earl DA, Auton A, Reynolds A, Bryc K, Brisbin A, Knowles JC, Mosher DS, Spady TC, Elkahloun A, Geffen E, Pilot M, Jedrzejewski W, Greco C, Randi E, Bannasch D, Wilton A, Shearman J, Musiani M, Cargill M, Jones PG, Qian Z, Huang W, Ding Z, Zhang Y, Bustamante CD, Ostrander EA, Novembre J, Wayne RK (2010) Genome-wide SNP and haplotype analyses reveal a rich history underlying dog domestication. Nature 464:898–902

Wobber V, Hare B, Koler-Matznick J, Wrangham R, Tomasello M (2009) Breed differences in domestic dogs' (Canis familiaris) comprehension of human communicative signals. Interact Stud 10(2):206–224
Acknowledgments
We thank all the owners and dogs that participated as volunteers and Marianne Heberlein for statistical support.
Ethics declarations
Conflicts of interest
There are no known conflicts of interest with sponsors.
Ethical statement
This research complies with the current Italian laws on animal welfare and guidelines for research with animals as outlined by the Association for the Study of Animal Behaviour.
Electronic supplementary material
Below is the link to the electronic supplementary material.
About this article
Cite this article
Marshall-Pescini, S., Frazzi, C. & Valsecchi, P. The effect of training and breed group on problem-solving behaviours in dogs. Anim Cogn 19, 571–579 (2016). https://doi.org/10.1007/s10071-016-0960-y
Received:

Revised:

Accepted:

Published:

Issue Date:

DOI: https://doi.org/10.1007/s10071-016-0960-y
Keywords