Abstract
It has been postulated that the neuropeptide, oxytocin, is involved in human–dog bonding. This may explain why dogs, compared to wolves, are such good performers on object choice tasks, which test their ability to attend to, and use, human social cues in order to find hidden food treats. The objective of this study was to investigate the effect of intranasal oxytocin administration, which is known to increase social cognition in humans, on domestic dogs' ability to perform such a task. We hypothesised that dogs would perform better on the task after an intranasal treatment of oxytocin. Sixty-two (31 males and 31 females) pet dogs completed the experiment over two different testing sessions, 5–15 days apart. Intranasal oxytocin or a saline control was administered 45 min before each session. All dogs received both treatments in a pseudo-randomised, counterbalanced order. Data were collected as scores out of ten for each of the four blocks of trials in each session. Two blocks of trials were conducted using a momentary distal pointing cue and two using a gazing cue, given by the experimenter. Oxytocin enhanced performance using momentary distal pointing cues, and this enhanced level of performance was maintained over 5–15 days time in the absence of oxytocin. Oxytocin also decreased aversion to gazing cues, in that performance was below chance levels after saline administration but at chance levels after oxytocin administration.
Access options
Buy single article
Instant access to the full article PDF.
USD 39.95
Price excludes VAT (USA)
Tax calculation will be finalised during checkout.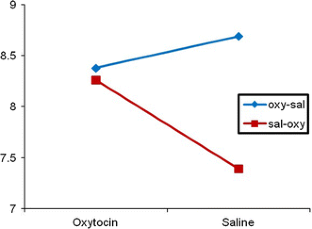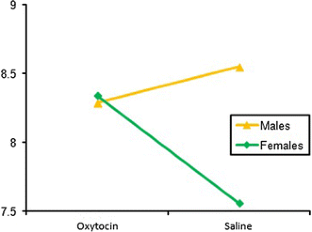 References
Abdi H (2007) The Bonferonni and Šidák corrections for multiple comparisons. In: Salkind N (ed) Encyclopedia of measurement and statistics. Sage Publications Inc, Thousand Oaks

Bartz JA, Zaki J, Bolger N, Ochsner KN (2011) Social effects of oxytocin in humans: context and person matter. Trends Cogn Sci 15(7):301–309

Born J, Lange T, Kern W, McGregor GP, Bickel U, Fehm HL (2002) Sniffing neuropeptides: a transnasal approach to the human brain. Nat Neurosci 5(6):514–516

Brabec CM, Gfeller JD, Ross MJ (2012) An exploration of relationships among measures of social cognition, decision making, and emotional intelligence. J Clin Exp Neuropsychol 34(8):887–894

Dal Monte O, Noble PL, Costa VD, Averbeck BB (2014) Oxytocin enhances attention to the eye region in rhesus monkeys. Front Neurosci. doi:10.3389/fnins.2014.00041

Dickstein S, Thompson RA, Estes D, Malkin C, Lamb ME (1984) Social referencing and the security of attachment. Infant Behav Dev 7:507–516

Donges U-S, Kersting A, Suslow T (2012) Women's greater ability to perceive happy facial emotion automatically: gender differences in affective priming. PLoS ONE 7(8):e41745. doi:10.1371/journal.pone.0041745

Guastella AJ, MacLeod C (2012) A critical review of the influence of oxytocin nasal spray on social cognition in humans: evidence and future directions. Horm Behav 61(3):410–418

Guastella AJ, Mitchell PB, Dadds MR (2008) Oxytocin increases gaze to the eye region of human faces. Biol Psychiatry 63(1):3–5

Handlin L, Hydbring-Sandberg E, Nilsson A, Ejdebäck M, Jansson A, Uvnäs-Moberg K (2011) Short-term interaction between dogs and their owners: effects of oxytocin, cortisol, insulin and heart-rate—an exploratory study. Anthrozoös 24(3):301–315

Hare B, Brown M, Williamson C, Tomasello M (2002) The domestication of social cognition in dogs. Science 298(5598):1634–1636

Hare B, Rosati A, Kaminski J, Bräuer J, Call J, Tomasello M (2010) The domestication hypothesis for dogs' skills with human communication: a response to Udell et al. (2008) and Wynne et al. (2008). Anim Behav 79:e1–e6

Hegedüs D, Bálint A, Miklósi Á, Pongrácz P (2013) Owners fail to influence the choices of dogs in a two-choice, visual pointing task. Behaviour 150:427–443. doi:10.1163/1568539X-00003060

IBM Corp. (2013) IBM SPSS Statistics for Windows, Version 22.0. IBM Corp., Armonk

Kéri S, Benedek G (2009) Oxytocin enhances the perception of biological motion in humans. Cogn Affect Behav Neurosci 9(3):237–241

Kosfeld M, Heinrichs M, Zak PJ, Fischbacher U, Fehr E (2005) Oxytocin increases trust in humans. Nature 435(7042):673–676

Lim MM, Young LJ (2006) Neuropeptidergic regulation of affiliative behavior and social bonding in animals. Horm Behav 50(4):506–517

MacDonald E, Dadds MR, Brennan JL, Williams K, Levy F, Cauchi AJ (2011) A review of safety, side-effects and subjective reactions to intranasal oxytocin in human research. Psychoneuroendocrinology 36:1114–1126

Miklósi Á, Polgárdi R, Topál J, Csányi V (1998) Use of experimenter-given cues in dogs. Anim Cogn 1:113–121

Miklósi Á, Kubinyi E, Topál J, Gácsi M, Virányi Z, Csányi V (2003) A simple reason for a big difference: wolves do not look back at humans, but dogs do. Curr Biol 13(9):763–766

Miklósi Á, Pongrácz P, Lakatos G, Topál J, Csányi V (2005) A comparative study of the use of visual communicative signals in interactions between dogs (Canis familiaris) and humans and cats (Felis catus) and humans. J Comp Psychol 119(2):179–186

Miller SC, Kennedy C, DeVole D, Hickey M, Nelson T, Kogan L (2009) An examination of changes in oxytocin levels in men and women before and after interaction with a bonded dog. Anthrozoös 22(1):31–42

Nagasawa M, Kikusui T, Onaka T, Ohta M (2009) Dog's gaze at its owner increases owner's urinary oxytocin during social interaction. Horm Behav 55(3):434–441

Odendaal JS, Meintjes RA (2003) Neurophysiological correlates of affiliative behaviour between humans and dogs. Vet J 165(3):296–301

Pfungst O (1911) Clever Hans (The horse of Mr. Von Osten): a contribution to experimental animal and human psychology (trans: Rahn CL). Henry Holt and Company, New York

Rault J-L (2013) The effects of socio-behavioural contexts on oxytocin in the cerebrospinal fluid of pigs. Proceedings of the Australasia Regional Congress of the International Society for Applied Ethology, Hamilton, New Zealand, p 12

Rault J-L, Mack LA, Carter CS, Garner JP, Marchant-Forde JN, Richert BT, Lay DC Jr (2013) Prenatal stress puzzle, the oxytocin piece: prenatal stress alters the behaviour and autonomic regulation in piglets, insights from oxytocin. Appl Anim Behav Sci 148:99–107

Riedel J, Buttelmann D, Call J, Tomasello M (2006) Domestic dogs (Canis familiaris) use a physical marker to locate hidden food. Anim Cogn 9(1):27–35

Riedel J, Schumann K, Kaminski J, Call J, Tomasello M (2008) The early ontogeny of human-dog communication. Anim Behav 75:1003–1014

Rissman EF (2008) Roles of oestrogen receptors alpha and beta in behavioural neuroendocrinology: beyond Yin/Yang. J Neuroendocrinol 20(6):873–879

Schmidjell T, Range F, Huber L, Virányi Z (2012) Do owners have a Clever Hans effect on dogs? Results of a pointing study. Front Psychol. doi:10.3389/fpsyg.2012.00558

Smith BP, Litchfield CA (2010) Dingoes (Canis dingo) can use human social cues to locate hidden food. Anim Cogn 13(2):367–376

Soproni K, Miklósi Á, Topál J, Csányi V (2001) Comprehension of human communicative signs in pet dogs (Canis familiaris). J Comp Psychol 115(2):122–126

Soproni K, Miklósi Á, Topál J, Csányi V (2002) Dogs' (Canis familiaris) responsiveness to human pointing gestures. J Comp Psychol 116(1):27–34

Striano T, Vaish A, Benigno JP (2006) The meaning of infants' looks: information seeking and comfort seeking? Br J Dev Psychol 24:615–630

Topál J, Miklósi Á, Csányi V (1997) Dog-human relationship affects problem solving behavior in the dog. Anthrozoös 10(4):214–224

Udell MAR, Wynne CDL (2010) Ontogeny and phylogeny: both are essential to human-sensitive behaviour in the genus Canis. Anim Behav 79:e9–e14

Udell MA, Giglio RF, Wynne CD (2008a) Domestic dogs (Canis familiaris) use human gestures but not nonhuman tokens to find hidden food. J Comp Psychol 122(1):84–93

Udell MAR, Dorey NR, Wynne CDL (2008b) Wolves outperform dogs in following human social cues. Anim Behav 76:1767–1773

Virányi Z, Gácsi M, Kubinyi E, Topál J, Belényi B, Ujfalussy D, Miklósi Á (2008) Comprehension of human pointing gestures in young human-reared wolves (Canis lupus) and dogs (Canis familiaris). Anim Cogn 11(3):373–387

Whiten A, Erdal D (2012) The human socio-cognitive niche and its evolutionary origins. Philos Trans R Soc B 367(1599):2119–2129

Wobber V, Hare B, Koler-Matznick J, Wrangham R, Tomasello M (2009) Breed differences in domestic dogs' (Canis familiaris) comprehension of human communicative signals. Interact Stud 10(2):206–224

Wynne CDL, Udell MAR, Lord KA (2008) Ontogeny's impacts on human-dog communication. Anim Behav 76:e1–e4
Acknowledgments
We would like to thank the Clear Dog Shop and Love' em for sponsoring the study and providing dog food rewards. We would also like to thank Lachlan Macquarie, Department of Econometrics and Business Statistics, Monash University, for his statistical advice.
About this article
Cite this article
Oliva, J.L., Rault, JL., Appleton, B. et al. Oxytocin enhances the appropriate use of human social cues by the domestic dog (Canis familiaris) in an object choice task. Anim Cogn 18, 767–775 (2015). https://doi.org/10.1007/s10071-015-0843-7
Received:

Revised:

Accepted:

Published:

Issue Date:

DOI: https://doi.org/10.1007/s10071-015-0843-7
Keywords