Abstract
Evidence has been reported for quantity discrimination in mammals and birds and, to a lesser extent, fish and amphibians. For the latter species, however, whether quantity discrimination would reflect sensitivity to number or to the continuous physical variables that covary with number is unclear. Here we reported a series of experiments with frogs (Bombina orientalis) tested in free-choice experiments for their preferences for different amounts of preys (Tenebrio molitor larvae) with systematic controls for variables such as surface area, volume, weight, and movement. Frogs showed quantity discrimination in the range of both small (1 vs. 2, 2 vs. 3, but not 3 vs. 4) and large numerousness (3 vs. 6, 4 vs. 8, but not 4 vs. 6), with clear evidence of being able to discriminate numerousness even when continuous physical variables were controlled for in the case of small numerousness (i.e., 1 vs. 2), whereas in the case of large numerousness it remains unclear whether the number or surface areas were dominant. We suggested that task demands are likely to be responsible for the activation of different systems for small and large numerousness and for their relative susceptibility to quantitative stimulus variables.
Access options
Buy single article
Instant access to the full article PDF.
US$ 39.95
Tax calculation will be finalised during checkout.
Subscribe to journal
Immediate online access to all issues from 2019. Subscription will auto renew annually.
US$ 79
Tax calculation will be finalised during checkout.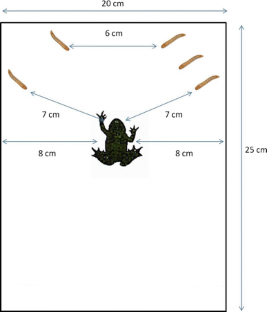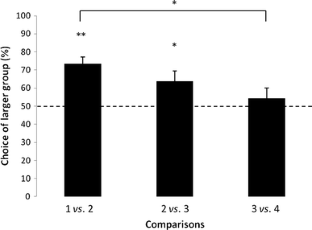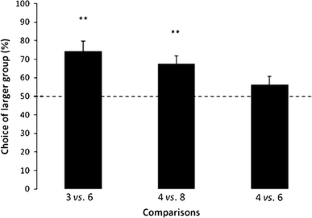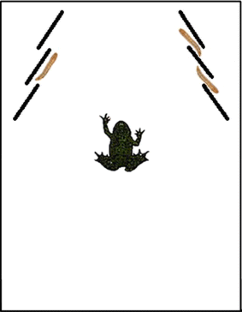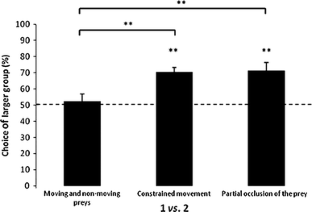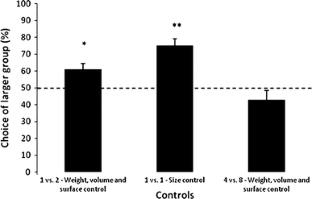 References
Agrillo C, Dadda M, Bisazza A (2007) Quantity discrimination in female mosquitofish. Anim Cogn 10:63–70

Baker JM, Shivik J, Jordan KE (2011) Tracking of food quantity by coyotes (Canis latrans). Behav Process 88:72–75

Barner D, Wood J, Hauser M, Carey S (2008) Evidence for a non-linguistic distinction between singular and plural sets in rhesus monkeys. Cognition 107:603–622

Beran MJ (2007) Rhesus Monkeys (Macaca mulatta) enumerate large and small sequentially presented sets of items using analog numerical representation. J Exp Psychol Anim Behav Process 33(1):42–54

Beran MJ, Beran MM (2004) Chimpanzees remember the results of one-by-one addition of food items to sets over extended time periods. Psychol Sci 15:94–99

Brannon EM, Terrace HS (1998) Ordering of the numerosities 1 to 9 by monkeys. Science 282(5389):746–749

Call J (2000) Estimating and operating on discrete quantities in orangutans (Pongo pygmaeus). J Comp Psychol 114:136–147

Cantlon J, Brannon EM (2006) The effect of heterogeneity on numerical ordering in rhesus monkeys. Infancy 9(2):173–189

Cantlon JF, Brennon EM (2007) How much does number matter to a monkey? J Exp Psychol Anim Behav Process 33(1):32–41

Carazo P, Font E, Forteza-Behrendt E, Desfilis E (2009) Quantity discrimination in Tenebrio molitor: evidence of numerosity discrimination in an invertebrate? Anim Cogn 12:463–470

Cordes S, Brannon EM (2008) Quantitative competencies in infancy. Dev Sci 11:803–808

Cordes S, Brannon E (2009) Crossing the divide: infants discriminate small from large numerosities. Dev Psych 45(6):1583–1594

Cordes S, Gelman R, Gallistel CR, Whalen J (2001) Variability signatures distinguish verbal from nonverbal counting for both large and small numbers. Psychol Bull Rev 8(4):698–707

Coubart A, Izard V, Spelke ES, Marie J, Streri A (2014) Dissociation between small and large numerosities in newborn infants. Dev Sci 17(1):11–22. doi:10.1111/desc.12108

Davis H, Pérusse R (1988) Numerical competence in animals: definitional issues, current evidence, and new research agenda. Behav Brain Sci 11:561–615

De Hevia MD, Spelke E (2009) Spontaneous mapping of number and space in adults and young children. Cognition 110:198–207

Feigenson L, Carey S, Hauser M (2002) The representations underlying infants' choice of more: object files versus analog magnitudes. Psych Sci 13:150–156

Feigenson L, Dehaene S, Spelke E (2004) Core systems of number. Trends Cogn Sci 8:307–314

Fellows BJ (1967) Chance stimulus sequences for discrimination tasks. Psychol Bull 67:87–92

Gallistel CR, Gelman R (1992) Preverbal and verbal counting and computation. Cognition 44:43–74

Gerland A, Low A, Burns KC (2012) large quantity discrimination by north island robins (Petroica longipes). Anim Cogn 15(6):1129–1140

Gissi C, San Mauro D, Pesole G, Zardoya R (2006) Mitochondrial phylogeny of Anura (Amphibia): a case study of congruent phylogenetic reconstruction using amino acid and nucleotide characters. Gene 366(2):228–237

Gómez-Laplaza L, Gerlai R (2013) Quantification abilities in angelfish (Pterophyllum scalare): the influence of continuous variables. Anim Cogn 16:373–383

Gross HJ, Pahl M, Si A, Zhu H, Tautz J, Zhang S (2009) Number-based visual generalization in the honeybee. PLoS ONE 4:e4263

Hauser MD, Carey S, Hauser L (2000) Spontaneous number representation in semi-free-ranging rhesus monkeys. Proc Biol Sci B 267:829–833

Hyde DC (2011) Two systems of non-symbolic numerical cognition. Front Hum Neurosci 5:150. doi:10.3389/fnhum.2011.00150

Hyde DC, Spelke ES (2011) Neural signatures of number processing in human infants: evidence for two core systems underlying numerical cognition. Dev Sci 14:360–371

Irie-Sugimoto N, Kobayashi T, Sato T (2009) Relative quantity judgment by Asian elephants (Elephas maximus). Anim Cogn 12:193–199

Jones SM, Brannon EM (2012) Prosimian primates show ratio dependence in spontaneous quantity discriminations. Front Psychol 3:1–8. doi:10.3389/fpsyg.2012.00550

Judge PG, Evans TA, Vyas TK (2005) Ordinal representation of numeric quantities by brown capuchin monkeys (Cebus apella). J Exp Psychol Anim Behav Process 31(1):79–94

Krebs JR (1974) Colonial nesting and social feeding as strategies for exploiting food resources in the great blue heron (Ardea herodias). Behaviour 51:99–130

Krusche P, Uller C, Dicke U (2010) Quantity discrimination in salamanders. J Exp Psychol 213(11):1822–1828

Lettvin JH, Maturana HR, McCulloch WS, Pitts WH (1968) What the frog's eye tells the frog's brain. In: Corning WC, Balaban M (eds) The mind: biological approaches to its functions, pp 233–258

Merritt D, Rugani R, Brannon E (2009) Empty sets as part of the numerical continuum: conceptual precursors to the zero concept in rhesus monkeys. J Exp Psychol Gen 138(2):258–269

Nieder A, Dehaene S (2009) Representation of number in the brain. Annu Rev Neurosci 32:185–208

Pahl M, Si A, Zhang S (2013) Numerical cognition in bees and other insects. Front Psychol 4:162

Pepperberg MI (2012) Further evidence for addition and numerical competence by a Grey parrot (Psittacus erithacus). Anim Cogn 15:711–717

Pepperberg IM, Carey S (2012) Grey Parrot number acquisition: the inference of cardinal value from ordinal position on the numeral list. Cognition 125:219–232

Ren Z, Zhu B, Ma E, Wen J, Tu T, Cao Y, Hasegawa M, Zhong Y (2009) Complete nucleotide sequence and gene arrangement of the mitochondrial genome of crab-eating frog Fejervarya cancrivora and evolutionary implications. Gene 441:148–155

Rugani R, Regolin L, Vallortigara G (2008) Discrimination of small numerosities in young chicks. J Exp Psychol Anim Behav Process 34(3):388–399

Rugani R, Fontanari L, Simoni E, Regolin L, Vallortigara G (2009) Arithmetic in newborn chicks. Proc R Soc Lond B 276:2451–2460

Rugani R, Regolin L, Vallortigara G (2010a) Imprinted numbers: newborn chicks' sensitivity to number vs. continuous extent of objects they have been reared with. Dev Sci 13:790–797

Rugani R, Kelly MD, Szelest I, Regolin L, Vallortigara G (2010b) It is only humans that count from left to right? Biol Lett 6:290–292

Rugani R, Regolin L, Vallortigara G (2011) Summation of large numerousness by newborn chicks. Frontiers Comp Psychol 2:179. doi:10.3389/fpsyg.2011.00179

Rugani R, Cavazzana A, Vallortigara G, Regolin L (2013a) One, two, three, four, or is there something more? Numerical discrimination in day-old domestic chicks. Anim Cogn 16:557–564

Rugani R, Vallortigara G, Regolin L (2013b) Numerical abstraction in young domestic chicks (Gallus gallus). Discrim Large Number PLoS One 8(6):e65262

Rugani R, Vallortigara G, Regolin L (2014) From small to large. Numerical discrimination by young domestic chicks. J Comp Psychol 128(2):163–171

Smith BR, Piel AK, Candland DK (2003) Numerity of a socially housed hamadryas baboon (Papio hamadryas) and a socially housed squirrel monkey (Saimiri sciureus). J Comp Psychol 117(2):217–225

Sovrano VA, Bisazza A (2008) Recognition of partly occluded objects by fish. Anim Cogn 11(1):161–166

Stancher G, Sovrano AV, Potrich D, Vallortigara G (2013) Discrimination of small quantities by fish (redtail splitfin, Xenotoca eiseni). Anim Cogn 16:307–312

Trick LM, Pylyshyn ZW (1994) Why are small and large numbers enumerated differently? A limited-capacity preattentive stage in vision. Psychol Rev 101(1):80–102

Uller C, Lewis J (2009) Horses (Equus caballus) select the greater of two quantities in small numerical contrasts. Anim Cogn 12:733–738

Uller C, Jaeger R, Guidry G (2003) Salamanders (Plethodon cinereus) go for more: rudiments of number in an amphibian. Anim Cogn 6:105–112

Vallortigara G, Chiandetti C, Rugani R, Sovrano VA, Regolin L (2010a) Animal cognition. Wiley Interdiscip Rev Cogn Sci 1:882–893

Vallortigara G, Regolin L, Chiandetti C, Rugani R (2010b) Rudiments of minds: insights through the chick model on number and space cognition in animals. Comp Cogn Behav Rev 5:78–99

Ward C, Smuts BB (2007) Quantity-based judgments in the domestic dog (Canis lupus familiaris). Anim Cogn 10:71–80

Wynn K, Bloom P, Chiang W-C (2002) Enumeration of collective entities by 5-month-old infants. Cognition 83:B55–B62
Acknowledgments
This study was supported by the University of Padova ("Progetto Giovani" 2010, to R.R., prot.: GRIC101142 and "Progetto di Ateneo" 2012 to R.L. prot. CPDA127200) and by ERC Advanced Grant to G.V. (PREMESOR ERC-2011-ADG_20110406).
About this article
Cite this article
Stancher, G., Rugani, R., Regolin, L. et al. Numerical discrimination by frogs (Bombina orientalis). Anim Cogn 18, 219–229 (2015). https://doi.org/10.1007/s10071-014-0791-7
Received:

Revised:

Accepted:

Published:

Issue Date:
Keywords
Number cognition

Quantity discrimination

Analog magnitude system (AMS)

Object file system (OFS)

Frogs