Abstract
Studies concerning the perceptual processes of animals are not only interesting, but are fundamental to the understanding of other developments in information processing among non-humans. Carefully used visual illusions have been proven to be an informative tool for understanding visual perception. In this behavioral study, we demonstrate that cuttlefish are responsive to visual cues involving texture gradients. Specifically, 12 out of 14 animals avoided swimming over a solid surface with a gradient picture that to humans resembles an illusionary crevasse, while only 5 out of 14 avoided a non-illusionary texture. Since texture gradients are well-known cues for depth perception in vertebrates, we suggest that these cephalopods were responding to the depth illusion created by the texture density gradient. Density gradients and relative densities are key features in distance perception in vertebrates. Our results suggest that they are fundamental features of vision in general, appearing also in cephalopods.
Access options
Buy single article
Instant access to the full article PDF.
USD 39.95
Price excludes VAT (USA)
Tax calculation will be finalised during checkout.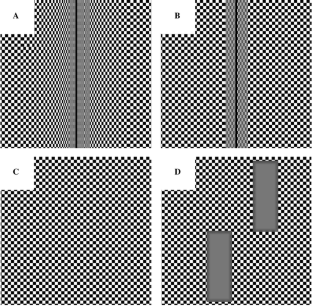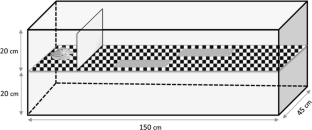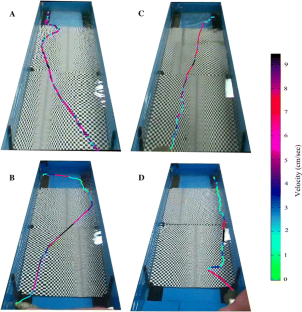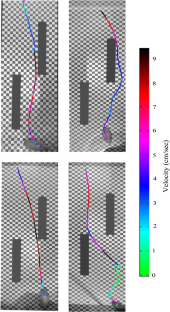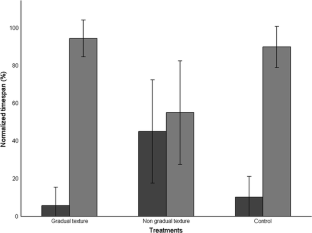 References
Alves C, Chichery R, Boal JG, Dickel L (2007) Orientation in the cuttlefish sepia officinalis: response versus place learning. Anim cogn 10(1):29–36. doi:10.1007/s10071-006-0027-6

Barbosa A, Mäthger LM, Chubb C, Florio C, Chiao C-C, Hanlon RT (2007) Disruptive coloration in cuttlefish: a visual perception mechanism that regulates ontogenetic adjustment of skin patterning. J Exp Biol 210(7):1139–1147. doi:10.1242/jeb.02741

Barbosa A, Allen JJ, Mathger LM, Hanlon RT (2011) Cuttlefish use visual cues to determine arm postures for camouflage. Proc Biol Sci 279(1726):84–90. doi:10.1098/rspb.2011.0196

Chiao C-C, Hanlon RT (2001) Cuttlefish cue visually on area—not shape or aspect ratio—of light objects in the substrate to produce disruptive body patterns for camouflage. Biol Bull 201(2):269–270

Chiao C-C, Kelman EJ, Hanlon RT (2005) Disruptive body patterning of cuttlefish (Sepia officinalis) requires visual information regarding edges and contrast of objects in natural substrate backgrounds. Biol Bull 208(1):7–11

Chiao C-C, Chubb C, Hanlon RT (2007) Interactive effects of size, contrast, intensity and configuration of background objects in evoking disruptive camouflage in cuttlefish. Vision Res 47(16):2223–2235

Cohen RS, Seeger RJ, American Association for the Advancement of Science (1970) Ernst Mach, physicist and philosopher. Reidel, Dordrecht

Darmaillacq A-S, Chichery R, Dickel L (2006) Food imprinting, new evidence from the cuttlefish Sepia officinalis. Biol Lett 2(3):345–347

Dickel L, Boal JG, Budelmann BU (2000) The effect of early experience on learning and memory in cuttlefish. Dev Psychol 36(2):101–110. doi:10.1002/(SICI)1098-2302(200003)36:2<101:AID-DEV2>3.0.CO;2-L

Eagleman DM (2001) Visual illusions and neurobiology. Nat Rev Neurosci 2(12):6. doi:10.1038/35104092

Frisby JP, Stone JV (2010) Seeing: the computational approach to biological vision. The MIT Press, Cambridge

Gibson JJ (1950) The perception of the visual world, 2nd edn. Riverside press, Cambridge

Gregory RL (1997) Eye and brain: the psychology of seeing, 5th edn. Princeton University Press, Princeton

Gunderson VM, Yonas A, Sargent PL, Grant-Webster KS (1993) Infant macaque monkeys respond to pictorial depth. Psychol Sci 4(2):93–97. doi:10.1111/j.1467-9280.1993.tb00467.x

Hanlon RT, Messenger JB (1998) Cephalopod behaviour. Cambridge University Press, Cambridge

Hermann L (1870) Eine erscheinung simultanen contrastes. Pflüger Arch 3(1):13–15. doi:10.1007/bf01855743

Karson MA, Boal JG, Hanlon RT (2003) Experimental evidence for spatial learning in cuttlefish (Sepia officinalis). J Comp Psychol 117(2):149–155. doi:10.1037/0735-7036.117.2.149

Kaufman L (1974) Sight and mind: an introduction to visual perception. Oxford U Press, Oxford

Kelman EJ, Osorio D, Baddeley RJ (2008) A review of cuttlefish camouflage and object recognition and evidence for depth perception. J Exp Biol 211(Pt 11):1757–1763. doi:10.1242/jeb.015149

Landy MS, Maloney LT, Johnston EB, Young M (1995) Measurement and modeling of depth cue combination: in defense of weak fusion. Vision Res 35(3):389–412. doi:10.1016/0042-6989(94)00176-m

Maldonado H, Rodriguez E (1972) Depth perception in the praying mantis. Physiol Behav 8:9

Mariotte E (1668) The discovery of the blind spot. Century psychology East Norwalk, CT, US: appleton-century-crofts. doi:10.1037/11304-006

Marr D, Nishihara HK (1978) Representation and recognition of the spatial organization of three-dimensional shapes. Proc R Soc B Biol Sci 200(1140):269–294. doi:10.1098/rspb.1978.0020

Marshall NJ, Messenger JB (1996) Colour-blind camouflage. Nature 382(6590):408–409

Mathger LM, Barbosa A, Miner S, Hanlon RT (2006) Color blindness and contrast perception in cuttlefish (Sepia officinalis) determined by a visual sensorimotor assay. Vision Res 46(11):1746–1753. doi:10.1016/j.visres.2005.09.035

Nealey SM, Edwards BJ (1960) Depth perception in rats without pattern-vision experience. J Comp Physiol Psychol 53(5):468–469. doi:10.1037/h0045296

Palmer SE (1999) Vision science: photons to phenomenology. The MIT Press, Cambridge

Pronk R, Wilson D, Harcourt R (2010) Video playback demonstrates episodic personality in the gloomy octopus. J Exp Biol 213(7):1035–1041

Reid S, Spetch ML (1998) Perception of pictorial depth cues by pigeons. Psychon Bull Rev 5(4):698–704

Richards JE, Rader N (1983) Affective, behavioral, and avoidance responses on the visual cliff: effects of crawling onset age, crawling experience, and testing age. Psychophysiology 20(6):633–642. doi:10.1111/j.1469-8986.1983.tb00930.x

Schwartz AN, Campos JJ, Baisel EJ Jr (1973) The visual cliff: cardiac and behavioral responses on the deep and shallow sides at five and nine months of age. J Exp Child Psychol 15(1):86–99. doi:10.1016/0022-0965(73)90133-1

Sokal RR, Rohlf FJ (1969) Kruskal–Wallis test. Biometry. WH freeman and Co, San Francisco (CA), pp 388–389

Sykes AV, Domingues PM, Correia M, Andrade JP (2006) Cuttlefish culture-State of the art and future trends. Vie Milieu 56(2):129–137

Timney B (1981) Development of binocular depth perception in kittens. Invest Ophthalmol Vis Sci 21(3):493–496

Zylinski S, Darmaillacq A-S, Shashar N (2012) Visual interpolation for contour completion by the European cuttlefish (Sepia officinalis) and its use in dynamic camouflage. Proc R Soc B Biol Sci 279(1737):2386–2390. doi:10.1098/rspb.2012.0026
Acknowledgments
We thank Ben-Gurion University's Marine Biology and Biotechnology program for their support, and are grateful to the cephalopod group at CCMAR for their warm hospitality. The comments and discussions with Chuan-Chin Chiao, Irene Leal, Jean Boal, Lelia Cartron, Paulo Frias, Igal Bernstein, Ofri Mann, and two anonymous reviewers greatly improved this manuscript. This study was partly supported by an Israeli Science Foundation Grant # 1081/10 to NS and by the Halperin and Shechter foundations. NJ, SM, and NS received financial support from the European Community for the access provided to Ramalhete Station at CCMAR through the ASSEMBLE program (EC/FP7 Grant Agreement No. 227799). The funders played no part in the design of the study, data collection and analysis, decision to publish, or preparation of the manuscript. The experiments performed in this study complied with the Portuguese National Legislation for animal experiments.
About this article
Cite this article
Josef, N., Mann, O., Sykes, A.V. et al. Depth perception: cuttlefish (Sepia officinalis) respond to visual texture density gradients. Anim Cogn 17, 1393–1400 (2014). https://doi.org/10.1007/s10071-014-0774-8
Received:

Revised:

Accepted:

Published:

Issue Date:

DOI: https://doi.org/10.1007/s10071-014-0774-8
Keywords
Cephalopods

Visual illusions

Distance processing

3D comprehension