Abstract
Why do chimpanzees react when their partner gets a better deal than them? Do they note the inequity or do their responses reflect frustration in response to unattainable rewards? To tease apart inequity and contrast, we tested chimpanzees in a series of conditions that created loss through individual contrast, through inequity, or by both. Chimpanzees were tested in four social and two individual conditions in which they received food rewards in return for exchanging tokens with an experimenter. In conditions designed to create individual contrast, after completing an exchange, the chimpanzees were given a relatively less-preferred reward than the one they were previously shown. The chimpanzees' willingness to accept the less-preferred rewards was independent of previously offered foods in both the social and individual conditions. In conditions that created frustration through inequity, subjects were given a less-preferred reward than the one received by their partner, but not in relation to the reward they were previously offered. In a social context, females were more likely to refuse to participate when they received a less-preferred reward than their partner (disadvantageous inequity), than when they received a more-preferred reward (advantageous inequity). Specifically, the females' refusals were typified by refusals to exchange tokens rather than refusals to accept food rewards. Males showed no difference in their responses to inequity or individual contrast. These results support previous evidence that some chimpanzees' responses to inequity are mediated more strongly by what others receive than by frustration effects.
Access options
Buy single article
Instant access to the full article PDF.
US$ 39.95
Tax calculation will be finalised during checkout.
Subscribe to journal
Immediate online access to all issues from 2019. Subscription will auto renew annually.
US$ 79
Tax calculation will be finalised during checkout.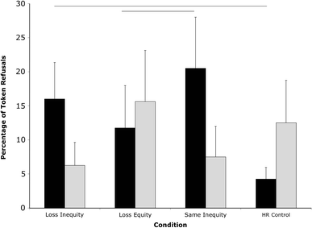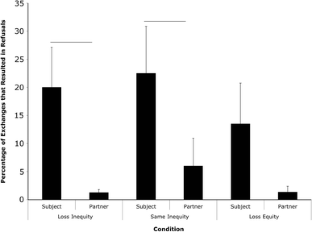 References
Blake PR, McAuliffe (2011) "I had so much it didn't seem fair": eight-year-olds reject two forms of inequity. Cognition 120(2):215–224

Bonnie KE, Horner V, Whiten A, de Waal FBM (2007) Spread of arbitrary conventions among chimpanzees: a controlled experiment. Proc R Soc B 274(1608):367–372

Bräuer J, Call J, Tomasello M (2006) Are apes really inequity averse? Proc R Soc B 273:3123–3128

Bräuer J, Call J, Tomasello M (2009) Are apes inequity averse? New data on the token-exchange paradigm. Am J Primatol 71:175–181

Brosnan SF (2011) A hypothesis of the co-evolution of cooperation and responses to inequity. Front Neurosci 5:43

Brosnan SF (2013) Justice- and fairness-related behaviors in nonhuman primates. Proc Natl Acad Sci 110:10416–10423

Brosnan SF, de Waal FBM (2003) Monkeys reject unequal pay. Nature 425:297–299

Brosnan SF, de Waal FBM (2012) Fairness in animals: where to from here? Soc Justice Res 25(3):336–351

Brosnan SF, Schiff HC, de Waal FBM (2005) Tolerance for inequity may increase with social closeness in chimpanzees. Proc R Soc B 1560:253–258

Brosnan SF, Talbot C, Ahlgren M, Lambeth SP, Schapiro SJ (2010) Mechanisms underlying responses to inequitable outcomes in chimpanzees, Pan troglodytes. Anim Behav 79:1229–1237

Chen MK, Lakshminaryanan V, Santos LR (2006) The evolution of our preferences: evidence from capuchin monkey trading behavior. J Polit Econ 114:517–537

Gilby IC, Connor RC (2010) The role of intelligence in group hunting: Are chimpanzees different from other social predators? In: Lonsdorf EV, Ross SR, Matsuzawa T (eds) The mind of the chimpanzee: ecological and experimental perspectives. University of Chicago Press, Chicago, pp 220–234

Henrich J (2004) Inequity aversion in capuchins? Nature 428:139

Hopper LM, Lambeth SP, Schapiro SJ, Whiten A (2008) Observational learning in chimpanzees and children studied through 'ghost' conditions. Proc R Soc B 275:835–840

Hopper LM, Lambeth SP, Schapiro SJ, Bernacky BJ, Brosnan SF (2013a) The ontogeny of social comparisons in rhesus macaques (Macaca mulatta). J Primatol 2:109

Hopper LM, Lambeth SP, Schapiro SJ, Brosnan SF (2013b) When given the opportunity, chimpanzees maximize personal gain rather than "level the playing field". PeerJ 1:e165

House BR, Henrich J, Brosnan SF, Silk JB (2012) The ontogeny of human prosociality: behavioral experiments with children aged 3 to 8. Evol Hum Behav 33(4):291–308

McAuliffe K, Blake PR, Kim G, Wrangham RW, Warneken F (2013) Social influences on inequity aversion in children. PLoS ONE 8(12):e80966

Neiworth JJ, Johnson ET, Whillock K, Greenberg J, Brown V (2009) Is a sense of inequity an ancestral primate trait? Testing social inequity in cotton top tamarins (Saguinus oedipus). J Comp Psychol 123:10–17

Price SA, Brosnan SF (2012) To each according to his need? Variability in the responses to inequity in non-human primates. Soc Justice Res 25(2):140–169

Rabin M, Thaler RH (2001) Anomalies: risk aversion. J Econ Perspect 15:219–232

Roma PG, Silberberg A, Ruggiero AM, Suomi SJ (2006) Capuchin monkeys, inequity aversion, and the frustration effect. J Comp Psychol 120:67–73

Sheskin M, Ashayeri K, Skerry A, Santos LR (2014) Capuchin monkeys (Cebus apella) fail to show inequality aversion in a no-cost situation. Evol Hum Behav 35(2):80–88

Silberberg A, Roma PG, Huntsberry ME, Warren-Boulton FR, Sakagami T, Ruggiero AM, Suomi SJ (2008) On loss aversion in capuchin monkeys. J Exp Anal Behav 89:145–155

Silberberg A, Crescimbene L, Addessi E, Anderson JR, Visalberghi E (2009) Does inequity aversion depend on a frustration effect? A test with capuchin monkeys (Cebus apella). Anim Cogn 12:505–509

Sloane S, Baillargeon R, Premack D (2012) Do infants have a sense of fairness? Psychol Sci 23(2):196–204

Talbot C, Freeman HD, Williams LE, Brosnan SF (2011) Squirrel monkeys' response to inequitable outcomes indicates evolutionary convergence within the primates. Biol Lett 7:680–682

Talbot CF, Parrish AE, Freeman HD, Hopper LM, Leverett K, Holmes AN, Williams LE, Brosnan SF (2013) Social and individual comparisons are influenced by context. Am J Primatol 75(S1):98

Tinklepaugh OL (1928) An experimental study of representative factors in monkeys. J Compar Psychol 8:197–236

Tom SM, Fox CR, Trepel C, Poldrack RA (2007) The neural basis of loss aversion in decision-making under risk. Science 315:515–518

Tversky A, Kahneman D (1991) Loss aversion in riskless choice: a reference-dependent model. Q J Econ 106:1039–1061

van Leeuwen EJC, Cronin KA, Schütte S, Call J, Haun DBM (2013) Chimpanzees (Pan troglodytes) flexibly adjust their behaviour in order to maximize payoffs, not to conform to majorities. PLoS ONE 8(11):e80945

Wynne CDL (2004) Animal behaviour: fair refusals by capuchin monkeys. Nature 428:140

Yamagishi T, Horita Y, Takagishi H, Shinada M, Tanida S, Cook KS (2009) The private rejection of unfair offers and emotional commitment. Proc Nat Acad Sci 106:11520–11523
Acknowledgments
We thank Bart Wilson and an anonymous reviewer for their insightful and constructive feedback on this manuscript. We also thank all the staff at the UT MD Anderson Cancer Center for their help and for providing the highest quality of care for the chimpanzees housed there. This research was funded by a NSF CAREER grant award to SFB (SES 0847351). At the time of writing, LMH was supported by the Leo S. Guthman Fund. The chimpanzee colony is supported by NIH U42 (OD-011197).
Electronic supplementary material
Below is the link to the electronic supplementary material.
About this article
Cite this article
Hopper, L.M., Lambeth, S.P., Schapiro, S.J. et al. Social comparison mediates chimpanzees' responses to loss, not frustration. Anim Cogn 17, 1303–1311 (2014). https://doi.org/10.1007/s10071-014-0765-9
Received:

Revised:

Accepted:

Published:

Issue Date:
Keywords
Chimpanzee

Inequity

Frustration

Individual contrast

Social contrast