Abstract
During foraging, worker bumblebees are challenged by simple to complex tasks. Our goal was to determine whether bumblebees could successfully accomplish tasks that are more complex than those they would naturally encounter. Once the initial training to successfully manipulate a simple, artificial flower was completed, the bees were either challenged with a series of increasingly difficult tasks or with the most difficult task without the opportunity for prior learning. The first experiment demonstrated that the bees learned to slide or lift caps that prevented their access to the reinforcer sugar solution through a series of tasks with increasing complexity: moving one cap either to the right or to the left, or lifting it up. The second experiment demonstrated that the bees learned to push balls of escalating masses (diameters 1 and 1.27 cm) from the access to the hidden rewarding (sugar syrup) reservoir of artificial flowers. In both experiments, when bees with experience with only the simplest task (i.e. an artificial flower without a barrier to the reinforcer) were presented next with the most complex or difficult task, they failed. Only by proceeding through the series of increasingly difficult tasks were they able to succeed at the most difficult. We also noted idiosyncratic behaviours by individual bees in learning to succeed. Our results can be interpreted within the context of Skinnerian shaping and possibly scaffold learning.
Access options
Buy single article
Instant access to the full article PDF.
US$ 39.95
Tax calculation will be finalised during checkout.
Subscribe to journal
Immediate online access to all issues from 2019. Subscription will auto renew annually.
US$ 79
Tax calculation will be finalised during checkout.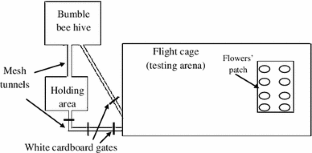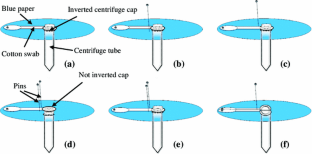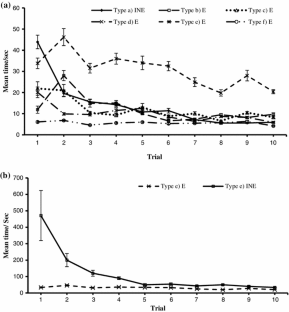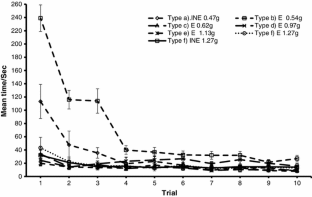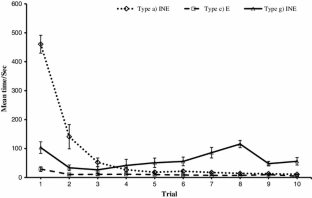 References
Alston DG, Tepedino VJ, Bradley BA et al (2007) Effects of the insecticide phosmet on solitary bee foraging and nesting in orchards of Capitol Reef National Park, Utah. Environ Entomol 36:811–816

Amaya Marquez M (2009) Memory and learning in bees' floral choices (Memoria y aprendizaje en la escogencia floral de las abejas). Acta Biol Colombiana 14:125–135

Amaya-Marquez M, Hill PSM, Barthell JF et al (2008) Learning and memory during foraging of the blue orchard bee, Osmia lignaria say (Hymenoptera: Megachilidae). J Kansas Entomol Soc 81:315–327

Barth FG (1985) Insects and flowers: the biology of a partnership. Princeton University Press, Princeton

Bransford J, Brown A, Cocking R (2000) How people learn: mind, brain, experience and school. National Academy Press, Washington, DC

Chance P (1999) Thorndike's puzzle boxes and the origins of the experimental analysis of behavior. J Exp Anal Behav 72:433–440. doi:10.1901/jeab.1999.72-433

Chittka L (1998) Sensorimotor learning in bumblebees: long-term retention and reversal training. J Exp Biol 201:515–524

Chittka L, Thomson JD (2001) Cognitive ecology of pollination: animal behaviour and floral evolution. Cambridge University Press, Cambridge

Collett TS, Fry SN, Wehner R (1993) Sequence learning by honeybees. J Comp Physiol A 172:693–706

Gegear RJ, Laverty TM (1995) Effect of flower complexity on relearning flower-handling skills in bumble bees. Can J Zool 73:2052–2058

Gegear RJ, Laverty TM (1998) How many flower types can bumblebees work at the same time? Can J Zool 76:1358–1365

Gegear RJ, Laverty TM (2005) Flower constancy in bumble bees: a test of the trait variability hypothesis. Anim Behav 69:939–949

Gill RJ, Ramos-Rodriguez O, Raine NE (2012) Combined pesticide exposure severely affects individual- and colony-level traits in bees. Nature 491:105–108

Heinrich B (1976) Foraging specializations of individual bumblebees. Ecol Monogr 46:105–128

Heinrich B (1979) "Majoring" and "minoring" by foraging bumblebees: Bombus vagans; an experimental study. Ecology 60:245–255

Kevan PG, Manzel R (2012) The plight of pollination and the interface of neurobiology, ecology and food security. Environmentalist 32:300–310

Laverty TM (1980) The flower visiting behaviour of bumblebee: floral complexity and learning. Can J Zool 58:1324–1335

Laverty TM (1994) Bumblebee and flower morphology. Anim Behav 47:531–545

Laverty TM, Plowright CR (1988) Flower handling by bumblebees: a comparison of specialists and generalists. Anim Behav 36:733–740

Lavertyt M (1978) Flower-visiting behaviour of experienced and inexperienced bumblebees (Hymenoptera: Apidae). Thesis, University of Alberta, Edmonton, M.Sc

Mirwan HB, Kevan PG (2013) Social learning in bumblebees (Bombus impatiens): worker bumblebees learn to manipulate and forage at artificial flowers by observation and communication within the colony. Psyche 2013:1–8. doi:10.1155/2013/768108

Muller H, Chittka L (2012) Consistent interindividual differences in discrimination performance by bumble bees (Hymenoptera: Apidae: Bombus terrestris) in colour, shape and odour learning tasks. Entomol Gen 34:1–8

Olson J, Platt J (2000) The instructional cycle. Teaching children and adolescents with special needs. Prentice-Hall, Inc, Upper Saddle River, pp 170–197

Pankiw T, Page RE Jr (1999) The effect of genotype, age, sex, and caste on response thresholds to sucrose and foraging and behavior of honey bees (Apis mellifera L.). J Comp Physiol 185:207–213

Raine NE, Chittka L (2012) No trade-off between learning speed and associative flexibility in bumble bees: a reversal learning test with multiple colonies. PLoS ONE 7(9):e45096. doi:10.1371/journal.pone.0045096

Raine NE, Ings TC, Ramos-Rodríguez O, Chittka L (2006) Intercolony variation in learning performance of a wild British bumble bee population (Hymenoptera: Apidae: Bombus terrestris audax). Entomol Gen 28:241–256

Ray S, Ferneyhough B (1997) The effects of age on olfactory learning and memory in the honey bee Apis mellifera. Neuro Report J 8:789–793

Sawyer KR (2006) The Cambridge handbook of the learning sciences. Cambridge University Press, New York

Skinner BF (1953) Science and human behavior. Macmillan, Oxford

Thompson HM (2003) Behavioural effects of pesticides in bees—their potential for use in risk assessment. Ecotoxicol 12:317–330

von Frisch K (1967) The dance language and orientation of bees. The Belknap Press of Harvard University Press, Cambridge

Vygotsky LS (1987) Thinking and speech. In Vygotsky LS, Collected works (1: pp. 39–285) (R. Rieber & A. Carton, Eds; N. Minick, Trans). New York: Plenum. (Original works published in 1934, 1960)

Woodward GL, Laverty TM (1992) Recall of flower handling skills by bumble bees: a test of Darwin's interference hypothesis. Anim Behav 44:1041–1051

Zhang SW, Bartsch K, Srinivasan MV (1996) Maze learning by honeybees. Neurobiol Learn Mem 66:267–282

Zhang SW, Lehrer M, Srinivasan MV (1998) Stimulus—conditioned sequence learning in honeybees. In: Proceedings of the 26th Göttingen Neurobiology Conference 1998 (eds Elsner N and Wehner R), 2: 519. Stuttgart: Thieme

Zhang S, Mizutani A, Srinivasan MV (2000) Maze navigation by honeybees: learning path regularity. Learn Mem 7:363–374
Acknowledgments
We thank the Canadian Pollination Initiative (NSERC-CANPOLIN) for funding some of this research reported. This contribution is No.110 from NSERC-CANPOLIN. HM thanks the Libyan Ministry of Education and Canadian Bureau for International Students for scholarships received. BioBest Biological Systems, Leamington, Ontario kindly provided colonies of the test subjects. We are especially grateful to Dr. Francesco Leri, Psychology Department of the University of Guelph for his critical review and help in preparing this paper.
About this article
Cite this article
Mirwan, H.B., Kevan, P.G. Problem solving by worker bumblebees Bombus impatiens (Hymenoptera: Apoidea). Anim Cogn 17, 1053–1061 (2014). https://doi.org/10.1007/s10071-014-0737-0
Received:

Revised:

Accepted:

Published:

Issue Date:
Keywords
Bumblebee

Bee

Apidae

Bombus

Learning

Cognition

Behaviour

Scaffold learning

Skinnerian shaping