Abstract
Domestic dogs (Canis familiaris) seem to possess an evolved competency to follow human-given cues, often out-performing their wild progenitor the wolf (Canis lupus) on cue-following tasks. However, domestication may not be solely responsible for the socio-cognitive skills of dogs, with ontogenetic experience also playing a role. This research evaluated the effects of intensive training on cue-following behaviour using an unreinforced object-choice paradigm. The responses of dogs that were trained to competitive levels were compared to those of pet dogs with only basic training, and dogs living in an animal shelter that demonstrated no or only rudimentary following of basic commands. Using a cue-following task where three types of cues were presented by familiar and unfamiliar human partners, the number of cues followed by each training group were recorded. All dogs found cues where gesture was combined with a congruent head and eye movement easier to follow than either gesture or eye gaze alone. Whether the cue-giver was familiar or not had a significant effect on number of cues followed in homed dogs, and the performance of shelter dogs was comparable to the other groups when faced with an unfamiliar cue-giver. Contrary to predictions, level of training did not improve performance on the cue-following task. This work does provide support for the presence of an evolved adaptation to exploit social cues provided by humans that can be augmented by familiarity with the cue giver. However, additional joint activity as experienced in an intensive training regime does not seem to increase accuracy in following human-given cues.
Access options
Buy single article
Instant access to the full article PDF.
USD 39.95
Price excludes VAT (USA)
Tax calculation will be finalised during checkout.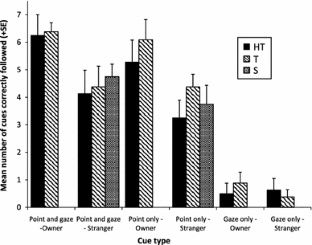 References
Agnetta B, Hare B, Tomasello M (2000) Cues to food location that domestic dogs (Canis familiaris) of different ages do and do not follow. Anim Cogn 3:107–112

Barrera G, Mustaca A, Bentosela M (2011) Communication between domestic dogs and humans: effects of shelter hosing upon the gaze to the human. Anim Cogn 14:272–734

Bräuer J, Kaminski J, Riedel J, Call J, Tomasello M (2006) Making inferences about the location of hidden food: social dog, causal ape. J Comp Psychol 120:38–47

Call J, Bräuer J, Kaminski J, Tomasello M (2003) Domestic dogs (Canis familiaris) are sensitive to the attentional states of humans. J Comp Psychol 117:257–263

Elgier AM, Jakovcevic A, Mustaca AE, Bentosela M (2009) Learning and owner-stranger effects in interspecific communication in domestic dogs (Canis familiaris). Behav Process 81:44–49

Gácsi M, Győri B, Virányi Z, Kubinyi E, Range F et al (2009) Explaining dog wolf differences in utilizing human pointing gestures: selection for synergistic shifts in the development of some social skills. PLoS ONE 4(8):e6584

Garson GD (2013) Generalized linear models and generalized estimating equations; Statistical Associates Blue Book series. Statistical Associates Publishers, Asheboro, NC

Glickman S, Sroges R (1966) Curiosity in zoo animals. Behaviour 26:151–187

Goodwin D, Bradshaw JWS, Wickens SM (1997) Paedomorphosis affects agonistic visual signals of domestic dogs. Anim Behav 53:297–304

Hare B, Tomasello M (2005) Human-like social skills in dogs? Trends Cogn Sci 9:439–444

Hare B, Brown M, Williamson C, Tomasello M (2002) The domestication of social cognition in dogs. Science 298:1634

Hare B, Rosati A, Kaminski J, Brauer J, Call J, Tomasello M (2010) The domestication hypothesis for dogs skills with human communication: a response to Udell (2008) and Wynne et al. (2008). Anim Behav 79:e1–e6

Hauser MD, Comins JA, Pytka LM, Cahill DP, Velez-Calderon S (2011) What experimental experience affects dogs' comprehension of human communicative actions? Behav Process 86(1):7–20

Horn L, Range F, Huber L (2013) Dogs' attention towards humans depends on their relationship, not only on social familiarity. Anim Cogn 16:435–443

Kubinyi E, Virányi Z, Miklósi A (2007) Comparative social cognition: from wolf and dogs to humans. Comp Cogn Behav Rev 2:26–46

Marshall-Pescini S, Valsecchi P, Petak I, Accorsi PA, Prato Previde E (2008) Does training make you smarter? The effects of training on dogs' performance (Canis familiaris) in a problem solving task. Behav Process 78:449–454

Marshall-Pescini S, Passalacqua C, Barnard S, Valsecchi P (2009) Agility and search and rescue training differently affects pet dogs' behaviour in socio-cognitive tasks. Behav Process 81:416–422

Menzel EW (1969) Responsiveness to food and signs of food in chimpanzee discrimination learning. J Comp Psychol 68:484–489

Miklósi A, Topál J (2013) What does it take to become 'best friends'? Evolutionary changes in canine social competence. Trends Cogn Sci 17:287–294

Miklósi A, Kubinyi E, Topál J, Gácsi M, Virányi Z (2003) A simple reason for the big difference: wolves do not look back at humans, but dogs do. Curr Biol 13:763–766

Pongrácz P, Gácsi M, Hegedüs D, Péter A, Miklósi Á (2013) Test sensitivity is important for detecting variability in pointing comprehension in canines. Anim Cogn 16:721–735

Scheider L, Kaminski J, Call J, Tomasello M (2013) Do domestic dogs interpret pointing as a command? Anim Cogn 16:361–372

Schmidjell T, Range F, Huber L, Virányi Z (2012) Do owners have a Clever Hans effect on dogs? Results of a pointing study. Front Psychol 3. Article 558

Soproni K, Miklósi A, Topál J, Csányi V (2001) Comprehension of human communicative signs in pet dogs (Canis familiaris). J Comp Psychol 115:122–126

Udell MAR, Dorey NR, Wynne CDL (2008) Wolves outperform dogs in following human social cues. Anim Behav 76:1767–1773

Udell MAR, Dorey NR, Wynne CDL (2010) What did domestication do to dogs? A new account of dog's sensitivity to human actions. Biol Rev 85(2):327–345

Virányi Z, Gácsi M, Enikő K, Topál J, Belényi B, Ujfalussy D, Miklósi A (2008) Comprehension of human pointing gestures in young human-reared wolves (Canis lupus) and dogs (Canis familiaris). Anim Cogn 11:373–387

Whiten A (ed) (1997) The Machiavellian Mindreader. Cambridge University Press, Cambridge

Whiten A, Byrne RW (eds) (1988) The manipulation of attention in primate tactical deception. Clarendon Press, Oxford
Acknowledgments
We wish to thank the staff at Bandeath Dog Shelter in Stirling for access to the dogs and help with screening and setting up of the experiment and all the owners and their dogs who took part. We would also like to thank two anonymous reviewers for their constructive comments during the review process.
About this article
Cite this article
Cunningham, C.L., Ramos, M.F. Effect of training and familiarity on responsiveness to human cues in domestic dogs (Canis familiaris). Anim Cogn 17, 805–814 (2014). https://doi.org/10.1007/s10071-013-0714-z
Received:

Revised:

Accepted:

Published:

Issue Date:

DOI: https://doi.org/10.1007/s10071-013-0714-z
Keywords
Canis familiaris

Familiarity

Dog–human interaction

Social cognition

Cue-following

Training