Abstract
Despite intense research on the visual communication of domestic dogs, their cognitive capacities have not yet been explored by eye tracking. The aim of the current study was to expand knowledge on the visual cognition of dogs using contact-free eye movement tracking under conditions where social cueing and associative learning were ruled out. We examined whether dogs spontaneously look at actual objects within pictures and can differentiate between pictures according to their novelty or categorical information content. Eye movements of six domestic dogs were tracked during presentation of digital color images of human faces, dog faces, toys, and alphabetic characters. We found that dogs focused their attention on the informative regions of the images without any task-specific pre-training and their gazing behavior depended on the image category. Dogs preferred the facial images of conspecifics over other categories and fixated on a familiar image longer than on novel stimuli regardless of the category. Dogs' attraction to conspecifics over human faces and inanimate objects might reflect their natural interest, but further studies are needed to establish whether dogs possess picture object recognition. Contact-free eye movement tracking is a promising method for the broader exploration of processes underlying special socio-cognitive skills in dogs previously found in behavioral studies.
This is a preview of subscription content,
to check access.
Access this article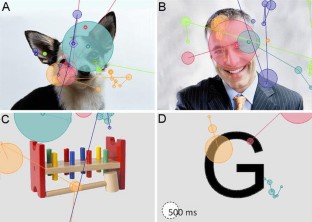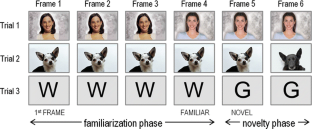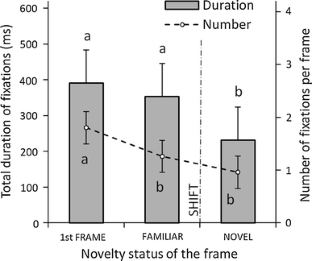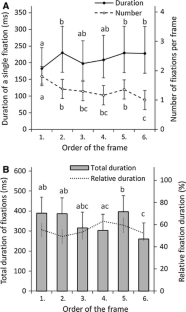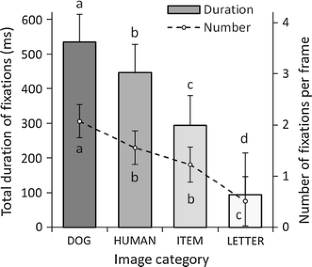 References
Adachi I, Kuwahata H, Fujita K (2007) Dogs recall their owner's face upon hearing the owner's voice. Anim Cogn 10:17–21

Aslin RN (2007) What's in a look? Dev Sci 10:48–53

Bovet D, Vauclair J (2000) Picture recognition in animals and humans. Behav Brain Res 109:143–165

Buswell GT (1935) How people look at pictures; a study of the psychology of perception in art. University of Chicago Press, Chicago

Chirlanda S, Enqvist M (2003) A century of generalization. Anim Behav 66:15–36

Colombo J, Micthell DW (2009) Infant visual habituation. Neurobiol Learn Mem 92:225–234

Dahl CD, Logothetis NK, Hoffman KL (2007) Individuation and holistic processing of faces in rhesus monkeys. Proc Rev Soc B Biol Sci 274:2069–2076

Dahl CD, Wallraven C, Bülthoff HH, Logothetis NK (2009) Humans and macaques employ similar face-processing strategies. Curr Biol 19:509–513

Dell'Osso LF, Williams RW, Jacobs JB, Erchul DM (1998) The congenital and see-saw nystagmus in the prototypical achiasma of canines: comparison to the human achiasmatic prototype. Vis Res 38:1629–1641

Einhäuser W, Rutishauser U, Koch C (2008a) Task-demands can immediately reverse the effects of sensory-driven saliency in complex visual stimuli. J Vis 8:1–19

Einhäuser W, Spain M, Perona P (2008b) Objects predict fixations better than early saliency. J Vis 8:1–26

Fagot J, Martin-Malivel J, Dépy D (1999) What is the evidence for an equivalence between objects and pictures in birds and nonhuman primates? Curr Psychol Cogn 18:923–949

Fantz RL (1964) Visual experience in infants: decreased attention to familiar patterns relative to novel ones. Sci 146:668–670

Faragó T, Pongràcz P, Miklósi Á, Huber L, Virányi Z, Range F (2010) Dogs' expectation about signalers' body size virtue of their growls. PLoS One 12:1–8

Ferreira F, Apel J, Henderson JM (2008) Taking a new look at looking at nothing. Trends Cogn Sci 12:405–410

Guo K, Meints K, Hall C, Hall S, Mills D (2009) Left gaze bias in humans, rhesus monkeys and domestic dogs. Anim Cogn 12:409–418

Hare B, Tomasello M (2005) Human-like social skills in dogs? Trends Cogn Sci 9:439–444

Hattori Y, Kano F, Tomonaga M (2010) Differential sensitivity to conspecific and allospecific cues in chimpanzees and humans: a comparative eye-tracking study. Biol Lett 6:610–613

Henderson JM (2003) Human gaze control during real-world scene perception. Trends Cogn Sci 7:498–504

Henderson JM, Hollingworth A (1999) High-level scene perception. Annu Rev Psychol 50:243–271

Houston-Price C, Nakai S (2004) Distinguishing novelty and familiarity effects in infant preference procedures. Infant Child Dev 13:341–348

Jacobs JB, Dell'Osso LF, Wang ZI, Acland GM, Bennett J (2009) Using the NAFX to measure the effectiveness over time of gene therapy in canine LCA. Invest Ophthalmol Vis Sci 50:4685–4692

Jitsumori M (2010) Do animals recognize pictures as representations of 3D objects? Comp Cogn Behav Rev 5:136–138

Joseph JE, Powell DK, Andersen AH, Bhatt RS, Dunlap MK, Foldes ST, Forman E, Hardy PA, Steinmetz NA, Zhang Z (2006) fMRI in alert, behaving monkeys: an adaptation of the human infant familiarization novelty preference procedure. J Neurosci Methods 157:10–24

Kaminski J, Tempelmann S, Call J, Tomasello M (2009) Domestic dogs comprehend human communication with iconic signs. Dev Sci 12:831–837

Kano F, Tomonaga M (2009) How chimpanzees look at pictures: a comparative eye-tracking study. Proc Biol Sci 276:1949–1955

Land MF (1999) Motion and vision: why animals move their eyes. J Comp Physiol A Neuroethol Sens Neural Behav Physiol 185:341–352

Leopold DA, Rhodes G (2010) A comparative view of face perception. J Comp Psychol 124:233–251

Lit L, Schweitzer JB, Oberbauer AM (2011) Handler beliefs affect scent detection dog outcomes. Anim Cogn 14:387–394

Miklósi Á, Kubinyi E, Topál J, Gacsi M, Viranyi Z, Csanyi V (2003) A simple reason for a big difference: wolves do not look back at humans, but dogs do. Curr Biol 13:763–766

Miklósi Á, Topál J, Csányi V (2007) Big thoughts in small brains? dogs as a model for understanding human social cognition. Neuroreport 18:467–471

Miller PE, Murphy CJ (1995) Vision in dogs. J Am Vet Med Assoc 207:1623–1634

Murai C, Kosugi D, Tomonaga M, Tanaka M, Matsuzawa T, Itakura S (2005) Can chimpanzee infants (Pan troglodytes) form categorical representations in the same manner as human infants (Homo sapiens)? Dev Sci 8:240–254

Nahm FKD, Perret A, Amaral DG, Albright TD (1997) How do monkeys look at faces? J Cogn Neurosci 9:611–623

Park J, Shimojo E, Shimojo S (2010) Roles of familiarity and novelty in visual preference judgments are segregated across object categories. Proc Natl Acad Sci USA 107:14552–14555

Pfungst O (1907) Das Pferd des Herrn von Osten (der Kluge Hans): Ein Beitrag zur experimentellen Tier-und Menchenpsychologie. Johann Ambrosius Barth, Leipzig

Quinn PC, Doran MM, Reiss JE, Hoffman JE (2009) Time course of visual attention in infant categorization of cats versus dogs: evidence for a head bias as revealed through eye tracking. Child Dev 80:151–161

Racca A, Amadei E, Ligout S, Guo K, Meints K, Mills D (2010) Discrimination of human and dog faces and inversion responses in domestic dogs (Canis familiaris). Anim Cogn 13:525–533

Range F, Aust U, Steurer M, Huber L (2008) Visual categorization of natural stimuli by domestic dogs. Anim Cogn 11:339–347

Shepard R (1994) Perceptual-cognitive universals as reflections of the world. Psychon Bull Rev 1:2–28

Skinner (1938) The behavior of organisms: an experimental analysis. D. Appleton-century company. New York, p 457

Soproni K, Miklósi Á, Topál J, Csányi V (2002) Dogs' (Canis familiaris) responsiveness to human pointing gestures. J Comp Psychol 116:27–34

Topál J, Miklósi Á, Gácsi M, Dóka A, Pongrácz P, Kubinyi E, Virányi Z, Csányi V (2009) The dog as a model for understanding human social behavior. In: Brockmann HJ, Roper TJ, Naguib M, Wynne-Edwards KE, Mitani JC, Simmons LW (eds) Advances in the study of behavior, vol 39. Academic Press, Burlington, pp 71–116

Virányi Z, Topál J, Gácsi M, Miklósi Á, Csányi V (2004) Dogs respond appropriately to cues of humans' attentional focus. Behav Process 66:161–172

Williams FJ, Mills DS, Guo K (2011) Development of a head-mounted, eye-tracking system for dogs. J Neurosci Methods 94:259–265

Yarbus AL (1967) Eye movements and vision. Plenum Press, New York
Acknowledgments
This work was financially supported by the Academy of Finland and University of Helsinki. The authors are grateful to Antti Flyckt, Matti Pastell, Aleksander Alafuzoff, Teemu Peltonen, Jaana Simola, Timo Murtonen, and Kristian Törnqvist for their support in conducting the experiment. Authors also thank IKEA group for the permission to use the photos of children's toys.
Conflict of interest
The authors declare that they have no conflict of interest.
About this article
Cite this article
Somppi, S., Törnqvist, H., Hänninen, L. et al. Dogs do look at images: eye tracking in canine cognition research. Anim Cogn 15, 163–174 (2012). https://doi.org/10.1007/s10071-011-0442-1
Received:

Revised:

Accepted:

Published:

Issue Date:

DOI: https://doi.org/10.1007/s10071-011-0442-1
Keywords