Abstract
Contrafreeloading, which means that animals work for food even though identical food is freely available, has been reported in animals' feeding behavior. This phenomenon has been assumed to be explained by the information primacy model, in which the information about a food resource as well as the food itself is valuable for animals. This study confirmed a contrafreeloading-like phenomenon using movies as rewards rather than food in Japanese macaques (Macaca fuscata) and investigated the motivational system that exists behind contrafreeloading. In the experiment, movies that were presented dependently on subjects' responses (earned movies) and movies that were presented automatically (free movies) were supplied simultaneously. The subjects continued to make responses to obtain the presentation of the earned movies although identical movies were available as free movies. These results provide the first evidence of contrafreeloading that occurs with movie rewards. The motivation maintaining the contrafreeloading behavior for movies may be control over the environment according to the competence theory.
Access options
Buy single article
Instant access to the full article PDF.
USD 39.95
Price excludes VAT (USA)
Tax calculation will be finalised during checkout.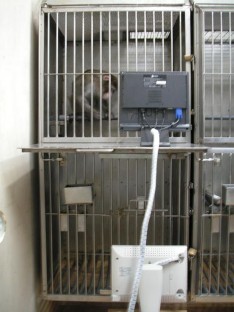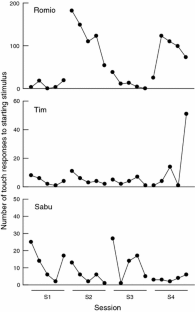 References
Akaike H (1974) A new look at the statistical model identification. IEEE Trans Automat Contr 19:716–723

Altmann J (1974) Observational study of behavior: sampling methods. Behav Brain Res 49:227–267

Dobson AJ (2002) An introduction to generalized linear models—second edition. Chapman & Hall, London

Ehrlich A (1970) Response to novel objects in three lower primates: greater galago, slow loris, and owl monkey. Behaviour 37:55–63

Fujita K, Matsuzawa T (1986) A new procedure to study the perceptual world of animals with sensory reinforcement—recognition of humans by a chimpanzee. Primates 27:283–291

Hanson JD, Larson ME, Snowdon CT (1976) The effects of control over high intensity noise on plasma cortisol levels in rhesus monkeys. Behav Biol 16:333–340

Inglis IR, Forkman B, Lazarus J (1997) Free food or earned food? A review and fuzzy model of contrafreeloading. Anim Behav 53:1171–1191

Jensen GD (1963) Preference for bar pressing over freeloading as a function of number of rewarded presses. J Exp Psychol 65:451–454

Matsuzawa T (1981) Sensory reinforcement: the variety of reinforcers. Jpn Psychol Rev 24:220–251 (in Japanese with English summary)

McGowan RTS, Robbins CT, Alldredge JR, Newberry RC (2010) Contrafreeloading in grizzly bears: implications for captive foraging enrichment. Zoo Biol 29:484–502

Menzel EW (1991) Chimpanzees (Pan troglodytes)—problem seeking versus the bird-in-hand, least-effort strategy. Primates 32:497–508

Morimura N (2006) Cognitive enrichment in chimpanzees: an approach of welfare entailing an animal's entire resources. In: Matsuzawa T, Tomonaga M, Tanaka M (eds) Cognitive development in chimpanzees. Springer-Verlag, Tokyo, pp 368–391

Morimura N, Matsuzawa T (2001) Memory of movies by chimpanzees (Pan troglodytes). J Comp Psychol 115:152–158

Murai C, Tomonaga M (2009) Fear responses of Japanese monkeys to scale models. J Ethol 27:1–10

Murai C, Tomonaga M, Kamegai K, Terazawa N, Yamaguchi MK (2004) Do infant Japanese macaques (Macaca fuscata) categorize objects without specific training? Primates 45:1–6

Neuringer AJ (1969) Animals respond for food in the presence of free food. Science 166:399–401

Powell RW (1974) Comparative studies of preference for free vs response-produced reinforcers. Anim Learn Behav 2:185–188

Reinhardt V (1994) Caged rhesus macaques voluntarily work for ordinary food. Primates 35:95–98

Rovee-Collier CK, Gekoski MJ (1978) The economics in infancy: a review of conjugate reinforcement. In: Reese HW, Lipsitt LP (eds) Advances in child development and behavior, vol 13. Academic Press, New York, pp 195–255

Singh D (1970) Preference for bar pressing to obtain reward over freeloading in rats and children. J Comp Physiol Psychol 73:320–327

Singh D, Query WT (1971) Preference for work over "freeloading" in children. Psychon Sci 24:77–79

Washburn DA, Hopkins WD, Rumbaugh DM (1991) Perceived control in rhesus-monkeys (Macaca mulatta) enhanced video-task performance. J Exp Psychol Anim Behav Process 17:123–129

White RW (1959) Motivation reconsidered—the concept of competence. Psychol Rev 66:297–333
Acknowledgments
This work was financially supported by a Japan Society for the Promotion of Science fellowship (20-6611) to the author. It was also supported by Ministry of Education, Culture, Sports, Science and Technology grant #16002001 and #20002001 to Tetsuro Matsuzawa, and #19300091 to Masaki Tomonaga, and Japan Society for the Promotion of Science-gCOE Programs A06 and D07 of Kyoto University and HOPE project of the Primate Research Institute. I wish to thank Drs. T. Matsuzawa, M. Tomonaga, M. Tanaka, N. Morimura, and Y. Ueno for their valuable comments. I am grateful to the staff members of the Center for Human Evolution Modeling Research, Primate Research Institute, Kyoto University, for their management of the subjects' health. I also thank various students of the Institute for cooperating in preparing the movie stimuli. This work is a part of the author's Ph. D. thesis. This work complied with the laws of Japan, and housing and feeding conditions were in accordance with the Guide for the Care and Use of Laboratory Primates produced by the Primate Research Institute, Kyoto University (2nd ed., 2002).
About this article
Cite this article
Ogura, T. Contrafreeloading and the value of control over visual stimuli in Japanese macaques (Macaca fuscata). Anim Cogn 14, 427–431 (2011). https://doi.org/10.1007/s10071-010-0377-y
Received:

Revised:

Accepted:

Published:

Issue Date:

DOI: https://doi.org/10.1007/s10071-010-0377-y
Keywords
Contrafreeloading

Control over environment

Japanese macaque

Movie

Sensory reinforcement