Abstract
The ability of animals to delay gratification is crucial for complex goal-directed action. It may help them in making effective decisions when facing a choice. We tested the ability of nine long-tailed macaques (Macaca fascicularis) to delay gratification in several experiments. In exchange tasks, subjects had to keep a small piece of cookie before returning it to an experimenter in order to get a larger food amount. Results showed that animals could wait between 10 s and 10 min depending on individual and sizes of reward. In another experiment, subjects could immediately give back the initial piece of cookie then wait for the return. Their performances more than doubled, demonstrating the role of consumption inhibition in postponing gratification. Such achievements underscore delays of gratification which until now were not thought possible in monkeys. Finally, subjects were presented with an accumulation of food pieces added at short intervals until they seized them. They mostly waited between 30 s and 1 min, which points at the consistency of our data, compared to those of other studies. Our results indicate that long-tailed macaques anticipated the duration of delays. We may account for their remarkable performances by their achievements in the social context.
Access options
Buy single article
Instant access to the full article PDF.
USD 39.95
Price includes VAT (USA)
Tax calculation will be finalised during checkout.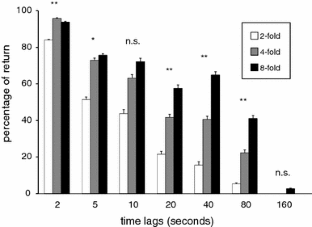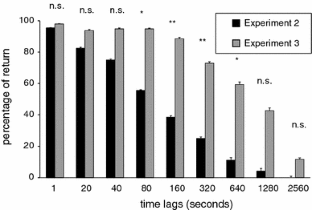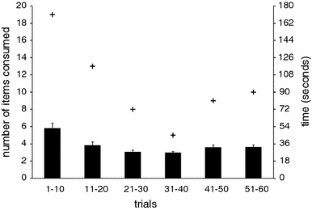 References
Abeyesinghe SM, Nicol CJ, Hartnell SJ, Wathes CM (2005) Can domestic fowl, Gallus gallus domesticus, show self-control? Anim Behav 70:1–11

Amici F, Aureli F, Call J (2008) Fission-fusion dynamics, behavioral flexibility and inhibitory control in primates. Curr Biol 18:1415–1419

Aureli F, Cozzolino R, Cordschi C, Scucchi S (1992) Kin-oriented redirection among Japanese macaques: an expression of a revenge system? Anim Behav 44:283–291

Beran MJ (2002) Maintenance of self-imposed delay of gratification by four chimpanzees (Pan troglodytes) and an orangutan (Pongo pygmaeus). J Gen Psychol 129:49–66

Brunner D, Gibbon J (1995) Value of food aggregates: parallel versus serial discounting. Anim Behav 50:1627–1634

Byrne RW, Whiten A (1988) Machiavellian intelligence: social expertise and the evolution of intellect in monkeys, apes and humans. Clarendon Press, Oxford

Chauvin C, Thierry B (2005) Tonkean macaques orient their food search from olfactory cues conveyed by group mates. Ethology 111:1–10

Das M (2000) Conflict management via third parties: post-conflict affiliation of the aggressor. In: Aureli F, de Waal FBM (eds) Natural conflict resolution. University of California Press, Berkeley, pp 263–280

de Waal FBM (1989) Food sharing and reciprocal obligations among chimpanzees. J Hum Evol 18:433–459

de Waal FBM, Luttrell LM (1988) Mechanisms of social reciprocity in three primate species: symmetrical relationships characteristics or cognition? Ethol Sociobiol 9:101–118

Dufour V, Sterck EHM (2008) Chimpanzees (Pan troglodytes) fail to plan in an exchange task, but succeed in a tool using procedure. Behav Proc 79:19–27

Dufour V, Pelé M, Sterck EHM, Thierry B (2007) Chimpanzee (Pan troglodytes) anticipation of food return: coping with waiting time in an exchange task. J Comp Psychol 121:145–155

Evans TA, Beran MJ (2007a) Delay of gratification and delay maintenance by rhesus macaques (Macaca mulatta). J Gen Psychol 134:199–216

Evans TA, Beran MJ (2007b) Chimpanzees use self-distraction to cope with impulsivity. Biol Lett 3:599–602

Grosch J, Neuringer A (1981) Self-control in pigeons under the Mischel paradigm. J Exp Anal Behav 35:3–21

Gumert MD (2007) Payment for sex in a macaque mating market. Anim Behav 74:1655–1667

Haccou P, Meelis E (1992) Statistical analysis of behavioural data. Oxford University Press, Oxford

Hayden BY, Platt ML (2007) Temporal discounting predicts risk sensitivity in rhesus macaques. Curr Biol 17:49–53

Humphrey N (1976) The social function of intellect. In: Bateson PPG, Hinde RA (eds) Growing points in ethology. Cambridge University Press, Cambridge, pp 303–317

Janmaat KRL, Byrne RW, Zuberbühler K (2006) Evidence for a spatial memory of fruiting states of rainforest trees in wild mangabeys. Anim Behav 72:797–807

Janson CH (2007) Experimental evidence for route integration and strategic planning in wild capuchin monkeys. Anim Cogn 10:341–356

Kacelnik A (2003) The evolution of patience. In: Loewenstein G, Read D, Baumeister R (eds) Time and decision: economic and psychological perspectives on intertemporal choice. Russell Sage Foundation, New York, pp 115–138

Killeen PR, Smith JP, Hanson SJ (1981) Central place foraging in Rattus norvegicus. Anim Behav 29:64–70

Mazur JE (1987) An adjusting procedure for studying delayed reinforcement: the effects of delay and intervening events on reinforcement value. In: Commons ML, Mazur JE, Nevin JA, Rachlin H (eds) Quantitative analyses of behavior, vol 5. Erlbaum, Hillsdale, pp 55–73

Mischel W (1974) Processes in delay of gratification. In: Berkowitz L (ed) Advances in experimental social psychology. Academic Press, New York, pp 249–292

Mitani JC, Watts DP (2001) Why do chimpanzees hunt and share meat? Anim Behav 61:915–924

Mulcahy NJ, Call J (2006) Apes save tools for future use. Science 312:1038–1040

Osvath M, Osvath H (2008) Chimpanzee (Pan troglodytes) and orangutan (Pongo abelii) forethought: self-control and pre-experience in the face of future tool use. Anim Cogn 11:661–674

Petit O, Thierry B (1994) Aggressive and peaceful interventions in conflicts in Tonkean macaques. Anim Behav 48:1427–1436

Rachlin H, Raineri A, Cross D (1991) Subjective probability and delay. J Exp Anal Behav 55:233–244

Ramseyer A, Pelé M, Dufour V, Chauvin C, Thierry B (2006) Accepting loss: the temporal limits of reciprocity in brown capuchin monkeys. Proc R Soc B 273:179–184

Richards JB, Mitchell SH, de Wit H, Seiden LS (1997) Determination of discount functions in rats with an adjusting-amount procedure. J Exp Anal Behav 67:353–366

Rosati AG, Stevens JR, Hare B, Hauser MD (2007) The evolutionary origins of human patience: temporal preferences in chimpanzees, bonobos, and human adults. Curr Biol 17:1663–1668

Seyfarth RM, Cheney DL (1984) Grooming, alliances, and reciprocal altruism in vervet monkeys. Nature 308:541–543

Shoda Y, Mischel W, Peake PK (1990) Predicting adolescent cognitive and self-regulatory competencies from preschool delay of gratification: identifying diagnostic conditions. Dev Psychol 26:978–986

Siegel S, Castellan NJ (1988) Nonparametric statistics for the behavioral sciences. McGraw-Hill, Singapore

Silk JB (1992) The patterning of intervention among male bonnet macaques: reciprocity, revenge, and loyalty. Curr Anthropol 33:318–325

Stephens DW, Anderson D (2001) The adaptive value of preference for immediacy: when shortsighted rules have farsighted consequences. Behav Ecol 12:330–339

Stevens JR, Cushman FA, Hauser MD (2005a) Evolving the psychological mechanisms for cooperation. Ann Rev Ecol Syst 36:499–518

Stevens JR, Hallinan EV, Hauser MD (2005b) The ecology and evolution of patience in two New World monkeys. Biol Lett 1:223–226

Szalda-Petree AD, Craft BB, Martin LM, Deditius-Island JK (2004) Self-control in rhesus macaques (Macaca mulatta): controlling for differential stimulus exposure. Percept Mot Skills 98:141–146

Tobin H, Logue W, Chelonis JJ, Ackermann KT, May JG (1996) Self-control in the monkey Macaca fascicularis. Anim Learn Behav 24:168–174

Toner IJ, Smith RA (1977) Age and overt verbalization in delay-maintenance behavior in children. J Exp Child Psychol 24:123–128

Toner IJ, Lewis BC, Gribble CM (1979) Evaluative verbalization and delay maintenance behavior in children. J Exp Child Psychol 28:205–210

Trivers RL (1971) The evolution of reciprocal altruism. Q Rev Biol 46:35–57
Acknowledgments
The authors are grateful to A. Beauvy and C. Gaertner for animal care and to L. Bahans, S. Bauer, M. Bordaberry, N. Bourbia, M. Demontfaucon, V. Grondin, C. Morin, A. Navarre, A. Racca, F. Vogelweith and C. Wagner for valuable assistance in experiments. The research was supported by a grant from the Agence Nationale de la Recherche (ANR-08-BLAN-0042-01).
About this article
Cite this article
Pelé, M., Dufour, V., Micheletta, J. et al. Long-tailed macaques display unexpected waiting abilities in exchange tasks. Anim Cogn 13, 263–271 (2010). https://doi.org/10.1007/s10071-009-0264-6
Received:

Revised:

Accepted:

Published:

Issue Date:
Keywords
Delay of gratification

Exchange

Decision-making

Economics

Macaca fascicularis