Abstract
It is widely accepted that providing stimulus enrichment is an important part of the development and maintenance of behavior and well-being in mammals. However, extending this idea to non-avian reptiles has barely been explored, certainly as an aid to cognitive development. Monitor lizards have a reputation for being highly curious and intelligent lizards, but quantitative experiments are necessary to evaluate such impressions as well as the value of providing enrichment to captive squamate reptiles. In this study eight juvenile black-throated monitors, Varanus albigularis, were tested in their home enclosures with three presentations, at weekly intervals, of a novel task apparatus: a transparent food tube containing several prey. The food tube allowed the monitors to obtain prey by using hinged doors at either end of the tube to access food. All eight lizards learned to open the tube, insert head, and capture the prey within 10 min in the first trial. By the second trial, both mean latencies to access the tube and capture the first prey item decreased significantly, as did the use of ineffective responses such as shaking the tube. A further slight decrease occurred in the third trial. Due to the results of this and similar studies, serious consideration should be given to further testing of cognitive abilities in squamate reptiles. Incorporating problem solving tasks may also be useful to increase the activity level and captive well-being of squamate reptiles, especially monitor lizards.
Access options
Buy single article
Instant access to the full article PDF.
USD 39.95
Price includes VAT (USA)
Tax calculation will be finalised during checkout.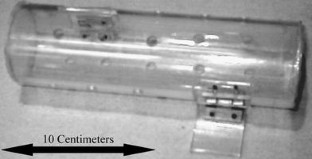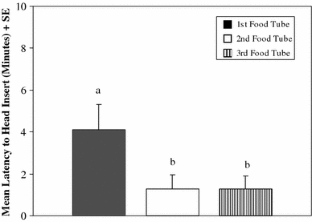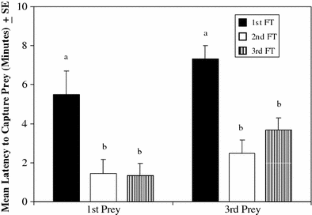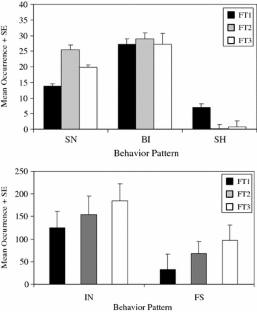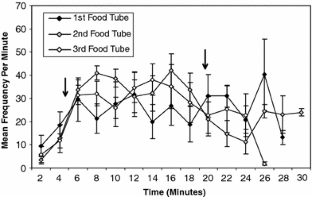 References
Almli L, Burghardt GM (2006) Environmental enrichment alters the behavioral profile of ratsnakes (Elaphe). J Appl Anim Welf Sci 9:85–109

Andrews RM (1985) Metabolism of squamate reptiles: allometric and ecological relationships. Physiol Zool 58(2):214–231

Auffenberg W (1978) Social feeding behavior in Varunus komodoensis. In: Greenberg N, McLean PD (eds) Behavior and neurology of lizards. Government Printing Office, Washington, pp 301–331

Auffenberg W (1981) Behavioral ecology of the Komodo monitor, University of Florida Press, Gainesville

Burghardt GM (1977) Learning processes in reptiles. In: Gans C, Tinkle DW (eds) The biology of the reptilia. Academic, London, 7:555–681

Burghardt GM (1996) Environmental enrichment of controlled deprivation? In: Burghardt GM, Bielitski JT, Boyce JR, Schaefer DO (eds) The well-being of animals in zoo and aquarium sponsored research. Scientists Center for Animal Welfare, Greeenbelt, pp 91–101

Burghardt GM, Pruitt CH (1975) The role of tongue and senses in feeding of newborn garter snakes. Physiol Behav 14:185–194

Burghardt GM, Ward B, Rosscoe R (1996) Problem of reptile play: environmental enrichment and play behavior in a captive nile soft-shelled turtle, Trionyx triunguis. Zoo Biol 15:223–238

Burghardt GM, Chiszar D, Murphy JB, Romano J, Walsh T, Manrod J (2002) Behavioral complexity, behavioral development, and play. In: Murphy JB, Ciofi C, de La Panouse C, Walsh T (eds) Komodo Dragons: biology and conservation. Smithsonian Institution Press, Washington, pp 78–118

Conover WJ (1999) Practical nonparametric statistics. Wiley, New York

Davis KM, Burghardt GM (2007) Training and long-term memory of a novel food acquisition task in a turtle (Pseudemys nelsoni). Behav Processes 75:225–230

Deufel A, Cundall D (2003) Feeding in Atractaspis (Serpentes: Atracaspididae): a study in conflicting functional constraints. Zoology 106:43–61

Deufel A, Cundall D (2006) Functional plasticity of the venom delivery system in snakes with a focus on the poststrike prey release behavior. Zool Anz 245:249–267

Glickman SE, Sroges RW (1966) Curiosity in zoo animals. Behaviour 26:151–188

Hartdegen RW, Chiszar D, Murphy JB (1999) Observations on the feeding behavior of captive Varanus beccari. Amphib-reptil 20(3):330–332

Hartdegen RW, Roberts DT, Chiszar D (2000) Laceration of prey integument by Varanus prasinus (Schlegel 1839) and V. beccarii (Doria 1874). Hamadryad 25(2):130–132

Horn HG (1997) Evolutionary efficiency and success in monitors: a survey on behavior and behavioral strategies and some comments. Mertensiella 11:167–180

Kaufman JD, Burghardt GM, Phillips JA (1994) Density-dependent foraging strategy of a large carnivorous lizard, the savanna monitor (Varanus albigularis). J Comp Psychol 108:381–384

Kaufman JD, Burghardt GM, Phillips JA (1996) Sensory cues and foraging decisions in a large carnivorous lizard, Varanus albigularis. Anim Behav 52:727–736

Lehner PN (1996) Handbook of ethological methods, 2nd edn. University Press, New York

Mehta RS (2003) Prey handling behavior of hatchling Elaphe helena (Colubridae). Herpetologica 59:469–474

Mori A (1993) Prey handling behavior of neonate rat snakes, Elaphe taeniura and E. dione (Colubridae). Jpn J Herpetol 15(2):59–63

Pianka ER, Vitt HG (2003) Lizards: windows to the evolution of diversity. University of California Press, Los Angeles

Phillips JA (1995) Movement patterns and density of Varanus albigularis. J Herpetol 29:407–416

Shettleworth SJ (1998) Cognition, evolution, and behavior. Oxford University Press, New York

Siegel S (1956) Nonparametric statistics for the behavioral sciences. McGraw-Hill, New York

Steel R (1996) Living dragons. A natural history of the world's monitor lizards. Ralph Curtis Books, Sanibel Island

Thompson GG (1997) Standard and maximal metabolic rates of goannas (Squamata: Varanidae). Physiol Zool 70:307–323
Acknowledgments
This work was supported by the Dallas Zoo. All research was conducted under the approval of the Dallas Zoo's Animal Care and Use Committee and complies with the laws of the United States. We thank the following people for their support: B. Aucone, C. Bennett, K. Bradley, R. Burger, W. Card, L. Mitchell, R. Reams and C. Watson. We also thank the University of Tennessee and the Reptile Research Fund.
About this article
Cite this article
Manrod, J.D., Hartdegen, R. & Burghardt, G.M. Rapid solving of a problem apparatus by juvenile black-throated monitor lizards (Varanus albigularis albigularis). Anim Cogn 11, 267–273 (2008). https://doi.org/10.1007/s10071-007-0109-0
Received:

Revised:

Accepted:

Published:

Issue Date:
Keywords
Lizard

Varanus

Learning

Problem solving

Enrichment