Abstract
We present the results of two experiments that probe the ability of rhesus macaques to match visual arrays based on number. Three monkeys were first trained on a delayed match-to-sample paradigm (DMTS) to match stimuli on the basis of number and ignore continuous dimensions such as element size, cumulative surface area, and density. Monkeys were then tested in a numerical bisection experiment that required them to indicate whether a sample numerosity was closer to a small or large anchor value. Results indicated that, for two sets of anchor values with the same ratio, the probability of choosing the larger anchor value systematically increased with the sample number and the psychometric functions superimposed. A second experiment employed a numerical DMTS task in which the choice values contained an exact numerical match to the sample and a distracter that varied in number. Both accuracy and reaction time were modulated by the ratio between the correct numerical match and the distracter, as predicted by Weber's Law.
Access options
Buy single article
Instant access to the full article PDF.
USD 39.95
Price includes VAT (USA)
Tax calculation will be finalised during checkout.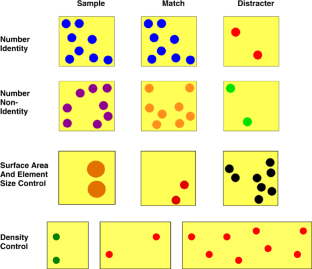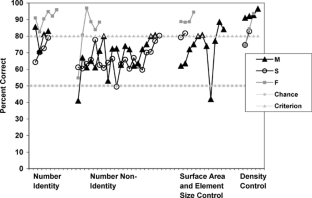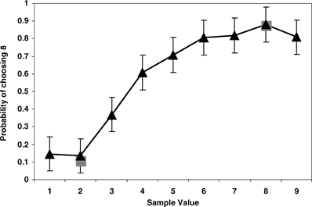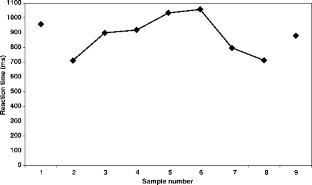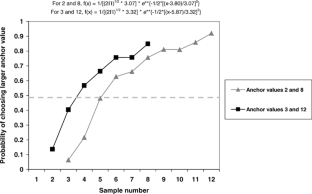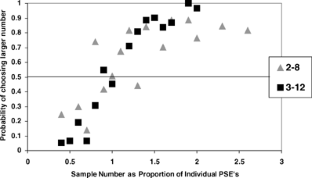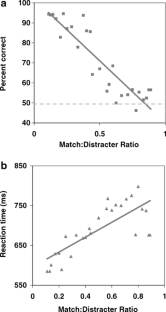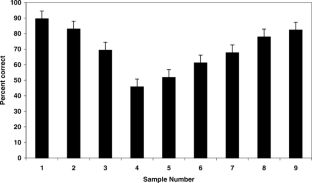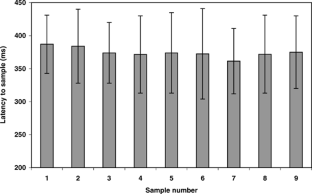 Notes
1.

Two out of three monkeys exhibited PSEs nearer to the geometric mean than the arithmetic mean (Monkey M, 3.51 and Monkey F, 3.04). Monkey S had a PSE of 4.86. We follow the convention of previous bisection studies in animals that have focused on group data/PSEs and have therefore not highlighted individual differences (Emmerton et al. 1997; Meck et al. 1985; Roberts and Mitchell 1994; Roberts 2005; Siegel 1986). Future studies with larger sample sizes should explore individual differences.

2.

As in Experiment 1A, two out of the three monkeys had PSEs near the geometric mean (Monkey M, 5.05; Monkey F, 5.13; Monkey S, 7.96).

3.

Latencies to touch the sample numerosity were not recorded in Experiment 1.

4.

Monkey M developed motivation problems during Experiment 1, resulting in entire sessions during which she would not participate. These difficulties prevented her from serving as a subject in Experiment 2.

5.

Average Weber fractions for each sample numerosity were as follows: 1, 0.229; 2, 0.395; 3, 0.498; 4, 0.560; 5, 0.591; 6, 0.597; 7, 0.582; 8, 0.549; 9, 0.500.
References
Allan LG (2002) The location and interpretation of the bisection point. Q J Exp Psychol 55B:43–60

Barth H, Kanwisher N, Spelke E (2003) The construction of large number representations in adults. Cognition 86:201–221

Barth H, La Mont K, Lipton J, Dehaene S, Kanwisher N, Spelke E (2006) Non-symbolic arithmetic in adults and young children. Cognition 98:199–222

Beran MJ (2001) Summation and numerousness judgments of sequentially presented sets of items by chimpanzees (Pan troglodytes). J Comp Psychol 115:181–191

Beran MJ (2004) Chimpanzees (Pan troglodytes) respond to nonvisible sets after one-by-one addition and removal of items. J Comp Psychol 118:25–36

Beran MJ, Beran MM (2004) Chimpanzees remember the results of one-by-one addition of food items to sets over extended time periods. Psychol Sci 15:94–99

Beran MJ, Beran MM, Harris EH, Washburn DA (2005) Ordinal judgments and summation of nonvisible sets of food items by two chimpanzees and a rhesus macaque. J Exp Psychol Anim Behav Process 31:351–362

Beran MJ, Rumbaugh DM (2001) "Constructive" enumeration by chimpanzees (Pan troglodytes) on a computerized task. Anim Cognit 4:81–89

Boisvert MJ, Abroms BD, Roberts WA (2003) Human nonverbal counting estimated by response production and verbal report. Psychon Bull Rev 10:683–690

Boysen ST, Berntson GG (1989) Numerical competence in a chimpanzee (Pan troglodytes). J Comp Psychol 103:23–31

Brannon EM, Terrace HS (1998) Ordering of the numerosities 1 to 9 by monkeys. Science 282:746–749

Brannon EM, Terrace HS (2000) Representation of the numerosities 1–9 by rhesus macaques (Macaca mulatta). J Exp Psychol Anim Behav Process 26:31–49

Brannon EM, Roitman J (2003) Nonverbal representations of time and number in non-human animals and human infants. In: Meck W (ed) Functional and neural mechanisms of interval timing. CRC Press, New York, pp 143–182

Brannon EM, Wusthoff CJ, Gallistel CR, Gibbon J (2001) Subtraction in the pigeon: Evidence for a linear subjective number scale. Psychol Sci 12:238–243

Cantlon JF, Brannon EM (2006) Shared system for ordering small and large numbers in monkeys and humans. Psychol Sci 17:402–407

Cantlon J, Brannon EM (2005) Semantic congruity facilitates number judgments in monkeys. Proc Natl Acad Sci USA 102:16507–16511

Church RM, Deluty MZ (1977) Bisection of temporal intervals. J Exp Psychol Anim Behav Process 3:216–228

Church RM, Gibbon J (1982) Temporal generalization. J Exp Psychol Anim Behav Process 8:165–186

Davis H, Memmott J (1982) Counting behavior in animals: A critical evaluation. Psychol Bull 92:547–571

Dehaene S (1997) The number sense. Oxford University Press, New York

Dehaene S (2001) Subtracting pigeons: Logarithmic or linear? Psychol Sci 12:244–246

Dehaene S, Changeux JP (1993) Development of elementary numerical abilities—A neuronal model. J Cogn Neurosci 5:390–407

Droit-Volet S, Clement A, Fayol M (2003) Time and number discrimination in a bisection task with a sequence of stimuli: A developmental approach. J Exp Child Psychol 84:63–76

Emmerton J, Lohmann A, Niemann J (1997) Pigeons' serial ordering of numerosity with visual arrays. Anim Learn Behav 25:234–244

Feigenson L, Dehaene S, Spelke E (2004) Core systems of number. Trends Cogn Sci 8:307–314

Fetterman JG (1993) Numerosity discrimination: Both time and number matter. J Exp Psychol Anim Behav Process 19:149–164

Gallistel CR, Gelman R (1992) Preverbal and verbal counting and computation. Cognition 44:43–74

Gelman R, Gallistel CR (1978) The child's understanding of number. Harvard University Press, Cambridge, MA

Gibbon J (1977) Scalar expectancy theory and Weber's Law in animal timing. Psychol Rev 84:279–325

Gibbon J (1981) On the form and location of the psychometric bisection function for time. J Math Psychol 24:58–87

Gibbon J (1986) The structure of subjective time: How time flies. Psychol Learn Motiv 20:105–135

Hanson HM (1961) Stimulus generalization following three-stimulus discrimination training. J Comp Physiol Psychol 54:181–185

Hauser M, Carey S (1998) Building a cognitive creature from a set of primitives: Evolutionary and developmental insights. In: Cummins Dellarosa D, Allen C (eds) The evolution of mind. Oxford University Press, London, pp 51–106

Hauser MD, Spelke E (2004) Evolutionary and developmental foundations of human knowledge: A case study of mathematics. In: Gazzaniga MS (ed) The cognitive neurosciences. MIT Press, Cambridge, MA, pp 853–864

Hauser MD, Tsao FT, Garcia P, Spelke ES (2003) Evolutionary foundations of number: Spontaneous representation of numerical magnitudes by cotton-top tamarins. Proc R Soc Lond B 270:1441–1446

Judge PG, Evans TA, Vyas DK (2005) Ordinal representation of numeric quantities by brown capuchin monkeys (Cebus apella). J Exp Psychol Anim Behav Process 31:79–94

Kaufman E, Lord M, Reese T, Volkmann J (1949) The discrimination of visual number. Am J Psychol 62:498–525

Lipton JS, Spelke ES (2003) Origins of number sense: Large number discrimination in human infants. Psychol Sci 14:396–401

Mandler G, Shebo B (1982) Subitizing: An analysis of its component processes. J Exp Psychol Gen 111:1–22

Matsuzawa T (1985) Use of numbers by a chimpanzee. Nature 315:57–59

Meck WH (1997) Application of a mode-control model of temporal integration to counting and timing behavior. In: Bradshaw CM, Szabadi E (eds) Time and behaviour: Psychological and neurobiological analyses. Elsevier, New York, pp 133–184

Meck WH, Church RM (1983) A mode control model of counting and timing processes. J Exp Psychol Anim Behav Process 9:320–334

Meck WH, Church RM, Gibbon J (1985) Temporal integration in duration and number discrimination. J Exp Psychol Anim Behav Process 4:591–597

Moyer R, Landauer T (1967) Time required for judgments of numerical inequality. Nature 215:1519–1520

Nieder A, Miller EK (2003) Coding of cognitive magnitude: Compressed scaling of numerical information in the primate prefrontal cortex. Neuron 37:149–157

Nieder A, Miller EK (2004) Analog numerical representations in rhesus monkeys: Evidence for parallel processing. J Cogn Neurosci 16:889–901

Nieder A, Freedman DJ, Miller EK (2002) Representation of the quantity of visual items in the primate prefrontal cortex. Science 297:1708–1711

Otlhof A, Roberts WA (2000) Summation of symbols by pigeons (Columba livia): The importance of number and mass of reward items. J Comp Psychol 114:158–166

Olthof A, Iden CM, Roberts WA (1997) Judgments of ordinality and summation of number symbols by squirrel monkeys (Saimiri sciureus). J Exp Psychol Anim Behav Process 23:325–339

Pepperberg IM, Gordon JD (2005) Number comprehension by a grey parrot (Psittacus erithacus), including a zero-like concept. J Comp Psychol 119:197–209

Pica P, Lemer C, Izard V, Dehaene S (2004) Exact and approximate arithmetic in an Amazonian indigene group. Science 306:499–503

Platt JR, Davis ER (1983) Bisection of temporal intervals by pigeons. J Exp Psychol Anim Behav Process 9:160–170

Roberts WA (2005) How do pigeons represent numbers? Studies of number scale bisection. Behav Processes 69:33–43

Roberts WA, Mitchell S (1994) Can a pigeon simultaneously process temporal and numerical information? J Exp Psychol Anim Behav Process 20:66–78

Rumbaugh DM, Savage-Rumbaugh ES, Hegel MT (1987) Summation in the chimpanzee (Pan troglodytes). J Exp Psychol Anim Behav Process 13:107–115

Siegel SF, Church RM (1984) The decision rule in temporal bisection. Ann NY Acad Sci 423:643–645

Siegel SF (1986) A test of the similarity rule model of temporal bisection. Learn Motiv 17:59–75

Smith BR, Piel AK, Candland DK (2003) Numerity of a socially housed hamadryas baboon (Papio hamadryas) and a socially housed squirrel monkey (Saimiri sciureus). J Comp Psychol 117:217–225

Stubbs DA (1976) Scaling of stimulus duration by pigeons. J Exp Anal Behav 26:15–25

Trick LM, Pylyshyn ZW (1994) Why are small and large numbers enumerated differently? A limited capacity preattentive stage in vision. Psychol Rev 101:80–102

Washburn DA, Rumbaugh DM (1991) Ordinal judgments of numerical symbols by macaques (Macaca mulatta). Psychol Sci 2:190–193

Whalen J, Gallistel CR, Gelman R (1999) Nonverbal counting in humans: The psychophysics of number representation. Psychol Sci 10:130–137
Acknowledgements
We thank Jessica Cantlon, Patrick Cacchio, Evan Maclean, Pierre Rojas, and Jessica Ward for help with running subjects; Dr. Jamie Roitman for help with analyses; and Dr. Warren Meck for comments on an earlier draft of this manuscript. This work was supported by NICHD RO1 HD49912, an NSF CAREER award, and a Merck Scholars award to EMB and an NSF Graduate Fellowship to KEJ. The experiments described in this paper comply with IACUC standards for the care and use of laboratory animals at Duke.
About this article
Cite this article
Jordan, K.E., Brannon, E.M. Weber's Law influences numerical representations in rhesus macaques (Macaca mulatta). Anim Cogn 9, 159–172 (2006). https://doi.org/10.1007/s10071-006-0017-8
Received:

Revised:

Accepted:

Published:

Issue Date:
Keywords
Numerical competence

Nonhuman primate

Bisection

Weber's Law