Abstract
Domestic dogs (Canis lupus familiaris) were tested in four experiments for their understanding of means-end connections. In each of the experiments, the dogs attempted to retrieve a food treat that could be seen behind a barrier and which was connected, via string, to a within-reach wooden block. In the experiments, either one or two strings were present, but the treat was attached only to one string. Successful retrieval of the treat required the animals to pull the appropriate string (either by pawing or by grasping the wooden block in their jaws) until the treat emerged from under the barrier. The results showed that the dogs were successful if the treat was in a perpendicular line to the barrier, i.e. straight ahead, but not when the string was at an angle: in the latter condition, the typical response was a proximity error in that the dogs pawed or mouthed at a location closest in line to the treat. When two strings that crossed were present, the dogs tended to pull on the wrong string. The combined results from the experiments show that, although dogs can learn to pull on a string to obtain food, they do not spontaneously understand means-end connections involving strings.
Access options
Buy single article
Instant access to the full article PDF.
USD 39.95
Price excludes VAT (USA)
Tax calculation will be finalised during checkout.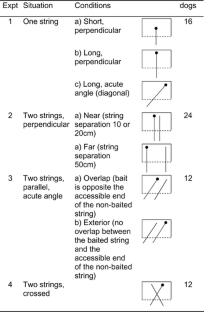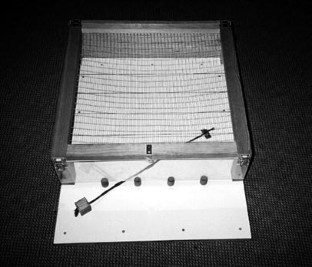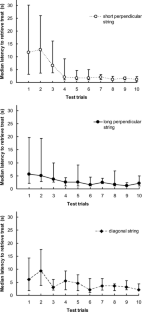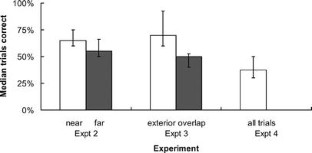 References
Adams DK (1929) Experimental studies of adaptive behavior in cats. Comp Psychol Monogr 6(1):1–128

Bierens de Haan JA (1930) Über das Suchen nach verstecktem Futter bei Affen und Halbaffen. Zugleich ein Beitrag zu der Frage nach dem konkreten Verständnis dieser Tiere. Z Vergl Physiol 11:630–655

Boakes RA (1977) Performance on learning to associate a stimulus with positive reinforcement. In: Davis H, Hurwitz HMB (eds) Operant-Pavlovian interactions. Erlbaum, Hillsdale, pp 67–101

Bratman M (1981) Intention and means-end reasoning. Philos Rev 90:252–265

Brown AL (1990) Domain-specific principles affect learning and transfer in children. Cogn Sci 14:107–133

Doré FY, Dumas C (1987) Psychology of animal cognition: Piagetian studies. Psychol Bull 102:219–233

Ducker G, Rensch B (1977) Solution of patterned string problems by birds. Behaviour 62:164–173

Eddy TJ, Gallup GG, Povinelli DJ (1993) Attribution of cognitive states to animals: anthropomorphism in comparative perspective. J Soc Issues 49:87–101

Fischel W (1930) Weitere Untersuchungen der Ziele der tierischen Handlung. Z Vergl Physiol 11:523–548

Fischel W (1933) Das Verhalten von Hunden bei doppelter Zielsetzung und doppelter Handlungsmoeglichkeit. Z Vergl Physiol 19:170–182

Frank H, Frank MG (1985) Comparative manipulation-test performance in ten-week-old wolves (Canis lupus) and Alaskan malamutes (Canis familiaris): a Piagetian interpretation. J Comp Psychol 99:266–274

Funk MS (2002) Problem solving skills in young yellow-crowned parakeets (Cyanoramphus auriceps). Anim Cogn 5:167–176

Grzimek B (1942) Weitere Vergleichsversuche mit Wolf und Hund. Z Vergl Physiol 5:59–73

Hare B, Brown M, Williamson C, Tomasello M (2002) The domestication of social cognition in dogs. Science 298:1634–1636

Hauser MD, Kralik J, Botto-Mahan C (1999) Problem solving and functional design features: experiments on cotton-top tamarins, Saguinus oedipus oedipus. Anim Behav 57:565–582

Hauser MD, Santos LR, Spaepen GM, Pearson HE (2002) Problem solving, inhibition and domain-specific experience: experiments on cottontop tamarins, Saguinus oedipus. Anim Behav 64:387–396

Heinrich B (1995) An experimental investigation of insight in common ravens (Corvus corax). Auk 112:994–1003

Hood BM, Hauser MD, Anderson L, Santos L (1999) Gravity biases in a non-human primate? Dev Sci 2:35–41

Klüver H (1933) Behavior mechanisms in monkeys. University of Chicago Press, Chicago

Köhler W (1925) The mentality of apes. Harcourt Brace, New York

Munakata Y, McClelland JL, Johnson MH, Siegler RS (1997) Rethinking infant knowledge: toward an adaptive process account of successes and failures in object permanence tasks. Psychol Rev 104:686–713

Nakajima S, Arimitsu K, Lattal KM (2002) Estimation of animal intelligence by university students in Japan and the United States. Anthrozoös 15:194–205

Osthaus B, Slater AM, Lea SEG (2003) Can dogs defy gravity? A comparison with the human infant and a non-human primate. Dev Sci 6:489–497

Page EB (1963) Ordered hypotheses for multiple treatments: a significance test for linear ranks. J Am Stat Assoc 58:216–230

Pepperberg IM (2002) The value of the Piagetian framework for comparative cognitive studies. Anim Cogn 5:177–182

Pepperberg IM (2004) "Insightful" string-pulling in grey parrots (Psittacus erithacus) is affected by vocal competence. Anim Cogn. DOI 10.1007/s10071-004-0218-y

Pfungst O (1911) Clever Hans (the horse of Mr Von Osten): a contribution to experimental animal and human psychology. Henry Holt, New York

Piaget J (1953) The origin of intelligence in the child. Routledge and Kegan Paul, London

Santos LR, Ericson BN, Hauser MD (1999) Constraints on problem solving and inhibition: object retrieval in cotton-top tamarins (Saguinus oedipus oedipus). J Comp Psychol 113:186–193

Sarris EG (1937) Die individuellen Unterschiede bei Hunden. Z Angew Psychol Charakterk 52:5–6

Scheumann M, Call J (2004) The use of experimenter-given cues by South African fur seals (Arctocephalus pusillus). Anim Cogn. DOI 10.1007/s10071-004-0216-0

Scott JP, Fuller JL (1965) Genetics and the social behavior of the dog. University of Chicago Press, Chicago

Shepherd WT (1915) Tests on adaptive intelligence in dogs and cats, as compared with adaptive intelligence in Rhesus monkeys. Am J Psychol 26:211–216

Spinozzi G, Poti P (1993) Piagetian stage 5 in 2 infant chimpanzees (Pan troglodytes)—the development of permanence of objects and the spatialisation of causality. Int J Primatol 14:905–917

Tolman EC (1937) The acquisition of string-pulling by rats—conditioned response or sign-gestalt? Psychol Rev 44:195–211

Vince MA (1956) 'String pulling' in birds. I. Individual differences in wild adult great tits. Br J Anim Behav 4:111–116

Vince MA (1958) "String-pulling" in birds. II. Differences related to age in greenfinches, chaffinches, and canaries. Behav 6:53–59

Vince MA (1961) "String-pulling" in birds. III. The successful response in greenfinches and canaries. Behaviour 17:103–129

Washburn SL, Lancaster J (1968) The evolution of hunting. In: Lee RB, De Vore I (eds) Man the hunter. Aldine, Chicago, pp 293–303

Willatts P (1984a) Stages in the development of intentional search by young infants. Dev Psychol 20:389–396

Willatts P (1984b) The stage-IV infant's solution of problems requiring the use of supports. Infant Behav Dev 7:125–134
Acknowledgements
The authors would like to thank Sally Jones from Dogs "R" Dogs and Taunton Dog Training Club for their help with the data collection, David Taylor for constructing and repairing the apparatus, and Dr Lucy Jacobs for facilities provided to Stephen Lea as a Visiting Scholar at the University of California, Berkeley, where the writing of the paper was completed. All experiments were carried out in accordance with laws governing animal welfare in the United Kingdom.
About this article
Cite this article
Osthaus, B., Lea, S.E.G. & Slater, A.M. Dogs (Canis lupus familiaris) fail to show understanding of means-end connections in a string-pulling task. Anim Cogn 8, 37–47 (2005). https://doi.org/10.1007/s10071-004-0230-2
Received:

Revised:

Accepted:

Published:

Issue Date:

DOI: https://doi.org/10.1007/s10071-004-0230-2
Keywords