Abstract
This study aimed to characterize the bacterial community of commercial potting soils with or without Listeria monocytogenes inoculation at 5–35 °C using 16S metagenomic sequencing and evaluate the effect of natural amendments on the reduction L. monocytogenes in non-sterile potting soils. An increase in the expected operational taxonomic units of each sample with or without L. monocytogenes was proportional to the increasing storage temperatures after 5 days. Biodiversity was distinct among all potting soils for Shannon and inverse Simpson indices, with the highest diversity being observed in a soil sample stored at 35 °C for 5 days with L. monocytogenes. An increase in richness and diversity of soil bacterial community structure positively correlated with less survival of the invading L. monocytogenes. Particularly, garlic extract was demonstrated as a promising soil-amendment substrate, reducing L. monocytogenes by ≥ 4.50 log CFU/g in potting soils stored at 35 °C.
Access options
Buy single article
Instant access to the full article PDF.
US$ 39.95
Tax calculation will be finalised during checkout.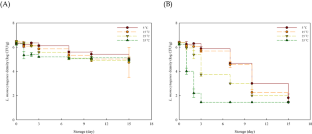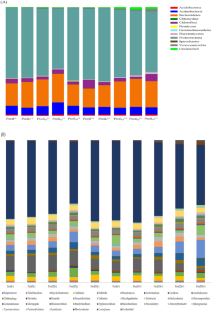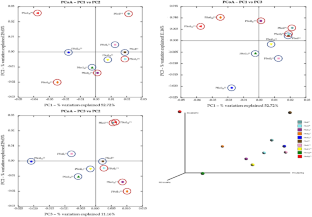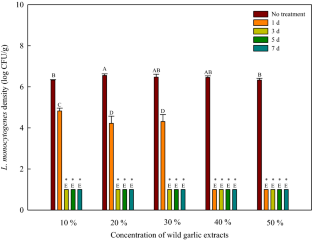 References
Adetunji AT, Lewu FB, Mulidzi R, Ncube B. The biological activities of ß-glucosidase, phosphatase, and urease as soil quality indicators: a review. Journal of Soil Science and Plant Nutrition. 17: 794-807 (2017)

Ali A, Ghani MI, Ding H, Fan Y, Cheng Z, Iqbal M. Co-amended synergistic interactions between arbuscular mycorrhizal fungi and the organic substrate-induced cucumber yield and fruit quality associated with the regulation of the AM-fungal community structure under anthropogenic cultivated soil. International Journal of Molecular Sciences. 20: 1539 (2019)

Ali A, Ghani MI, Haiyan D, Iqbal M, Cheng Z, Cai Z. Garlic substrate induces cucumber growth development and decreases Fusarium wilt through regulation of soil microbial community structure and diversity in Replanted Disturbed Soil. International Journal of Molecular Sciences. 21: 6008 (2020)

Al-Mazroui SS, Al-Sadi AM. Highly variable fungal diversity and the potential occurrence of plant pathogenic fungi in potting media, organic fertilizers and composts originating from 14 countries. Journal of Plant Pathology. 97: 529-534 (2015)

Al-Sadi AM, Al-Zakwani HA, Nasehi A, Al-Mazroui SS, Al-Mahmooli IH. Analysis of bacterial communities associated with potting media. SpringerPlus. 5: 74 (2016)

Cretoiu MS, Korthals GW, Visser JHM, van Elsas JD. Chitin amendment increases soil suppressive toword plant pathogens and modulates the Actinobacterial and Oxalobacteraceal communities in an experimental agricultural field. Applied and Environmental Microbiology. 79: 5291-5301 (2013)

Debode J, De Tender C, Soltaninejad S, Van Malderghem C, Haegeman A, Van der Linden I, Cottyn B, Heyndrickx M, Maes M. Chitin mixed in potting soil alters lettuce growth, the survival of zoonotic bacteria on the leaves and associated rhizosphere microbiology. Frontiers in Microbiology. 7: 565 (2016)

El-Rokiek KG, Dawood MG, Sadak MS, El-Awadi ME. The effect of the natural extracts of garlic or Eucalyptus on the growth, yield, and some chemical constituents in quinoa plants. Bulletin of the National Research Centre. 43: 119 (2019)

Ferreira V, Wiedmann M, Teixeira P, Stasiewicz MJ. Listeria monocytogenes persistence in food-associated environments: epidemiology, strain characteristics, and implications for public health. Journal of Food Protection. 77: 150-170 (2014)

Gao Y, Lu Y, Lin W, Tian J, Cai K. Biochar suppresses bacterial wilt of tomato by improving soil chemical properties and shifting soil microbial community. Microorganisms. 7: 676 (2019)

Ghani MI, Ali A, Atif MJ, Ali M, Amin B, Anees M, Cheng Z. Soil amendment with raw garlic stalk: a novel strategy to stimulate growth and the antioxidant defense system in monocropped eggplant in the North of China. Agronomy. 9: 89 (2019a)

Ghani MI, Ali A, Atif MJ, Ali M, Amin B, Anees M, Khurshid H, Cheng Z. Changes in the soil microbiome in eggplant monoculture revealed by high-throughput Illumina Miseq sequencing as influenced by raw garlic stalk amendment. International Journal of Molecular Sciences. 20: 2125 (2019b)

Hayat S, Ahmad H, Ali M, Ren K, Cheng Z. Aqueous garlic extract stimulates growth and antioxidant enzymes activity of tomato (Solanum lycopersicum). Scientia Horticulturae. 240: 139-146 (2018)

Jechalke S, Schierstaedt J, Becker M, Flemer B, Grosch R, Smalla K, Schikora A. Salmonella establishment in agricultural soil and colonization of crop plants depend on soil type and plant species. Frontiers in Microbiology. 10: 967 (2019)

Khan I, Khan J, Miskeen S, Tango CN, Park YS, Oh DH. Prevalence and control of Listeria monocytogenes in the food industry: a review. Czech Journal of Food Sciences. 34: 469-487 (2016)

Kim B-R, Shin J, Guevarra RB, Lee JH, Kim DW, Seol K-H, Lee J-H, Kim HB, Isaacson RE. Deciphering diversity indices for a better understanding of microbial communities. Journal of Microbiology and Biotechnology. 27: 2089-2093 (2017)

Lee SA, Kanth BK, Kim HS, Kim T-W, Sang ML, Song J, Weon H-Y. Complete genome sequence of the plant growth-promoting endophytic bacterium Rhodanobacter glycinis T01E-68 isolated from tomato (Solanum lycopersicum L.) plant roots. Korean Journal of Microbiology. 55: 422-424 (2019)

Lee S, Kim J, Jeong SW. Analysis of the organic matter content for soil samples taken at the new points of Korea soil quality monitoring network. Journal of Korean Society of Environmental Engineers. 38: 641-646 (2016)

Leong D, Alvarez-Ordonez A, Jordan K. Monitoring occurrence and persistence of Listeria monocytogenes in foods and food processing environments in the Republic of Ireland. Frontiers in Microbiology. 5: 436 (2014)

Locatelli A, Spor A, Jolivet C, Piveteau P, Hartmann A. Biotic and abiotic soil properties influence survival of Listeria monocytogenes in soil. PLoS ONE. 8: e75969 (2013)

Mahmood YA, Mohammed IQ, Ahmed FW. Effect of organic fertilizer and foliar application with garlic extract, whey and bio fertilizer of bread yeast in availability of NPK in soil and plant, growth and yield of tomato (Lycopersicon esculentum Mill). Plant Archives. 20: 151-158 (2020)

Mallon CA, Le Roux X, van Doorn GS, Dini-Andreote F, Poly F, Salles JF. The impact of failure: unsuccessful bacterial invasions steer the soil microbial community away from the invader's niche. The ISME Journal. 12: 728-741 (2018)

Mallon CA, Poly F, Le Roux X, Marring I, van Elsas JD, Salles JF. Resource pulses can alleviate the biodiversity-invasion relationship in soil microbial communities. Ecology. 96: 915-926 (2015)

McLaughlin HP, Casey PG, Cotter J, Gahan CGM, Hill C. Factors affecting survival of Listeria monocytogenes and Listeria innocua in soil samples. Archives of Microbiology. 193: 775-785 (2011)

Orzali L, Corsi B, Forni C, Riccioni L. Chitosan in agriculture: a new challenge for managing plant disease. pp. 17–36. In: Biological Activities and Application of Marine Polysaccharides. Shalaby EA (ed). InTech Press, Inc., Janeza Trdine 9, 51000 Rijeka, Croatia (2017)

Pandey P, Verma MK, De N. Chitosan in agricultural context: a review. Bulletin of Environment, Pharmacology, and Life Sciences. 7: 87-96 (2018)

Schloss PD, Gevers D, Westcott SL. Reducing the effects of PCR amplification and sequencing artifacts on 16S rRNA-based studies. PLoS ONE. 6: e27310 (2011)

Siddiqi MZ, Aslam Z, Im WT. Arachidicoccus ginsenosidivorans sp. nov., with ginsenoside-converting activity isolated from ginseng cultivating soil. International Journal of Systematic and Evolutionary Microbiology. 67: 1005-1010 (2017)

Sidhu J, Gibbs RA, Ho GE, Unkovich I. The role of indigenous microorganisms in suppression of Salmonella regrowth in composted biosolids. Water Research. 35: 913-920 (2001)

Spor A, Camargo ARO, Bru D, Gaba S, Garmyn D, Gal L, Piveteau P. Habitat disturbances modulate the barrier effect of resident soil microbiota on Listeria monocytogenes invasion success. Frontiers in Microbiology. 11: 927 (2020)

van Elsas JD, Chiurazzi M, Mellon CA, Elhottovã D, Krištůfek V, Salles JF. Microbial diversity determines the invasion of soil by a bacterial pathogen. Proceedings of the National Academy of Sciences of the United States of America. 109: 1159-1164 (2012)

Vivant A-L, Garmyn D, Gal L, Piveteau P. The Agr communication system provides a benefit to the populations of Listeria monocytogenes in soil. Frontiers in Cellular and Infection Microbiology. 4: 160 (2014)

Vivant A-L, Garmyn D, Piveteau P. Listeria monocytogenes, a down-to-earth pathogen. Frontiers in Cellular and Infection Microbiology. 3: 87 (2013)

Xiao Z, Bauchan G, Nichols-Russell L, Luo Y, Wang Q, Nou X. Proliferation of Escherichia coli O157:H7 in soil-substitute and hydroponic microgreen production systems. Journal of Food Protection. 78: 1785-1790 (2015)

Xu C, Mou B. Chitosan as soil amendment affects lettuce growth, photochemical efficiency, and gas exchange. HortTechnology. 28: 476-480 (2018)
Acknowledgements
This work was supported by the Cooperative Research Program for Agricultural Science and Technology Development (Project numbers 01357801) and the National Institution of Agricultural Science, Rural Development Administration, the Republic of Korea. We also thank the general manager Mr. Gun-Tae Kim in the Personal Genome Business Division of the Macrogen Inc. (Seoul-si, Republic of Korea) for technical assistance and service.
Ethics declarations
Conflict of interest
The authors declare no conflict of interest.
Additional information
Publisher's Note
Springer Nature remains neutral with regard to jurisdictional claims in published maps and institutional affiliations.
Supplementary Information
Below is the link to the electronic supplementary material.
About this article
Cite this article
Yoon, JH., Kim, SA., Shim, WB. et al. Colonization of Listeria monocytogenes in potting soils as affected by bacterial community composition, storage temperature, and natural amendment. Food Sci Biotechnol 30, 869–880 (2021). https://doi.org/10.1007/s10068-021-00925-9
Received:

Revised:

Accepted:

Published:

Issue Date:
Keywords
Bacterial community

Garlic extract amendment

Listeria monocytogenes

Potting soil

Soil chemical properties