Abstract
This study was designed to evaluate the absorption promoting capacity of Maillard Reaction Products (MRPs) produced during the stir-frying process of Hordei Fructus Germinatus on catechin, ferulic acid, quercetin and kaempferol by the ex vivo rat everted gut sac model, in situ single-pass intestinal perfusion model and the whole animal model. Moreover, verapamil, EDTA and mannitol were used for determining the transport mechanism of catechin, ferulic acid, quercetin and kaempferol. The tight junction (TJ) proteins including zonula occudens-1(ZO-1) and claudin-1 were chosen to investigate the promoting mechanism of MRPs by quantitative real-time PCR (qRT-PCR) and western blot analyses. The results showed that the MRPs produced during the stir-frying process of Hordei Fructus Germinatus could improve the intestinal absorption of catechin, ferulic acid, quercetin and kaempferol. And the absorption-promoting effect of MRPs was related to chelating effect and the reduced expression of claudin-1 and ZO-1. Our results suggested that MRPs could be promising oral absorption promoters, which might be another processing mechanism of Hordei Fructus Germinatus.
Access options
Buy single article
Instant access to the full article PDF.
US$ 39.95
Tax calculation will be finalised during checkout.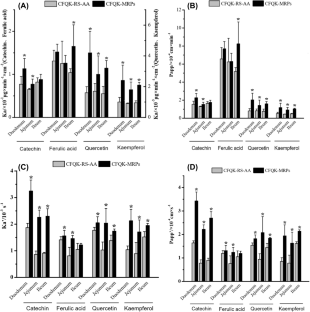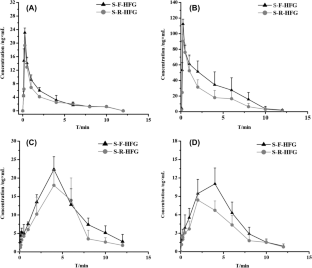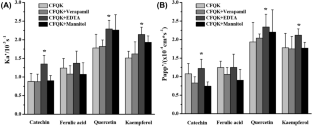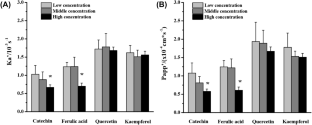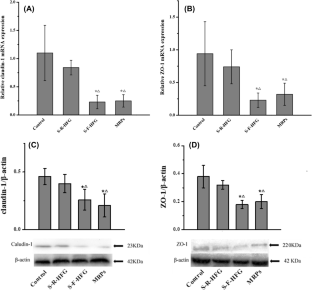 References
Alama T, Katayama H, Hirai S, Ono S, Kajiyama A, Kusamori K, Katsumi H, Sakane T, Yamamoto A. Enhanced oral delivery of alendronate by sucrose fatty acids esters in rats and their absorption-enhancing mechanisms. International Journal of Pharmaceutics. 515: 476-489 (2016)

Aungst BJ, Rogers NJ. Site dependence of absorption-promoting actions of laureth-9, Na salicylate, Na2EDTA, and aprotinin on rectal, nasal, and buccal insulin delivery. Pharmaceutical Research. 5: 305-308 (1988)

Babu MR, Prakash PR, Devanna N. Exploring the oral absorption enhancing effect of piperine and chitosan on tenofovir loaded solid lipid nanoparticles. International Research Journal of Pharmacy. 10: 221-226 (2019)

Ben-Sasson SA, Galamidi-Cohen E. Compositions capable of facilitation penetration across a biological barrier. U.S. Patent 20070172517 A1 (2007)

Chen W, Hamman J, Vlijoen A. Drug absorption enhancing properties of Aloe vera across intestinal epithelium. African Journal of Traditional Complementary and Alternative Medicines. 6: 328 (2009)

Dahan A, West BT, Amidon GL. Segmental-dependent membrane permeability along the intestine following oral drug administration: Evaluation of a triple single-pass intestinal perfusion (TSPIP) approach in the rat. European Journal of Pharmaceutical Sciences. 36: 320-329 (2009)

Duan M, Xing Y, Guo J, Chen H, Zhang R. Borneol increases blood-tumour barrier permeability by regulating the expression levels of tight junction-associated proteins. Pharmaceutical Biology. 54: 3009-3018 (2016)

Fagerholm U, Sjostrom B, Sroka-Markovic J, Wijk A, Svensson M, Lennernas H. The effect of a drug delivery system consisting of soybean phosphatidylcholine and medium chain monoacylglycerol on the intestinal permeability of hexarelin in rat. The Journal of Pharmacy and Pharmacology. 50: 467-473 (1998)

Fetih G, Habib F, Okada N, Fujita T, Attia M, Yamamoto A. Nitric oxide donors can enhance the intestinal transport and absorption of insulin and [Asu (1,7)] eel calcitonin in rats. Journal of Controlled Release. 106: 287-297 (2005)

Gao Y, He L, Katsumi H, Sakane T, Fujita T, Yamamoto A. Improvement of intestinal absorption of insulin and water-soluble macromolecular compounds by chitosan oligomers in rats. International Journal of Pharmaceutics. 359: 70-78 (2008)

Haasbroek A, Willers C, Glyn M, du Plessis L, Hamman J. Intestinal drug absorption enhancement by Aloe vera gel and whole leaf extract: In vitro investigations into the mechanisms of action. Pharmaceutics. 11: 36 (2019)

Igarashi R, Takenaga M, Takeuchi J, Kitagawa A, Matsumoto K, Mizushima Y. Marked hypotensive and blood flow-increasing effects of a new lipo-PGE (1) (lipo-AS013) due to vascular wall targeting. Journal of Controlled Release. 71: 157-164 (2001)

Kawashima Y. Design of poly (lactic-co-glycolic acid) (PLGA) nanosphere for developing to DDS. Journal of Pharmaceutical Science & Technology Japan. 66: 224-238 (2006)

Komori Y, Aiba T, Nakai C, Sugiyama R, Kawasaki H, Kurosaki Y. Capsaicin-induced increase of intestinal cefazolin absorption in rats. Drug Metab Pharmacokinet. 22: 445-449 (2007)

Lacaz-Vieira F, Marques MM. Pulses of cell Ca2+ and the dynamics of tight junction opening and closing. The Journal of Membrane Biology. 196: 117-127 (2003)

Lee YJ, Choi DY, Choi SI, Han JY, Jeong HS, Han SB, Oh KW, Hong JT. Inhibitory effect of a tyrosine fructose Maillard reaction product, 2,4-bis(p-hydroxyphenyl)-2-butenal on amyloid-b generation and inflammatory reactions via inhibition of NF- B and STAT3 activation in cultured astrocytes and microglial BV-2 cells. Journal of Neuroinflammation. 8: 132-144 (2011)

Liang XL, Liao ZG, Zhu JY, Zhao GW, Yang M, Yin RL, Cao YC, Zhang J, Zhao LJ. The absorption characterization effects and mechanism of Radix Angelicae dahuricae extracts on baicalin in Radix Scutellariae using in vivo and in vitro absorption models. Journal of Ethnopharmacology. 139: 52-57 (2012a)

Liang XL, Zhao LJ, Liao ZG, Zhao GW, Zhang J, Chao YC, Yang M, Yin RL. Transport properties of puerarin and effect of Radix Angelicae Dahuricae extract on the transport of puerarin in Caco-2 cell model. Journal of Ethnopharmacology. 144: 677-682 (2012b)

Liang XL, Zhang J, Zhao GW, Li Z, Luo Y, Liao ZG, Yan DM. Mechanisms of improvement of intestinal transport of baicalin and puerarin by extracts of Radix Angelicae Dahuricae. Phytotherapy Research. 29: 220-227 (2015)

Lin Y, Fujimori T, Kawaguchi N, Tsujimoto Y, Nishimi M, Dong Z, Katsumi H, Sakane T, Yamamoto A. Polyamidoamine dendrimers as novel potential absorption enhancers for improving the small intestinal absorption of poorly absorbable drugs in rats. Journal of Controlled Release. 149: 21-28 (2011)

Liu P, Huang M, Song S, Hayat K, Zhang X, Xia S, Jia CS. Sensory characteristics and antioxidant activities of Maillard reaction products from soy protein hydrolysates with different molecular weight distribution. Molecular Weight Distribution. Food & Bioprocess Technology. 5: 1775-1789 (2012)

Nooshkam M, Varidi M, Bashash M. The Maillard reaction products as food-born antioxidant and antibrowning agents in model and real food systems. Food Chemistry. 275: 644-660 (2019)

Mishima M, Wakita Y, Nakano M. Studies on the promoting effects of medium chain fatty acid salts on the nasal absorption of insulin in rats. Journal of Pharmacobio-Dynamics. 10: 624 (1987)

Nakaya Y, Takaya M, Hinatsu Y, Alama T, Kusamori K, Katsumi H, Sakane T, Yamamoto A. Enhanced oral delivery of bisphosphonate by novel absorption enhancers: improvement of intestinal absorption of alendronate by N-acyl amino acids and N-acyl taurates and their absorption-enhancing mechanisms. Journal of Pharmaceutical Sciences. 105: 3680-3690 (2016)

Narasimhulu CA, Selvarajan K, Burge KY, Litvinov D, Sengupta B, Parthasarathy S. Water-soluble components of sesame oil reduce inflammation and atherosclerosis. Journal of Medicinal Food. 19: 629-637 (2016)

Oh JG, Chun SH, Kim DH, Kim JH, Shin HS, Cho YS, Kim YK, Choi HD, Lee KW. Anti-inflammatory effect of sugar-amino acid Maillard reaction products on intestinal inflammation model in vitro and in vivo. Carbohydrate Research. 449: 47-58 (2017)

Park BK, Chun E, Choi JJ, Shin Y, Kho YT, Oh SH, Kim SY, Lee TH, Kim TW, Shin E, Do SG, Jin M. Administration of Wasabia koreana ameliorates irritable bowel syndrome-like symptoms in a zymosan-induced mouse model. Journal of Medicinal Food. 20: 474-484 (2017)

Ritthidet K, Sailasut A, Ritthidej GC. Efficacy and mechanistic studies of chitosan as nasal absorption enhancer of peptide drugs. Available from: https://www.researchgate.net/publication/27802993. Accessed Mar., 1999.

Sha S, Vong LB, Chonpathompikunlert P, Yoshitomi T, Matsui H, Nagasaki Y. Suppression of NSAID-induced small intestinal inflammation by orally administered redox nanoparticles. Biomaterials. 34: 8393-8400 (2013)

Soltero R. Oral protein and peptide drug delivery. pp. 189–200. In: Drug delivery: principles and applications. John Wiley & Sons, Inc, USA (2005)

Sutton SC, Rinaldi MTS, Vukovinsky KE. Comparison of the gravimetric, phenol red, and 14C-PEG 3350 methods to determine water absorption in the rat single pass intestinal perfusion model. AAPS PharmSci. 3: 93-97 (2001)

Turner JR. Intestinal mucosal barrier function in health and disease. Nature Reviews Immunology. 9: 799-809 (2009)

Wang J, Guan YG, Yu SJ, Zeng XA, Liu YY, Yuan S, Xu R. Study on the Maillard reaction enhanced by pulsed electric field in a glycin–glucose model system. Food and Bioprocess Technology. 4: 469-474 (2011)

Ward PD, Tippin TK, Thakker DR. Enhancing paracellular permeability by modulating epithelial tight junctions. Pharmaceutical Science & Technology Today. 3: 346-358 (2000)

Wu L, Wu WG, Tan LX, Wen LZ, Wang XL, Jiang T, Yang HS. Effect of temperature and time on change of carbohydrates in Hordei Germinatus Fructus with frying process. Chinese Traditional and Herbal Drugs. 48: 1334-1339 (2017)

Wu L, Yang HS, Wu WG, Tan LX, Wen LZ, Wang XL, Jiang T. Study on variation regularity of amino acids in malt with frying process from view of material basis of Chinese herbs property. Chinese Archives of Traditional Chinese Medicine. 36: 1084-1088 (2018)

Wu L, Lai Y, Wang Y, Tang LX, Wen LZ, Yang HS. Maillard reaction products of stir fried Hordei Fructus Germinatus are important for its efficacy in treating Functional Dyspepsia. Journal of Medicinal Food. 23: 420-431 (2020)

Yang HS, Tan LX, Wu WG, Li XL, Wen LZ, Wu L. Dynamic change rules of active ingredients and inactive ingredients from Fructus Hordei Germinatus with frying process. China Journal of Chinese Materia Medica. 41: 4382-4388 (2016)

Yang HS, Wei WG, Tan LX, Wen LZ, Wang XL, Jiang T, Wu L. Establishment of nearinfrared on-line monitoring model and determination of endpoint in frying process of Hordei Fructus Germinatus. China journal of Chinese materia medica. 42: 478-485 (2017)

Yilmaz Y, Toledo R. Antioxidant activity of water-soluble Maillard reaction products. Food Chemistry. 93: 273-278 (2005)

Yongyut R, Jiahorng L, Joseph RR. Mechanisms of action of some penetration enhancers in the cornea: Laser scanning confocal microscopic and electrophysiology studies. International Journal of Pharmaceutics. 66: 131-142 (1990)

Zhang JM, Liao W, He YX, He Y, Yan D, Fu CM. Study on intestina labsorption and pharmacokinetic characterization of diester diterpenoid alkaloids in precipitation derived from Fuzi–Gancao herb-pair decoction for its potential interaction mechanism investigation. Journal of Ethnopharmacology. 147: 128-135 (2013)

Zheng Y, Zuo Z, Chow AH. Lack of effect of beta-cyclodextrin and its water-soluble derivatives on in vitro drug transport across rat intestinal epithelium. International Journal of Pharmaceutics. 309: 123-128 (2006)

Zhou Y, Li W, Chen L, Ma S, Ping L, Yang Z. Enhancement of intestinal absorption of akebia saponin by borneol and probenecid in situ and in vitro. Environmental Toxicology & Pharmacology. 29: 229-234 (2010)
Acknowledgments
The authors sincerely appreciate the financial support from National Natural Science Foundation of China (nos. 81560659, 81760722), and Jiangxi Province's double first-class discipline (Traditional Chinese Medicine) construction project (no. JXSYLXK-ZHYAO050).
Ethics declarations
Conflict of interest
The authors declared that there is no conflict of interest.
Additional information
Publisher's Note
Springer Nature remains neutral with regard to jurisdictional claims in published maps and institutional affiliations.
About this article
Cite this article
Wu, L., Tan, L.X., Gong, F.F. et al. Promoting effect of the Maillard reaction products produced during the stir-frying process of Hordei Fructus Germinatus on the intestinal absorption of active ingredients in Hordei Fructus Germinatus. Food Sci Biotechnol 30, 631–642 (2021). https://doi.org/10.1007/s10068-021-00911-1
Received:

Revised:

Accepted:

Published:

Issue Date:
Keywords
Maillard reaction product

Absorption promoter

Intestinal absorption

Hordei Fructus Germinatus

Transport mechanism