Abstract
A high-protein diet has a variety of beneficial effects and mixing isolated soybean protein (ISP) with whey protein (WP) reported to increases health and functional advantages. The objective of this study was to determine an adequate ratio for mixing these two proteins by evaluating the physical and sensory properties of protein-fortified samples. Samples with 5 different ratios of ISP to WP ranging from 100:0 to 0:100 were prepared. Proximate composition, density, spread factor, hardness and color values of five samples were measured and consumer acceptance test were conducted by 117 panelists to evaluate physicochemical and sensory properties of protein-fortified cookies. In a consumer acceptance test, the combination of ISP and WP increased consumer acceptance, and the highest overall acceptance was obtained when ISP and WP were used in a one to one ratio. As the ISP content increased, the density was higher, and the spreadability was the lowest. On the other hand, as WP increased, hardness increased significantly, and L*, a* and b* values increased (p < 0.05).The result of this study may facilitate the development of protein-enriched foods, which have various health benefits.
Access options
Buy single article
Instant access to the full article PDF.
US$ 39.95
Tax calculation will be finalised during checkout.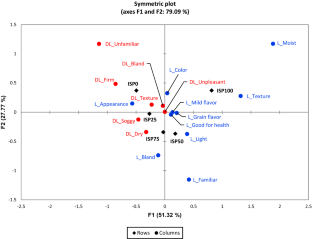 References
AACC International. Approved methods of the AACC. 10th ed. American Association of Cereal Chemists, AACC International, St.Paul, MN, USA (2000)

Abayomi HT, Oresanya TO, Opeifa AO, Rasheed TR. Quality evaluation of cookies produced from blends of sweet potato and fermented soybean flour. International Journal of Agricultural, Biosystems Science and Engineering Vol: 7 (7) 350–355 (2013)

Adeyeye, Samuel Ayofemi, and John O. Akingbala. Quality characteristics and acceptability of cookies from sweet potato–maize flour blends. Nutrition & Food Science. 703–715 (2015) doi:https://doi.org/10.1108/NFS-03-2015-0020

Adeyeye SAO, Adebayo-Oyetoro AO, Omoniyi SA. Quality and sensory properties of maize flour cookies enriched with soy protein isolate. Cogent Food & Agriculture. 3: 1278827 (2017)

Akesowan A. Quality characteristics of light pork burgers fortified with soy protein isolate. Food Science and Biotechnology. 19: 1143-1149 (2010)

AOAC. Official methods of analysis. 17th ed. Association of Official Analytical Chemists Official Methods of Analysis, Rockville, USA (2005)

Cha SS, Jung HO, Son HK, Lee JJ. Physicochemical and sensory characteristics of cookies with added purple kohlrabi powder. Korean Journal of Food Preservation. 21: 824-830 (2014)

Chen MJ, Jovanovic A, Taylor R. Utilizing the second-meal effect in type 2 diabetes: practical use of a soya-yogurt snack. Diabetes Care. 33: 2552-2554 (2010)

Childs JL, Yates MD, Drake MA. Sensory properties of meal replacement bars and beverages made from whey and soy proteins. Journal of Food Science. 72: S425-S434 (2007)

Cho HS, Park BH, Kim KH, Kim HA. Antioxidative effect and quality characteristics of cookies made with sea tangle powder. Journal of The Korean Society of Food Culture. 21: 541-549 (2006)

Choi HY. Antioxidant activity and quality characteristics of pine needle cookies. Journal of the Korean Society of Food Science and Nutrition. 38: 1414-1421 (2009)

de Almeida Marques G, de São José JFB, Silva DA, da Silva EMM. Whey protein as a substitute for wheat in the development of no added sugar cookies. LWT. 67: 118-126 (2016)

Dovi KA, Chiremba C, Taylor JR, de Kock HL. Rapid sensory profiling and hedonic rating of whole grain sorghum‐cowpea composite biscuits by low income consumers. Journal of the Science of Food and Agriculture. 98: 905-913 (2018)

Drake MA, Gerard PD. Consumer attitudes and acceptability of soy‐fortified yogurts. Journal of Food Science. 68: 1118-1122 (2003)

Elia D, Stadler K, Horváth V, Jakus J. Effect of soy-and whey protein-isolate supplemented diet on the redox parameters of trained mice. European Journal of Nutrition. 45(5), 259-266 (2006)

Faridi H. The science of cookie and cracker production. Chapman and Hall, NY, USA. pp. 237–238 (1994)

Friedeck KG, ARAGUL‐YUCEER YK, Drake MA. Soy protein fortification of a low‐fat dairy‐based ice cream. Journal of Food Science. 68: 2651-2657 (2003)

Hagen MK, Lehenbauer-Lüdke AR, Paludo AC, Schenkel P, Gonçalves L, Fernandes TG, Caron R, Llesuy S, Mill JG, Belló-Klein A. Diet with isolated soy protein reduces oxidative stress and preserves ventricular function in rats with myocardial infarction. Nutrition, Metabolism and Cardiovascular Diseases. 19: 91-97 (2009)

Hughes GJ, Ryan DJ, Mukherjea R, Schasteen CS. Protein digestibility-corrected amino acid scores (PDCAAS) for soy protein isolates and concentrate: Criteria for evaluation. Journal of Agricultural and Food Chemistry. 59: 12707-12712 (2011)

Jung KJ, Lee SJ. Quality characteristics of rice cookies prepared with sea mustard (Undaria pinnatifida Suringer) powder. Journal of the Korean Society of Food Science and Nutrition. 40: 1453-1459 (2011)

Kalman D. Amino acid composition of an organic brown rice protein concentrate and isolate compared to soy and whey concentrates and isolates. Foods, 3: 394-402 (2014)

Kim YS. Quality of wet noodle prepared with wheat flour and mushroom powder. Korean Journal of Food Science and Technology. 30: 1373-1380 (1998)

Kim S. Sources and formulation of macro-and micro-nutrients in enteral nutrition formula. Journal of Clinical Nutrition. 8: 45-50 (2016)

Kim YA. Soy protein: a high-quality, plant-based protein. Food Science and Industry 51(4) : 270-277 (2018)

Kim GS, Park GS. Quality characteristics of cookies prepared with lotus leaf powder. Korean Journal of Food and Cookery Science. 24: 398-404 (2008)

Kreger JW, Lee Y, Lee SY. Perceptual changes and drivers of liking in high protein extruded snacks. Journal of Food Science. 77: S161-S169 (2012)

Layman DK, Baum JI. Dietary protein impact on glycemic control during weight loss. The Journal of Nutrition. 134: 968S-973S (2004)

Lazo O, Claret A, Guerrero L. A comparison of two methods for generating descriptive attributes with trained assessors: Check‐all‐that‐apply (CATA) vs. free choice profiling (FCP). Journal of Sensory Studies. 31: 163-176 (2016)

Lee JY, Ju JC, Park HJ, Heu ES, Choi SY, Shin JH. Quality characteristics of cookies with bamboo leaves powder. The Korean Journal of Food And Nutrition. 19(1): 1-7 (2006)

Lim EJ, Huh CO, Kwon SH, Yi BS, Cho KR, Shin SG, Kim SY, Kim JY. Physical and sensory characteristics of cookies with added leek (Allium tuberosum Rottler) powder. Korean J Food & Nutr. 22(1): 1-7 (2009)

Martin AH, Castellani O, de Jong GA, Bovetto L, Schmitt C. Comparison of the functional properties of RuBisCO protein isolate extracted from sugar beet leaves with commercial whey protein and soy protein isolates. Journal of the Science of Food and Agriculture. 99: 1568-1576 (2019)

Mendes RH, Hagen MEK, Barp J, Jong EVD, Moreira JD, Oliveira ÁRD, Irigoyen MCC, Belló-Klein A. Isolated soy protein-based diet ameliorates glycemia and antioxidants enzyme activities in streptozotocin-induced diabetes. Food and Nutrition Sciences. 5: 2089-2096 (2014)

Meyners M, Castura JC, Carr BT. Existing and new approaches for the analysis of CATA data. Food Quality and Preference. 30: 309-319 (2013)

Ministry of food and drug safety [Internet]. Food labeling standards, 2019 [cited 2019 October 29] Available from: https://www.mfds.go.kr/brd/m_211/view.do?seq=14378

Moon YJ, Jang SA (2011). Quality characteristics off cookies containing powder of extracts from Angelica gigas Nakai. The Korean Journal of Food And Nutrition. 24(2):173-179.

Park BH, Cho HS, Park SY. A study on the antioxidative effect and quality characteristics of cookies made with Lycii fructus powder. Korean Journal of Food and Cookery Science. 21: 94-102 (2005)

Paul GL. The rationale for consuming protein blends in sports nutrition. Journal of the American College of Nutrition. 28: 464S-472S (2009)

Rababah TM, Al‐Mahasneh MA, Ereifej KI. Effect of chickpea, broad bean, or isolated soy protein additions on the physicochemical and sensory properties of biscuits. Journal of Food Science. 71: S438-S442 (2006)

Russell TA, Drake MA, Gerard PD. Sensory properties of whey and soy proteins. Journal of Food Science. 71: S447-S455 (2006)

Singh M, Mohamed A. Influence of gluten–soy protein blends on the quality of reduced carbohydrates cookies. LWT. 40: 353-360 (2007)

Tuorila H, Lähteenmäki L, Pohjalainen L, Lotti L. Food neophobia among the Finns and related responses to familiar and unfamiliar foods. Food Quality and Preference. 12: 29-37 (2001)

Zoulias EI, Oreopoulou V, Tzia C. Effect of fat mimetics on physical, textural and sensory properties of cookies. International Journal of Food Properties. 3: 385-397 (2000)
Acknowledgements
This work was supported by the Korea Institute of Planning and Evaluation for Technology in Food, Agriculture, Forestry and Fisheries (iPET), and is part of high value-added food development project [Grant Nr 2-2016-1903-001-2].
Ethics declarations
Conflict of interest
The authors declare no conflict of interest.
Additional information
Publisher's Note
Springer Nature remains neutral with regard to jurisdictional claims in published maps and institutional affiliations.
About this article
Cite this article
Park, HR., Kim, GH., Na, Y. et al. Physicochemical and sensory properties of protein-fortified cookies according to the ratio of isolated soy protein to whey protein. Food Sci Biotechnol 30, 653–661 (2021). https://doi.org/10.1007/s10068-021-00909-9
Received:

Revised:

Accepted:

Published:

Issue Date:
Keywords
Protein fortification

Cookie

Isolated soybean protein

Whey protein

Physicochemical

Consumer acceptability