Abstract
The purpose was to explore the drying kinetics, the moisture effective diffusivities, color, total polyphenols, lycopene and antioxidant activities of dried tomato slices by air-impingement jet drying (AIJD). The results showed that high temperature increased the drying rate, and Modified Page model accurately predicted the AIJD characteristics of tomato slices. AIJD is better than hot air drying in shortening drying time, enhancing drying rate and decreasing the loss of total polyphenols, lycopene and antioxidant capacity of tomato slices. Tomato slices dried by AIJD also showed higher lightness and redness. Lycopene content and antioxidant activity of tomato slices dried by AIJD were increased by higher drying temperature. Based on experimental data, AIJD at 80 °C can be used in tomato drying process due to the advantages in drying efficiency and content of bioactive compounds. This study will provide helpful information for the production of high quality of dried tomato products.
Access options
Buy single article
Instant access to the full article PDF.
US$ 39.95
Tax calculation will be finalised during checkout.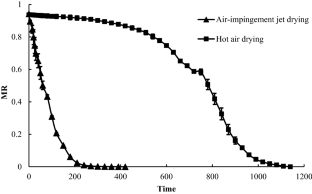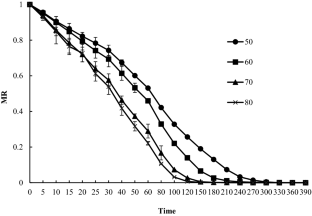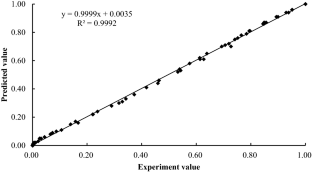 References
Al-Muhtaseb AH, Al-Harahsheh M, Hararah M, Magee TRA. Drying characteristics and quality change of unutilized-protein rich-tomato pomace with and without osmotic pre-treatment. Industrial Crops and Products. 31: 171-177 (2010)

Amarowicz R, Carle R, Dongowski G, Durazzo A, Galensa R, Kammerer D, Piskula MK. Influence of postharvest processing and storage on the content of phenolic acids and flavonoids in foods. Molecular Nutrition & Food Research. 53: S151-S183 (2009)

Cernisev S. Effects of conventional and multistage drying processing on non-enzymatic browning in tomato. Journal of Food Engineering. 96: 114-118 (2010)

Chaaban H, Ioannou I, Chebil L, Slimane M, Gerardin C, Paris C, Ghoul M. Effect of heat processing on thermal stability and antioxidant activity of six flavonoids. Journal of Food Processing and Preservation. 41: e13203 (2017)

Chen ML, Yang DJ, Liu SC. Effects of drying temperature on the flavonoid, phenolic acid and antioxidative capacities of the methanol extract of citrus fruit (Citrus sinensis (L.) Osbeck) peels. International Journal of Food Science and Technology. 46: 1179-1185 (2011)

Coelho K, Costa BR, Pinto LAD. Evaluation of lycopene loss and colour values in convective drying of tomato by surface response methodology. International Journal of Food Engineering. 9: 233-238 (2013)

Dewanto V, Wu XZ, Adom KK, Liu RH. Thermal processing enhances the nutritional value of tomatoes by increasing total antioxidant activity. Journal of Agricultural and Food Chemistry. 50: 3010-3014 (2002)

Doymaz I. Effect of pre-treatments using potassium metabisulphide and alkaline ethyl oleate on the drying kinetics of apricots. Biosystems Engineering. 89: 281-287 (2004)

Doymaz I, Ismail O. Drying characteristics of sweet cherry. Food and Bioproducts Processing. 89: 31-38 (2011)

Esehaghbeygi A, Basiry M. Electrohydrodynamic (EHD) drying of tomato slices (Lycopersicon esculentum). Journal of Food Engineering. 104: 628-631 (2011)

Esua, OJ, Chin NL, Yusof YA, Sukor R. Combination of ultrasound and ultraviolet-C irradiation on kinetics of color, firmness, weight loss, and total phenolic content changes in tomatoes during storage. Journal of Food Processing and Preservation. 43: e14161 (2019)

Gaware TJ, Sutar N, Thorat BN. Drying of tomato using different methods: Comparison of dehydration and rehydration kinetics. Drying Technology. 28: 651-658 (2010)

Goula AM, Adamopoulos KG. Stability of lycopene during spray drying of tomato pulp. LWT-Food Science and Technology. 38: 479-487 (2005)

Huang CC, Wu JSB, Wu JS, Ting YW. Effect of novel atmospheric-pressure jet pretreatment on the drying kinetics and quality of white grapes. Journal of the Science of Food and Agriculture. 99: 5102-5111 (2019)

Karaaslan M, Yilmaz FM, Cesur O, Vardin H, Ikinci A, Dalgic AC. Drying kinetics and thermal degradation of phenolic compounds and anthocyanins in pomegranate arils dried under vacuum conditions. International Journal of Food Science and Technology. 49: 595-605 (2014)

Kerkhofs NS, Lister CE, Savage GP. Change in colour and antioxidant content of tomato cultivars following forced-air drying. Plant Foods for Human Nutrition. 60: 117-121 (2005)

Khazaei J, Chegini GR, Bakhshiani M. A novel alternative method for modeling the effects of air temperature and slice thickness on quality and drying kinetics of tomato slices: Superposition technique. Drying Technology. 26: 759-775 (2008)

Lavelli V, Peri C, Rizzolo A. Antioxidant activity of tomato products as studied by model reactions using xanthine oxidase, myeloperoxidase, and copper-induced lipid peroxidation. Journal of Agricultural and Food Chemistry. 48: 1442-1448 (2000)

Li WF, Wang MY, Xiao XL, Zhang BS, Yang XB. Effects of air-impingement jet drying on drying kinetics, nutrient retention and rehydration characteristics of onion (Allium cepa) slices. International Journal of Food Engineering. 11: 435-446 (2015)

Li WF, Yuan L, Xiao XL, Yang XB. Dehydration of kiwifruit (Actinidia deliciosa) slices using heat pipe combined with impingement technology. International Journal of Food Engineering. 12: 265-276 (2016)

Liu YF, Liu JX, Chen XF, Liu YW, Di DL. Preparative separation and purification of lycopene from tomato skins extracts by macroporous adsorption resins. Food Chemistry. 123: 1027-1034 (2010)

Molyneux SL, Lister CE, Savage GP. An investigation of the antioxidant properties and colour of glasshouse grown tomatoes. International Journal of Food Sciences and Nutrition. 55: 537-545 (2004)

Nour V, Panaite TD, Ropota M, Turcu R, Trandafir I, Corbu AR. Nutritional and bioactive compounds in dried tomato processing waste. Cyta-Journal of Food. 16: 222-229 (2018)

Qiu G, Wang DF, Song XY, Deng Y, Zhao YY. Degradation kinetics and antioxidant capacity of anthocyanins in air-impingement jet dried purple potato slices. Food Research International. 105: 121-128 (2018)

Rajkumar P, Kulanthaisami S, Raghavan GSV, Gariepy Y, Orsat V. Drying kinetics of tomato slices in vacuum assisted solar and open sun drying methods. Drying Technology. 25: 1349-1357 (2007)

Ratti C. Hot air and freeze-drying of high-value foods: a review. Journal of Food Engineering. 49: 311-319 (2001)

Re R, Bramley PM, Rice-Evans C. Effects of food processing on flavonoids and lycopene status in a Mediterranean tomato variety. Free Radical Research. 36: 803-810 (2002)

Ruiz Celma A, Cuadros F, Lopez-Rodriguez F. Characterisation of industrial tomato by-products from infrared drying process. Food and Bioproducts Processing. 87: 282-291 (2009)

Shi J, Le Maguer M. Lycopene in tomatoes: Chemical and physical properties affected by food processing. Critical Reviews in Biotechnology. 20: 293-334 (2000)

Simal S, Femenia A, Carcel JA, Rossello C. Mathematical modelling of the drying curves of kiwi fruits: influence of the ripening stage. Journal of the Science of Food and Agriculture. 85: 425-432 (2005)

Takeoka GR, Dao L, Flessa S, Gillespie DM, Jewell WT, Huebner B, Ebeler SE. Processing effects on lycopene content and antioxidant activity of tomatoes. Journal of Agricultural and Food Chemistry. 49: 3713-3717 (2001)

Tan S, Zhao XJ, Yang Y, Ke ZL, Zhou ZQ. Chemical profiling using UPLC Q-Tof/MS and antioxidant activities of fortunella fruits. Journal of Food Science. 81: C1646-C1653 (2016)

Thakur BR, Singh RK, Nelson PE. Quality attributes of processed tomato products: A review. Food Reviews International. 12: 375-401 (1996)

Wojdylo A, Figiel A, Lech K, Nowicka P, Oszmianski J. Effect of convective and vacuum-microwave drying on the bioactive compounds, color, and antioxidant capacity of sour cherries. Food and Bioprocess Technology. 7: 829-841 (2014)

Xiao HW, Pang CL, Wang LH, Bai JW, Yang WX, Gao ZJ. Drying kinetics and quality of Monukka seedless grapes dried in an air-impingement jet dryer. Biosystems Engineering. 105: 233-240 (2010)
Acknowledgements
This research is funded by Chongqing Natural Science Foundation. The project No. is cstc2018jcyjAX0687. The authors also gratefully thank the research projects of commission of science and technology in Chongqing (KJQN201801437).
Additional information
Publisher's Note
Springer Nature remains neutral with regard to jurisdictional claims in published maps and institutional affiliations.
About this article
Cite this article
Tan, S., Miao, Y., Xiang, H. et al. Effects of air-impingement jet drying on drying kinetics and quality retention of tomato slices. Food Sci Biotechnol 30, 691–699 (2021). https://doi.org/10.1007/s10068-021-00904-0
Received:

Revised:

Accepted:

Published:

Issue Date:
Keywords
Tomato

Air-impingement jet drying

Drying kinetics

Lycopene

Antioxidant activity