Abstract
Co-fermentation using yeast (Saccharomyces cerevisiae and Pichia kudriavzevii) and the bacteria (Lactobacillus plantarum) as starters isolated from spontaneous sourdough was conducted for the brewing of glucuronic acid (GlcA)-enriched apple cider. The concentration of GlcA in the apple cider co-fermented for 14 d with commercial S. cerevisiae and L. plantarum was 37.7 ± 1.7 mg/mL while a concentration of 62.8 ± 3.1 mg/mL was recorded for fermentation with P. kudriavzevii and L. plantarum, which was higher than the corresponding single yeast fermentation. The co-fermented apple cider revealed higher 2,2-diphenyl-1-picrylhydrazyl (DPPH) radical scavenging activity of 171.67 ± 0.79 µg trolox equivalents (TE)/mL using P. kudriavzevii and L. plantarum, compared to the control (143.89 ± 7.07 µg TE/mL) just using S. cerevisiae. Thus, the co-fermentation of S. cerevisiae and L. plantarum and P. kudriavzevii and L. plantarum provided a new strategy for the development of GlcA-enriched apple cider with enhanced antioxidant capacity.
Access options
Buy single article
Instant access to the full article PDF.
US$ 39.95
Tax calculation will be finalised during checkout.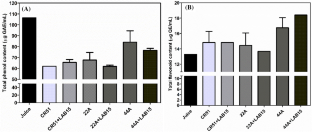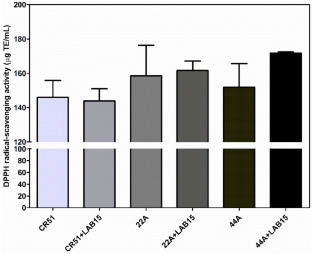 References
Alberti A, Santos T, Zielinski A, Santos C, Braga C, Demiate I, Nogueira A. Impact on chemical profile in apple juice and cider made from unripe, ripe and senescent dessert varieties. LWT-Food Science and Technology 65: 436-443 (2016)

Alexander T, Collins TS, Miles C. Comparison of the phenolic profiles of juice and cider derived from machine- and hand-harvested 'brown snout' specialty cider apples in Northwest Washington. Horttechnology 29: 423-433 (2019)

Alonso-Salces RM, Barranco A, Abad B, Berrueta LA, Gallo B, Vicente F. Polyphenolic profiles of Basque cider apple cultivars and their technological properties. Journal of Agricultural and Food Chemistry 52: 2938-2952 (2004)

Anand V, Kataria M, Kukkar V, Saharan V, Choudhury PK. The latest trends in the taste assessment of pharmaceuticals. Drug Discovery Today 12: 257-265 (2007)

Benvenutti L, Bortolini DG, Nogueira A, Zielinski AAF, Alberti A. Effect of addition of phenolic compounds recovered from apple pomace on cider quality. LWT 100: 348-354 (2019)

Cai W, Tang F, Shan C, Hou Q, Zhang Z, Dong Y, Guo Z. Pretreatment methods affecting the color, flavor, bioactive compounds, and antioxidant activity of jujube wine. Food Science & Nutrition 8: 4965-4975 (2020)

Capece A, Romaniello R, Pietrafesa A, Siesto G, Pietrafesa R, Zambuto M, Romano P. Use of Saccharomyces cerevisiae var. boulardii in co-fermentations with S. cerevisiae for the production of craft beers with potential healthy value-added. International Journal of Food Microbiology 284: 22-30 (2018)

Catzeddu P. Flour and breads and their fortification in health and disease prevention (second edition). Chapter 14 - Sourdough breads. In V. R. Preedy & R. R. Watson (Eds.):177-188 (2019)

Cerda-Tapia A, Perez-Chabela Mde L, Perez-Alvarez JA, Fernandez-Lopez J, Viuda-Martos M. Valorization of pomace powder obtained from native Mexican apple (Malus domestica var. rayada): chemical, techno-functional and antioxidant properties. Plant Foods for Human Nutrition 70: 310-316 (2015)

Ciani M, Canonico L, Oro L, Comitini F. 14 - Footprint of nonconventional yeasts and their contribution in alcoholic fermentations. Biotechnological Progress and Beverage Consumption. Academic Press 435–465 (2020)

Coulibaly WH, Bouatenin KMJP, Kouamé AK, Camara F, Bi YCT, Toka DM, Joel S, Cot M, Djè KM. Use of non-Saccharomyces yeast strains as starter cultures to enhance fermented mango juice production. Scientific African 7: e00226 (2020)

Cousin FJ, Le Guellec R, Schlusselhuber M, Dalmasso M, Laplace JM, Cretenet M. Microorganisms in fermented apple beverages: current knowledge and future directions. Microorganisms 5: 39 (2017)

Deželak M, Zarnkow M, Becker T, Košir IJ. Processing of bottom-fermented gluten-free beer-like beverages based on buckwheat and quinoa malt with chemical and sensory characterization. Journal of the Institute of Brewing 120: 360-370 (2014)

Dierings LR, Braga CM, da Silva KM, Wosiacki G, Nogueira A. Population dynamics of mixed cultures of yeast and lactic acid bacteria in cider conditions. Brazilian Archives of Biology and Biotechnology 56: 837-847 (2013)

Heard G. Novel yeasts in winemaking-looking to the future. Food Australia 51: 347-352 (1999)

Hur J, Nguyen TTH, Park N, Kim J, Kim D. Characterization of quinoa (Chenopodium quinoa) fermented by Rhizopus oligosporus and its bioactive properties. AMB Express 8 (2018)

Jin J, Nguyen TTH, Humayun S, Park S, Oh H, Lim S, Mok IK, Li Y, Pal K, Kim D. Characteristics of sourdough bread fermented with Pediococcus pentosaceus and Saccharomyces cerevisiae and its bio-preservative effect against Aspergillus flavus. Food Chemistry 345: 128787 (2020)

Jolicoeur C. The new cider maker's handbook: a comprehensive guide for craft producers. Chelsea Green Publishing (2013)

Kallithraka S, Kim D, Tsakiris A, Paraskevopoulos I, Soleas G. Sensory assessment and chemical measurement of astringency of Greek wines: correlations with analytical polyphenolic composition. Food Chemistry 126: 1953-1958 (2011)

Kandylis P, Pissaridi K, Bekatorou A, Kanellaki M, Koutinas AA. Dairy and non-dairy probiotic beverages. Current Opinion in Food Science 7: 58-63 (2016)

Kim H, Kim JS, Kim Y, Jeong Y, Kim JE, Paek NS, Kang CH (2020) Antioxidant and probiotic properties of Lactobacilli and Bifidobacteria of human origins. Biotechnology and Bioprocess Engineering 25: 421-430 (2020)

Kim S, Auh J. Evaluating the engineered Saccharomyces cerevisiae with high spermidine contents for increased tolerance to lactic, succinic, and malic acids and increased xylose fermentation. Biotechnology and Bioprocess Engineering 26: 47-54 (2020)

Laaksonen O, Kuldjarv R, Paalme T, Virkki M, Yang B. Impact of apple cultivar, ripening stage, fermentation type and yeast strain on phenolic composition of apple ciders. Food Chemistry 233: 29-37 (2017)

Leal JM, Suarez LV, Jayabalan R, Oros JH, Escalante-Aburto A. A review on health benefits of kombucha nutritional compounds and metabolites. CyTA-Journal of Food 16: 390-399 (2018)

Lee K, Kim Y, Kim D, Lee H, Lee C. Major phenolics in apple and their contribution to the total antioxidant capacity. Journal of Agricultural and Food Chemistry 51: 6516-6520 (2003)

Leroy F, De Vuyst L. Lactic acid bacteria as functional starter cultures for the food fermentation industry. Trends in Food Science & Technology 15: 67-78 (2004)

Li CX, Zhao XH, Zuo WF, Zhang TL, Zhang ZY, Chen XS. The effects of simultaneous and sequential inoculation of yeast and autochthonous Oenococcus oeni on the chemical composition of red-fleshed apple cider. LWT 124: 109184 (2020)

Lorenzini M, Simonato B, Slaghenaufi D, Ugliano M, Zapparoli G. Assessment of yeasts for apple juice fermentation and production of cider volatile compounds. LWT 99: 224-230 (2019)

Martinez-Leal J, Ponce-Garcia N, Escalante-Aburto A. Recent evidence of the beneficial effects associated with glucuronic acid contained in kombucha beverages. Current Nutrition Reports 9: 163-170 (2020)

Masuko T, Minami A, Iwasaki N, Majima T, Nishimura SI, Lee YC. Carbohydrate analysis by a phenol–sulfuric acid method in microplate format. Analytical Biochemistry 339: 69-72 (2005)

Miles C, Alexander T, Peck G, Galinato S, Gottschalk C, Nocker S. Growing apples for hard cider production in the United States—trends and research opportunities. Horttechnology 1-8 (2020)

Ordóñez JL, Sainz F, Callejon RM, Troncoso AM, Torija MJ, Garcia-Parrilla MC. Impact of gluconic fermentation of strawberry using acetic acid bacteria on amino acids and biogenic amines profile. Food Chemistry 178: 221-228 (2015)

Othman L, Sleiman A, Abdel-Massih RM. Antimicrobial activity of polyphenols and alkaloids in middle eastern plants. Frontiers in Microbiology 10: 911 (2019)

Robards K, Prenzler PD, Tucker G, Swatsitang P, Glover W. Phenolic compounds and their role in oxidative processes in fruits. Food Chemistry 66: 401-436 (1999)

Sanchez A, Coton M, Coton E, Herrero M, Garcia LA, Diaz M. Prevalent lactic acid bacteria in cider cellars and efficiency of Oenococcus oeni strains. Food Microbiology 32: 32-37 (2012)

Satora P, Sroka P, Duda-Chodak A, Tarko T, Tuszyński T. The profile of volatile compounds and polyphenols in wines produced from dessert varieties of apples. Food Chemistry 111: 513-519 (2008)

Singh OV, Kumar R. Biotechnological production of gluconic acid: future implications. Applied Microbiology and Biotechnology 75: 713-722 (2007)

Tahara Y, Toko K. Electronic tongues-a review. Ieee Sensors Journal 13: 3001-3011 (2013)

Tarko T, Kostrz M, Duda-Chodak ADA, Semik-Szczurak D, Sroka P, Senczyszyn T. The effect of apple cultivars and yeast strains on selected quality parameters and antioxidant activity of fermented apple beverages. CyTA-Journal of Food 16: 892-900 (2018)

Wang D, Xu Y, Hu J, Zhao G. Fermentation kinetics of different sugars by apple wine yeast Saccharomyces cerevisiae. Journal of the Institute of Brewing 110: 340-346 (2004)

Wang Z, Xu K, Cai R, Yue T, Yuan Y, Gao Z. Construction of recombinant fusant yeasts for the production of cider with low alcohol and enhanced aroma. European Food Research and Technology 246: 745-757 (2020)

Wei G, Regenstein J, Liu X, Zhou P. Comparative aroma and taste profiles of oil furu (soybean curd) fermented with different mucor strains. Journal of Food Science 85: 1642-1650 (2020)

Wu C, Li T, Qi J, Jiang T, Xu H, Lei H. Effects of lactic acid fermentation-based biotransformation on phenolic profiles, antioxidant capacity and flavor volatiles of apple juice. LWT 122: 109064 (2020)

Ye M, Yue T, Yuan Y. Evolution of polyphenols and organic acids during the fermentation of apple cider. Journal of the Science of Food and Agriculture 94: 2951-2957 (2014)

Zhao H, Chen W, Lu J, Zhao M. Phenolic profiles and antioxidant activities of commercial beers. Food Chemistry 119: 1150-1158 (2010)
Acknowledgements
The study was financially supported by the Shandong Provincial Government-University Joint Training Program (2019-27-f2-87) for visiting scholars, the Advanced Talents Foundation of Qingdao Agricultural University (663-1118006), and was partially supported by a grant from National Research Foundation of Korea (2018R1D1A1B07049569, TTH Nguyen, 2018R1D1A1A09083366, D Kim, NRF-2018R1C1B6006348, I Mok). This research was also partially supported by the Nuclear R&D program of Ministry of Science and ICT (MSIT), Republic of Korea, and by the Korean Institute of Planning and Evaluation for Technology in Food, Agriculture, Forestry, and Fisheries (IPET) through the Agriculture, Food and Rural Affairs Convergence Technologies Program for Educating Creative Global Leader, funded by the Ministry of Agriculture, Food, and Rural Affairs (MAFRA) (D. Kim, 710012-03-1-HD220), and by the OTTOGI Corporation through the Research and Publication Project.
Ethics declarations
Conflict of interest
The authors declare that they have no conflict of interest.
Additional information
Publisher's Note
Springer Nature remains neutral with regard to jurisdictional claims in published maps and institutional affiliations.
About this article
Cite this article
Li, Y., Nguyen, T.T.H., Jin, J. et al. Brewing of glucuronic acid-enriched apple cider with enhanced antioxidant activities through the co-fermentation of yeast (Saccharomyces cerevisiae and Pichia kudriavzevii) and bacteria (Lactobacillus plantarum). Food Sci Biotechnol (2021). https://doi.org/10.1007/s10068-021-00883-2
Received:

Revised:

Accepted:

Published:
Keywords
Glucuronic acid

Co-fermentation

Lactobacillus plantarum

Antioxidant activity

Apple cider