Abstract
Isolated soy protein, wheat gluten, and starch at ratio 5:4:1 were texturized under different moisture contents (40 and 50%) and die temperature (130 and 150 °C) by the twin-screw extruder. Physicochemical properties were firstly studied. These textured vegetable proteins (TVPs) were used to form 100% plant-based burger patties. Cooking and textural features were secondly investigated. TVP at 50% moisture content and 130 °C die temperature represented the highest water absorption capacity and integrity index but the lowest solubility among TVPs. Cooking loss and shrinkage in diameter and thickness, cohesiveness, chewiness, hardness, and cutting strength of TVP meatless burger patties were significantly lower than that commercial meat patty, while moisture retention and springiness of TVP meatless burger patties were higher (p < 0.05). Our results found that the texture of patty made with TVP at 50% moisture content and 130 °C die temperature was the most similarity to commercial meat patty.
Access options
Buy single article
Instant access to the full article PDF.
US$ 39.95
Tax calculation will be finalised during checkout.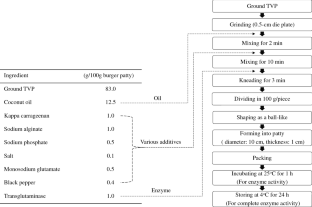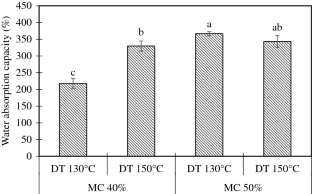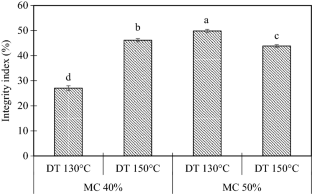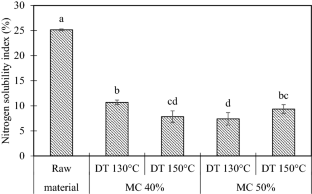 References
Angor MM, Al-abdullah BM. Attributes of low-fat beef burgers made from formulations aimed at enhancing product quality. Journal of Muscle Foods 21: 317-326 (2010)

Apostolidis C, McLeay F. Should we stop meating like this? Reducing meat consumption through substitution. Food Policy 65: 74-89 (2016)

Asgar MA, Fazilah A, Huda N, Bhat R, Karim AA. Nonmeat protein alternatives as meat extenders and meat analogs. Comprehensive Reviews in Food Science and Food Safety 9: 513-529 (2010)

Baer AA, Dilger AC. Effect of fat quality on sausage processing, texture, and sensory characteristics. Meat Science 96: 1242-1249 (2014)

Brewer MS. Reducing the fat content in ground beef without sacrificing quality: A review. Meat Science 91: 385-395 (2012)

Carvalho GRD, Milani TMG, Trinca NRR, Nagai LY, Barretto ACDS. Textured soy protein, collagen and maltodextrin as extenders to improve the physicochemical and sensory properties of beef burger. Food Science and Technology 37: 10-16 (2017)

Cassini AS, Marczak LDF, Noreña CPZ. Drying characteristics of textured soy protein: A comparison between three different products. Drying Technology 25: 2047-2054 (2007)

Crowe TW, Johnson LA. Twin-screw extrusion texturization of extruded-expelled soybean flour. Journal of the American Oil Chemists' Society 78: 781-786 (2001)

Daun JK, DeClercq DR. Comparison of combustion and Kjeldahl methods for determination of nitrogen in oilseeds. Journal of the American Oil Chemists' Society 71: 1069-1072 (1994)

Drake SR, Kluter RA, Hinnergardt LC. Textured soy protein improves quality of freeze-dried beef patties. Food Technology 31: 24-30 (1977)

Forghani Z, Eskandari MH, Aminlari M, Shekarforoush SS. Effects of microbial transglutaminase on physicochemical properties, electrophoretic patterns and sensory attributes of veggie burger. Journal of Food Science and Technology 54: 2203-2213 (2017)

Gujral HS, Kaur A, Singh N, Sodhi NS. Effect of liquid whole egg, fat and textured soy protein on the textural and cooking properties of raw and baked patties from goat meat. Journal of Food Engineering 53: 377-385 (2002)

Hale AB, Carpenter CE, Walsh MK. Instrumental and consumer evaluation of beef patties extended with extrusion-textured whey proteins. Journal of Food Science 67: 1267-1270 (2002)

Heywood AA, Myers DJ, Bailey TB, Johnson LA. Effect of value-enhanced texturized soy protein on the sensory and cooking properties of beef patties. Journal of the American Oil Chemists' Society 79: 703-707 (2002)

Hollenbeck JJ, Apple JK, Yancey JWS, Johnson TM, Kerns KN, Young AN. Cooked color of precooked ground beef patties manufactured with mature bull trimmings. Meat Science 148: 41-49 (2019)

Kassama LS, Ngadi MO, Raghavan GSV. Structural and instrumental textural properties of meat patties containing soy protein. International Journal of Food Properties 6: 519-529 (2003)

Khaw KT, Sharp SJ, Finikarides L, Afzal I, Lentjes M, Luben R, Forouhi NG. Randomised trial of coconut oil, olive oil or butter on blood lipids and other cardiovascular risk factors in healthy men and women. BMJ Open 8: 1-14 (2018)

Kumar M, Sharma BD, Kumar RR. Evaluation of sodium alignate as a fat replacer on processing and shelf-life of low-fat ground pork patties. Asian-Australasian Journal of Animal Sciences 20: 588–597 (2007)

Li M, Lee TC. Effect of cysteine on the functional properties and microstructures of wheat flour extrudates. Journal of Agricultural and Food Chemistry 44: 1871-1880 (1996)

Lin S, Huff HE, Hsieh F. Extrusion process parameters, sensory characteristics, and structural properties of a high moisture soy protein meat analog. Journal of Food Science 67: 1066-1072 (2002)

Long N, Gál R, Buňka F. Use of phosphates in meat products. African Journal of Biotechnology 10: 19874-19882 (2012)

Luciano FB, Arntfield SD. Use of transglutaminases in foods and potential utilization of plants as a transglutaminase source – Review. Biotemas 25: 1-11(2012)

Ma X, Gu BY, Ryu GH. Optimization of extrusion variables for improving the qualities of textured vegetable protein with green tea using response surface methodology. Food Engineering Progress 22: 1-8 (2018)

Nisar PU, Chatli MK, Sharma DK, Sahoo J. Effect of cooking methods and fat levels on the physico-chemical, processing, sensory and microbial quality of buffalo meat patties. Asian-Australasian Journal of Animal Sciences 23: 1380-1385 (2010)

Puolanne EJ, Terrell RN. Effects of salt levels in prerigor blends and cooked sausages on water binding, released fat and pH. Journal of Food Science 48: 1022-1024 (1983)

Riaz MN. Texturized soy protein as an ingredient. pp 517-558. In: Proteins in food processing. Yada RY (ed). CRC Press, England, (2004)

Samard S, Gu B, Ryu G. Effects of extrusion types, screw speed and addition of wheat gluten on physicochemical characteristics and cooking stability of meat analogues. Journal of the Science of Food and Agriculture 99: 4922-4931 (2019)

Samard S, Ryu G. A comparison of physicochemical characteristics , texture, and structure of meat analogue and meats. Journal of the Science of Food and Agriculture 99: 2708-2715 (2019)

Starcher B. A ninhydrin-based assay to quantitate the total protein content of tissue samples. Analytical Biochemistry 292: 125-129 (2001)

Taylor BJ, Walsh MK. Development and sensory analysis of a textured whey protein meatless patty. Journal of Food Science 67: 1555-1558 (2002)

Tuso P, Stoll SR, Li WW. A plant-based diet, atherogenesis, and coronary artery disease prevention. The Permanente Journal 19: 62-67 (2015)

Velioǧlu HM, Velioǧlu SD, Boyaci IH, Yilmaz I, Kurultay Ş. Investigating the effects of ingredient levels on physical quality properties of cooked hamburger patties using response surface methodology and image processing technology. Meat Science 84: 477-483 (2010)

Verma AK, Banerjee R, Sharma BD. Quality of low fat chicken nuggets: Effect of sodium chloride replacement and added chickpea (Cicer arietinum L.) hull flour. Asian-Australasian Journal of Animal Sciences 25: 291-298 (2012)

Wan Rosli WI, Solihah MA, Aishah M, Nik Fakurudin NA, Mohsin SSJ. Colour, textural properties, cooking characteristics and fibre content of chicken patty added with oyster mushroom (Pleurotus sajor-caju). International Food Research Journal 18: 621-627 (2011)

Wang N, Bhirud PR, Tyler TR. Extrusion texturization of air‐classified pea protein. Journal of Food Science 64: 509-513 (1999)
Acknowledgements
This research was supported by the research grant of the Kongju National University in 2020.
Additional information
Publisher's Note
Springer Nature remains neutral with regard to jurisdictional claims in published maps and institutional affiliations.
About this article
Cite this article
Samard, S., Maung, TT., Gu, BY. et al. Influences of extrusion parameters on physicochemical properties of textured vegetable proteins and its meatless burger patty. Food Sci Biotechnol 30, 395–403 (2021). https://doi.org/10.1007/s10068-021-00879-y
Received:

Revised:

Accepted:

Published:

Issue Date:
Keywords
Patty

Textured vegetable protein

Extrusion

Physicochemical property

Plant protein