Abstract
Water soluble propolis was prepared using β–cyclodextrin, and its effect on an ethanol-induced hangover was examined in Sprague–Dawley (SD) rats fed with ethanol. When SD rats were administrated with propolis 30 min after ethanol feeding, ethanol content in the rat serum decreased 2.1 times 1 h after ethanol feeding. Alcohol dehydrogenase (ADH) and aldehyde dehydrogenase (ALDH) activity in rat liver increased 3.0 and 4.4 times, respectively, 1 h after ethanol feeding and administration of propolis 30 min after ethanol feeding. There were no differences in the expression of ADH and ALDH genes regardless of propolis administration. These results indicated that a decrease in ethanol content in the serum was not due to an increase in the expression of ADH or ALDH genes but rather, an increase in activities of ADH and ALDH.
Access options
Buy single article
Instant access to the full article PDF.
US$ 39.95
Tax calculation will be finalised during checkout.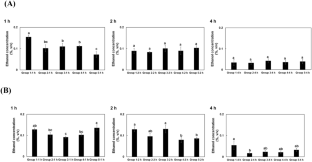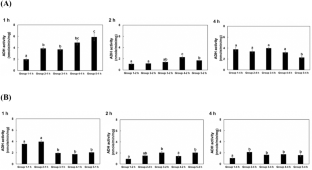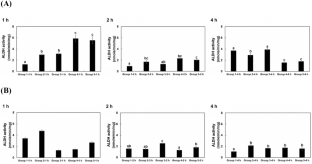 References
Anderson SM, McClearn GE, Erwin VG. Ethanol consumption and hepatic enzyme activity. Pharmacol. Biochem. Behav. 11: 83-88 (1979)

Bankova V, de Castro SL, Marcucci MC. Propolis: recent advances in chemistry and plant origin. Apidologie 31: 3-15 (2000)

Boo HO, Lee HH, Lee JW, Hwang SJ, Park SU. Different of total phenolics and flavonoids, radical scavenging activities and nitrite scavenging effects of Momordica charantia L. according to cultivars. Korean J. Med. Crop Sci. 17: 15-20 (2009)

Burdock GA. Review of the biological properties and toxicity of bee propolis (propolis). Food Chem. Toxicol. 36: 347-363 (1998)

Calder I. Hangovers. BMJ 314: 2-3 (1997)

Chang CC, Yang MH, Wen HM, Chern JC. Estimation of total flavonoid content in propolis by two complementary colorimetric methods. J. Food Drug Anal. 10: 178-182 (2002)

Duca A, Sturza A, Moacă EA, Negrea M, Lalescu VD, Lungeanu D, Dehelean CA, Muntean DM, Alexa E. Identification of resveratrol as bioactive compound of propolis from Western Romania and characterization of phenolic profile and antioxidant activity of ethanolic extracts. Molecules 24: 3368 (2019)

Falcão SI, Vilas-Boas M, Estevinho LM, Barros C, Domingues MRM, Cardoso SM. Phenolic characterization of Northeast Portuguese propolis: usual and unusual compounds. Anal. Bioanal. Chem. 396: 887-897 (2010)

Foster WH, Vaughan RD. Absenteeism and business costs: does substance abuse matter? J. Subst. Abuse Treat. 28: 27-33 (2005)

He L, Ronis MJJ, Badger TM. Ethanol induction of class I alcohol dehydrogenase expression in the rat occurs through alterations in CCAAT/enhancer binding proteins β and γ. J. Biol. Chem. 277: 43572-43577 (2002)

Hong IP, Woo SO, Han SM, Yeo JH, Cho ML. Germination and antioxidant activity of Korean oak pollen treated with medicinal mushrooms. Kor. J. Mycol. 42: 165-169 (2014)

Isla MI, Craig A, Ordoñez R, Zampini C, Sayago J, Bedascarrasbure E, Alvarez A, Salomón V, Maldonado L. Physico chemical and bioactive properties of honeys from Northwestern Argentina. LWT - Food Sci. Technol. 44: 1922-1930 (2011)

Jelski W, Szmitkowski M. Alcohol dehydrogenase (ADH) and aldehyde dehydrogenase (ALDH) in the cancer diseases. Clinica Chimica Acta 395: 1-5 (2008)

Jo YO, Koo SJ, Choi IS, Kong YH, Choi SY. Effects of Camellia sinensis extracts on the antioxidant system and alcohol down–regulation enzymes in sub–acute ethanol treated ICR mice. J. Korean Soc. Food Sci. Nutr. 36: 1134-1139 (2007)

Jörnvall H, Hedlund J, Bergman T, Kallberg Y, Cederlund E, Persson B. Origin and evolution of medium chain alcohol dehydrogenases. Chem.-Biol. Interact. 202: 91-96 (2013)

Jung YJ, Han DO, Choi BH, Park C, Lee H, Kim SH, Hahm DH. Effect of fermented herbal extracts, HP-1 on enzyme activities and gene expressions related to alcohol metabolism in ethanol-loaded rats. J. Physiol. & Pathol. Korean Med. 21: 387-391 (2007)

Kim NH, Sung SH, Heo JD, Jeong EJ. The extract of Limonium tetragonum protected liver against acute alcohol toxicity by enhancing ethanol metabolism and antioxidant enzyme activities. Nat. Prod. Sci. 21: 54-58 (2015)

Li L, Wu Y, Yin F, Feng Q, Dong X, Zhang R, Yin Z, Luo L. Fructose 1, 6–diphosphate prevents alcohol–induced liver injury through inhibiting oxidative stress and promoting alcohol metabolism in mice. Eur. J. Pharmacol. 815: 274-281 (2017)

Loguercio C, Piscopo P, Guerriero C, De Girolamo V, Disalvo D, Del Vecchio Blanco C. Effect of alcohol abuse and glutathione administration on the circulating levels of glutathione and on antipyrine metabolism in patients with alcoholic liver cirrhosis. Scand. J. Clin. Lab. Invest. 56: 441-447 (1996)

Marcucci MC. Propolis: chemical composition, biological properties and therapeutic activity. Apidologie 26: 83-99 (1995)

Meda A, Lamien CE, Romito M, Millogo J, Nacoulma OG. Determination of the total phenolic, flavonoid and proline contents in Burkina Fasan honey, as well as their radical scavenging activity. Food Chem. 91: 571-577 (2005)

Moreno MIN, Isla MI, Sampietro AR, Vattuone MA. Comparison of the free radical-scavenging activity of propolis from several regions of Argentina. J. Ethnopharmacol. 71: 109-114 (2000)

Piasecki TM, Sher KJ, Slutske WS, Jackson KM. Hangover frequency and risk for alcohol use disorders: evidence from a longitudinal high-risk study. J. Abnorm. Psychol. 114: 223-234 (2005)

Pittler MH, Verster JC, Ernst E. Interventions for preventing or treating alcohol hangover: systematic review of randomised controlled trials. BMJ 331: 1515-1518 (2005)

Prat G, Adan A, Pérez-Pámies M, Sánchez-Turet M. Neurocognitive effects of alcohol hangover. Addict. Behav. 33: 15-23 (2008)

Prat G, Adan A, Sánchez-Turet M. Alcohol hangover: a critical review of explanatory factors. Hum. Psychopharmacol. Clin. Exp. 24: 259-267 (2009)

Salatino A, Teixeira ÉW, Negri G, Message D. Origin and chemical variation of Brazilian propolis. Evid.-Based Complementary Altern. Med. 2: 33-38 (2005)

Seo JY, Kim SS, Kim JS. Enhancement of alcohol metabolism by sprouted peanut extract in SD rats. Prev. Nutr. Food Sci. 19: 1-4 (2014)

Shi P, Chen B, Chen C, Xu J, Shen Z, Miao X, Yao H. Honey reduces blood alcohol concentration but not affects the level of serum MDA and GSH-Px activity in intoxicated male mice models. BMC Complement Altern Med. 15: 225 (2015)

Silici S, Kutluca S. Chemical composition and antibacterial activity of propolis collected by three different races of honeybees in the same region. J. Ethnopharmacol. 99: 69-73 (2005)

Simões LMC, Gregório LE, Da Silva Filho AA, de Souza ML, Azzolini AECS, Bastos JK, Lucisano-Valim YM. Effect of Brazilian green propolis on the production of reactive oxygen species by stimulated neutrophils. J. Ethnopharmacol. 94: 59-65 (2004)

Siripatrawan U, Vitchayakitti W, Sanguandeekul R. Antioxidant and antimicrobial properties of Thai propolis extracted using ethanol aqueous solution. Int. J. Food Sci. Technol. 48: 22-27 (2013)

Srinivasan S, Dubey KK, Singhal RS. Influence of food commodities on hangover based on alcohol dehydrogenase and aldehyde dehydrogenase activities. Curr. Res. Nutr. Food Sci. 1: 8-16 (2019)

Swift R, Davidson D. Alcohol hangover: Mechanisms and mediators. Alcohol Health Res. World 22: 54-60 (1998)

Verster JC, Penning R. Treatment and prevention of alcohol hangover. Curr. Drug Abuse Rev. 3: 103-109 (2013)

Viuda-Martos M, Ruiz-Navajas Y, Fernández-López J, Pérez-Álvarez JA. Functional properties of honey, propolis, and royal jelly. J. Food Sci. Tech. 73: R117-R124 (2008)

Wiese JG, Shlipak MG, Browner WS. The alcohol hangover. Ann. Intern. Med. 132: 897-902 (2000)

Yamasaki K, Sugamoto K, Arakawa T, Nishiyama K, Yamasaki M. Chronic intake of high–dose of blueberry leaf extract does not augment the harmful effects of ethanol in rats. PeerJ 7: e6989 (2019)

Yang HJ, Kim MJ, Kang ES, Kim DS, Park S. Red mulberry fruit aqueous extract and silk protein accelerate acute ethanol metabolism and promote the anti-oxidant enzyme systems in rats. Mol. Med. Rep. 18: 1197-1205 (2018)

Yin SJ, Liao CS, Wu CW, Li TT, Chen LL, Lai CL, Tsao TY. Human stomach alcohol and aldehyde dehydrogenases: comparison of expression pattern and activities in alimentary tract. Gastroenterology 112: 766-775 (1997)

Yoon M, Madden MC, Barton HA. Developmental expression of aldehyde dehydrogenase in rat: a comparison of liver and lung development. Toxicol. Sci. 8: 386-398 (2005)
Acknowledgments
This work (Grant No. C0276516) was supported by Business for Cooperative R&D between Industry, Academy, and Research Institute funded Korea Small and Medium Business Administration in 2015.
Ethics declarations
Conflicts of interest
The authors declare that they have no conflict of interest.
Additional information
Publisher's Note
Springer Nature remains neutral with regard to jurisdictional claims in published maps and institutional affiliations.
About this article
Cite this article
Lee, S., Park, YS. Effect of water-soluble propolis administration on the ethanol-induced hangover in rats. Food Sci Biotechnol 30, 455–463 (2021). https://doi.org/10.1007/s10068-020-00869-6
Received:

Revised:

Accepted:

Published:

Issue Date:
Keywords
Propolis

Water soluble propolis

Hangover-relieving drink

Alcohol dehydrogenase

Aldehyde dehydrogenase