Abstract
The asparagus of Triarrhena lutarioriparia (TL) is a popular vegetable with abundant chemical compounds in China. This study aims to optimize the ultrasound-assisted extraction (UAE) method for its content of total flavonoid and antioxidant activities by response surface methodology (RSM). Box-Behnken design was adopted to evaluate the influences of ethanol concentration, extraction time and solvent-to-sample ratio on the extraction yield of total flavonoid and the antioxidant activity. Considering the maximum content of extracted total flavonoids and antioxidant activity, the optimal extraction conditions were acquired with 70% (v/v) ethanol by UAE for 60 min at a solvent-to-sample ratio of 40 mL/g. The proportion of the extraction of total flavonoid was 15.88 mg/g and antioxidant activity reached 79.53%. The RSM would be recommended as an appropriate model for simultaneous optimization of the UAE conditions for the content of total flavonoid and the antioxidant activity of asparagus of TL.
Access options
Buy single article
Instant access to the full article PDF.
US$ 39.95
Tax calculation will be finalised during checkout.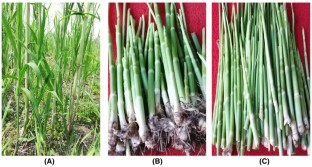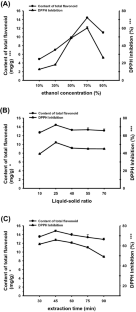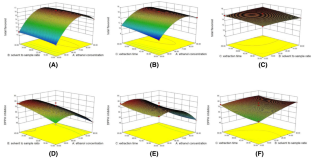 References
Ahmad A, Alkharfy KM, Wani TA, Raish M. Application of Box-Behnken design for ultrasonic-assisted extractionof polysaccharides from Paeonia emodi. Int. J. Biol. Macromol. 72: 990-997 (2015)

Babamoradi N, Yousefi S, Ziarati P. Optimization of ultrasound-assisted extraction of functional polysaccharides from common mullein (Verbascum thapsus L) flowers. J. Food Process Eng. 41: e12851 (2018)

Chen Y, Yin LZ, Zhao L, Shu G, Yuan ZX, Fu HL, Lv C, Lin JC. Optimization of the ultrasound-assisted extraction of antioxidant phloridzin from Lithocarpus polystachyus Rehd. using response surface methodology. J. Sep. Sci. 40: 4329-4337 (2017)

Chen S, Zeng Z, Hu N, Bai B, Wang H, Suo Y. Simultaneous optimization of the ultrasound-assisted extraction for phenolic compounds content and antioxidant activity of Lycium ruthenicum Murr fruit using response surface methodology. Food Chem. 242: 1-8 (2018)

Dang N, Huang Z, Li H. Advances in biology and applications of fiber plant Triarrhena lutarioriparia. J. Trop. Subtrop. Bot. 20: 418-424 (2012)

Ferreira SL, Bruns RE, Ferreira HS, Matos GD, David JM, Brandaoão GC, da Silva EG, Portugal LA, dos Reis PS, Souza AS, dos Santos WN. Box-Behnken design: an alternative for the optimization of analytical methods. Anal. Chim. Acta. 597: 179-186 (2007)

Hao JY, Wan Y, Yao XH, Zhao WG, Hu RZ, Chen C, Li L, Zhang DY, Wu GH. Effect of different planting areas on the chemical compositions and hypoglycemic and antioxidant activities of mulberry leaf extracts in Southern China. PloS One 13: e0198072 (2018)

He L, Li A, Liu X, Zhou P. The nuclear type pattern of Chromosome of Triarrhena lutarioriparia L. Liu, sp nov.. J. Hunan Agric. Univ. 22: 461-465 (1996)

He L, Zhou P, Liu X. Studies on the autotetraploid of Triarrhena lutarioriparia L Liu sp nov. Acta Genet. Sin. 24: 544-549 (1997)

Hwang KT, Jung ST, Lee GD, Chinnan MS, Park YS, Park HJ. Controlling molecular weight and degree of deacetylation of chitosan by response surface methodology. J. Agric. Food Chem. 50: 1876-1882 (2002)

Jiang B, Liu S, Wang L, Shi Y, Tong Q, Yan J. Optimization of enzymatic extraction process of polysaccharides from asparagus based on antioxidant activities. Hunan J. Tradit. Chin. Med. 35: 157-160 (2019)

Joglekar AM, May AT. Product excellence through design of experiments. Cereal Foods World 32: 857-868 (1987)

Kazemi M, Khodaiyan F, Labbafi M, Saeid Hosseini S, Hojjati M. Pistachio green hull pectin: Optimization of microwave-assisted extraction and evaluation of its physicochemical, structural and functional properties. Food Chem. 271: 663-672 (2019)

Kim JT, Cha DS, Lee GD, Park TW, Kwon DK, Park HJ. Process optimization of sweet potato pulp-based biodegradable plastics using response surface methodology. J. Appl. Polym. Sci. 83: 423-434 (2002)

Li H, Li Y, Zhang Y, Shi H, Hu W, Zhang Z. Comparison of refluxing, ultrasonic-and microwave-assisted extraction of dihydromyricetin from Ampelopsis grossedentata. J. AOAC Int. 91: 1278-1283 (2008)

Liang Y, Liu J, Zhong Q, Shen L, Yao J, Huang T, Zhou T. Determination of major aromatic constituents in vanilla using an on-line supercritical fluid extraction coupled with supercritical fluid chromatography. J. Sep. Sci. 41: 1600-1609 (2018)

Liao Y, Tan Y, Fang Y, Li R. Determination of microelements in Triarrhena lutarioriparia by atomic absorption spectrometry. Centr. South Pharm. 15: 654-657 (2017)

Liao Y, Tan Y, Fang Y, Li R. Effects of different storage methods on total amino acid content in tender stem of Triarrhena lutarioriparia from Yuanjiang. J. Anhui Agric. Sci. 45: 120-121, 128 (2017)

Liu L. Unique paper-making raw materials in China: Triarrhena sacchariflorus. Plants 17: 6-7 (1990)

Liu Y, Chen F, Guo H. Optimization of bayberry juice spray drying process using response surface methodology. Food Sci. Biotechnol. 26: 1235-1244 (2017)

Meng Z, Zhao J, Duan H, Guan Y, Zhao L. Green and efficient extraction of four bioactive flavonoids from Pollen Typhae by ultrasound-assisted deep eutectic solvents extraction. J. Pharm. Biomed. Anal.161: 246-253 (2018)

Nacu-Briciu RD, Cobzac SC, Baciu S. Optimum ultrasound assisted extraction conditions of some flavonoids from green tea leaves. Control quality of green tea product by TLC fingerprinting. Anal. Lett. 44: 2865-2875 (2011)

Nanjing University of Chinese Medicine. Dictionary of Chinese Medicine. 2nd ed. Shanghai Science & Technology Press, China. pp. 1301 (2014)

Pan H, Zhang Q, Cui K, Chen G, Liu X, Wang L. Optimization of extraction of linarin from Flos chrysanthemi indici by response surface methodology and artificial neural network. J. Sep. Sci. 40: 2062-2070 (2017)

Prakash Maran J, Manikandan S, Vigna Nivetha C, Dinesh R. Ultrasound assisted extraction of bioactive compounds from Nephelium lappaceum L. fruit peel using central composite face centered response surface design. Arab. J. Chem. 10: s1145-s1157 (2017)

Riciputi Y, Diaz-de-Cerio E, Akyol H, Capanoglu E, Cerretani L, Caboni MF, Verardo V. Establishment of ultrasound-assisted extraction of phenolic compounds from industrial potato by-products using response surface methodology. Food Chem. 269: 258-263 (2018)

Righi Pessoa da Silva H, da Silva C, Bolanho BC. Ultrasonic-assisted extraction of betalains from red beet (Beta vulgaris L.). J. Food Process Eng. 41: e12833. (2018)

Wang J, Geng Y, Li P, Hu F, Li L. Optimization of ultrasound-assisted extraction procedure to determine total isoflavones in Chinese soybean cheese by Box-Behnken design. Food Anal. Method. 6: 221-226 (2013)

Wu C, Wang F, Liu J, Zou Y, Chen X. A comparison of volatile fractions obtained from Lonicera macranthoides via different extraction processes: ultrasound, microwave, Soxhlet extraction, hydrodistillation, and cold maceration. Integr. Med. Res. 4: 171-177 (2015)

Xiao J, Zhao L, Shi X, Nie C, Deng F. Analysis of nutrients and heavy metals in tender stem of Triarrhena lutarioriparia from the Dongting Lake Area. Food Sci. 36: 104-107 (2015)

Xiao KF, Liao XF, Cui YJ, Ren CS. Study on the new extraction methods of the flavonoids in Lithocarpus polysachyus Rehd. Food Sci. 25: 112-115 (2014)

Zheng LL, Wen G, Yuan MY, Gao F. Ultrasound-assisted extraction of total flavonoids from corn silk and their antioxidant activity. J. Chem. 21: 1-5 (2016)
Acknowledgements
This study was funded by Construct program of the key discipline of Chinese Pharmacy in Hunan Province (No. 2014001); Hunan Provincial Science and Technology Department Foundation (No. 2017SK2123); Hunan Provincial Natural Science Foundation of China (No. 2018JJ3876); Changsha Science and Technology Department Foundation (No. kq1701070); Cooperation fund project of Hunan University of Chinese Medicine and Yuanjiang municipal government (No. 201606).
Ethics declarations
Conflict of interest
We declare that we have no conflict of interest.
Additional information
Publisher's Note
Springer Nature remains neutral with regard to jurisdictional claims in published maps and institutional affiliations.
About this article
Cite this article
Cao, Q., Yan, J., Sun, Z. et al. Simultaneous optimization of ultrasound-assisted extraction for total flavonoid content and antioxidant activity of the tender stem of Triarrhena lutarioriparia using response surface methodology. Food Sci Biotechnol 30, 37–45 (2021). https://doi.org/10.1007/s10068-020-00851-2
Received:

Revised:

Accepted:

Published:

Issue Date:
Keywords
Asparagus of Triarrhena lutarioriparia

Ultrasound-assisted extraction

Total flavonoid

Antioxidant activity

Response surface methodology