Abstract
This study aimed to improve the antimicrobial activity of natural extracts against oral bacteria by synergistic combination and nanoencapsulation. Among five natural antimicrobials: clove oil, thymol, naringin, naringenin, and licorice, clove oil and thymol were selected by comparing the antimicrobial activities against Streptococcus mutans and Streptococcus sobrinus before and after nanoencapsulation. The combination of clove oil and thymol (CLTY) was nanoencapsulated using chitosan and poly-γ-glutamic acid. While free CLTY showed additive and synergistic antimicrobial activity against S. mutans and S. sobrinus, respectively, CLTY nanoparticles (NPs) exhibited synergistic activity against both strains in a time-kill kinetic assay. CLTY NPs significantly decreased the growth of salivary S. mutans during testing, compared with free CLTY in the mouth rinse test. These results indicate that nanoencapsulation can significantly increase the synergistic antimicrobial activity of CLTY and maintain its antimicrobial activity in oral cavities for a longer time.
Access options
Buy single article
Instant access to the full article PDF.
US$ 39.95
Tax calculation will be finalised during checkout.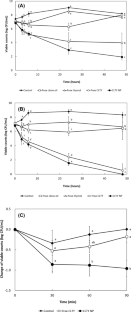 References
Ajagannanavar SL, Battur H, Shamarao S, Sivakumar V, Patil PU, Shanavas P. Effect of aqueous and alcoholic licorice (Glycyrrhiza glabra) root extract against streptococcus mutans and lactobacillus acidophilus in comparison to chlorhexidine: an in vitro study. J. Int. Oral Health. 6: 29-34 (2014)

Anesini C, Ferraro GE, Filip R. Total polyphenol content and antioxidant capacity of commercially available tea (Camellia sinensis) in Argentina. J. Agr. Food Chem. 56: 9225-9229 (2008)

Arunakul M, Thaweboon B, Thaweboon S, Asvanund Y, Charoenchaikorn K. Efficacy of xylitol and fluoride mouthrinses on salivary mutans streptococci. Asian Pac. J. Trop. Biomed. 1: 488-490 (2011)

Bahrami A, Delshadi R, Assadpour E, Jafari SM, Williams L. Antimicrobial-loaded nanocarriers for food packaging applications. Adv. Colloid Interface Sci. 278: 102140 (2020)

Bhawana, Basniwal RK, Buttar HS, Jain VK, Jain N. Curcumin nanoparticles: preparation, characterization, and antimicrobial study. J. Agr. Food Chem. 59: 2056-2061 (2011)

Bidault PD, Chandad F, Grenier D. Risk of bacterial resistance associated with systemic antibiotic therapy in periodontology. J. Can. Den. Assoc. 73: 721-725 (2007)

Botelho M, Nogueira N, Bastos G, Fonseca S, Lemos T, Matos F, Montenegro D, Heukelbach J, Rao V, Brito G. Antimicrobial activity of the essential oil from Lippia sidoides, carvacrol and thymol against oral pathogens. Braz. J. Med. Biol. Res. 40: 349-356 (2007)

Buescher JM, Margaritis A. Microbial biosynthesis of polyglutamic acid biopolymer and applications in the biopharmaceutical, biomedical and food industries. Crit. Rev. Biotechnol. 27: 1-19 (2007)

Cha S-M, Kim G-U, Cha J-D. Synergistic antimicrobial activity of apigenin against oral pathogens. Int. J. Eng. Res. Sci. 2: 27-37 (2016)

Claydon N, Addy M, Adams G, Smith S, Bosma M, North M, Moran J. A comparison of two chlorhexidine gel brushing regimens and a conventional toothpaste brushing regimen for the development of tooth staining over a 6-week period. Int. J. Dent. Hyg. 4: 183-188 (2006)

de Carvalho FG, Silva DS, Hebling J, Spolidorio LC, Spolidorio DMP. Presence of mutans streptococci and Candida spp. in dental plaque/dentine of carious teeth and early childhood caries. Arch. Oral Biol. 51: 1024-1028 (2006)

Ekstrand K, Bruun G, Bruun M. Plaque and gingival status as indicators for caries progression on approximal surfaces. Caries research 32: 41-45 (1997)

Eliopoulos G, Eliopoulos C. Antibiotic combinations: should they be tested? Clin. Microbiol. Rev. 1: 139-156 (1988)

Eslami H, Ariamanesh N, Ariamanesh A, Kafil HS. Synergistic effect of honey and Azarian propolis on oral microorganisms: an in vitro study. J. Adv. Oral Res. 7: 31-36 (2016)

Fani M, Kohanteb J. In vitro antimicrobial activity of Thymus vulgaris essential oil against major oral pathogens. J. Evidence-Based Complementary Altern. Med. 22: 660-666 (2017)

Fu Y, Zu Y, Chen L, Shi X, Wang Z, Sun S, Efferth T. Antimicrobial activity of clove and rosemary essential oils alone and in combination. Phytother. Res. 21: 989-994 (2007)

Gafner S, Bergeron C, Villinski JR, Godejohann M, Kessler P, Cardellina JH, Ferreira D, Feghali K, Grenier D. Isoflavonoids and coumarins from Glycyrrhiza uralensis: antibacterial activity against oral pathogens and conversion of isoflavans into isoflavan-quinones during purification. J. Nat. Prod. 74: 2514-2519 (2011)

Jeon YO, Lee J-S, Lee HG. Improving solubility, stability, and cellular uptake of resveratrol by nanoencapsulation with chitosan and γ-poly (glutamic acid). Colloids Surf. B Biointerfaces. 147: 224-233 (2016)

Jeong M-R, Kim H-Y, Cha J-D. Antimicrobial activity of methanol extract from Ficus carica leaves against oral bacteria. J. Bacteriol. Virol. 39: 97-102 (2009)

Kim ES, Lee J-S, Lee HG. Nanoencapsulation of red ginseng extracts using chitosan with polyglutamic acid or fucoidan for improving antithrombotic activities. J. Agr. Food Chem. 64: 4765-4771 (2016)

Koo H, Rosalen PL, Cury JA, Ambrosano GM, Murata RM, Yatsuda R, Ikegaki M, Alencar SM, Park YK. Effect of a New Variety of Apis mellifera Propolis on Mutans Streptococci. Curr. Microbiol. 41: 192-196 (2000)

Koo H, Rosalen PL, Cury JA, Park YK, Bowen WH. Effects of compounds found in propolis on Streptococcus mutans growth and on glucosyltransferase activity. Antimicrob. Agents Chemother. 46: 1302-1309 (2002)

Lee B-B, Ha Y-M, Shin S-H, Je K-M, Kim S-R, Choi J-S, Choi I-S. Antimicrobial activity of test dentifrice product containing grapefruit seed extract and processed sulfur solution against oral pathogens. J. Life Sci. 19: 956-962 (2009)

Lee J-S, Kim ES, Lee HG. Improving the water solubility and antimicrobial activity of silymarin by nanoencapsulation. Colloids Surf. B Biointerfaces. 154: 171-177 (2017)

Lee KH, Lee J-S, Kim ES, Lee HG. Preparation, characterization, and food application of rosemary extract-loaded antimicrobial nanoparticle dispersions. LWT 101: 138-144 (2019)

Lee Y-S, Jang K, Cha J-D. Synergistic antibacterial effect between silibinin and antibiotics in oral bacteria. J. Biomed. Biotechnol. 2012: 1-7 (2011)

Lin Y-H, Chung C-K, Chen C-T, Liang H-F, Chen S-C, Sung H-W. Preparation of nanoparticles composed of chitosan/poly-γ-glutamic acid and evaluation of their permeability through Caco-2 cells. Biomacromolecules 6: 1104-1112 (2005)

Liu Y, Sun Y, Xu Y, Feng H, Fu S, Tang J, Liu W, Sun D, Jiang H, Xu S. Preparation and evaluation of lysozyme-loaded nanoparticles coated with poly-γ-glutamic acid and chitosan. Int. J. Biol. Macromol. 59: 201-207 (2013)

Moon S-E, Kim H-Y, Cha J-D. Synergistic effect between clove oil and its major compounds and antibiotics against oral bacteria. Arch. Oral Biol. 56: 907-916 (2011)

Pandita V, Patthi B, Singla A, Singh S, Malhi R, Vashishtha V. Dentistry meets nature-role of herbs in periodontal care: A systematic review. J. Indian Assoc. Public Health Dent. 12: 148 (2014)

Pei Rs, Zhou F, Ji Bp, Xu J. Evaluation of combined antibacterial effects of eugenol, cinnamaldehyde, thymol, and carvacrol against E. coli with an improved method. J. Food Sci. 74: M379-M383 (2009)

Prakash B, Kujur A, Yadav A, Kumar A, Singh PP, Dubey N. Nanoencapsulation: An efficient technology to boost the antimicrobial potential of plant essential oils in food system. Food Control 89: 1-11 (2018)

Rai M, Paralikar P, Jogee P, Agarkar G, Ingle AP, Derita M, Zacchino S. Synergistic antimicrobial potential of essential oils in combination with nanoparticles: emerging trends and future perspectives. Int. J. Pharm. 519: 67-78 (2017)

Schelz Z, Molnar J, Hohmann J. Antimicrobial and antiplasmid activities of essential oils. Fitoterapia 77: 279-285 (2006)

Soares LFJ, do Carmo F, de Almeida BV, Monteiro L, Rodrigues C, Cabral L, de Sousa V. Preparation and evaluation of lidocaine hydrochloride in cyclodextrin inclusion complexes for development of stable gel in association with chlorhexidine gluconate for urogenital use. Int. J. Nanomedicine. 6: 1143-1154 (2011)

Soleimanpour S, Sedighinia FS, Afshar AS, Zarif R, Ghazvini K. Antibacterial activity of Tribulus terrestris and its synergistic effect with Capsella bursa-pastoris and Glycyrrhiza glabra against oral pathogens: an in vitro study. Avicenna J. Phytomed. 5: 210 (2015)

Tang D-W, Yu S-H, Ho Y-C, Huang B-Q, Tsai G-J, Hsieh H-Y, Sung H-W, Mi F-L. Characterization of tea catechins-loaded nanoparticles prepared from chitosan and an edible polypeptide. Food Hydrocolloids 30: 33-41 (2013)

Tsui V, Wong R, Rabie ABM. The inhibitory effects of naringin on the growth of periodontal pathogens in vitro. Phytother. Res. 22: 401-406 (2008)

Van Strydonck D, Timmerman M, Van Der Velden U, Van Der Weijden G. Plaque inhibition of two commercially available chlorhexidine mouth rinses. Clin. Periodontol. 32: 305-309 (2005)

Wang CS, Arnold RR, Trope M, Teixeira FB. Clinical efficiency of 2% chlorhexidine gel in reducing intracanal bacteria. J. Endod. 33: 1283-1289 (2007)

Windbergs M, Zhao Y, Heyman J, Weitz DA. Biodegradable core–shell carriers for simultaneous encapsulation of synergistic actives. J. Am. Chem. Soc. 135: 7933-7937 (2013)

Yue J, Yang H, Liu S, Song F, Guo J, Huang C. Influence of naringenin on the biofilm formation of Streptococcus mutans. Int. J. Dent. 76: 24-31 (2018)
Acknowledgements
This research was supported by Basic Science Research Program through the National Research Foundation of Korea (NRF) funded by the Ministry of Education (2016R1D1A1B03933069).
Ethics declarations
Conflict of interest
None of the authors of this study has any financial interest or conflict with industries or parties.
Additional information
Publisher's Note
Springer Nature remains neutral with regard to jurisdictional claims in published maps and institutional affiliations.
About this article
Cite this article
Lee, JS., Choi, Y.S. & Lee, H.G. Synergistic antimicrobial properties of nanoencapsulated clove oil and thymol against oral bacteria. Food Sci Biotechnol 29, 1597–1604 (2020). https://doi.org/10.1007/s10068-020-00803-w
Received:

Revised:

Accepted:

Published:

Issue Date:
Keywords
Clove oil

Thymol

Synergistic antimicrobial effect

Nanoencapsulation

Oral bacteria