Abstract
Determinations of 66 pesticide residues in different matrices including beef, pork, chicken, eggs, and milk were conducted using GC–MS/MS combined with the quick easy cheap effective rugged safe (QuEChERS) method for sample extraction. A high linearity was achieved in the concentration range from 2.5 to 1000 µg/L (R2 ≥ 0.99), and the limit of quantification for multi-class pesticides ranged from 0.74 to 23.1 µg/kg. The recovery ranged from 70.0 to 120%, while the reproducibility of the measurements was between 0.23 and 19.9%. Monitoring was conducted for livestock products purchased from local markets. Chlorpyrifos and fenitrothion in beef and chlorpyrifos in pork were detected below the maximum residue limits for the respective samples. No detectable residues were found in the other samples. Due to its high efficiency, reproducibility, and simple analytical operation, the proposed method can be applied to the regular monitoring of multi-residue pesticides in livestock products.
Access options
Buy single article
Instant access to the full article PDF.
US$ 39.95
Tax calculation will be finalised during checkout.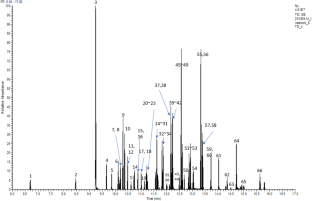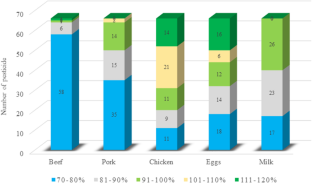 References
Anastassiades M, Lehotay SJ, Štajnbaher D, Schenck FJ. Fast and easy multiresidue method employing acetonitrile extraction/partitioning and "dispersive solid-phase extraction" for the determination of pesticide residues in produce. J. AOAC Int. 86: 412-431 (2003)

AOAC. Association of Official Analytical Communities. AOAC Official Method 2007.01, 18th ed. Arlington, VA, USA (2010)

Bidari A, Ganjali MR, Norouzi P, Hosseini MRM, Assasi Y. Sample preparation method for the analysis of some organophosphorus pesticides residues in tomato by ultrasound-assisted solvent extraction followed by dispersive liquid-liquid micro extraction. Food Chem. 126: 1840-1844 (2011)

Chae Y-S, Cho Y-J, Jang K-J, Kim J-W, Lee S-M, Chang M-I. Establishment of an analytical method for prometryne residues in clam using GC-MS. Korean J. Food Sci. Technol. 45: 531-536 (2013)

Cho S-K, Abd El-Aty AM, Jeon H-R, Choi J-H, Shin H-C, Shim J-H. Comparison of different extraction methods for the simultaneous determination of pesticide residues in kiwi fruit using gas chromatography-mass spectrometry. Biomed. Chromatogr. 22: 727-735 (2008)

Codex. Guidelines on good laboratory practice in pesticide residue analysis CAC/GL 40-1993, Revision 2003. Available from: http://www.fao.org/home/search/en/?q=Guidelines%20on%20good%20laboratory%20practice%20in%20pesticide%20residue%20analysis%20CAC%2FGL%2040-1993%2C%20Revision%202003. Accessed Feb. 1, 2003.

Covaci A, Gheorghe A, Schepens P. Distribution of organochlorine pesticides, polychlorinated biphenyls and a-HCH enantiomers in pork tissues. Chemosphere 56: 757-766 (2004)

da Costa Morais EH, Collins CH, Jardim ICSF. Pesticide determination in sweet peppers using QuEChERS and LC-MS/MS. Food Chem. 249: 77-83 (2018)

Facco JF, Martins ML, Bernardi G, Prestes OD, Adaime MB, Zanella R. Optimization and validation of a multi residues method for pesticides determination in maize using gas chromatography coupled to tandem mass spectrometry. Anal. Method 7: 359-365 (2015)

He Z, Wang L, Paeng Y, Luo M, Wang W, Liu X. Multiresidue analysis of over 200 pesticides in cereal using a QuEChERS and gas chromatography-tandem mass spectrometry based method. Food Chem. 169: 372-380 (2015)

Hamadamin AY, Hassan KI. Gas chromatography-mass spectrometry based sensitive analytical approach to detect and quantify non-polar pesticides accumulated in the fat tissues of domestic animals. Saudi J. Biolog. Sci. 27: 887-893 (2020)

Hercegová A, Dömötörová M, Matisová E. Sample preparation methods in the analysis of pesticide residues in baby food with subsequent chromatographic determination. J. Chromatogr. A 1153: 54-73 (2007)

Huang Y, Zhou Q, Xiao J, Xie G. Determination of trace organophosphorus pesticides in water samples with TiO2 nanotube cartridge prior to GC-flame photometric detection. J. Sep. Sci. 33: 2184-2190 (2010)

Hunter Jr. RE, Riederer AM, Ryan PB. Methods for the determination of organophosphorus and pyrethroid pesticides in food via gas chromatography with electron-capture detection. J. Agric. Food Chem. 58: 1396-1402 (2010)

Juhler RK. Optimized method for the determination of organophosphorus pesticides in meat and fatty matrices. J. Chromatogr. A 786: 145-153 (1997)

Ko AY, Kim H, Jang J, Lee EH, Ju Y, Noh M, Kim S, Park S-W, Chang M-I, Rhee G-S. Development of an official analytical method for determination of phorate and its metabolites in Livestock using LC-MS/MS. J. Food Hyg. Saf. 30: 272-280 (2015)

LeDoux M. Analytical methods applied t the determination of pesticides residues in food of animal origin. a review of the past two decades. J. Chromatogr. A 1218: 1021-1036 (2011)

Manav ÖG, Dinç-Zor S, Alpdoğan G. Optimization of a modified QuEChERS method by means of experimental design for multiresidue determination of pesticides in milk and dairy products by GC-MS. Microchemical J. 144: 124-129 (2019)

Mastovska K, Lehotay SJ, Anastassiades M. Combination of analyte protectants to overcome matrix effects in routine GC analysis of pesticide residue in food matrix. Anal. Chem. 77: 8129-8137 (2005)

MFDS. Ministry of Food and Drug Safety. Food Code. Available from: https://mfds.go.kr/eng/brd/m_15/view.do?seq=69982. Accessed Jan. 1, 2019.

Molina-Ruiz JM, Cieslik E, Cieslik I, Walkowska I. Determination of pesticides residues in fish tissue by modified QuEChERS method and dual-d-SPE clean-up coupled to gas chromatography-mass spectrometry. Environ. Sci. Pollut. Res. Int. 22: 369-378 (2015)

Oh JH, Kwon CH, Jeon JS, Choi DM. Management of veterinary drugs residues in food. Korea J. Environ. Agric. 28: 310-325 (2009)

Pagliuca G, Gazzotti T, Zironi E, Sticca P. Residue analysis of organophosphorus pesticides in animal matrices by dual column capillary gas chromatography with nitrogen-phosphorus detection. J. Chromatogr. A 1071: 67-70 (2005)

Qin Y, Zhang J, Zhang Y, Li F, Han Y, Zou N, Xu H, Qian M, Pan C. Automated multi-plug filtration cleanup for liquid chromatographic-tandem mass spectrometric pesticide multi-residue analysis in representative crop commodities. J. Chromatogr. A 1462: 19-26 (2016)

Rahman MM, Kim SW, Na TW, Abd El-Aty AM, Lee YJ, Park JS, Ramadan A, Lee HS, Chung HS, Choi JH, Shin HC, Shim JH. QuEChERS method for the simultaneous quantification of phorate and its metabolites in porcine and chicken muscle and table eggs using ultra-high performance liquid chromatography with tandem mass spectrometry. J. Sep. Sci. 39: 2079-2086 (2016)

Rejczak T, Tuzimski T. QuEChERS-based extraction with dispersive solid phase extraction clean-up using PSA and ZrO2 based sorbents for determination of pesticides in bovine milk samples by HPLC-DAD. Food Chem. 217: 225-233 (2017)

Rimkus GG, Rummler M, Nausch I. Gel permeation chromatography-high performance liquid chromatography combination as an automated clean-up technique for the multiresidue analysis of fats. J. Chromatogr. A 737: 9-14 (1996)

Samadi S, Sereshti H, Assadi Y. Ultra-preconcentration and determination of thirteen oragnophosphorus pesticides in water samples using solid-phase extraction followed by dispersive liquid-liquid microextraction and gas chromatography with flame photometric detection. J. Chromatogr. A 1219: 61-65 (2012)

Sapozhnikova Y. High-throughput analytical method for 265 pesticides and environmental contaminants in meats and poultry by fast low pressure gas chromatography and ultrahigh-performance liquid chromatography tandem mass spectrometry. J. Chromatogr. A 1572: 203-211 (2018)

Surma MK, Sadowska-Rociek AB, Cieślik EJ. Evaluation of the QuEChERS method with GC-MS detection for the determination of organochlorine pesticides in food of animal origin. Food Anal. Methods 7: 366-376 (2014)

Stachniuk A, Fornal E. Liquid chromatography-mass spectrometry in the analysis of pesticide residues in food. Food Anal. Methods 9: 1654-1665 (2016)

USDA. Food Safety Inspection Service. Programs and Services. Residue Testing; National Residue Program. Available from: https://www.fsis.usda.gov/wps/portal/fsis/topics/data-collection-and-reports/chemistry/blue-books/ct_index. Accessed Jan. 1, 2019.

USFDA. Pesticide Analytical Manual, Vol 1: Multi-residue method. 3rd ed. U.S. Food and Drug Administration, Silver Spring, MD, USA (1999)

Xu X, Xu X, Han M, Qiu S, Hou X. Development of a modified QuEChERS method based on magnetic multiwalled carbon nanotubes for the simultaneous determination of veterinary drugs, pesticides and mycotoxins in eggs by UPLC-MS/MS. Food Chem. 276: 419-426 (2019)

Yang X, Zhang H, Liu Y, Wang J, Zhang YC, Dong AJ, Zhao HT, Sun CH, Cui J. Multiresidue methods for determination of 88 pesticides in berry fruits using solid-phase extraction and gas chromatography-mass spectrometry: determination of 88 pesticides in berries using SPE and GC-MS. Food Chem. 127: 855-865 (2011)

Zhang L, Wang Y, Sun C. Yang S, He H. Simultaneous determination of organochlorine, organophosphorus, and pyrethroid pesticides in bee pollens by solid phase extraction cleanup followed by gas chromatography using electron-capture detector. Food Anal. Methods 6: 1508-1514 (2013)
Acknowledgements
This study was supported by a Grant (18161MFDS014) from the Ministry of Food and Drug Safety, Korea.
Ethics declarations
Conflict of interest
No potential conflicts of interest are reported by the authors.
Additional information
Publisher's Note
Springer Nature remains neutral with regard to jurisdictional claims in published maps and institutional affiliations.
About this article
Cite this article
Kang, H.S., Kim, M., Kim, E.J. et al. Determination of 66 pesticide residues in livestock products using QuEChERS and GC–MS/MS. Food Sci Biotechnol 29, 1573–1586 (2020). https://doi.org/10.1007/s10068-020-00798-4
Received:

Revised:

Accepted:

Published:

Issue Date:
Keywords
Pesticide

Meat

Eggs

Milk

QuEChERS

GC–MS/MS