Abstract
Exopolysaccharide producing starter cultures enable manufacturing "clean labeled" foods with improved textural and nutritional properties. The structural and technological analyses were performed on the ropy exopolysaccharides of six Lactobacillus plantarum. The incubation temperature, time and pH affected the exopolysaccharide production and high exopolysaccharide was produced in the presence of sucrose and maltose. The viscosity of exopolysaccharide was high at acidic conditions except PFC311E that showed viscous at neutral pH. Lactobacillus plantarum strains produced between 120 and 400 mg/L exopolysaccharide in which the highest was observed at L. plantarum PFC311. Exoploysaccharides were degraded over 300 °C except PFC311E that degraded at 295.7 °C. The NMR analyses revealed that the exopolysaccharides were synthesized by α1-6, α1-3 and α1-4 bonds with glucose, galactose and fructose moieties. In conclusion, L. plantarum PFC311 produced ropy exopolysaccharide with different structural, rheological and thermal properties and reveals potential to be used in food industry.
This is a preview of subscription content, log in to check access.
Access options
Buy single article
Instant access to the full article PDF.
US$ 39.95
Price includes VAT for USA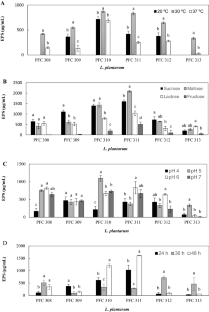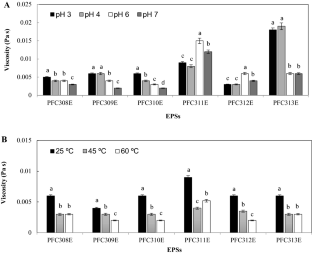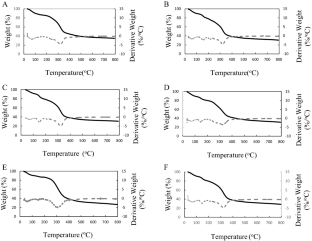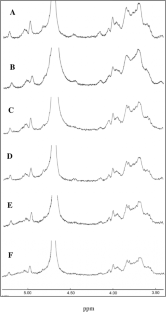 References
Agrawal PK. NMR spectroscopy in the structural elucidation of oligosaccharides and glycosides. Phytochemistry 31: 3307–3330 (1992)

Ahmed Z, Wang Y, Anjum N, Ahmad A, Khan ST. Characterization of exopolysaccharide produced by Lactobacillus kefiranofaciens ZW3 isolated from Tibet kefir–part II. Food Hydrocoll. 30: 343–350 (2013)

Amjres H, Béjar V, Quesada E, Carranza D, Abrini J, Sinquin C, Rastiskol J, Colliec-Jouault S, Llamas I. Characterization of haloglycan, an exopolysaccharide produced by Halomonas stenophila HK30. Int. J. Biol. Macromol. 72: 117–124 (2015)

Arendt EK., Ryan LA, Dal Bello F. Impact of sourdough on the texture of bread. Food Microbiol. 24: 165–174 (2007)

Caggianiello G, Kleerebezem M, Spano G. Exopolysaccharides produced by lactic acid bacteria: from health-promoting benefits to stress tolerance mechanisms. Appl. Microbiol. Biotechnol. 100: 3877–3886 (2016)

De Vries MC, Vaughan EE, Kleerebezem M, de Vos WM. Lactobacillus plantarum—survival, functional and potential probiotic properties in the human intestinal tract. Int. Dairy J. 16: 1018–1028 (2006)

Dertli E, Colquhoun IJ, Côté GL, Le Gall G, Narbad A. Structural analysis of the α-D-glucan produced by the sourdough isolate Lactobacillus brevis E25. Food Chem. 242: 45–52 (2018)

Dertli E, Colquhoun IJ, Gunning AP, Bongaerts RJ, Le Gall G, Bonev BB, Mayer MJ, Narbad A. Structure and biosynthesis of two exopolysaccharides produced by Lactobacillus johnsonii FI9785. J. Biol. Chem. 288: 31938–31951 (2013)

Dertli E, Yilmaz MT, Tatlisu NB, Toker OS, Cankurt H, Sagdic O. Effects of in situ exopolysaccharide production and fermentation conditions on physicochemical, microbiological, textural and microstructural properties of Turkish-type fermented sausage (sucuk). Meat Sci. 121: 156–165 (2016)

Dubois M, Gilles KA, Hamilton JK, Rebers PT, Smith F. Colorimetric method for determination of sugars and related substances. Anal. Chem. 28: 350–356 (1956)

Galle S, Arendt EK. Exopolysaccharides from sourdough lactic acid bacteria. Crit. Rev. Food Sci. Nutr. 54: 891–901 (2014)

Groenewald JH, Botha FC. Down-regulation of pyrophosphate: fructose 6-phosphate 1-phosphotransferase (PFP) activity in sugarcane enhances sucrose accumulation in immature internodes. Trans. Res. 17: 85–92 (2008)

Kavita K, Singh VK, Mishra A, Jha B. Characterisation and anti-biofilm activity of extracellular polymeric substances from Oceanobacillus iheyensis. Carbohydr. Polym. 101: 29–35 (2014)

Kivanc M, Funda EG. A functional food: a traditional tarhana fermentation. Food Sci. Technol. 37: 269–274 (2017)

Kumar CG, Joo HS, Choi JW, Koo YM, Chang CS. Purification and characterization of an extracellular polysaccharide from haloalkalophilic Bacillus sp. I-450. Enzym. Microb. Technol. 34: 673–681 (2004)

Leroy F, De Vuyst L. Lactic acid bacteria as functional starter cultures for the food fermentation industry. Trends Food Sci. Technol. 15: 67–78 (2004)

Maeda H, Zhu X, Suzuki S, Suzuki K, Kitamura S. Structural characterization and biological activities of an exopolysaccharide kefiran produced by Lactobacillus kefiranofaciens WT-2BT. J. Agric. Food Chem. 52: 5533–5538 (2004)

Özel S, Sabanoğlu S, Çon AH, Şimşek Ö. Diversity and stability of yeast species during the fermentation of tarhana. Food Biotechnol. 29: 117–129 (2015)

Pingitore EV, Pessione A, Fontana C, Mazzoli R, Pessione E. Comparative proteomic analyses for elucidating metabolic changes during EPS production under different fermentation temperatures by Lactobacillus plantarum Q823. Int. J. Food Microbiol. 238: 96–102 (2016)

Ruas-Madiedo P, De Los Reyes-Gavilán CG. Invited review: methods for the screening, isolation, and characterization of exopolysaccharides produced by lactic acid bacteria. J. Dairy Sci. 88: 843–856 (2005)

Sengun IY, Nielsen DS, Karapinar M, Jakobsen M. Identification of lactic acid bacteria isolated from tarhana, a traditional Turkish fermented food. Int. J. Food Microbiol. 135: 105–111 (2009)

Settanni L, Tanguler H, Moschetti G, Reale S, Gargano V, Erten H. Evolution of fermenting microbiota in tarhana produced under controlled technological conditions. Food Microbiol. 28: 1367–1373 (2011)

Şimşek Ö, Özel S, Çon AH. Comparison of lactic acid bacteria diversity during the fermentation of tarhana produced at home and on a commercial scale. Food Sci. Biotechnol. 26: 181–187 (2017)

Tallon R, Bressollier P, Urdaci MC. Isolation and characterization of two exopolysaccharides produced by Lactobacillus plantarum EP56. Res. Microbiol. 154: 705–712 (2003)

Torino MI, de Valdez GF, Mozzi F. Biopolymers from lactic acid bacteria. Novel applications in foods and beverages. Front. Microbiol. 6: 834–849 (2015)

Wang J, Zhao X, Tian Z, Yang Y, Yang Z. Characterization of an exopolysaccharide produced by Lactobacillus plantarum YW11 isolated from Tibet kefir. Carbohydr. Polym. 125: 16–25 (2015)

Wang X, Shao C, Liu L, Guo X, Xu Y, Lü X. Optimization, partial characterization and antioxidant activity of an exopolysaccharide from Lactobacillus plantarum KX041. Int. J. Biol. Macromol. 103: 1173–1184 (2017)

Wang Y, Li C, Liu P, Ahmed Z, Xiao P, Bai X. Physical characterization of exopolysaccharide produced by Lactobacillus plantarum KF5 isolated from Tibet kefir. Carbohydr. Polym. 82: 895–903 (2010)

Zhang L, Liu C, Li D, Zhao Y, Zhang X, Zeng X, Yang Z, Li S. Antioxidant activity of an exopolysaccharide isolated from Lactobacillus plantarum C88. Int. J. Biol. Macromol. 54: 270–275 (2013)

Zhou F, Wu Z, Chen C, Han J, Ai L, Guo B. Exopolysaccharides produced by Rhizobium radiobacter S10 in whey and their rheological properties. Food Hydrocoll. 36: 362–368 (2014)
Acknowledgements
The Scientific and Technogical Research Council of Turkey (TÜBİTAK) supported this study with the Project number 1160525. We also thank to Prof. Dr. Nazım Usta for giving opportunities to do the thermal analysis of EPSs and also interpreting the results.
Ethics declarations
Conflict of interest
The authors declare that they have no conflict of interest.
Additional information
Publisher's Note
Springer Nature remains neutral with regard to jurisdictional claims in published maps and institutional affiliations.
About this article
Cite this article
Zehir Şentürk, D., Dertli, E., Erten, H. et al. Structural and technological characterization of ropy exopolysaccharides produced by Lactobacillus plantarum strains isolated from Tarhana. Food Sci Biotechnol 29, 121–129 (2020). https://doi.org/10.1007/s10068-019-00641-5
Received:

Revised:

Accepted:

Published:

Issue Date:
Keywords
Lactobacillus plantarum

Exopolysaccharide

Ropiness

Structure

Rheology