Abstract
Probiotic properties including antioxidant and immune-enhancing effects of Lactobacillus plantarum 200655 isolated from kimchi were evaluated. The tolerance of three strains (L. plantarum 200655, L. plantarum KCTC 3108, and L. rhamnosus GG to bile salts (0.3% oxgall, 24 h) was similar, and L. plantarum 200655 showed the highest tolerance to gastric juice (0.3% pepsin, 3 h). All strains presented similar autoaggregation ability. L. plantarum 200655 showed higher cell surface hydrophobicity and adhesion ability on HT-29 cells. L. plantarum 200655 did not produce β-glucuronidase and was sensitive to ampicillin, tetracycline, chloramphenicol, and doxycycline. Additionally, L. plantarum 200655 showed the highest antioxidant effects in DPPH and ABTS radical scavenging, and β-carotene bleaching assays. RAW 264.7 cells treated with L. plantarum 200655 produced more nitric oxide, induced nitric oxide synthase, and cytokine related to immune-enhancing effects such as interleukin-1β and interleukin-6. Therefore, L. plantarum 200655 could be useful as a probiotic strain for older people.
Access options
Buy single article
Instant access to the full article PDF.
USD 39.95
Price excludes VAT (USA)
Tax calculation will be finalised during checkout.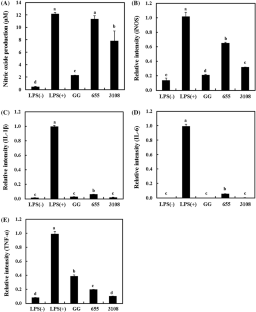 References
Castelo-Branco C, Soveral I. The immune system and aging: A review. Gynecol. Endocrinol. 30: 16–22 (2014)

Chang CK, Wang SC, Chiu CK, Chen SY, Chen ZT, Duh PD. Effect of lactic acid bacteria isolated from fermented mustard on immunopotentiating activity. Asian Pac. J. Trop. Biomed. 5: 281–286 (2015)

Christen Y. Oxidative stress and Alzheimer disease. Am. J. Clin. Nutr. 71: 621S-629S (2000)

Das D, Goyal A. Antioxidant activity and γ-aminobutyric acid (GABA) producing ability of probiotic Lactobacillus plantarum DM5 isolated from Marcha of Sikkim. LWT-Food Sci. Technol. 61: 263–268 (2015)

FAO/WHO. Guideline for the Evaluation of Probiotics in Food. London, Ontario, Canada (2002)

García-Cayuela T, Korany AM., Bustos I, Gómez de Cadiñanos LP., Requena T, Peláez C, Martínez-Cuesta M.C. Adhesion abilities of dairy Lactobacillus plantarum strains showing an aggregation phenotype. Food Res. Int. 57: 44–50 (2014)

Guo Z, Wang J, Yan L, Chen W, Liu XM, Zhang HP. In vitro comparison of probiotic properties of Lactobacillus casei Zhang, a potential new probiotic, with selected probiotic strains. LWT-Food Sci. Technol. 42: 1640–1646 (2009)

Han Q, Kong B, Chen Q, Sun F, Zhang H. In vitro comparison of probiotic properties of lactic acid bacteria isolated from Harbin dry sausages and selected probiotics. J. Funct. Food. 32: 391–400 (2017)

Hopkins MJ, Sharp R, Macfarlane GT. Age and disease related changes in intestinal bacterial populations assessed by cell culture. 16S rRNA abundance and community cellular fatty acid profiles. Gut. 48: 198–205 (2001)

Iyer R, Tomar SK, Kapila S, Mani J, Singh R. Probiotic properties of folate producing Streptococcus thermophilus strains. Food Res. Int. 43: 103–110 (2010)

Jeon EB, Son SH, Jeewanthi RKC, Lee NK, Paik HD. Characterization of Lactobacillus plantarum Lb41, an isolate from kimchi and its application as a probiotic in cottage cheese. Food Sci. Biotechnol. 25: 1129–1133 (2016)

Jeon HL, Lee NK, Yang SJ, Kim WS, Paik HD. Probiotic characterization of Bacillus subtilis P223 isolated from kimchi. Food Sci. Biotechnol. 26: 1641–1648 (2017)

Jeong JH, Jang S, Jung BJ, Jang KS, Kim BG, Chung DK, Kim H. Differential immune-stimulatory effects of LTAs from different lactic acid bacteria via MAPK signaling pathway in RAW 264.7 cells. Immunobiology. 220: 460–466 (2015)

Ji K, Jang NY, Kim YT. Isolation of lactic acid bacteria showing antioxidative and probiotic activities from kimchi and infant feces. J. Microbiol. Biotechn. 25: 1568–1577 (2015)

Jiang M, Zhang F, Wan C, Xiong Y, Shah NP, Wei H, Tao X. Evaluation of probiotic properties of Lactobacillus plantarum WLPL04 isolated from human breast milk. J. Dairy Sci. 99: 1736–1746 (2016)

Kachouri F, Ksontini H, Kraiem M, Setti K, Mechmeche M, Hamdi M. Involvement of antioxidant activity of Lactobacillus plantarum on functional properties of olive phenolic compounds. J. Food Sci. Tech. Mys. 52: 7924–7933 (2015)

Kullisaar T, Zilmer M, Mikelsaar M, Vihalemm T, Annuk H, Kairane C, Kilk A. Two antioxidative lactobacilli strains as promising probiotics. Int. J. Food Microbiol. 72: 215–224 (2002)

Lee KW, Shim JM, Park SK, Heo HJ, Kim HJ, Ham KS, Kim JH. Isolation of lactic acid bacteria with probiotic potentials from kimchi, traditional Korean fermented vegetable. LWT-Food Sci. Technol. 71: 130–137 (2016)

Lee ME, Jang JY, Lee JH, Park HW, Choi HJ, Kim TW. Starter cultures for kimchi fermentation. J. Microbiol. Biotechn. 25: 559–568 (2015a)

Lee NK, Han KJ, Son SH, Eom SJ, Lee SK, Paik HD. Multifunctional effect of probiotic Lactococcus lactis KC24 isolated from kimchi. LWT-Food Sci. Technol. 64: 1036–1041 (2015b)

Lee TH, Kwak HB, Kim HH, Lee ZH, Chung DK, Baek NI, Kim J. Molecules and methanol extracts of Stewartia koreana inhibit cyclooxygenase-2 (COX-2) and inducible nitric oxide synthase (iNOS) gene expression by blocking NF-κB transactivation in LPS-activated. Mol. Cell. 23: 398–404 (2007)

Li W, Ji J, Chen X, Jiang M, Rui X, Dong M. Structural elucidation and antioxidant activities of exopolysaccharides from Lactobacillus helveticus MB2-1. Carbohydr. Polym. 102: 351–359 (2014)

Mishra V, Shah C, Mokashe N, Chavan R, Yadav H, Prajapati J. Probiotics as potential antioxidants: A systematic review. J. Agric. Food Chem. 63: 3615–3626 (2015)

Population Division. DESA. World population ageing 2017. United Nations. 1–124 (2017)

Parham P. The immune system. 4rd ed. Garland Science. USA. pp. 62 (2015)

Shao Y, Zhang W, Guo H, Pan L, Zhang H, Sun T. Comparative studies on antibiotic resistance in Lactobacillus casei and Lactobacillus plantarum. Food Control. 50: 250–258 (2015)

Son SH, Jeon HL, Yang SJ, Lee NK, Paik HD. In vitro characterization of Lactobacillus brevis KU15006, an isolate from kimchi, reveals anti-adhesion activity against foodborne pathogens and antidiabetic properties. Microb. Pathog. 112: 135–141 (2017)

Tang W, Xing Z, Li C, Wang J, Wang Y. Molecular mechanisms and in vitro antioxidant effects of Lactobacillus plantarum MA2. Food Chem. 221: 1642–1649 (2017)

Teuber M, Meile L, Schwarz F. Acquired antibiotic resistance in lactic acid bacteria from food. Antonie Leeuwenhoek. 76: 115–137 (1999)

Thirabunyanon M, Thongwittaya N. Protection activity of a novel probiotic strain of Bacillus subtilis against Salmonella Enteritidis infection. Res. Vet. Sci. 93: 74–81 (2012)

Tiihonen K, Ouwehand AC, Rautonen N. Human intestinal microbiota and healthy ageing. Ageing Res. Rev. 9: 107–116 (2010)

Vasiljevic T, Jelen P. Production of β-galactosidase for lactose hydrolysis in milk and dairy products using thermophilic lactic acid bacteria. Innov. Food Sci. Emerg. Technol. 2: 75–85 (2001)
Acknowledgements
This research was supported by the "Leaders in INdustry-university Cooperation +" Project of the Ministry of Education and National Research Foundation of Korea (Grant Number G2017A0030055) and the High Value-added Food Technology Development Program of the Ministry of Agriculture, Food, and Rural Affairs (Grant Number 314073-03).
Ethics declarations
Conflict of interest
The authors declare that they have no conflict of interest.
About this article
Cite this article
Yang, SJ., Lee, JE., Lim, SM. et al. Antioxidant and immune-enhancing effects of probiotic Lactobacillus plantarum 200655 isolated from kimchi. Food Sci Biotechnol 28, 491–499 (2019). https://doi.org/10.1007/s10068-018-0473-3
Received:

Revised:

Accepted:

Published:

Issue Date:

DOI: https://doi.org/10.1007/s10068-018-0473-3
Keywords