Abstract
The product of ferulic acid decarboxylation, 4-vinylguaiacol (4-VG), is an important antioxidant and is reported to have an antioxidant capacity comparable to α-tocopherol. In this study, evaluation on antioxidant capacities of ferulic acid, catechin, and 4-VG was performed when 200 ppm of each compound was added in a 10% O/W emulsion for 50 days. Peroxide value (POV) results of the O/W emulsion containing 4-VG were noteworthy. The POV was 1.9 meq/L of emulsion after 29 days, which was no different to the initial value (day 0). Even when the oxidation was allowed to advance to day 50, the POV remained at 2.2 meq/L of emulsion, representing only a tiny increase relative to the initial value on day 0. 1H-NMR results also showed that the lowest conjugated forms and no aldehydes were detected in emulsion of 4-VG stored for 50 days, proving the excellent antioxidant capacity in the O/W emulsion.
This is a preview of subscription content, log in to check access.
Access options
Buy single article
Instant access to the full article PDF.
US$ 39.95
Price includes VAT for USA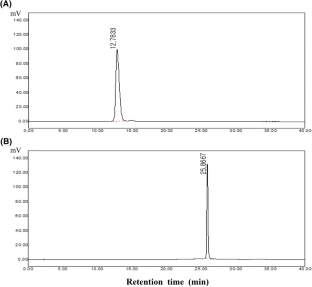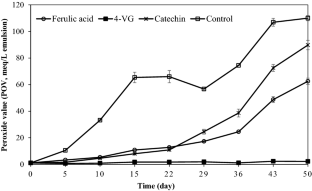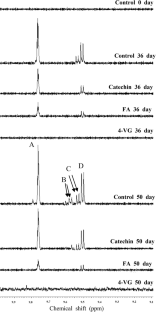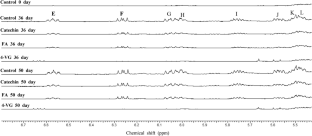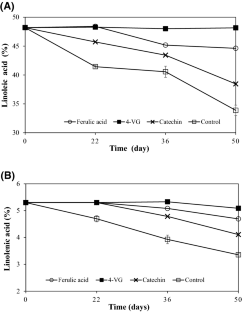 References
Chen JH, Ho CT. Antioxidant activities of caffeic acid and its related hydroxycinnamic acid compounds. J. Agric. Food Chem. 45: 2374–2378 (1997)

Falch E, Anthonsen HW, Axelson DE, Aursand M. Correlation between 1H NMR and traditional methods for determining lipid oxidation of ethyl docosahexaenoate. J. Am. Oil Chem. Soc. 81: 1105–1110 (2004)

Fujioka K, Shibamoto T. Quantitation of volatiles and nonvolatile acids in an extract from coffee beverages: correlation with antioxidant activity. J. Agric. Food Chem. 54: 6054–6058 (2006)

Guillen MD, Goicoechea E. Oxidation of corn oil at room temperature: Primary and secondary oxidation products and determination of their concentration in the oil liquid matrix from 1H nuclear magnetic resonance data. Food Chem. 116: 183–192 (2009)

Guillen MD, Ruiz A. Monitoring the oxidation of unsaturated oils and formation of oxygenated aldehydes by proton NMR. Eur. J. Lipid Sci. Technol. 107: 36–47 (2005)

Jung MY, Min DB. Effects of α-, γ-, and δ-tocopherols on oxidative stability of soybean oil. J. Food Sci. 55: 1464–1465 (1990)

Kikuzaki H, Hisamoto M, Hirose K, Akiyama K, Taniguchi H. Antioxidant properties of ferulic acid and its related compounds. J. Agric. Food Chem. 50: 2161–2168 (2002)

Knothe G, Kenar JA. Determination of the fatty acid profile by 1H-NMR spectroscopy. Eur. J. Lipid Sci. Technol. 106: 88–96 (2004)

McClements DJ, Decker EA. Lipid oxidation in oil‐in‐water emulsions: impact of molecular environment on chemical reactions in heterogeneous food systems. J. Food Sci. 65: 1270–1282 (2000)

Mei L, McClements DJ, Decker EA. Lipid oxidation in emulsions as affected by charge status of antioxidants and emulsion droplets. J. Agric. Food Chem. 47: 2267–2273 (1999)

Nakayama T, Ono K, Hashimoto K. Affinity of antioxidative polyphenols for lipid bilayers evaluated with a liposome system. Biosci. Biotechnol. Biochem. 62: 1005–1007 (1998)

Nenadis N, Zhang HY, Tsimidou MZ. Structure-antioxidant activity relationship of ferulic acid derivatives: effect of carbon side chain characteristic groups. J. Agric. Food Chem. 51: 1874–1879 (2003)

Pekkarinen SS, Stöckmann H, Schwarz K, Heinonen IM, Hopia AI. Antioxidant activity and partitioning of phenolic acids in bulk and emulsified methyl linoleate. J. Agric. Food Chem. 47: 3036–3043 (1999)

Sacchi R, Patumi M, Fotanazza G, Barone P, Fiordiponti P, Mannina L, Rossi E, Segre AL. A high-field 1H nuclear magnetic resonance study of the minor components in virgin olive oils. J. Am. Oil Chem. Soc. 73: 747–758 (1996)

Srinivasan M, Sudheer AR, Pillai KR, Kumar PR, Sudhakaran PR, Menon VP. Influence of ferulic acid on gamma-radiation induced DNA damage, lipid peroxidation and antioxidant status in primary culture is isolated rat hepatocytes. Toxicology 228: 249–258 (2006)

Terpinc P, Polak T, Šegatin N, Hanzlowsky A, Ulrih NP, Abramovič H. Antioxidant properties of 4-vinyl derivatives of hydroxycinnamic acids. Food Chem. 128: 62–69 (2011)

Tilay A, Bule M, Kishenkumar J, Annapure U. Preparation of ferulic acid from agricultural wastes: its improved extraction and purification. J. Agric. Food Chem. 56: 7644–7648 (2008)

Vuorela S, Meyer AS, Heinonen M. Quantitative analysis of the main phenolics in rapeseed meal and oils processed differently using enzymatic hydrolysis and HPLC. Eur. Food Res. Technol. 217: 517–523 (2003)

Wang XY, Yang D, Zhang H, Jia CH, Shin JA, Hong ST, Lee YH, Jang YS, Lee KT. Antioxidant activity of soybean oil containing 4-vinylsyringol obtained from decarboxylated sinapic acid. J. Am. Oil Chem. Soc. 91: 1543–1550 (2014)

Yang D, Gan LJ, Shin JA, Kim S, Hong ST, Park SH, Lee JH, Lee KT. Antioxidative activities of Gikgo biloba extract on oil/water emulsion system prepared from an enzymatically modified lipid containing alpha-linolenic acid. J. Food Sci. 78: 43–49 (2013)
Acknowledgements
We wish to thank for technical assistance related to 1H NMR in CNU laboratory.
Ethics declarations
Conflict of interest
The authors declare no conflict of interest.
About this article
Cite this article
Shin, J., Jeong, S., Jia, C. et al. Comparison of antioxidant capacity of 4-vinylguaiacol with catechin and ferulic acid in oil-in-water emulsion. Food Sci Biotechnol 28, 35–41 (2019). https://doi.org/10.1007/s10068-018-0458-2
Received:

Revised:

Accepted:

Published:

Issue Date:
Keywords
Antioxidant capacity

Ferulic acid

O/W emulsion

4-Vinylguaiacol