Abstract
This study investigated the microbial inactivation effects of intense pulsed light (IPL) treatment as an alternative to chemical treatment for decontaminating the radish and pak choi seeds. The fR values (which indicate the resistance to IPL treatment) for radish and pak choi seeds were 24.50, 20.81 J/cm2, respectively. This resistance exhibited by seeds to IPL treatment is related to their surface roughness. Their Rq (the root-mean-square roughness), average surface roughness (Ra), and 10-point height roughness (Rz) values indicate that each crevice on a rough surface could shelter microorganisms from IPL. Viability tests of seeds exposed to IPL treatment indicated that the average germination rates of treated seeds exceeded 85% on day 3 of germination, which is considered as an acceptable criterion for germination. Also, on day 5 of germination the average shoot lengths of sprouts exposed to IPL did not differ significantly from those of untreated seeds.
This is a preview of subscription content, log in to check access.
Access options
Buy single article
Instant access to the full article PDF.
US$ 39.95
Price includes VAT for USA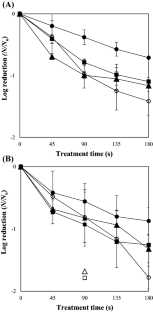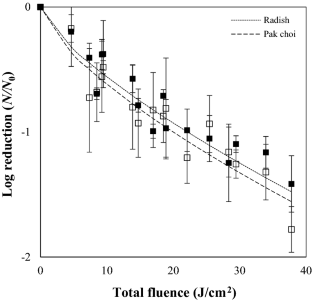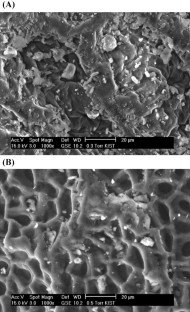 References
Adhikari A, Syamaladevi RM, Killinger K, Sablani SS. Ultraviolet-C light inactivation of Escherichia coli O157: H7 and Listeria monocytogenes on organic fruit surfaces. Int. J. Food Microbiol. 210: 136–142 (2015)

Aron-Maftei N, Ramos-Villarroe AY, Nicolau AI, Martín-Belloso O, Soliva-Fortuny R. Pulsed light inactivation of naturally occurring moulds on wheat grain. J. Sci. Food Agric. 94: 721–726 (2014)

Bialka KL, Demirci A, Puri VM. Modeling the inactivation of Escherichia coli O157: H7 and Salmonella enterica on raspberries and strawberries resulting from exposure to ozone or pulsed UV-light. J. Food Eng. 85: 444–449 (2008)

Dunnick JK, Melnick RL. Assessment of the carcinogenic potential of chlorinated water: experimental studies of chlorine, chloramine, and trihalomethanes. J. Natl. Cancer Inst. 85: 817–822 (1993)

Fett WF. Interventions to ensure the microbial safety of sprouts. pp. 187–209. In: Microbiology of fruit and vegetables. Gorny JR, Yousef AE, Sapers GM (eds). CRC Press, Inc., Boca Raton, FL, USA (2005)

Fransisca L, Zhou B, Park H, Feng H. The effect of calcinated calcium and chlorine treatments on Escherichia coli O157: H7 87–23 population reduction in radish sprouts. J. Food Sci. 76: M404–M412 (2011)

Fransisca L, Park HK, Feng H. E. coli O157: H7 population reduction from alfalfa seeds with malic acid and thiamine dilauryl sulfate and quality evaluation of the resulting sprouts. J. Food Sci. 77: M121–M126 (2012)

Jiafeng J, Xin H, Ling LI, Jiangang L, Hanliang S, Qilai X,…, Yuanhua D. Effect of cold plasma treatment on seed germination and growth of wheat. Plasma Sci. Technol. 16: 54–58 (2014)

Kim DS, Lee KB. Physiological characteristics and manufacturing of the processing products of sprout vegetables. Korean J. Food Cook. Sci. 26: 238–245 (2010)

Kim HJ, Feng H, Kushad MM, Fan X. Effects of ultrasound, irradiation, and acidic electrolyzed water on germination of alfalfa and broccoli seeds and Escherichia coli O157: H7. J. Food Sci. 71: M168–M173 (2006)

Kramer B, Wunderlich J, Muranyi P. Recent findings in pulsed light disinfection. J. Appl. Microbiol. 122: 830–856 (2017)

Li JW, Yu Z, Cai X, Gao M, Chao F. Trihalomethanes formation in water treated with chlorine dioxide. Water Res. 30: 2371–2376 (1996)

National Advisory Committee on Microbiological Criteria for Foods. Microbiological safety evaluations and recommendations on sprouted seeds. Int. J. Food Microbiol. 52: 123–153 (1999)

Oms-Oliu G, Martín-Belloso O, Soliva-Fortuny R. Pulsed light treatments for food preservation. A review. Food Bioprocess Technol. 3: 13–23 (2010)

Sharma RR, Demirci A. Inactivation of Escherichia coli O157: H7 on inoculated alfalfa seeds with pulsed ultraviolet light and response surface modeling. J. Food Sci. 68: 1448–1453 (2003)

Syamaladevi RM, Lu X, Sablani SS, Insan SK, Adhikari A, Killinger K, …, Annapure U. Inactivation of Escherichia coli population on fruit surfaces using ultraviolet-C light: influence of fruit surface characteristics. Food Bioprocess Technol. 6: 2959–2973 (2013)

Syamaladevi RM, Adhikari A, Lupien SL, Dugan F, Bhunia K, Dhingra A, Sablani SS. Ultraviolet-C light inactivation of Penicillium expansum on fruit surfaces. Food Control, 50: 297–303 (2015)

Taormina PJ, Beuchat LR. Behavior of enterohemorrhagic Escherichia coli O157: H7 on alfalfa sprouts during the sprouting process as influenced by treatments with various chemicals. J. Food Prot. 62: 850–856 (1999)

United States Food and Drug Administration, Maturin L, Peeler JT. Bacteriological Analytical Manual. Chapter 3: Aerobic Plate Count. Available from: https://www.fda.gov/Food/FoodScienceResearch/LaboratoryMethods/ucm063346.htm. Accessed 1 Sept 2016 (2016)

Waje C, Kwon JH. Improving the food safety of seed sprouts through irradiation treatment. Food Sci. Biotechnol. 16: 1–6 (2007)

Wang H, Feng H, Liang W, Luo Y, Malyarchuk V. Effect of surface roughness on retention and removal of Escherichia coli O157: H7 on surfaces of selected fruits. J. Food Sci. 74: E8–E15 (2009)

Woodling SE, Moraru CI. Influence of surface topography on the effectiveness of pulsed light treatment for the inactivation of Listeria innocua on stainless steel surfaces. J. Food Sci. 70: M345–M351 (2005)
Acknowledgements
This work was supported by Korea Institute of Planning and Evaluation for Technology in Food, Agriculture, Forestry (IPET) through High Value-added Food Technology Development Program, funded by Ministry of Agriculture, Food and Rural Affais (MAFRA) (317030-3) and Basic Science Research Program through the National Research Foundation of Korea (NRF) funded by the Ministry of Education (2017079924).
About this article
Cite this article
Kim, S., Hwang, H., Cheigh, C. et al. Bactericidal effect of intense pulsed light on seeds without loss of viability. Food Sci Biotechnol 28, 281–287 (2019). https://doi.org/10.1007/s10068-018-0456-4
Received:

Revised:

Accepted:

Published:

Issue Date:
Keywords
Intense pulsed light (IPL)

Radish seed

Pak choi seed

Roughness

Germination rate