Abstract
Biofilm is a serious issue in the dairy factory due to it increases the opportunity for microbial contamination. Staphylococcus aureus and Pseudomonas aeruginosa are the bacteria capable to construct the biofilm on materials and equipments. Therefore, the bacterial growth and efficiency of sanitizing agents to solve the problems were evaluated. These bacteria grew well in UHT milk when they were cultivated at 37 °C, especially S. aureus. The exponential growth phase and biofilm on stainless steel were discovered by short contact time at 2 h. The mature stage of biofilm cycle was found at 4 h during bacteria growth and it was continuously constructed until 48 h. The 10, 24, and 48 h-old biofilm adhering on stainless steel were established with oxisan and chlorine used as microbial sanitizers. The 4% of sanitizing agents was the efficiency concentration to reduce biofilm on stainless steel up to 82% when these bacteria grew in UHT milk.
Access options
Buy single article
Instant access to the full article PDF.
US$ 39.95
Tax calculation will be finalised during checkout.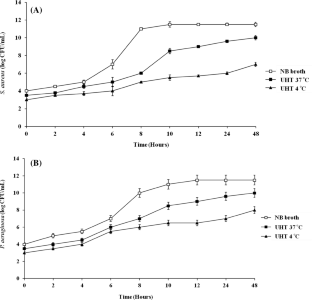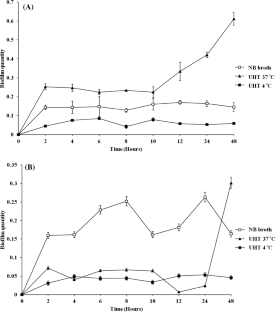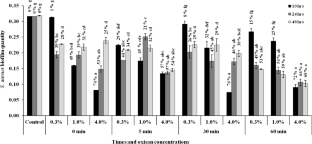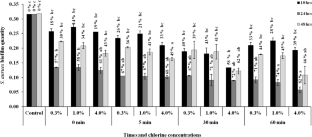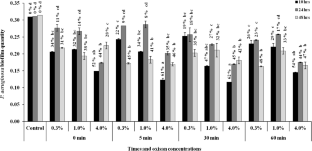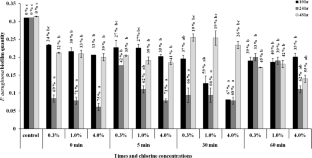 References
Anand S, Singh D, Avadhanula M, Marka S. Development and control of bacterial biofilms on dairy processing membranes. Compr. Rev. Food Sci. Food Saf. 13(1): 18–33 (2014)

Balaban N, Rasooly A. Staphylococcal enterotoxins. Int. J. Food Microbiol. 61: 1–10 (2000)

Barbano DM, Ma Y, Santos MV. Influence of raw milk quality on fluid milk shelf life. J. Dairy Sci. 89: 15–19 (2006)

Beuchat LR, Nail BV, Adler BB, Clavero MRS. Efficacy of spray application of chlorinated water in killing pathogenic bacteria on raw apples, tomatoes, and lettuce. J Food Prot. 61(10): 1305–1311 (1998)

Biesta-Peters EG, Reij MW, Joosten H, Gorris LGM, Zwietering MH. Comparison of two optical-density-based methods and a plate count method for estimation of growth parameters of Bacillus cereus. Appl. Environ. Microbiol. 76: 1399–1405 (2010)

Bouman S, Lund DB, Driessen FM, Schmidt DG. Growth of thermoresistant Streptococci and deposition of milk constituents on plates of heat-exchangers during long operating times. J. Food Prot. 45: 806–812 (1982)

Dewangan AK, Patel AD, Bhadania AG. Stainless steel for dairy and food industry: a review. J. Mater. Sci. Eng. 4: 1–4 (2015)

Dufour S, Dohoo IR, Barkema HW, Descôteaux L, Devries TJ, Reyher KK, Roy JP, Scholl DT. Manageable risk factors associated with the lactational incidence, elimination, and prevalence of Staphylococcus aureus intramammary infections in dairy cows. J. Dairy Sci. 95: 1283–1300 (2012)

Gutiérrez D, Delgado S, Vázquez-Sánchez D, Martínez B, Cabo ML, Rodríguez A, Herrera JJ, García P. Incidence of Staphylococcus aureus and analysis of associated bacterial communities on food industry surfaces. Appl. Environ. Microbiol. 78: 8547–8554 (2012)

Hallam NB, West JR, Forster CF, Simms J. The potential for biofilm growth in water distribution systems. Water Res. 35(17): 4063–4071 (2001)

Hennekinne JA, Buyser ML, Dragacci S. Staphylococcus aureus and its food poisoning toxins: characterization and outbreak investigation. FEMS Microbiol. Rev. 36: 815–836 (2012)

Janknecht P, Melo LF. Online biofilm monitoring. Rev. Environ. Sci. Bio. 2: 269–283 (2003)

Jørgensen HJ, Mork T, Caugant DA, Kearns A, Rorvik LM. Genetic variation among Staphylococcus aureus strains from Norwegian bulk milk. Appl. Environ. Microbiol. 71: 8352–8361 (2005)

Kitis M. Disinfection of wastewater with peracetic acid: a review. Environ. Int. 30(1): 47–55 (2004)

Kumar CG, Anand SK. Significance of microbial biofilms in food industry. Int. J. Food Microbiol. 42: 9–27 (1998)

Lund V, Ormerod K. The influence of disinfection processes on biofilm formation in water distribution systems. Water Res. 29: 1013–1021 (1995)

Marchand S, Block JD, Jonghe VD, Coorevits A, Heyndrickx M, Herman L. Biofilm formation in milk production and processing environments; Influence on milk quality and safety. Compr. Rev. Food Sci. Food Saf. 11: 133–147 (2012)

Marquis RE, Rutherford GC, Faraci MM, Shin SY. Sporicidal action of peracetic acid and protective eVects of transition metal ions. J. Ind. Microbiol. 15: 486–492 (1995)

Ndiongue S, Huck PM, Slawson RM. Effects of temperature and biodegradable organic matter on control of biofilms by free chlorine in a model drinking water distribution system. Water Res. 39: 953–964 (2005)

O'Toole GA, Kolter R. The initiation of biofilm formation in Pseudomonas fluorescens WCS365 proceeds via multiple, convergent signaling pathways: a genetic analysis. Mol. Microbiol. 28: 449–461 (1998)

Ostyn, A, De Buyser ML, Guillier F, Groult J, Felix B, Salah S, Delmas G, Hennekinne JA. First evidence of a food poisoning outbreak due to staphylococcal enterotoxin type E, France, 2009. Eur Surveill. 15: 1–4 (2010)

Pratt LA, Kolter R. Genetic analysis of Escherichia coli biofilm formation: defining the roles of flagella, motility, chemotaxis and type I pili. Mol. Microbiol. 30: 285–293 (1998)

Rahimi E. Enterotoxigenicity of Staphylococcus aureus isolated from traditional and commercial dairy products marketed in Iran. Braz. J. Microbiol. 44: 393–399 (2013)

Rossoni EMM, Gaylarde CC. Comparison of sodium hypochlorite and peracetic acid as sanitising agents for stainless steel food processing surfaces using epifluorescence microscopy. Int. J. Food Microbiol. 61(1): 81–85 (2000)

Russell AD. Similarities and diVerences in the responses of microorganisms to biocides. J. Antimicrob. Chemother. 52:750–763 (2003)

Schmid D, Fretz R, Winter P, Mann M, Höger G, Stöger A, Ruppitsch W, Ladstätter J, MayerN, Martin A, Allerberger F. Outbreak of staphylococcal food intoxication after consumption of pasteurized milk products, June 2007, Austria. Wien Klin Wochenschr. 121: 125–131(2009)

Scott SA, Brooks JD, Rakonjac J, Walker KMR, Flint SH. The formation of thermophilic spores during the manufacture of whole milk powder. Intl. J. Dairy Technol. 60: 109–117 (2007)

Shirtliff ME, Mader JT, Camper AK. Molecular interactions in biofilms. Chem. Biol. 9: 859–871 (2002)

Sommer P, Martin-Rouas C, Mettler E. Influence of the adherent population level on biofilm population, structure and resistance to chlorination. Food Microbiol. 16: 503–515 (1999)

Valero A, Pe´rez-Rodriguez F, Carrasco E, Fuentes-Alventosa JM, Garcta-Gimeno RM, Zurera G. Modeling the growth boundaries of Staphylococcus aureus: effect of temperature, pH and water activity. Int. J. Food Microbiol. 133: 186–194 (2009)

Van Houdt R, Michiels CW. Biofilm formation and the food industry, a focus on the bacterial outer surface. J. Appl. Microbiol. 109: 1117–1131 (2010)
Acknowledgements
This work was supported by senior project 2017 of Applied Biology Department, Faculty of Science and Liberal Art, Rajamangala University of Technology Isan.
Additional information
The original version of this article was revised: due to a retrospective Open Access cancellation.
About this article
Cite this article
Meesilp, N., Mesil, N. Effect of microbial sanitizers for reducing biofilm formation of Staphylococcus aureus and Pseudomonas aeruginosa on stainless steel by cultivation with UHT milk. Food Sci Biotechnol 28, 289–296 (2019). https://doi.org/10.1007/s10068-018-0448-4
Received:

Revised:

Accepted:

Published:

Issue Date:
Keywords
Biofilm

Staphylococcus aureus
Pseudomonas aeruginosa

Oxisan

Chlorine