Abstract
In this study, it was demonstrated that 1,3-dichloro-2-propanol (1,3-DCP) induced oxidative stress and cell death in HuH7, human hepatocytes. The protective effects of Erythronium japonicum (E. japonicum) and Corylopsis coreana Uyeki (C. coreana Uyeki) extracts against 1,3-DCP-treated cells were also investigated. First, the activities of superoxide dismutase (SOD) and catalase (CAT) were diminished by the treatment of 1,3-DCP. Moreover, 1,3-DCP stimulated the expression and catalytic activity of cytochrome P450 2E1 (CYP2E1), an enzyme that generates reactive oxygen species in the liver. In contrast, co-treatment of 1,3-DCP with the extracts significantly decreased ROS generation and inhibited CYP2E1 activity without affecting its expression. The co-administration of extracts also restored the activities of SOD and CAT reduced by 1,3-DCP and protected against 1,3-DCP-mediated cell death. In conclusion, these results suggest that 1,3-DCP induces oxidative stress through the elevated CYP2E1 level, which is inhibited by the extracts, protecting cells against the effects of 1,3-DCP.
This is a preview of subscription content, log in to check access.
Access options
Buy single article
Instant access to the full article PDF.
US$ 39.95
Price includes VAT for USA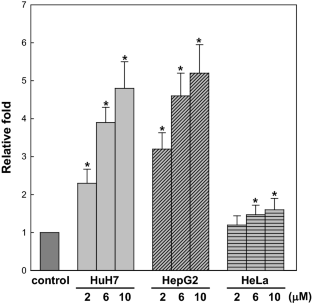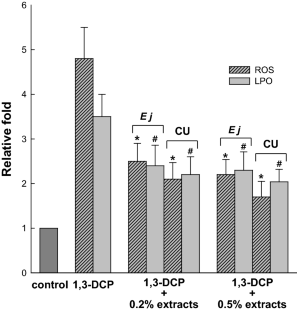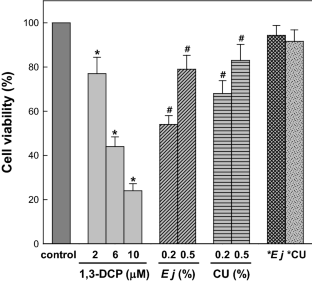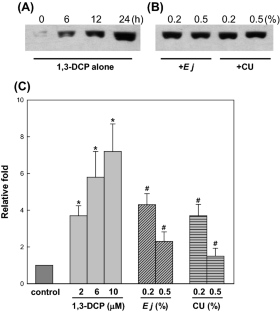 References
Aebi H. Catalase in vitro. Methods Enzymol. 105:121–126 (1984)

Beauchamp C, Fridovich I. Superoxide dismutase: improved assays and an assay applicable to acrylamide gels. Anal. Biochem. 44:276–287 (1971)

Bhagwat SV, Vijayasarathy C, Raza H, Mullick J, Avadhani NG. Preferential effects of nicotine and 4-(N-methyl-N-nitrosamine)-1-(3-pyridyl)-1-butanone on mitochondrial glutathione S-transferase A4-4 induction and increased oxidative stress in the rat brain. Biochem. Pharmacol. 56:831–839 (1998)

Buttar HS, Chow AYK, Downie RH. Glutathione alterations in rat liver after acute and subacute oral administration of paracetamol. Clin. Exp. Pharmacol. Physiol. 4:1–6 (1977)

Habig WH, Pabst MJ, Jakoby WB. Glutathione S-transferases. The first enzymatic step in mercapturic acid formation. J. Biol. Chem. 249:7130–7139 (1974)

Han JY, Cho SS, Yang JH, Kim KM, Jang CH, Park DE, Bang JS, Jung YS, Ki SH. The chalcone compound isosalipurposide (ISPP) exerts a cytoprotective effect against oxidative injury via Nrf2 activation. Toxicol. Appl. Pharmacol. 287:77–85 (2015)

Heo BG, Park YS, Chon SU, Lee SY, Cho JY, Gorinstein S. Antioxidant activity and cytotoxicity of methanol extracts from aerial parts of Korean salad plants. BioFactors 30:79–89 (2007)

Katoh T, Haratake J, Nakano S, Kikuchi M, Yoshikawa M, Arashidani K. Dose-dependent effects of dichloropropanol on liver histology and lipid peroxidation in rats. Ind. Health 36:318–323 (1998)

Kim MH, Ha SY, Oh MH, Kim HH, Kim SR, Lee MW. Anti-oxidative and anti-proliferative activity on human prostate cancer cells lines of the phenolic compounds from Corylopsis coreana Uyeki. Molecules 18:4876–4886 (2013)

Koriem KM, Soliman RE. Chlorogenic and caftaric acids in liver toxicity and oxidative stress induced by methamphetamine. J. Toxicol. 2014: 583494 (2014)

Lee IC, Ko JW, Lee SM, Kim SH, Shin IS, Moon OS, Yoon WK, Kim HC, Kim JC. Time-course and molecular mechanism of hepatotoxicity induced by 1,3-dichloro-2-propanol in rats. Environ. Toxicol. Pharmacol. 40:191–198 (2015)

Lee IC, Lee SM, Ko JW, Park SH, Shin IS, Moon C, Kim SH, Kim JC. Role of mitogen-activated protein kinases and nuclear factor-kappa B in 1,3-dichloro-2-propanol induced hepatic injury. Lab. Anim. Res. 32:24–33 (2016)

Leung TM, Nieto N. CYP2E1 and oxidant stress in alcoholic and non-alcoholic fatty liver diseases. J. Hepatol. 58:395–398 (2013)

Lim HK, Kim HS, Choi HS, Choi J, Kim SH, Chang MJ. Effects of bergenin, the major constituent of Mallotus japonicus against d-galactosamine-induced hepatotoxicity in rats. Pharmacology 63:71–75 (2001)

Nyman P, Diachenko G, Perfetti G. Survey of chloropropanols in soy sauces and related products. Food Addit. Contam. 20:909–915 (2003)

Ohkawa H, Ohishi N, Yagi K. Assay for lipid peroxides in animal tissues by thiobarbituric acid reaction. Anal. Biochem. 95:351–358 (1979)

Reinke LA, Moyer MJ. p-Nitrophenol hydroxylation. A microsomal oxidation which is highly inducible by ethanol. Drug Metab. Dispos. 13:548–552 (1985)

Seo JH, Kim JE, Shim JH, Yoon G, Bang MA, Bae CS, Lee KJ, Park DH, Cho SS. HPLC analysis, optimization of extraction conditions and biological evaluation of Corylopsis coreana Uyeki Flos. Molecules 21:94 (2016)

Shanmugam S, Thangaraj P, Lima BDS, Chandran R, de Souzza Araújo AA, Narain N, Serafini MR, Júnior LJQ. Effects of luteolin and quercetin 3-β-d-glucoside identified from Passiflora subpeltata leaves against acetaminophen induced hepatotoxicity in rats. Biomed. Pharmacother. 83:1278–1285 (2016)

Sy LB, Yang LK, Chiu CJ, Wu WM. The immunoregulatory effects of caffeic acid phenethyl ester on the cytokine secretion of peripheral blood mononuclear cells from asthmatic children. Pediatr. Neonatol. 52: 327–331 (2011)

Xie W, Wang M, Chen C, Zhang X, Melzig MF. Hepatoprotective effect of isoquercitrin against acetaminophen-induced liver injury. Life Sci. 152:180–189 (2016)

Yang Y, Cao J, Shi Y. Identification and characterization of a gene encoding human LPGAT1, an endoplasmic reticulum-associated lysophosphatidylglycerol acyltransferase. J. Biol. Chem. 279:55866–55874 (2004)
Acknowledgements
This study was financially supported by Chonnam National University (Grant No. 2017-2787).
Ethics declarations
Conflict of interest
The authors declare that they have no conflict of interest.
About this article
Cite this article
Bae, C., Yun, C. & Ahn, T. Extracts from Erythronium japonicum and Corylopsis coreana Uyeki reduce 1,3-dichloro-2-propanol-mediated oxidative stress in human hepatic cells. Food Sci Biotechnol 28, 175–180 (2019). https://doi.org/10.1007/s10068-018-0445-7
Received:

Revised:

Accepted:

Published:

Issue Date:
Keywords
Erythronium japonicum
Corylopsis coreana Uyeki

1,3-Dichloro-2-propanol

Cytochrome P450 2E1

HuH7 cells

Oxidative stress