Abstract
Physical, textural, and sensory characteristics of the gluten-free muffins made of mungbean and cowpea flours enriched with waxy rice flour were investigated. Amylose content and pasting viscosity of legume-waxy rice flour blend (1:1) were lower than that of wheat flour. The number and area of gas cells of muffin containing legume flour was lower than that of control muffin with wheat flour. Legume-based muffins had low lightness value due to the presence of color components. Weight of the muffins containing legume was higher than that of control muffin, but their height and volume were lower than control. Legume-based muffins had greater crude ash and protein contents than control. Compared with control, muffin containing legume flour had significantly higher hardness and gumminess. In sensory evaluation, overall acceptance of muffin containing Okdang cultivar of cowpea was the highest among legume-based muffins, which was comparable to control muffin.
This is a preview of subscription content, log in to check access.
Access options
Buy single article
Instant access to the full article PDF.
US$ 39.95
Price includes VAT for USA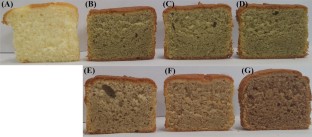 References
AOAC. Official Methods of Analysis of AOAC Intl. 17th ed. Association of Official Analytical Chemists, Gaithersbrug, MD, USA (2000)

Chiu CW, Schiermeyer E, Thomas DJ, Shah MB, Hanchett DJ, Jeffcoat R. Thermally-inhibited non-pregelatinized granular starches and flours and process for their preparation. U.S. Patent 5,932,017 (1999)

Chung HJ, Lee SE, Han JA, Lim ST. Physical properties of dry-heated octenyl succinylated waxy corn starches and its application in fat-reduced muffin. J. Cereal Sci. 52: 496–501 (2010)

Chung HJ, Liu Q, Hoover R., Warkentin TD, Vandenberg, B. In vitro starch digestibility, expected glycemic index, and thermal and pasting properties of flours from pea, lentil and chickpea cultivars. Food Chem. 111: 316–321 (2008)

El-Adawy TA. Effect of sesame seed protein supplementation on the nutritional, physical, chemical and sensory properties of wheat flour bread. Food Chem. 59: 7–14 (1997)

Eliasson AC, Gudmunsson M. Starch: physicochemical and functional aspects. pp. 431–503. In: Carbohydrate in Foods. Eliasson AC (ed). Marcel Dekker Inc., NY, USA. (1996)

Emmambux MN, Taylor JRN. Morphology, physical, chemical, and functional properties of starches from cereals, legumes, and tubers cultivated in Africa: A review. Starch/Starke, 65: 715–729 (2013)

Gallagher EMD, Gormley TR, Arendt EK. Recent advances in the formulation of gluten-free cereal-based products. Trends Food Sci. Tech. 15: 143–152 (2004)

Gao Y, Janes ME, Chaiya B, Brennan MA, Brennan CS, Prinyawiwatkul WP. Gluten-free bakery and pasta products: prevalence and quality improvement. Int. J. Food Sci. Technol. 53:19–32 (2018)

Goswami D, Gupta RK, Mridula D, Sharma M, Tyagi SK. Barnyard millet based muffins: Physical, textural and sensory properties. LWT-Food Sci. Tech. 64: 374–380 (2015)

Gularte MA, Gomez M, Rosell CM. Impact of legume flours on quality and in vitro digestibility of starch and protein from gluten-free cakes. Food Bioprocess Tech. 5: 3142–3150 (2012)

Hallen E, Ibanoglu Ş, Ainsworth P. Effect of fermented/germinated cowpea flour addition on the rheological and baking properties of wheat flour. J. Food Eng. 63: 177–184 (2004)

Hoover R, Hughes T, Chung HJ, Liu Q. Composition, molecular structure, properties, and modification of pulse starches: A review. Food Res. Int. 43: 399–413 (2010)

Jane J, Chen YY, Lee LF, McPherson AE, Wong KS, Radosavljevic M, Kasemsuwan T. Effects of amylopectin branch chain length and amylose content on the gelatinization and pasting properties of starch. Cereal Chem. 76: 629–637 (1999)

Jongsutjarittam N, Charoenrein S. Influence of waxy rice flour substitution for wheat flour on characteristics of batter and freeze-thawed cake. Carbohyd. Polym. 97: 306–314 (2013)

Jood S, Chauhan BM, Kapoor AC. (1988). Contents and digestibility of carbohydrates of chickpea and black gram as affected by domestic processing and cooking. Food Chem. 30: 113–127 (1988)

Kaur M, Singh N. Studies on functional, thermal and pasting properties of flours from different chickpea (Cicer arietinum L.) cultivars. Food Chem. 91: 403–411 (2005)

Kennedy NP, Feighery C. (2000). Clinical features of coeliac disease today. Biomed. Pharmacother. 54: 373–380 (2000)

Kum JS. Effects of amylose content on quality of rice bread. Korean J. Food Sci. Technol. 30: 590–595 (1998)

Lazaridou A, Duta D, Papageorgion M, Bele N, Biliaderis CG. Effects of hydrocolloids on dough rheology and bread quality parameters in gluten-free formulation. J. Food Eng. 79: 1033–1047 (2007)

Matos ME, Sanz T, Rosell CM. Establishing the function of proteins on the rheological and quality properties of rice based gluten free muffins. Food Hydrocolloid. 35: 150–158 (2014)

Minarro B, Albanell E, Aguilar N, Guamis B, Capellas M. Effect of legume flours on baking characteristics of gluten-free bread. J. Cereal Sci. 56: 476–481 (2012)

Mir SA, Shah MA, Naik HR, Zargar IA. Influence of hydrocolloids on dough handling and technological properties of gluten-free bread. Trends Food Sci. Tech. 51: 49–57 (2016)

Mohammed I, Ahmed A, Senge B. Dough rheology and bread quality of wheat-chickpea flour blends. Ind. Crop. Prod. 36: 196–202 (2012)

Moore M, Heinbockel M, Dockery P, Ulmer H, Arendt E. Network formation in gluten-free bread with application of transglutaminase. Cereal Chem. 83: 28–36 (2006)

Nachay K. Gluten-free offering increase. Food Technol. 64: 13–14 (2010)

Nunes MHB, Moore M, Arendt E. Impact of emulsifiers on the quality and rheological properties of gluten-free breads and batters. Eur. Food Res. Technol. 228: 633–642 (2009)

Renzetti S, Dal Bello F, Arendt E. Microstructure, fundamental rheology and baking characteristics of batters and breads from different gluten-free flours treated with a microbial transglutaminase. J. Cereal Sci. 48: 33–45 (2008)

Ribotta P, Ausar S, Morcillo M, Perez G, Beltramo D. Production of gluten-free bread using soybean flour. J. Sci. Food Agr. 84: 1969–1974 (2004)

Sanz T, Salvador A, Baixauli R, Fiszman S. Evaluation of four types of resistant starch in muffins. ΙΙ. Effects in texture, colour and consumer response. Eur. Food Res. Technol. 229: 197–204 (2009)

Shelke K, Faubion JA, Hoseney RC. The dynamics of cake baking as studied by a combination of viscometry and electrical resistance oven heating. Cereal Chem. 67: 575–580 (1990)

Shevkani K, Kaur A, Kumar S, Singh N. Cowpea protein isolates: Functional properties and application in gluten-free rice muffins. LWT-Food Sci. Tech. 63: 927–933 (2015)

Shin DJ, Kim W, Kim Y. Physicochemical and sensory properties of soy bread made with germinated, steamed, and roasted soy flour. Food Chem. 141: 517–523 (2013)

Singh N, Shevkani K, Kaur A, Thakur S, Parmar N, Virdi AS. (2014). Characteristics of starch obtained at different stages of purification during commercial wet milling of maize. Starch/Starke, 66: 668–677 (2014)

Tester R, Morrison W. Swelling and gelatinization of cereal starches. Ι. Effects of amylopectin, amylose, and lipids. Cereal Chem. 67: 551–557 (1990)

Tharanathan RN, Mahadevamma S. Grain legumes- a boon to human nutrition. Trends Food Sci. Tech. 14: 507–518 (2003)

Thomas DJ, Atwell WA. Eagan press handbook series: Starches. Eagan Press, St. Paul, MN, USA (1999)

Vandeputte GE, Vermeylen R, Geeroms J, Delcour JA. Rice starches. ΙΙΙ. Structural aspects provide insight in amylopectin retrogradation properties and gel texture. J. Cereal Sci. 38: 43–52 (2003)

Williams PC, Kuzina FD, Hlynka I. A rapid colorimetric procedure for estimating the amylose content of starches and flours. Cereal Chem. 47: 411–420 (1970)

You SY, Lim ST, Lee JH, Chung HJ. Impact of molecular and crystalline structures on in vitro digestibility of waxy rice starches. Carbohyd. Polym. 112: 729–735 (2014)

Zambrano F, Despinoy P, Ormenese RCSC, Faria EV. The use of guar and xanthan gums in the production of 'light' low fat cakes. Int. J. Food Sci. Tech. 39: 959–966 (2004)
Acknowledgements
The Rural Development Administration (Republic of Korea) through "Cooperative Research Program for Agriculture Science and Technology Development (Project No. PJ01183303)" supported this research.
Ethics declarations
Conflict of interest
The authors have declared no conflict of interest.
About this article
Cite this article
Jeong, D., Chung, H. Physical, textural and sensory characteristics of legume-based gluten-free muffin enriched with waxy rice flour. Food Sci Biotechnol 28, 87–97 (2019). https://doi.org/10.1007/s10068-018-0444-8
Received:

Revised:

Accepted:

Published:

Issue Date:
Keywords
Gluten-free muffin

Legume flour

Waxy rice flour

Quality characteristics